Healthy Muddled Blackberry Pina Coladas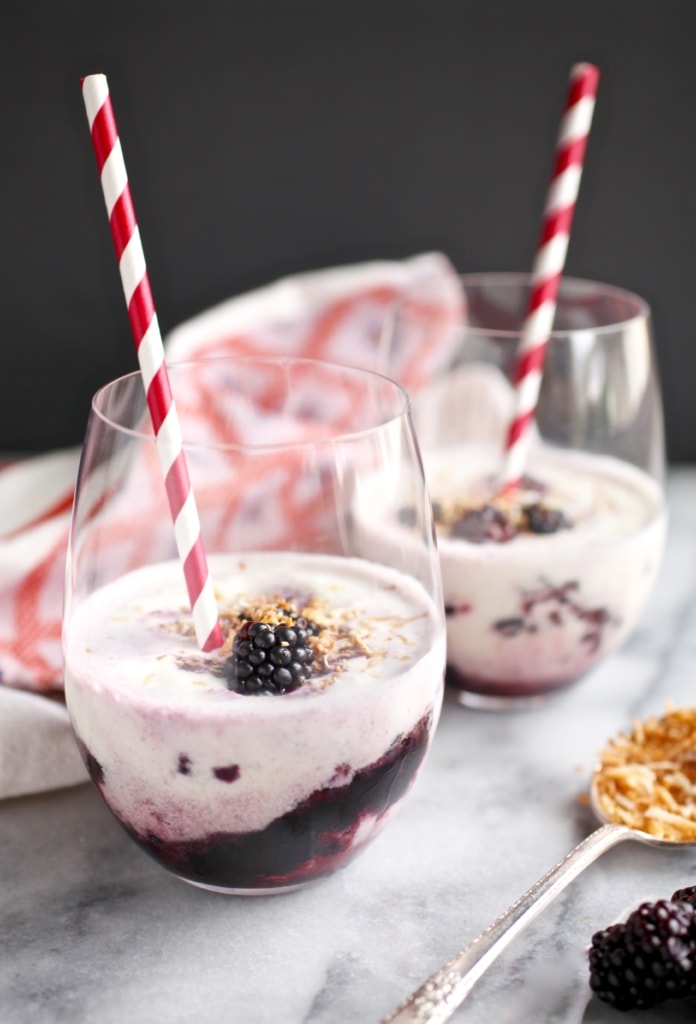 2 cups pure pineapple juice (no sugar added)
2 tablespoons coconut cream (from canned full fat coconut milk)
¼ cup coconut liquid (from canned full fat coconut milk)
½ cup fresh blackberries
1 teaspoon raw honey
2 oz white rum (optional)
2 tablespoons unsweetened shredded coconut, toasted (optional)
Freeze the pineapple juice in a 16 cube ice-cube try (16 oz total).
Once frozen, you are ready to make the drinks!
Place the blackberries in a small bowl and add in the honey then muddle together until the honey is dissolved and you have a muddled blackberry mixture.
Divide the blackberry mixture between two glasses.
Add the frozen pineapple "ice cubes" to a blender along with the coconut cream, coconut liquid, and rum (if using).
Blend until smooth.
Divide the pineapple coconut mixture between the two glasses to layer over the muddled blackberry mixture.
Garnish with a couple fresh blackberries and some 1 tablespoon each of toasted coconut (optional, but tastes amazing!).
Enjoy immediately!
Recipe by
Nutrition in the Kitch
at https://nutritioninthekitch.com/healthy-muddled-blackberry-pina-coladas/