Spinach Chickpea & Heirloom Tomato Prawn Sauté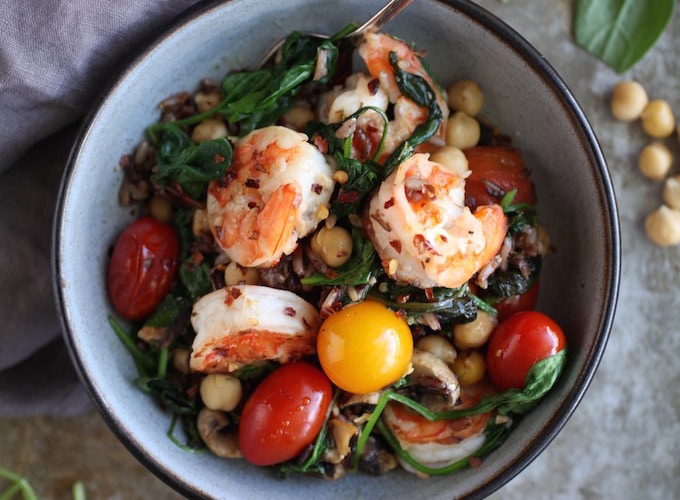 1 tsp olive oil
6-8 large prawns, raw deveined and peeled
2 cups loosely packed raw spinach
½ cup heirloom cherry tomatoes
½ cup sliced mushrooms
¼ cup chickpeas
½ cup cooked quinoa or wild rice (prepare ahead of time)
1 clove garlic, crushed
1 tablespoon sherry wine
juice of ½ lemon
¼ tsp salt
¼ tsp pepper
pinch of chili flakes
Warm a large saucepan over medium-high heat.
Add in olive oil and garlic and saute for 1-2 minutes
Add in chickpeas, cherry tomatoes, mushrooms, and prawns.
Saute together in the pan for 1-2 minutes, and while the pan is still hot, pour in the sherry wine and lemon juice.
Reduce heat to medium and add in spinach and cooked quinoa/rice, sprinkle with salt and pepper.
Saute again for 1-2 minutes and then cover pan with a lid so the spinach can wild completely.
Reduce heat to low-medium and let spinach wilt for 1-2 minutes.
Once spinach is wilted and prawns are completely cooked through, transfer to a bowl and garnish with a pinch of chili flakes and a squeeze of lemon juice.
Recipe by
Nutrition in the Kitch
at https://nutritioninthekitch.com/spinach-chickpea-tomato-prawn-saute/