No-Bake Caramelized Apple Crumble with Pumpkin Pie Ice Cream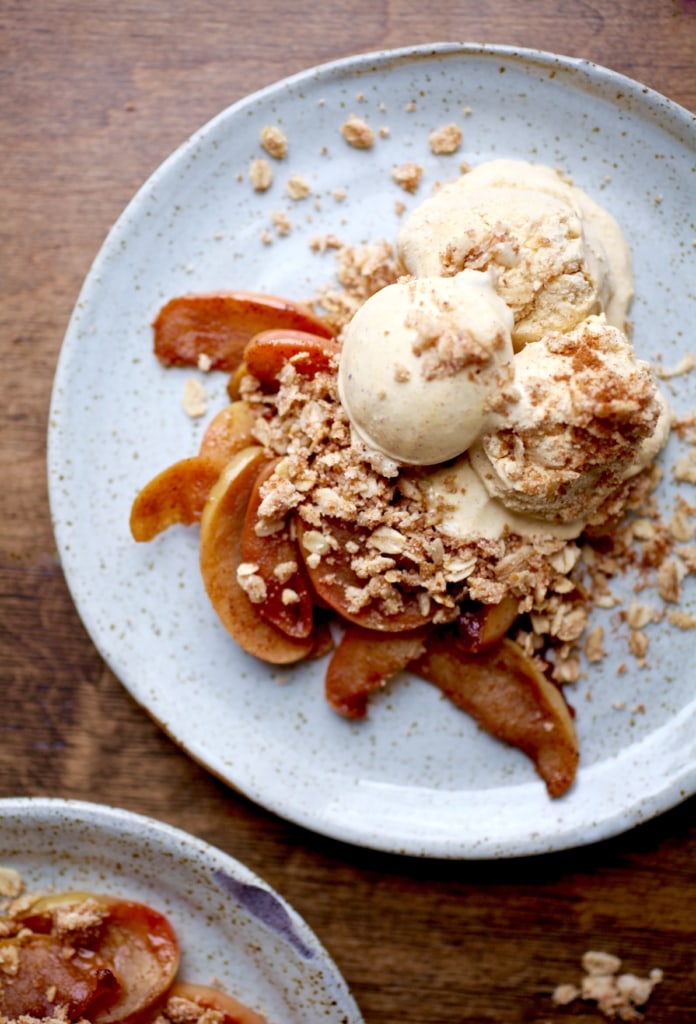 For the Apples:
2 large apples, cored and thinly sliced
1 tablespoon coconut oil, divided
¼ tsp tapioca flour
2 tablespoons coconut palm sugar
pinch of salt
1 teaspoon pumpkin pie spice
For the Crumble:
2 tablespoons rolled oats
1½ tablespoons almond flour
½ tablespoon coconut sugar
pinch of salt
¼ teaspoon cinnamon
½ tablespoon room temperature coconut oil (not melted)
For the Pumpkin Pie Ice Cream:
1 cup vanilla flavoured coconut (or other kind of dairy free) ice cream (or use regular organic vanilla ice cream if you eat dairy)
1 tablespoon pumpkin puree
½ teaspoon pumpkin pie spice
Begin by preparing the Pumpkin pie ice cream. Add the vanilla ice cream to a food processor and adding the pumpkin puree and pumpkin pie spice.
Process until smooth and the pumpkin is completely mixed in.
Transfer the ice cream to a bowl or container and cover with saran wrap, directly pressing the wrap over the ice cream to prevent frost from forming.
Place the ice cream back in the freezer to harden.
Next, add the sliced apples, half of the coconut oil, the tapioca flour, 2 tablespoons coconut palm sugar, pinch of salt, and 1 teaspoon pumpkin pie spice to a large ziplock bag.
Close the bag and mix and mash the ingredients together until the apples are well coated.
Heat a large pan over medium heat and add in the remaining ½ tablespoon of coconut oil.
Once hot add in the apple mixture and saute for 7-10 minutes until apples are soft and the sauce is thick and sticky, coating the apples.
Transfer the apples to a container and cover to keep warm.
In a small bowl mix together the crumble ingredients and add in the coconut oil in small dollops then crumble together using your fingers until everything is well combined and the mixture is crumbly.
Add the crumble to the same pan you used for the apples and stir over medium heat until completely warmed through.
Prepare the dish by dividing the caramelized apples between two plates.
Divide the crumble mixture between the two plates topping the apples.
Remove the pumpkin pie ice cream from the freezer and using an ice cream scoop, divide the ice cream between the two plates to top the apple crumble.
Enjoy immediately!
Recipe by
Nutrition in the Kitch
at https://nutritioninthekitch.com/no-bake-caramelized-apple-crumble-pumpkin-pie-ice-cream/