Coconut Yogurt Superfood Tarts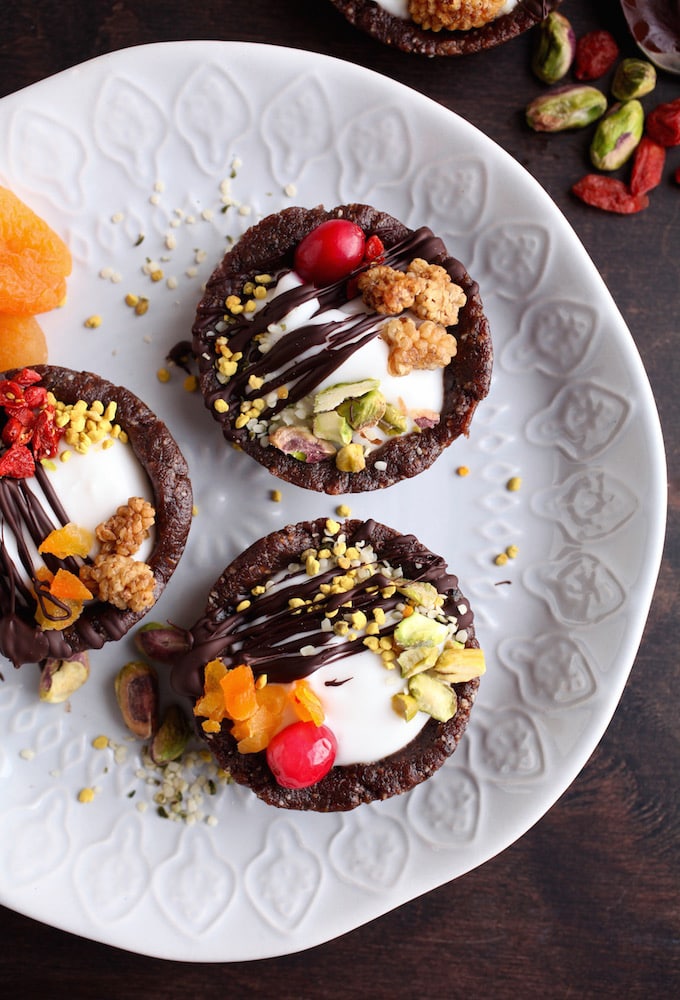 Chocolate Crust:
1 cup pitted dates, softened or soaked in warm water for 10 minutes then drained
½ cup raw almonds
½ cup raw walnut halves
1½ tablespoons cocoa powder or raw cacao powder
2 tablespoons unsweetened almond mik
Filling:
¾ cup plain unsweetened coconut yogurt or other probiotic yogurt of choice
a few drops of stevia or 1 teaspoon of honey or pure maple syrup to sweeten, if desired
Toppings:
½ ounce 85% dark chocolate, melted
Crushed nuts/seeds, chopped goji berries or other dried fruits, hemp seeds, bee pollen... and any other healthy superfood toppings your heart desires!
Begin by preparing the tart crusts. Soak the dates if they are not already very soft to the touch.
Once dates are soft, add to a food processor with the rest of the crust ingredients and process for 2 minutes on high, stopping the processor periodically to scrape the sides with a spatula.
The mixture will become sticky, clumped together, and slightly oily with only small chunks of almonds and walnuts remaining.
Using a regular sized muffin tin, take a golf-ball sized portion of the crust mixture, roll into a ball with your palms, then press evenly into a muffin tin cup to create a crust that's about 1 cm thick on all sides.
Repeat this process to create 8 crusts in total.
Place the muffin tin in the freezer for 15-20 minutes so the crusts can harden.
Once the crusts are firm to the touch, carefully remove each crust from the muffin tin and place on a large plate or platter.
Next, mix the coconut yogurt with the sweetener of choice, if using, and divide between the chocolaty crusts until they are each filled with yogurt, then place back in the freezer.
Heat a small non-stick pan over low heat or a double boiler and melt the chocolate.
Once the chocolate is melted, remove the tarts from the freezer and drizzle the chocolate over each tart.
Finish by topping each tart with additional superfood toppings as desired.
Enjoy!
Store the tarts in an airtight container in the fridge or freezer until ready to eat!
Recipe by
Nutrition in the Kitch
at https://nutritioninthekitch.com/coconut-yogurt-superfood-tarts-lets-talk-probiotics/