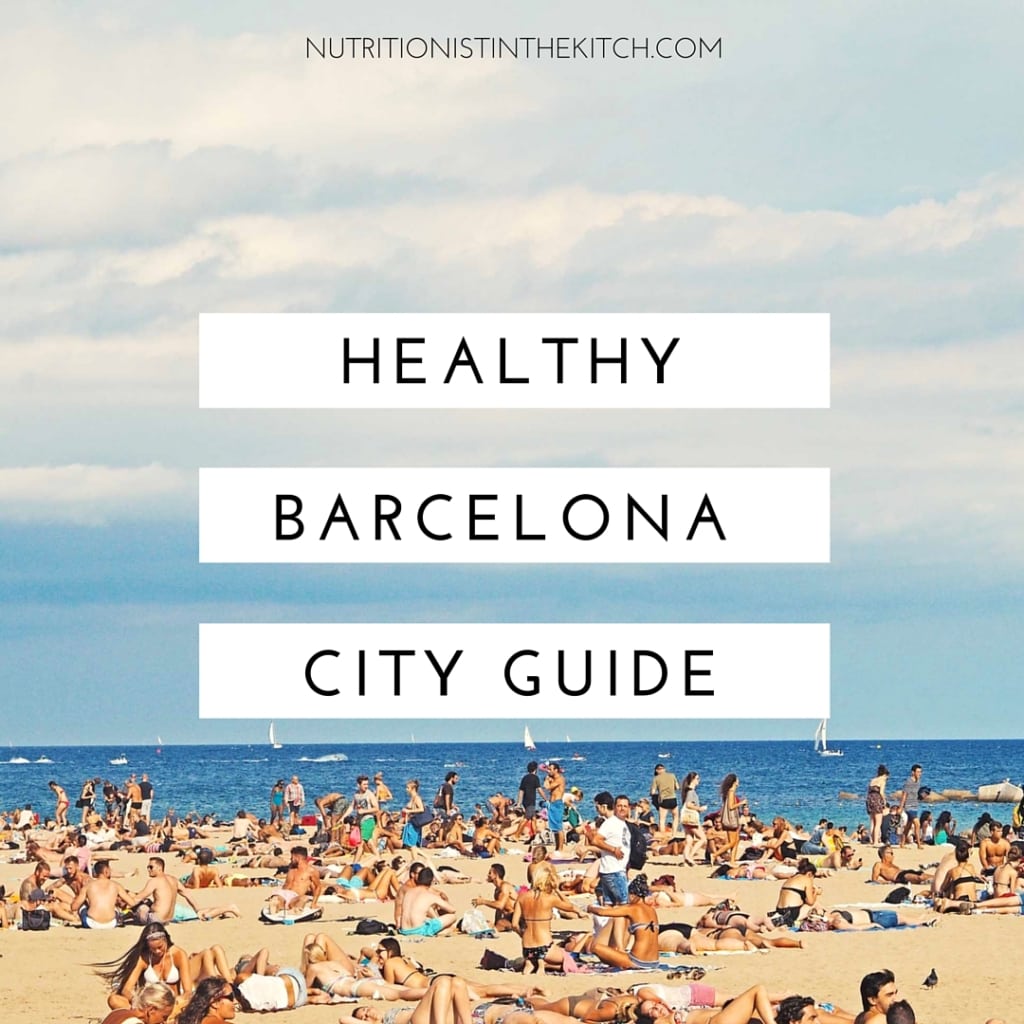 Wow…Barcelona, what a city! I have to say this magical place surprised me in many ways from the spotlessly clean streets to the wonderfully organized bike lanes and the copious amounts of funky little restaurants, cafes, and wine bars. If it's food you love, beaches, architecture, or just people and culture, Barcelona has so much to offer.
I love exploring cities for the first time. One of my favourite things to do is uncover the health-food & fitness culture that the city holds. Barcelona was abundant with restaurants, juice bars, and cafes with healthy eats and treats, it was impossible to visit them all – I only wish I had more time!
Below is my recommendations for enjoying a healthy stay in Barcelona if you get the chance to visit this wonderful city. I also put all the photos in a gallery below each category because there are so many, so just click the photo to see it larger.
STAY:
Rent an AirBnB, HomeAway, or VRBO vacation rental – I stayed here.
I always go for a vacation rental over a hotel as I feel I get more of an experience of what it's like to live like a local and I stay healthier by picking up groceries to make a healthy breakfast at "home" as well as snacks, and possibly a lunch or dinner here or there! Plus it gives me an excuse to visit the local markets or niche organic grocery stores!
We didn't stay in a hotel during our stay in Barcelona but I did check out Trip Advisor and these are the top three choices – one, two, three.
As for neighbourhoods, I definitely recommend staying in The Gothic Quarter, L'Eixample, or La Barceloneta to be close to all the action.
EAT:
My favourite part! Like I said, Barcelona has SO much to offer when it comes to healthy eats but here is a list of my favourite places:
The Juice House – Get the Avocado Toast & the Chocolate Brownie… both of which are vegan and super delicious!
Flax & Kale – A stunningly beautiful flexi-tarian restaurant with an amazing menu of dishes that are indicated as either plant-based, oily-fish based, gluten-free, and/or dairy-free! They also have fresh juices and nut mylks you can purchase at the front. Try the anti-ox juice and the cocoa cashew nut mylk! Oh, and be sure to take a peek at the bathrooms… the most beautiful and well-designed I've ever seen!
Teresa Carles – This restaurant is owned by the same owner (Teresa Carles!) as Flax & Kale above so it offers a similar menu, the fresh juices, and amazingly designed decor and funky atmosphere.
Carvelle – Shrimp tacos…. oh my, that's all I can say!
Veritas – This is the chain of healthy/specialty grocery stores in the city which was great for organic eggs, meat, gluten free breads, etc. to stock our apartments fridge with breakfast foods and snacks!
Salt Beach Club at The W Hotel – A great spot with an amazing view and equally as delicious healthy lunch choices and fruity cocktails. Try one of the delicious salads!
Green & Berry – A perfect spot for vegan and gluten free sweets, treats, and if you want to grab a healthy salad or chia pudding to-go, you can do that too!
Barcelona Food Makers – We stumbled across this little shop on the way to the Arc de Triomf and I was pleasantly surprised at the fresh to-go salad options. They also had some good organic snacks and a really cool kitchen in the back where they do cooking classes!
Mercat De La Boqueria: See under the "SEE" section.
DO:
Rent a bicycle to explore the city: A great way to get exercise and see all the sights at the same time. This was the best way for us to get around as it allowed us to pack a lot in to each day and stay on budget. The city is clearly marked with tons of bike lanes which makes it totally doable and not nearly as scary as you'd think for such a busy city! We rented bikes from Deviant Bikes in the L'Eixample neighbourhood but there are bike rental shops all over the place.
Run along the beach boardwalk: In La Barceloneta you'll find a beautiful marina that leads around to a long, stunning beach boardwalk. You'll see many people walking, running, biking, or Segway-ing(?) along this amazing stretch of sand and turquoise sea. Just keep in mind you might see a few nudes on the beach, it is Europe after all!
Do a workout in the Arc de Triomf park: The Arc de Triomf is a beautiful sight to see, so you can check it out, and then enjoy a workout in the stunning park directly behind the Arc. We saw several running groups and a couple workout classes that I'm sure you could join, or just create your own workout in the park to get in that exercise!
Walk, walk, and walk some more: Barcelona has street after street of shops, cafes, and sights to see, so if you aren't into the above three ways to stay active in this city, you'll be able to get in exercise through all the walking you'll do while exploring!
Take a Cooking Class at Barcelona Food Makers: While we didn't get the chance to do this, I think it would be an awesome experience if you have the time and can book in advance!
SEE:
Mercat De La Boqueria: Stimulation overload at this market, but it's definitely a must-see! I was contemplating putting this one under the "EAT" category because there is a plethora of healthy food to enjoy from fruit cups, to vegetable chips in bulk aisles, to fresh fish, and vegan falafels (check out Falafel Vegano while you are there, it's amazing!). You can also browse the market, pick up some goodies, then finish off with a nice pitcher of Sangria like we did!
Watch the sunset at the Negresco Princess Hotel rooftop patio: I didn't get a picture of this but it's definitely something to do! The rooftop patio provides an amazing view of the city and of course, the sunset! Grab a class of wine, chill out on one of the comfy couches and watch the sun go down over Barcelona.
Check out the many historical sights & Gaudi buildings: There are too many to list them individually here but it's a must to see at least a few of the historical sights and Gaudi buildings in Barcelona including the cathedrals, neat architecture, and history of this amazing city! Check out Trip Advisor "Things to Do" to get a more comprehensive list with locations.
I hope you have enjoyed this Healthy Barcelona City Guide and that you'll put Barcelona on your list of places to visit if you haven't been already. Stay tuned to the blog this Sunday for another great recipe post. We are headed to another island in Greece today and I'll be updating Instagram and Snapchat as I go!
Christal
Nutritionist in the Kitch