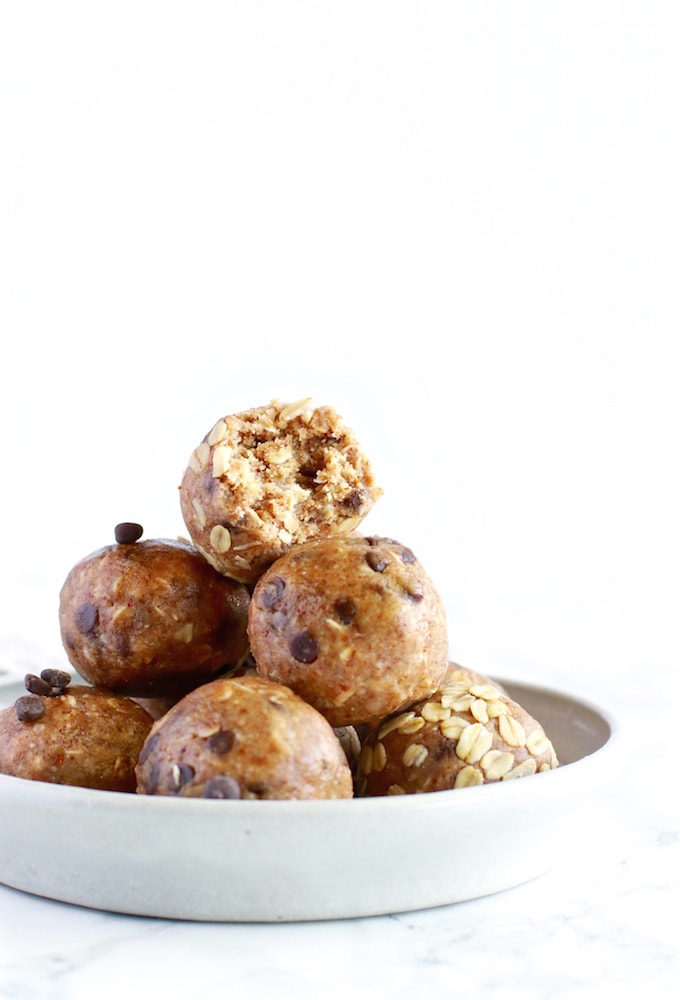 It's been a while since I posted an energy ball recipe and I figured since my Energy Balls cookbook has now been out on shelves for over a year, I was finally ready to create another tasty ball recipe. I have to admit, after writing an entire cookbook on energy balls I was a little sick of them. I ate A LOT of energy balls during the making of my cookbook (as did my hubby, my official taste-tester) so I definitely needed a little break.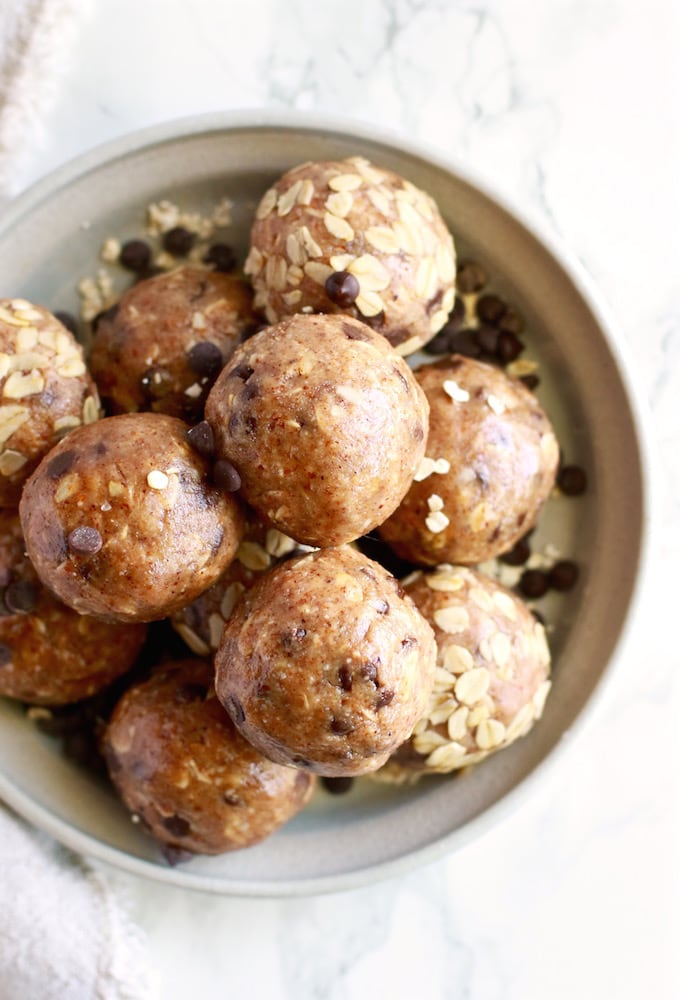 Now I'm back at it and it's perfect timing because these oatmeal cookie energy balls are lovely for summertime snacking! They are tasty, curb cravings for something sweet, and are great for on-the-go. I love making a batch of energy balls or bars for road trips or plane rides as they keep well, don't need to be refrigerated, and are easy to eat.
Hemsley, our toddler, also happens to be a fan of these oatmeal cookie energy balls which is great because when we go on road trips with her it's a bit of a dazzling circus act to keep her happy and occupied in her car seat for a couple hours at a time (…and all the mamas out there nodded their heads in quiet agreement).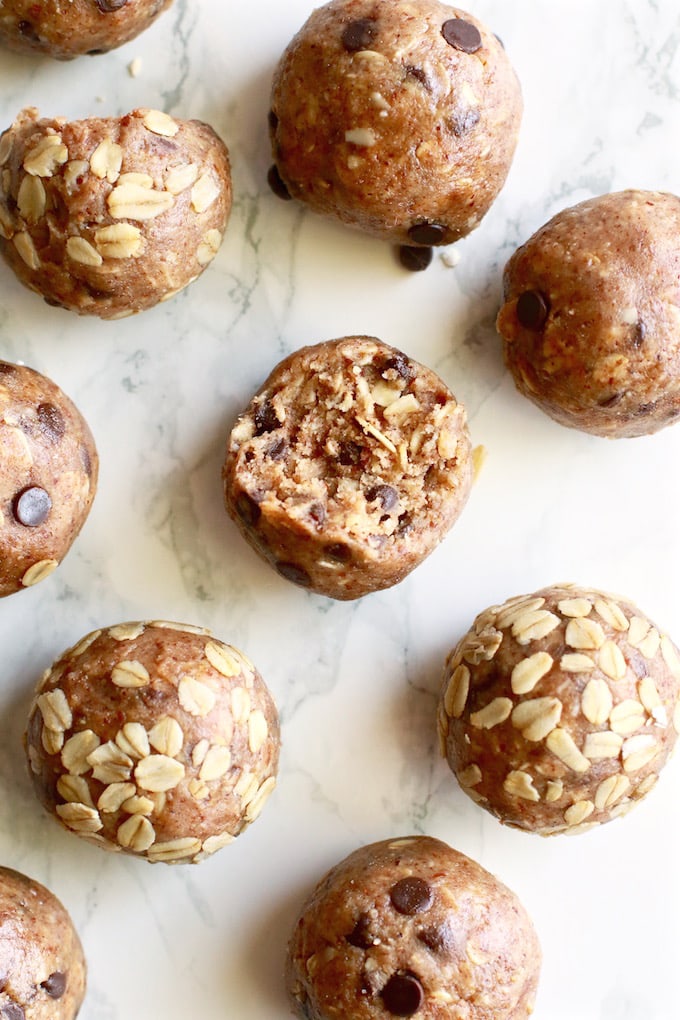 This recipe is super easy to make and like most energy balls can be kept in the fridge for a couple of weeks or the freezer for at least one month…if you don't eat them all before then!
Something different about these balls however is that they do not contain dates. If you've made energy balls or bars in the past you'll see they often have dates in them for natural sweetness, as a binding ingredients, and of course for the 'energy' part as dates are full of simple carbohydrates that serve as an immediate energy source.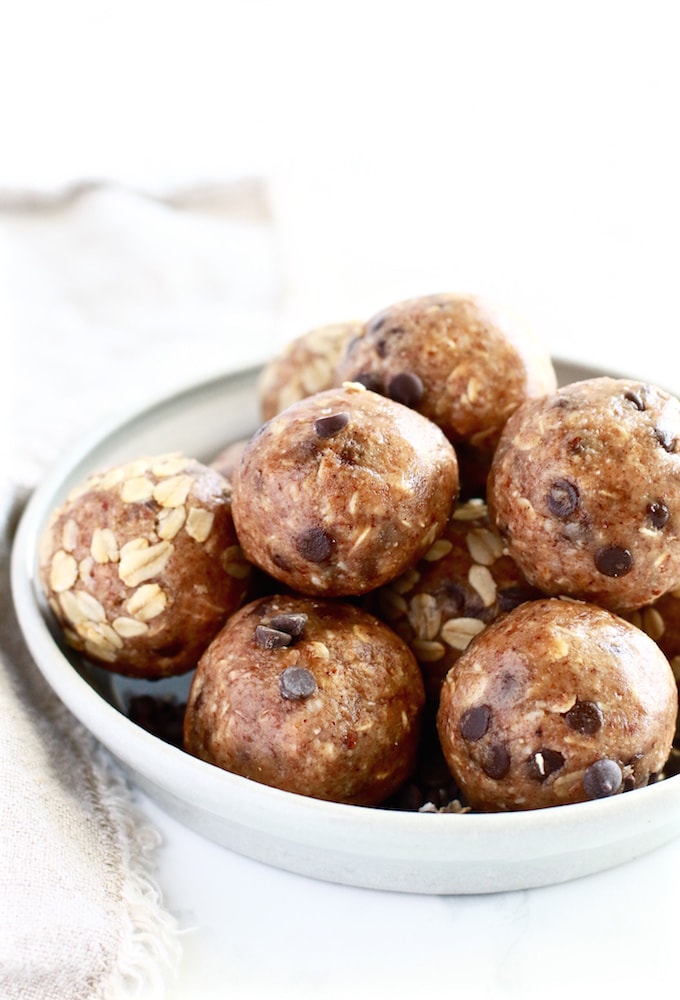 While I have nothing against using dates (I used them a ton in my cookbook!), for these oatmeal cookie energy balls I wanted them to taste more like cookie dough than date paste. Instead, pure maple syrup works to add sweetness and help bind the balls together. Along with the maple syrup the oatmeal cookie energy balls contain almonds, rolled oats, almond butter, coconut oil, vanilla, a touch of sea salt, and dark chocolate chips. These could also easily be made with raisins instead of chocolate chips to lend to that classic oatmeal cookie taste.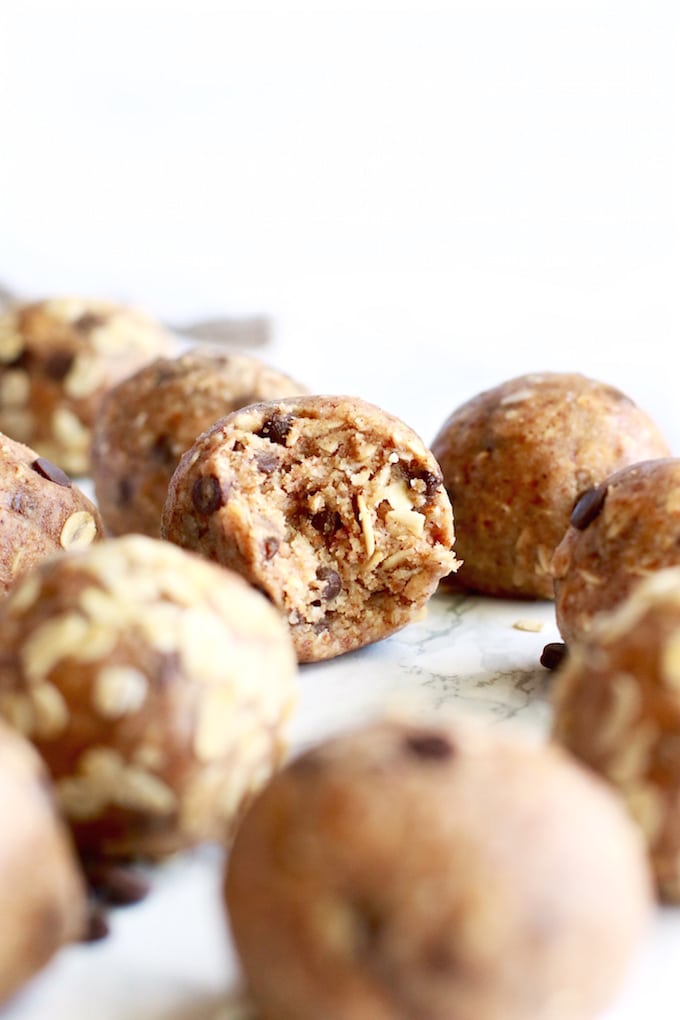 Healthy, omega-rich fats, plant protein, and simple carbohydrates bring energizing goodness to these snacks that really taste like treats. We are off for summer holidays next weekend and you better believe I'll have a batch of these bad boys in tow for our drive to Canmore and British Columbia!
Side note, wish us luck as we venture on our first TENT camping trip with Hemsley…it should be interesting. I'll also take ANY tips you have for tenting with a busy toddler! 

Healthy Oatmeal Cookie Energy Balls
Ingredients
1½ cups raw almonds
½ cup gluten-free rolled oats + ¼ cup for garnish
¼ cup natural almond butter
3 tablespoons coconut oil, melted
3 tablespoons pure maple syrup (or raw honey)
1 teaspoon pure vanilla extract
pinch of salt
¼ teaspoon of cinnamon
⅓ cup mini dark chocolate chips (or raisins)
Instructions
In a food processor or high speed blender pulse almonds to a flour.
Transfer 'almond flour' to a bowl and stir in rolled oats.
Next, add in almond butter, maple syrup, coconut oil, vanilla, cinnamon and salt then stir to combine.
You will have a cookie dough type of mixture (it may be slightly crumbly but will come together in the freezer once the coconut oil hardens).
Stir in the dark chocolate chips (or raisins) and take golf ball sized portions of the batter and using clean hands and roll into a ball shape with the palm of your hands.
Set the ball on a cookie sheet or large plate and repeat the process until you have 12-14 balls total.
Take the remaining ¼ cup of rolled oats and spread them out over another large plate and roll the balls in the oats to lightly coat (or just ½ of the balls, or none at all if you would rather have them 'naked')
Freeze for 30-60 minutes to set as this will help the balls stay together and not crumble.
Store in a cool, dry place for up to 5 days, or in the fridge for up to 2 weeks, or the freezer for up to 1 month.
I really hope you enjoy these energy balls as much as we do. Be sure to pin the photo below to save this recipe for later! 


Have a lovely Sunday,
Christal // NITK