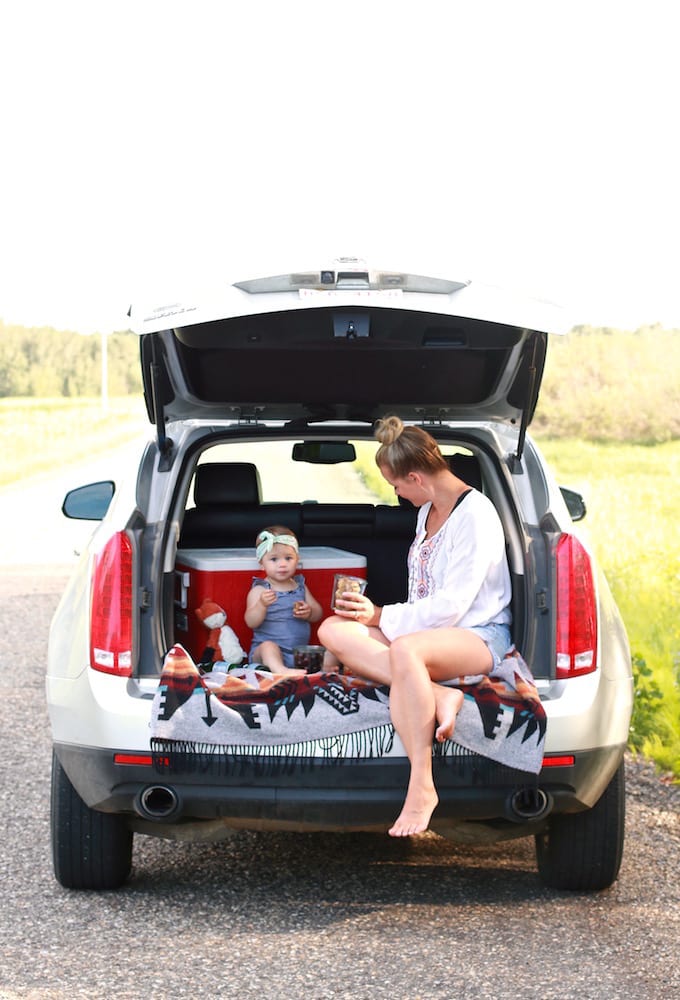 We are officially hitting the road for our summer holiday today and I couldn't be more excited! Summer is definitely my favourite season of the year for many reasons. It's the sunshine, hot weather, bare feet in the grass, beach days, cold treats, and of course, road trips! Every summer we take at least a few road trips to visit out-of-town family, go to weddings, or just venture off to the mountains.
This next week we will be in Canmore, camping with my family in the beautiful rocky mountains, and then we are heading to Invermere in British Columbia to stay at a lovely golf and spa resort to recover from camping with a toddler (ha!)… I'm sure both our backs and brains will need it. With many years of road tripping under my belt I've been able to come up with 6 great tips to share so that you too can make your next road trip a healthier one!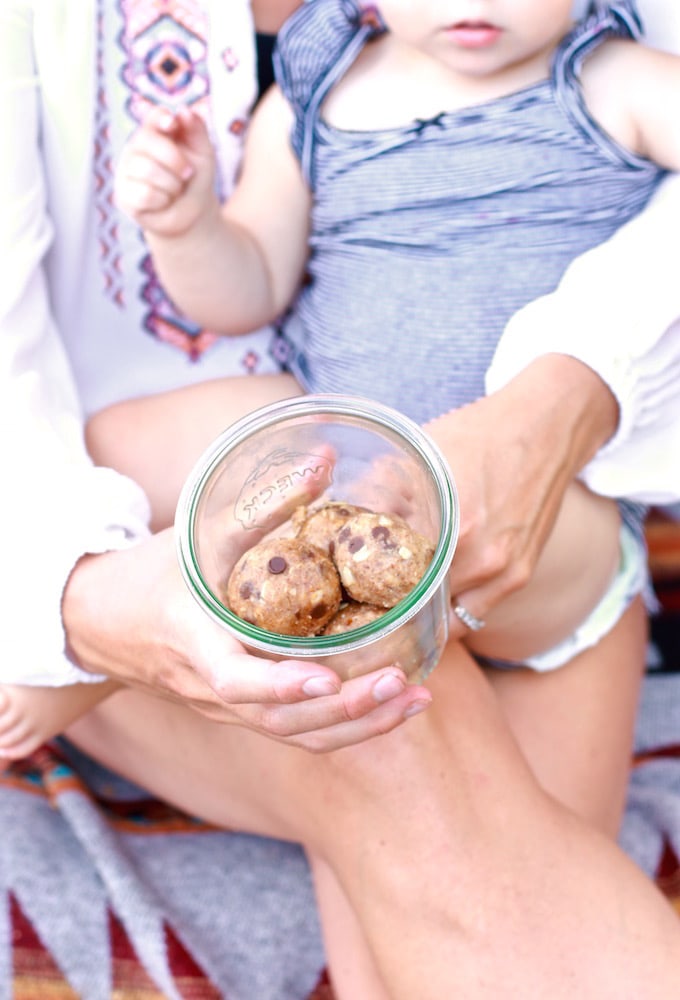 Tip 1: Pack Healthy Snacks
For some reason driving long stretches can work up quite an appetite. I'm not sure if it's just boredom from being in the car for long periods, but I find I get kind of "snacky" so it's important to bring along healthy options to keep you satisfied and nourished rather than munching on chips and candy the whole drive.
Speaking of candy, that's definitely what my childhood road trips consisted of. In fact, when I was about 10 years old I choked on an Everlasting Gobstopper while laying in the back seat of our minivan during a long road trip to Manitoba. I laughed at something one of my sisters had said and before I knew it I had a gobstopper lodged right into my airway. My oldest sister jumped into action to give me the heimlich maneuver and luckily it popped out of my trachea and got stuck in my throat. I had to sip on water while crying for about an hour until it dissolved enough to swallow (they don't call them everlasting for nothing…) and the best part of it all, my Dad, listening to all the commotion in the background and instructing my sister on how to do the heimlich, definitely didn't stop or pull over but just kept right on driving… after all, we had to "stay on schedule"! We laugh about this story now, but I still stay away from candy on car rides… especially gobstoppers, I haven't had one since. 
Here are my go-to healthy snack options for road trips:
– Larabars
– Whole Fruits: Apples, Bananas, Peaches, Pears, Kiwis
– Cherries and Berries
– Natural Beef Jerky (nitrate free)
– Hard Boiled Eggs
– Hummus & Veggies or Rice Crackers
– Guacamole & Veggies or Baked Tortilla Chips
– Trail Mix
– Dried apricots
– Celery & Nut Butter
– Dark Chocolate Dipped Mango Snacks
For less messy road trip snacking don't forget to pack baby wipes or wet wipes, ziplock bags or grocery bags, hand sanitizer, and a roll of paper towel!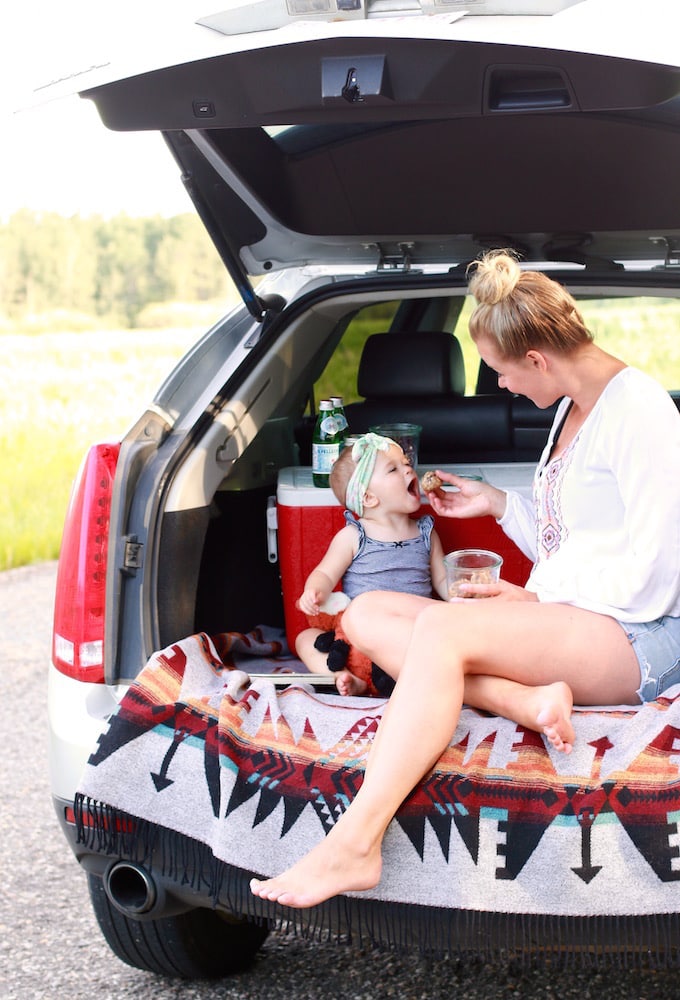 Tip 2: Stay Hydrated 
You may not want to drink a lot of water on a road trip to prevent the need to stop and pee every hour but staying hydrated is super important! Drinking enough water prevents overeating (even if you are snacking healthy, if you are dehydrated you can mistake your thirst for hunger and snack too much which can leave you feeling bloated and sluggish). It also prevents water retention and swelling in your feet and lower legs which can occur when seated for long periods. Lastly, staying hydrated during a long car ride boosts digestion which typically slows down during travel. Sip water throughout your drive (as opposed to gulping it down which can increase the need to pee more often!) and aim to drink 1 litre for every 4 hours of driving.
Tip 3: Drink a Booch or Pop a Probiotic
It's pretty common for digestion to get a little sluggish during travel and sitting in a car for long periods of time sure doesn't help keep things moving smoothly. If you find you have issues getting bloated and backed up on travel days, try to up your probiotic intake (aim for 10 billion CFU per day) by taking a probiotic capsule (or an extra one if you already take them) or sip a bottle of kombucha during the drive.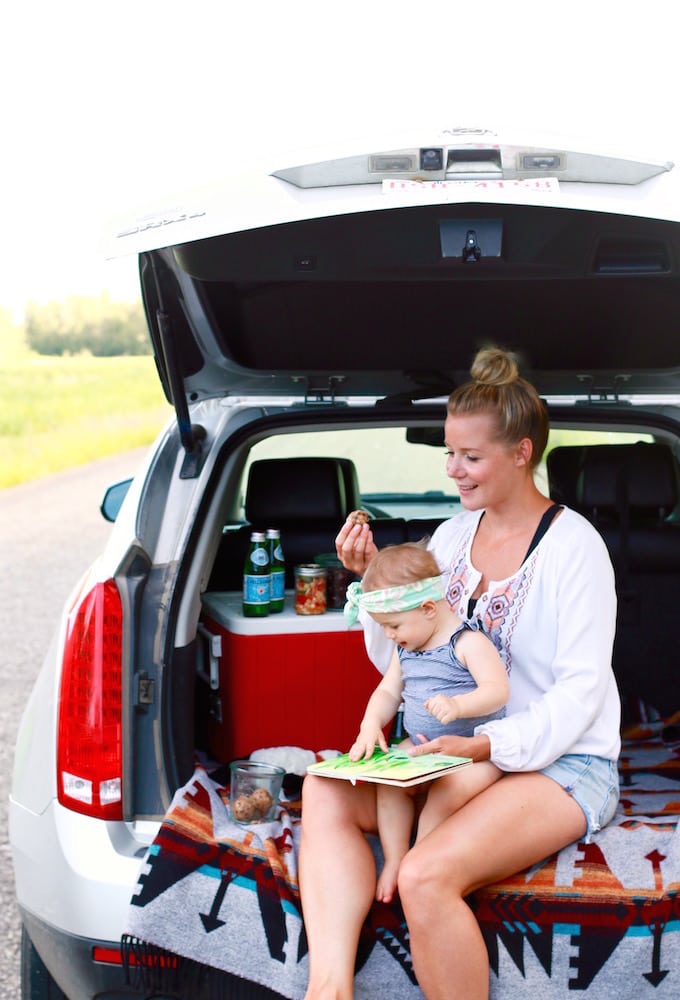 Tip 4: Map Out Healthier Pit-Stops
Before you hit the road take some time to plan out your route and look up healthier restaurants, cafes, or smoothie bars along the way so that you can stop when meal time rolls around. On our road trips we typically tend to pass through several towns and if it's a new route or destination I will always spend some time on Trip Advisor finding the best and healthiest places these pit stops have to offer so that when we make our way through I know where to go if we are getting hungry or need to stretch our legs. It's actually really fun to discover small, independently owned health food stores or cafes that have yummy treats and eats that I've never tried before!
Tip 5: Stop For an Exercise Break
Like my dad you might be one of those people who just wants to get to their destination as fast as possible (I can't blame him, he does have daughters and 12 hours in a car with three feisty teenage girls is enough to drive anyone bonkers) but it's important if your road-trip is longer than a few hours to stop, take a little time, stretch and get your heart rate up. Not only will a little exercise break give you a boost of energy, and help any little ones you may be travelling with blow off some stream, it will also improve digestion, circulation, mood and prevent leg cramps!
Pull over in a park, green space, or at a roadside rest stop and go for a little jog, brisk walk, or do 10-minutes of HIIT. Fitness Blender is a great website that provides free workout videos you can do on-the-go using your phone (you can also select no equipment, short, quick workouts).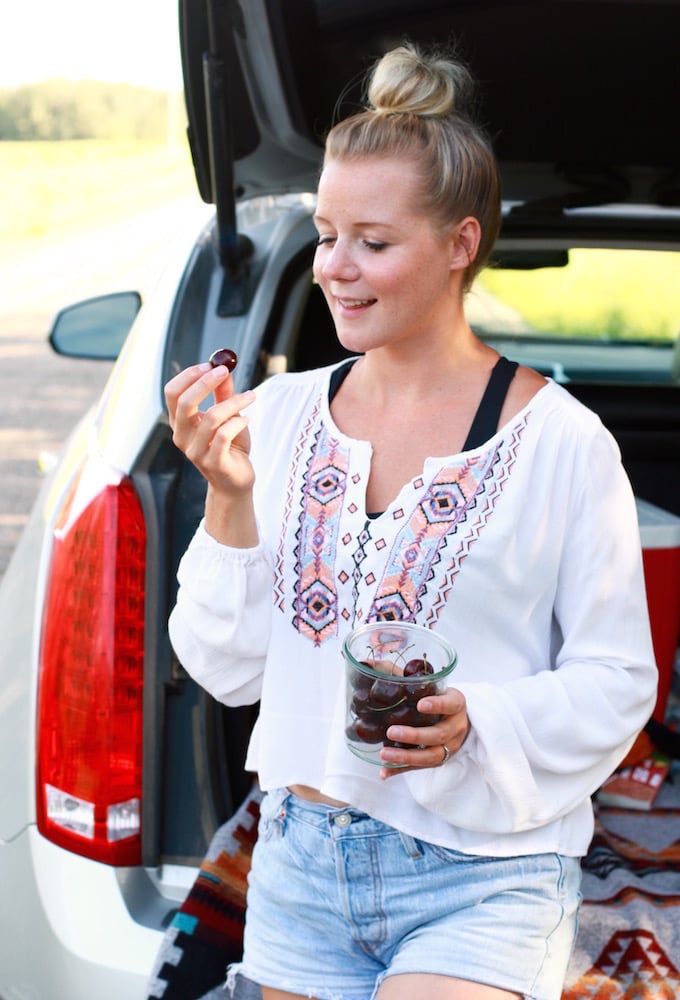 Tip 6: Ditch the Scrolling & Have Meaningful Conversation, Listen To a Podcast, or Simply Enjoy the View 
If I'm not the person driving (my hubby is usually behind the wheel) I have a tendency to reach for my phone and scroll, scroll, scroll to pass the time. I've noticed this can negatively affect me in a few ways: I  can easily fall into comparison mode because I'm not being intentional about my time spent on my phone, it makes me feel sleepy, and I miss out on connecting with whoever I'm driving with. I also miss out on the beautiful views (even the prairies can be a nice sight in the summertime).
Now that I'm more mindful, I do my best to put the phone away and have meaningful conversation with my hubby (or we play "would you rather…" which always leads to hilarious laughing fits and conversations) or if we don't feel like talking, we will play a great playlist and take in the views, or put on a podcast/talk show. These things always improve the quality of my road trips and prevent me from feeling drained or overloaded from mindless scrolling.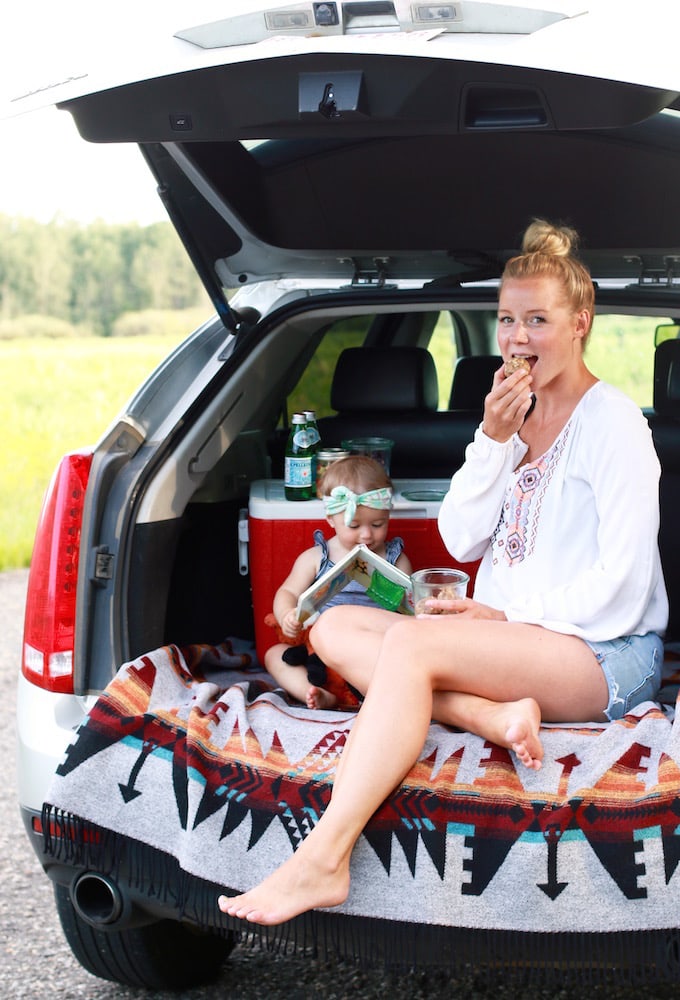 I hope you've enjoyed this little list of snacks and tips, be sure to pin the photo below to save this post for later!


In what ways do you make road trips healthier? I'd love to read about it in the comments below! 
Christal // NITK