*To stay consistent with the message of this post, no retouching or altering was done on any of these photos aside from increasing brightness.*
Ok, I'll admit, the title of this post uses a little click-bait.
Unlike what it may seem, this post actually has nothing to do with a structured diet or workout regiment that I followed for so-and-so months to achieve a perfect beach body for our Maui vacation.
I definitely had moments as our trip approached where I thought I should be getting my act together to tone and tighten my postpartum body and essentially get into better shape, but as quickly as those thoughts came into mind, so would more positive thoughts reminding me that my enjoyment of our vacation, my self confidence, and my ability to rock a swimsuit would not be enhanced if only I was "in better shape".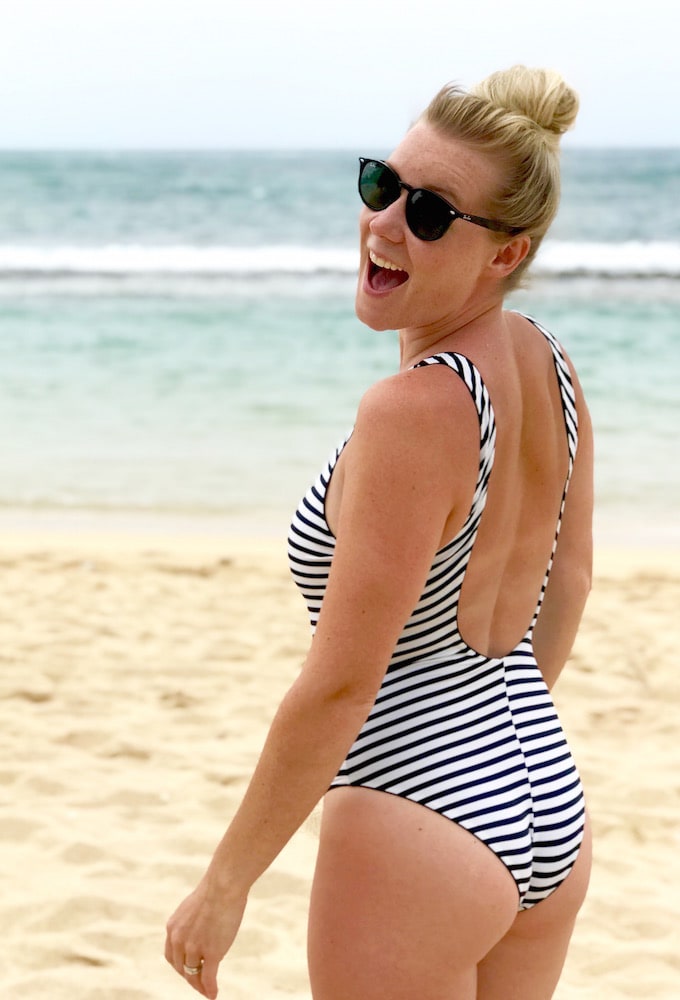 In the past I've been what most people would consider incredible shape (6-pack and all…which is totally unsustainable by the way) and I still felt insecure at the beach. Why? Because it really didn't matter what I looked like on the outside, but rather it was the conversation going on inside my head that would either create or destroy my confidence.
So in order to get my "beach body" for this Maui trip I decided to do things a little differently because I'm not in the best shape I've ever been (note: I'm not saying that I'm in bad shape). I had a baby less than a year ago which means my body has definitely changed but I am still determined to feel damn good at the beach, with no restrictive regiment in sight.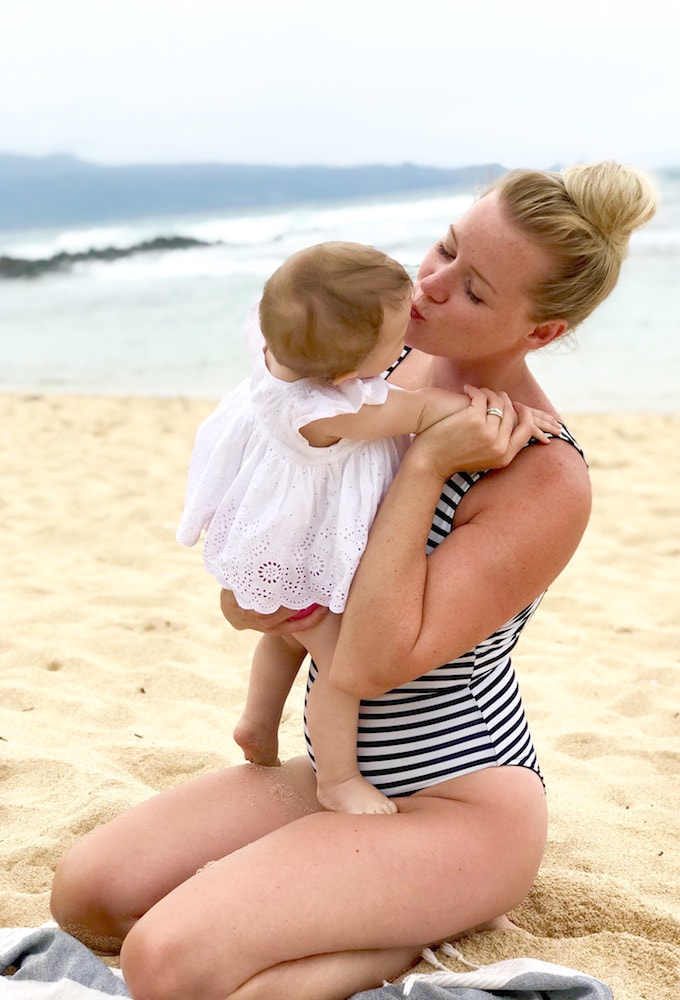 As summer approaches so many people feel dread related to their body image rather than excitement about the wonderful sunshine and warm weather. Through the years I spent working with clients, I had many who came to see me solely for the purpose of improving their appearance for an upcoming tropical trip or the summer season.
If the thought of being at the pool, the lake, or on a beach somewhere makes you feel instantly insecure and panicked about not being in the best physical shape, or you are worried that others might judge your body, or that you'll feel just plain uncomfortable, I can certainly say there's a high chance you're in good company. 
I want you, just like I did for my Maui vacation and will be doing this summer, to give the following tips a try so that you can enjoy the beach NOW, just as you are, right along with me: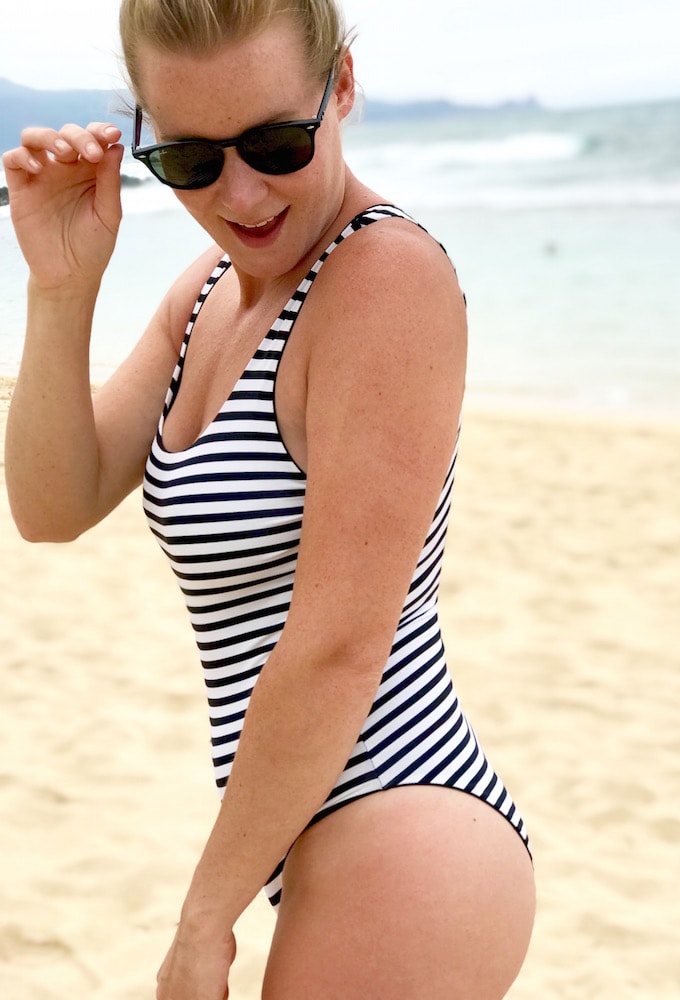 Invest in a swimsuit (or two!) that make you feel amazing:
As a 1-year postpartum mama I'm happy to say that one piece swimsuits are making a comeback. Not because I don't want to show my midsection, but because my body currently serves many purposes. I'm a milk machine, pack-horse, and baby transporter. Before we left to Maui I went shopping to find one or two practical, stylish, comfortable swimsuits that could withstand holding Hemsley, nursing her, having her yanking on my arms and legs, and still make me feel amazing. I was pleasantly surprised to find so many swimsuits that were gorgeous and had varying degrees of coverage and support (Albion Fit, La Vie En Rose, and Simons all have great suits). It's important to remember that your swimsuit doesn't need to be a bikini if that's not what makes you feel amazing. Think outside of the box and try one piece, sleeved, high rise, or halter suits, and when trying those swimsuits on SPEAK NICELY. Talk to yourself as if you were a close friend trying them on, with kindness, compassion, and pointing out your attributes not perceived flaws. Find the swimsuit that truly makes you feel amazing and rock it (if you are really having a hard time with this, try tip #2 and #3)!
When at the beach, compliment others (verbally or just in your mind):
The more we judge others, paying attention to their flaws and seeing them in a negative light, the more we actually feel judged by others ourselves. It's quite interesting the power of our thoughts on others and how those thoughts reflect back to our own self image. When you are at the beach, look around you and notice the people of all shapes and sizes in their swimsuits, then actively and intentionally find things that are beautiful about them. Compliment them, out loud if you feel so inclined, or just quietly to yourself. Changing the way you see and think about others when in a place where you might feel usually feel insecure (i.e.. the beach) will honestly help you feel more confident about yourself and help you truly rock your beach body.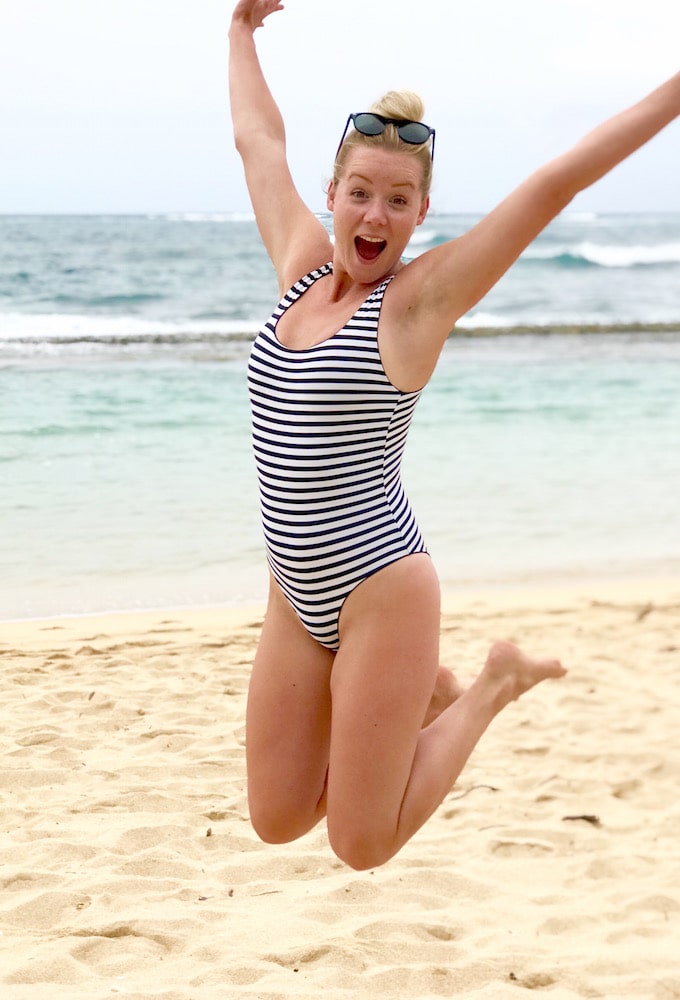 When at the beach, be PRESENT:
This is a toughie, but so important in achieving that killer beach body. Instead of spending your time in your head thinking about how you look, focus on the view of the water, the feel of the sand, the company you are with, the sunshine beaming down…and relish in it! There's a very good chance very few (or zero!) people are actually spending their day looking at you and judging you, they are either being present enjoying the environment, or sadly spending time worrying about themselves. I had a therapist once tell me "Christal, you aren't the centre of everyone's world"… it was unbelievably beneficial to hear. Being present will allow you to truly enjoy the beach and ultimately give you one sweet, happy beach body.
Drink plenty of water & eat healthy, whole foods:
The point to this tip is not to drink water and eat strictly as preparation to lose weight or tone up for the beach, but instead to help you feel physically well while you are at the beach. Lack of water and unhealthy foods will make you feel sluggish and bloated faster than a hot knife through butter. Feeling sluggish and bloated definitely won't help you rock your beach body with energy and confidence. Make the effort to pack along lots of cold water in a cooler and cut up fresh veggies with dip, fruits, and other healthy whole foods to enjoy while taking in your beach day.
Beach like nobody's watching:
Yep, this is definitely a play on the "Dance like nobody's watching" phrase, and it has the exact same underlying message. When you are at the beach, be there, do your thing, enjoy yourself and soak it up as if nobody else was even there, because at the end of the day, as much as we often think others are watching, evaluating, and judging us, they usually aren't, and if they are… who freakin' cares. I have always admired people who have bodies that don't fit the mould of what society says is perfect and still beam with confidence, self-love, and joy. Amazing beach bodies aren't limited to only those that are chiseled, tanned, and resembling sports illustrated models, amazing beach bodies are ANY bodies that are ON the beach. The key is simply that those bodies have an owner who showers them with love, care, and positive self talk.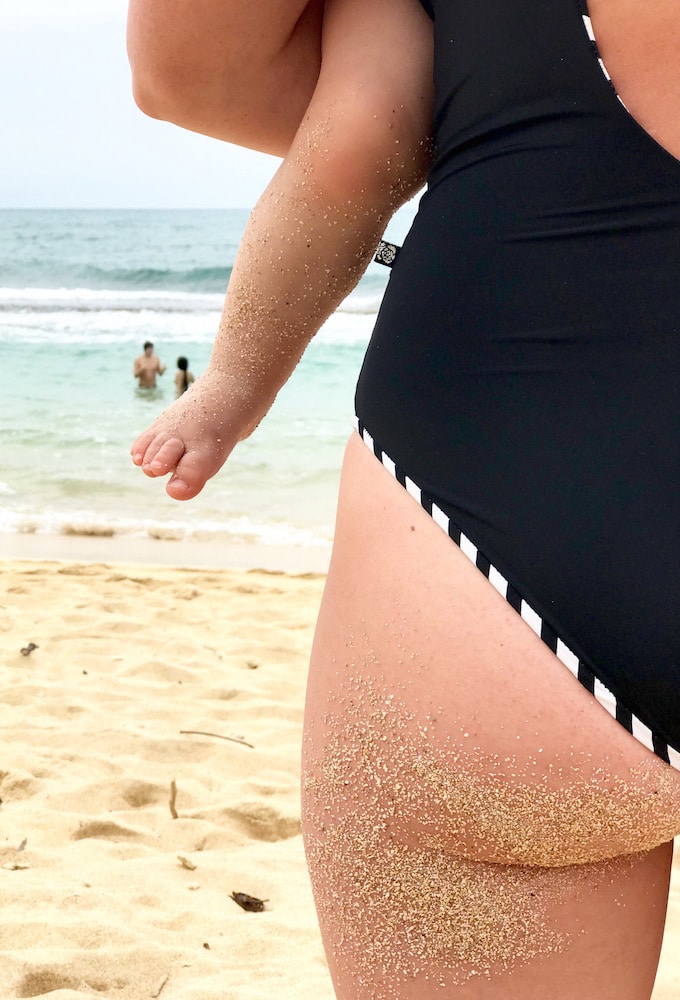 I can honestly say putting these tips into practice helped me achieve the best beach body I've ever had for this trip to Maui with my hubby and beautiful little babe. After all, my hope is to set a positive example for Hemsley as she grows up and learns to love, care for, and respect the body she's been given.
What's your key to achieving an amazing beach body? Will you be trying any of these tips? I'd love to read about it in the comments below. 
Christal // NITK