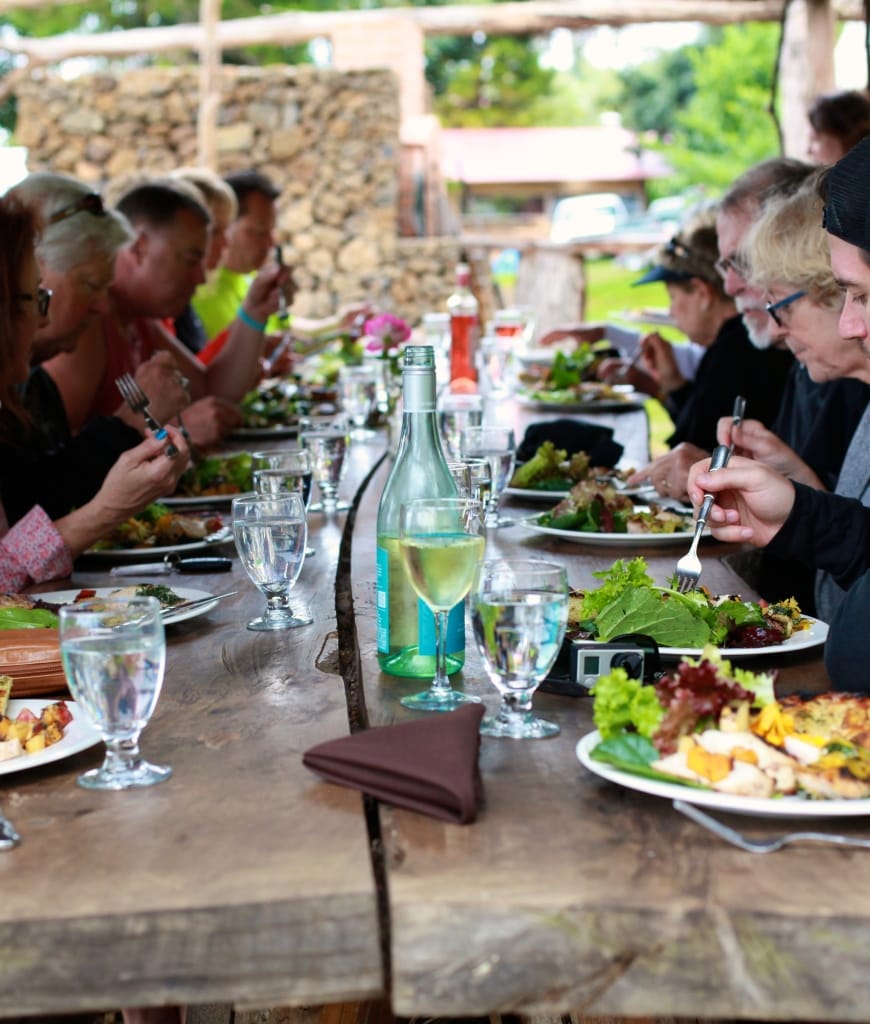 Last week we visited a place in Maui called O'o Farm. This farm provides quality local produce for their local Maui restaurants to deliver a true "Farm to Table" experience. Luckily, at the farm we were able to experience a "Table to Farm" lunch, as they host a tour followed by an amazing luncheon!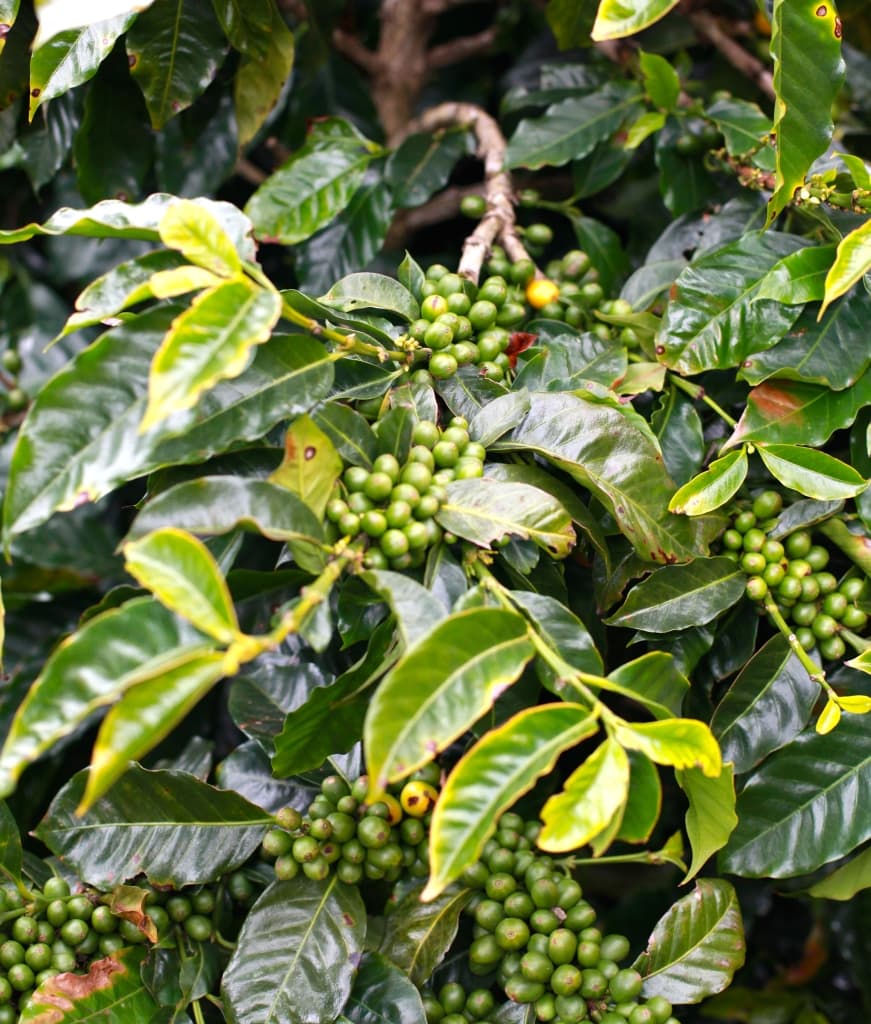 Throughout the tour we were taught about all of the different plants grown including this coffee bean tree above (I know, that's coffee bean! Who knew it looked that way?) and these delicious Loquats below, a delicious stone-fruit that tastes similar to orange crush soda (for reals!).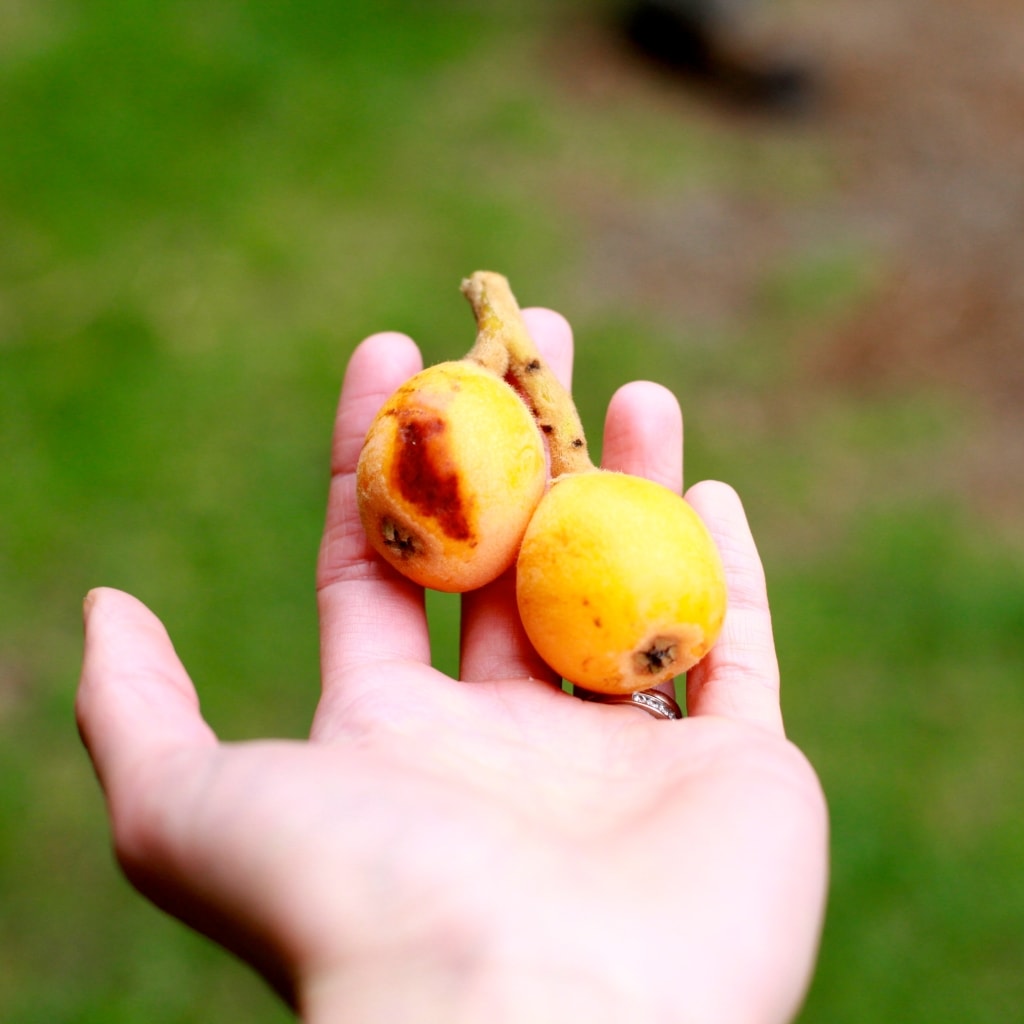 We were shown the hen houses where the hens lay their eggs and it was awesome to see the space that they had and how they were kept outdoors with fresh air and green grass surrounding them!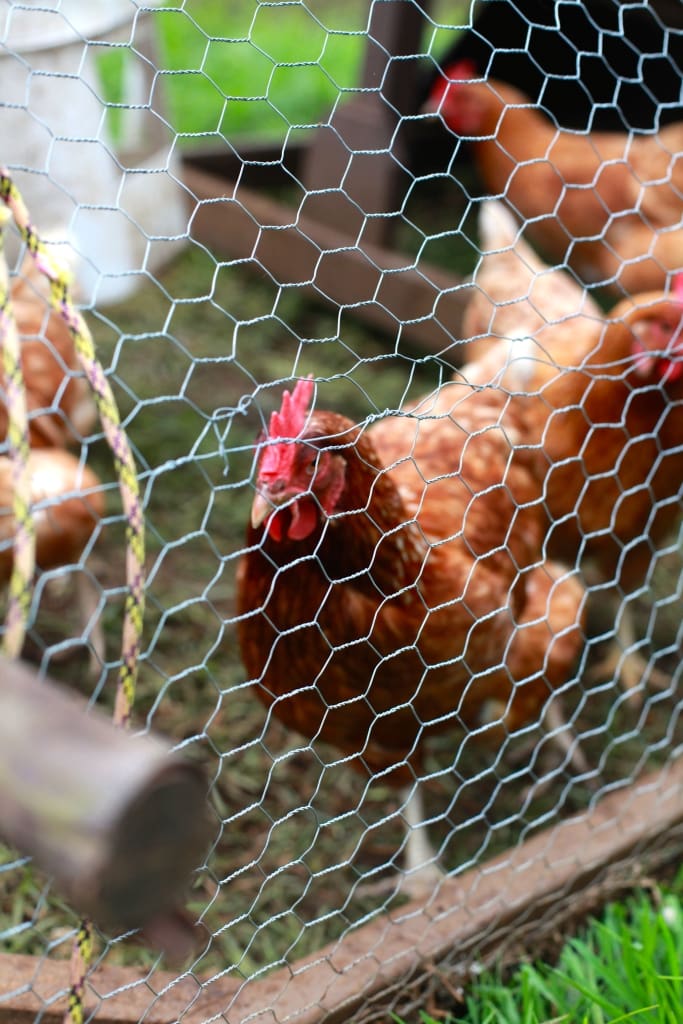 I could tell these were happy hens! We were allowed to "rob the nest" to get these truly farm fresh organic eggs to add to our lunch meal! It was great to be able to take the egg right from the hen house, laid that morning, and have it for lunch a couple hours later – talk about fresh!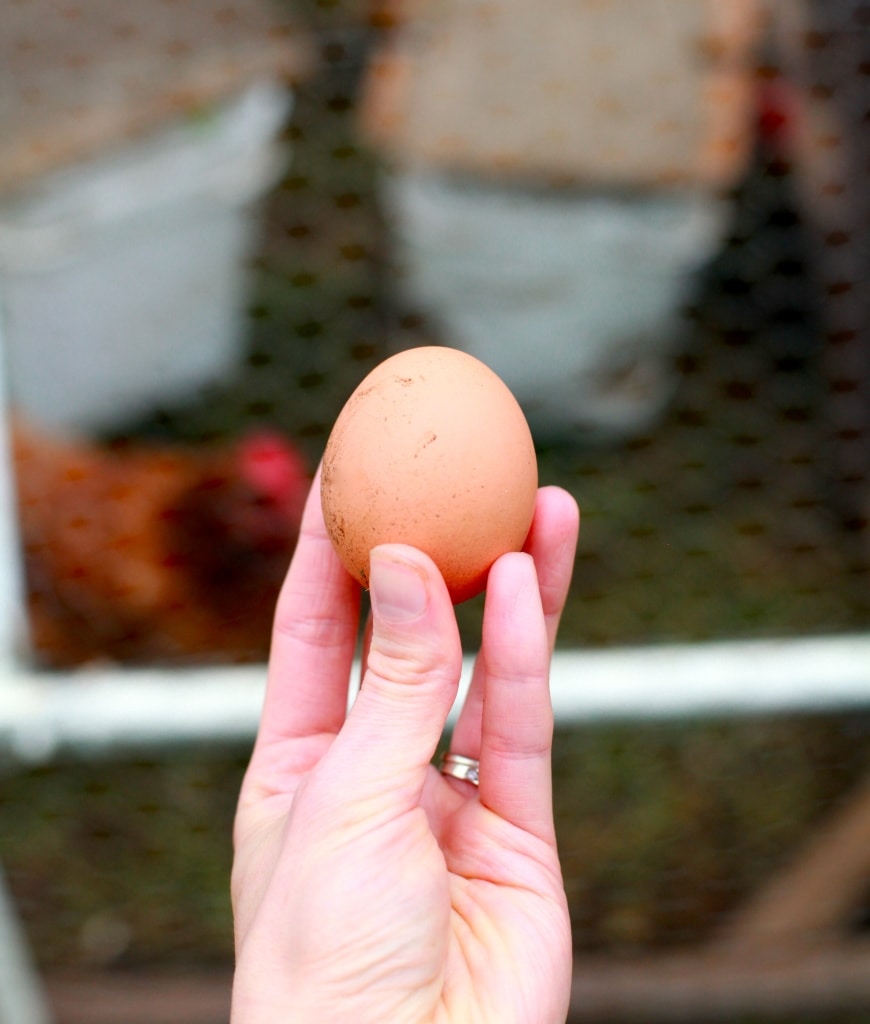 The part I loved best was foraging our own greens in the massive lush garden full of different lettuces and herbs to add to our salad that the chef would prepare for us.
I got right in there grabbing handfuls of arugula, mustard greens, spinach, red and green leaf lettuce. Once we get our backyard landscaped at home I can't wait to grow a small garden to do this on a regular basis!
The colours were spectacular and I made sure to grab a few bites right out of the bunch I had gathered!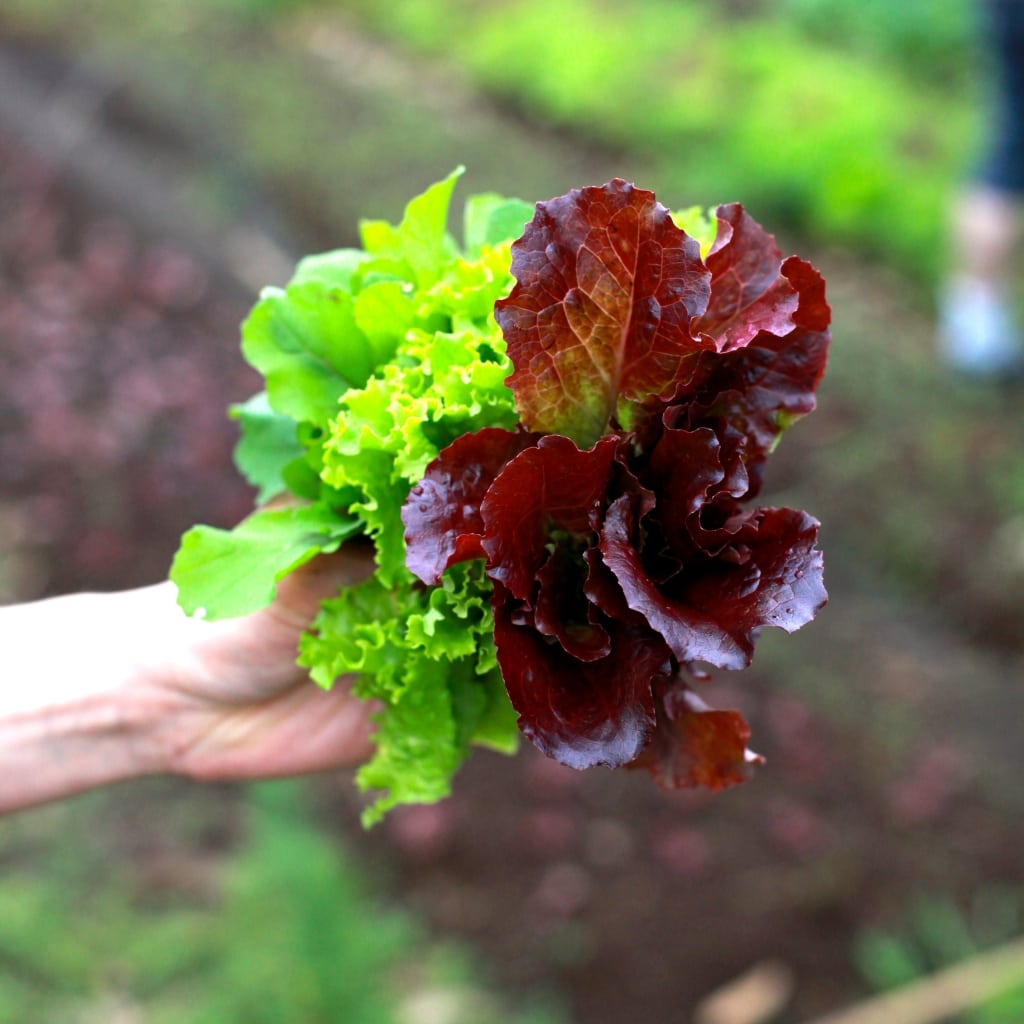 Everyone piled their foraged greens including edible flowers into the big basket to be brought to the chef and paired with a simple vinaigrette!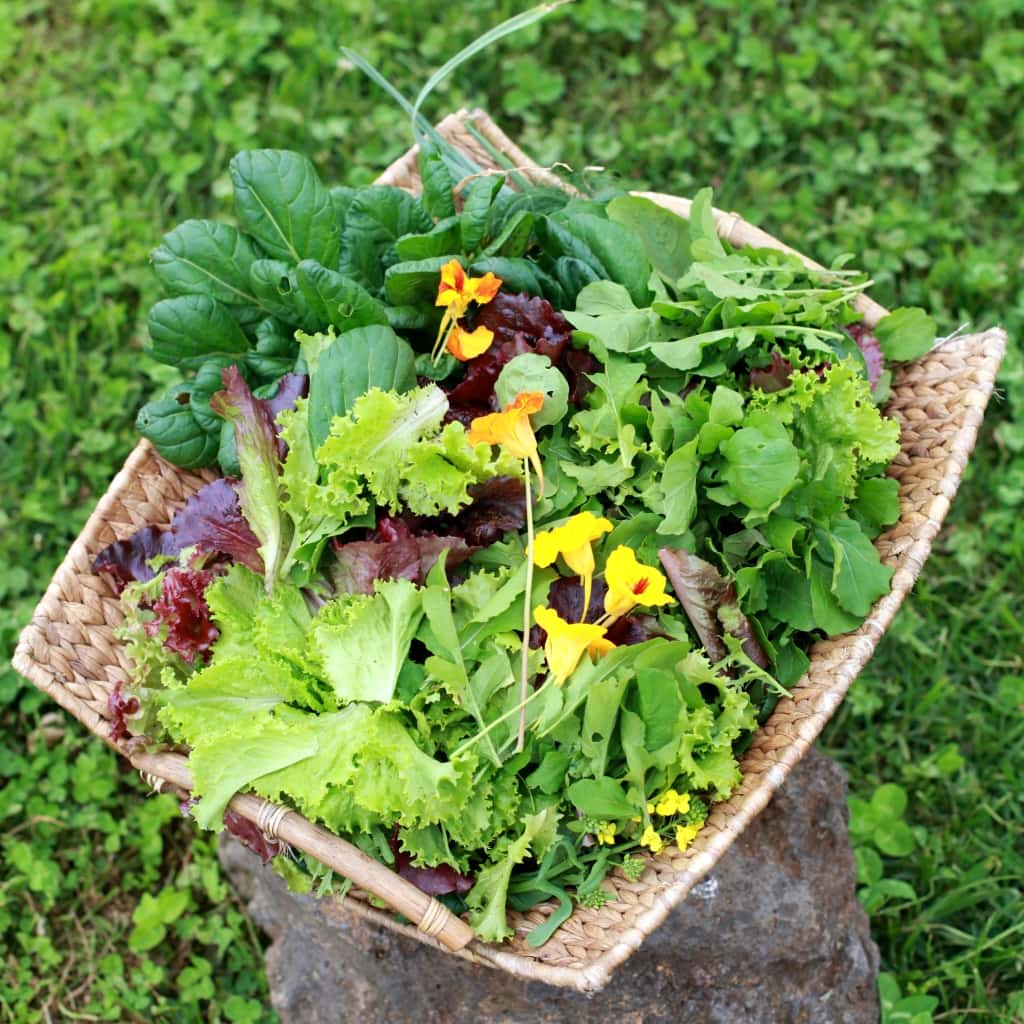 Our farm tour guide was great. He explained everything in great detail and I could see the passion for his work in the way he handled the produce like it was gold!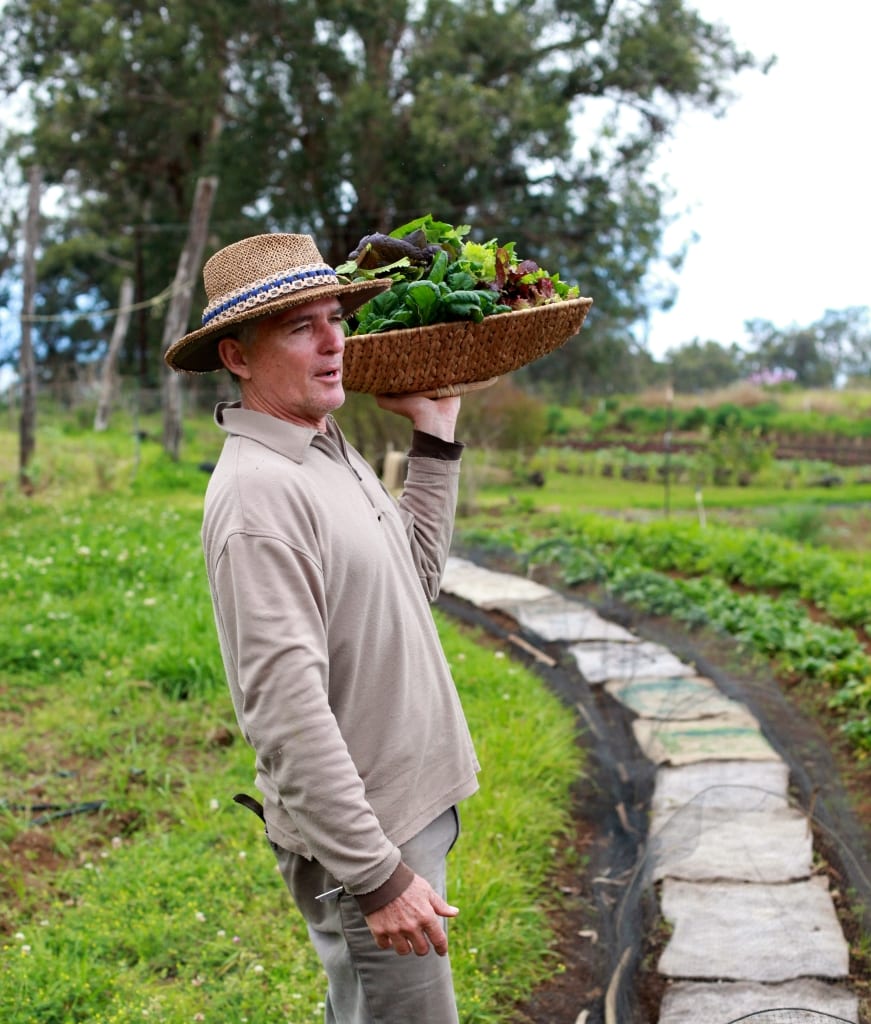 During the tour we also got to check out the coffee roasting house where fresh beans are roasted in a large machine and then packaged to sell! It was really cool to see how coffee beans actually look pre-roast. They are white! I had no idea they looked that way and I'm sure you can imagine, the roasting house smelt divine!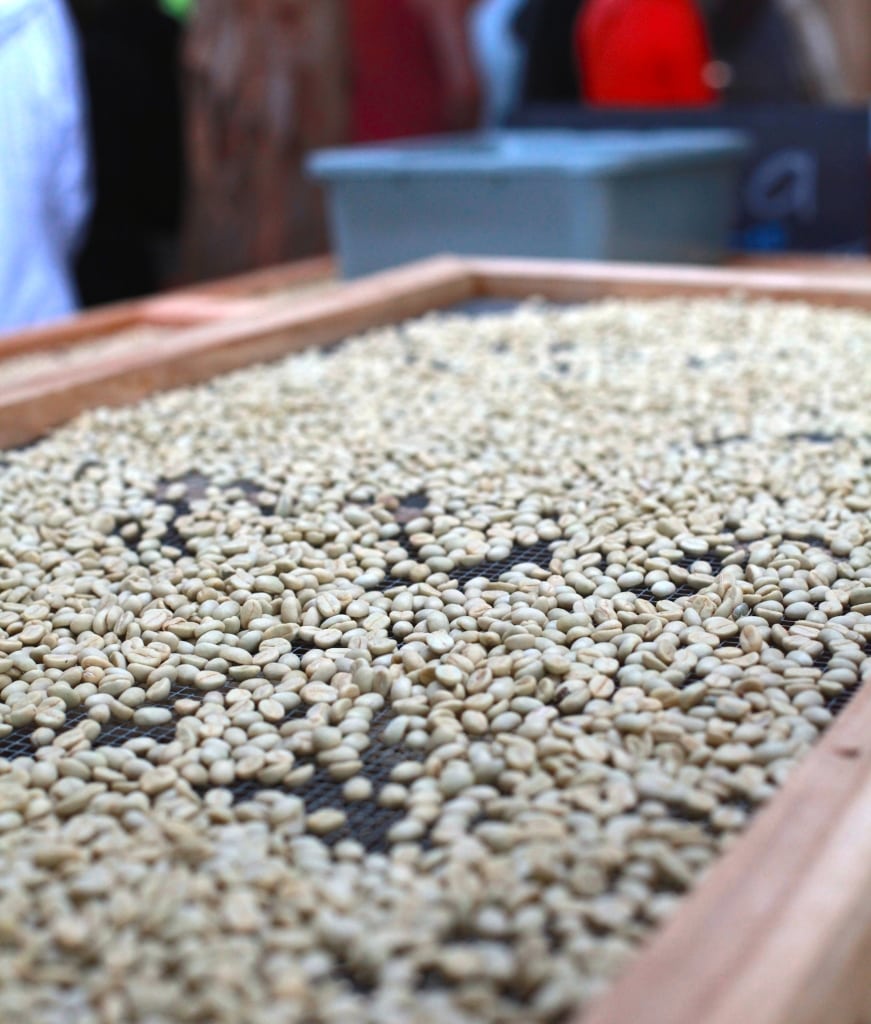 Even though I'm not a coffee drinker myself I do love the smell of freshly roasted coffee beans! The hubby was in his glory as I'm pretty sure he supports a percentage of the coffee industry with this consumption alone!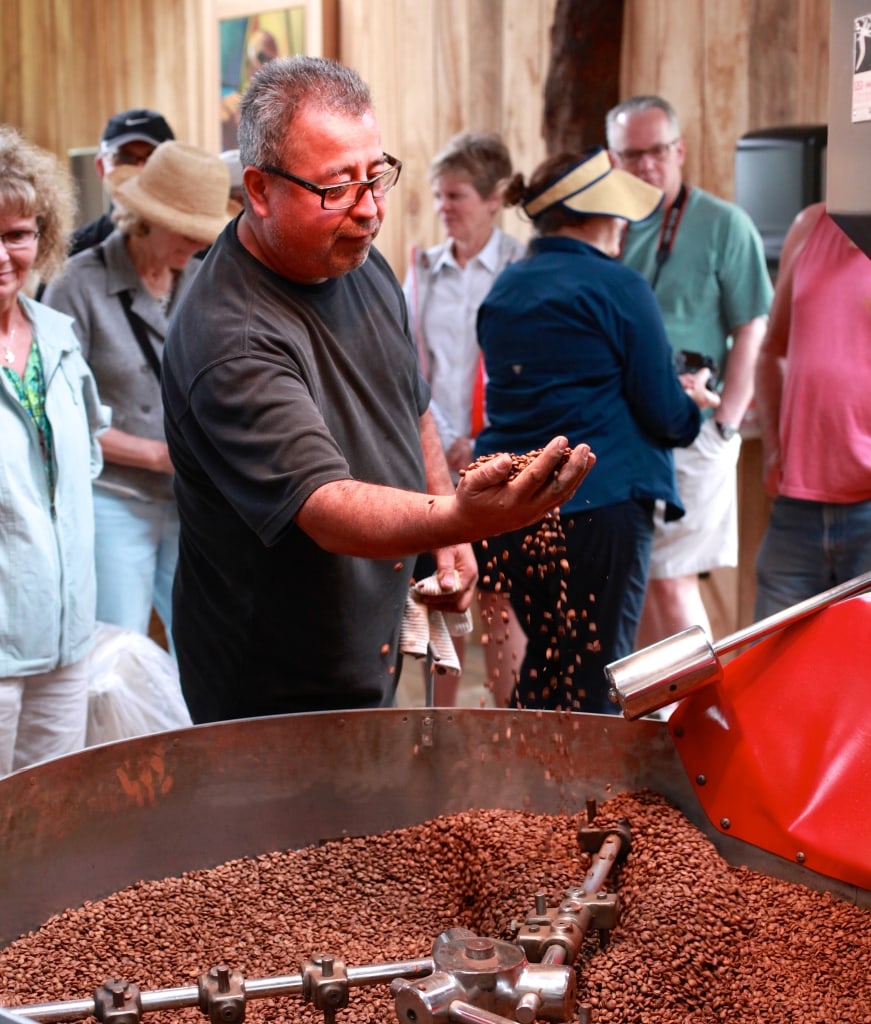 Our last stop was at the outdoor kitchen and dining area for lunch! The kitchen set-up was spectacular set outside amongst the lush green of the farm.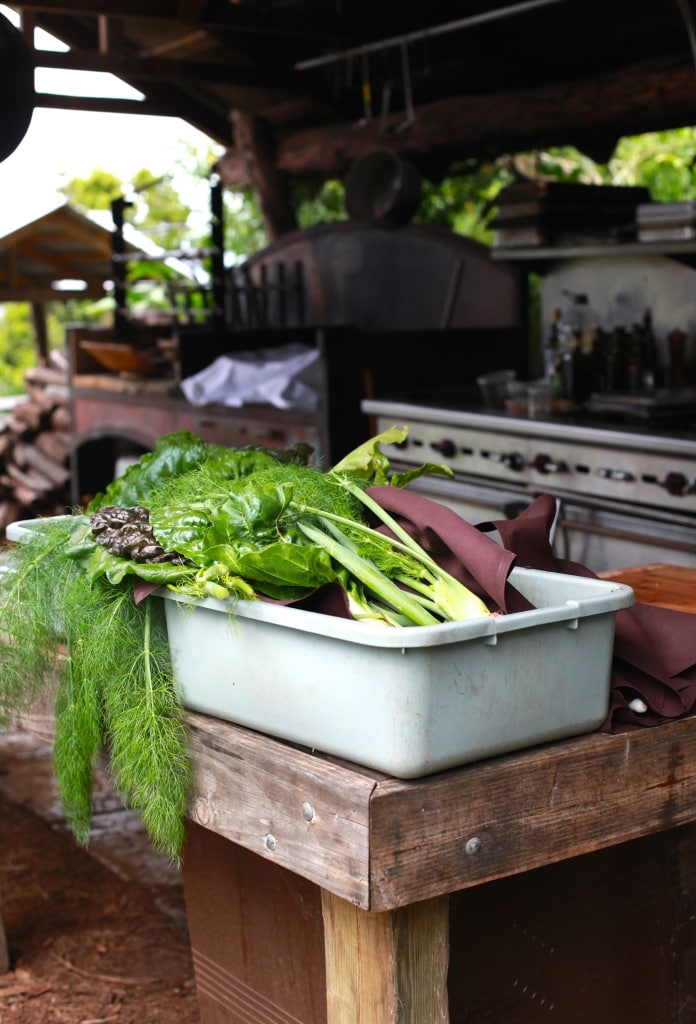 Our chef talked about all the fantastic ingredients that he would incorporate into the dishes we would enjoy and I was drooling at the description!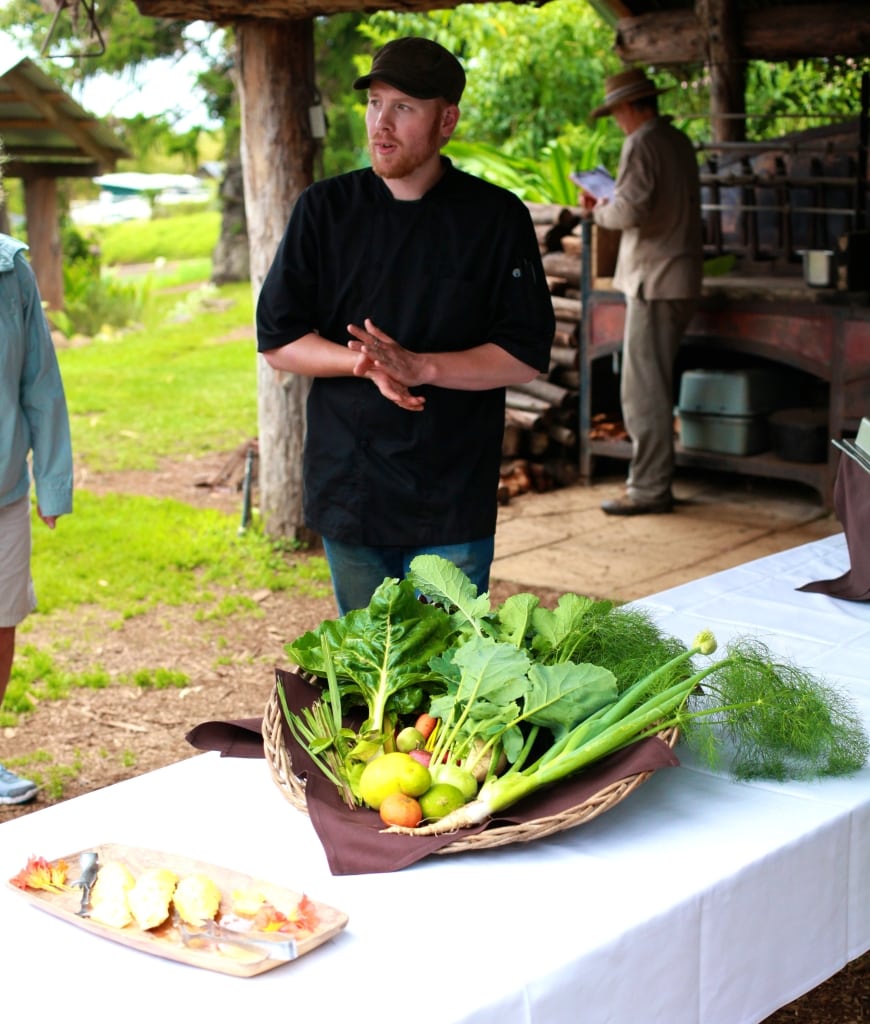 Rustic carrots, bright beets, kohlrabi, fennel, citrus, swiss chard, turnips, and kaffir lime leaf were among many of the farm fresh ingredients he incorporated into our lunch menu. The colors were so bright and vibrant, and the flavours, well theres nothing better than that "right out of the garden" taste!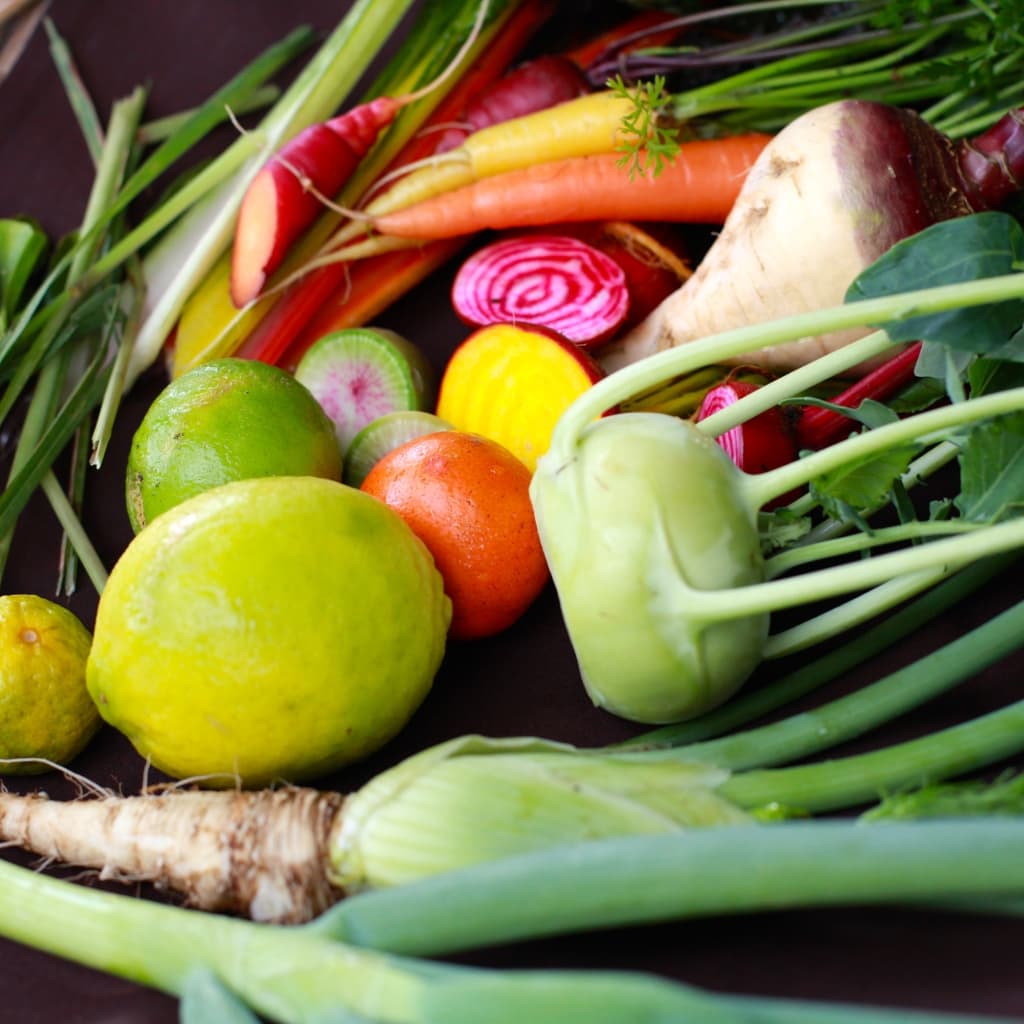 We enjoyed the dishes family style and I was particularly in love with this curried tofu dish he created that would convince any tofu hater that this stuff can be unbelievably delicious when done right, and the chef, he did it right. He seared the tofu with several spices and herbs including turmeric, ginger, coriander, garlic and cilantro to make a delicious crust and then combined it with stewed root vegetables.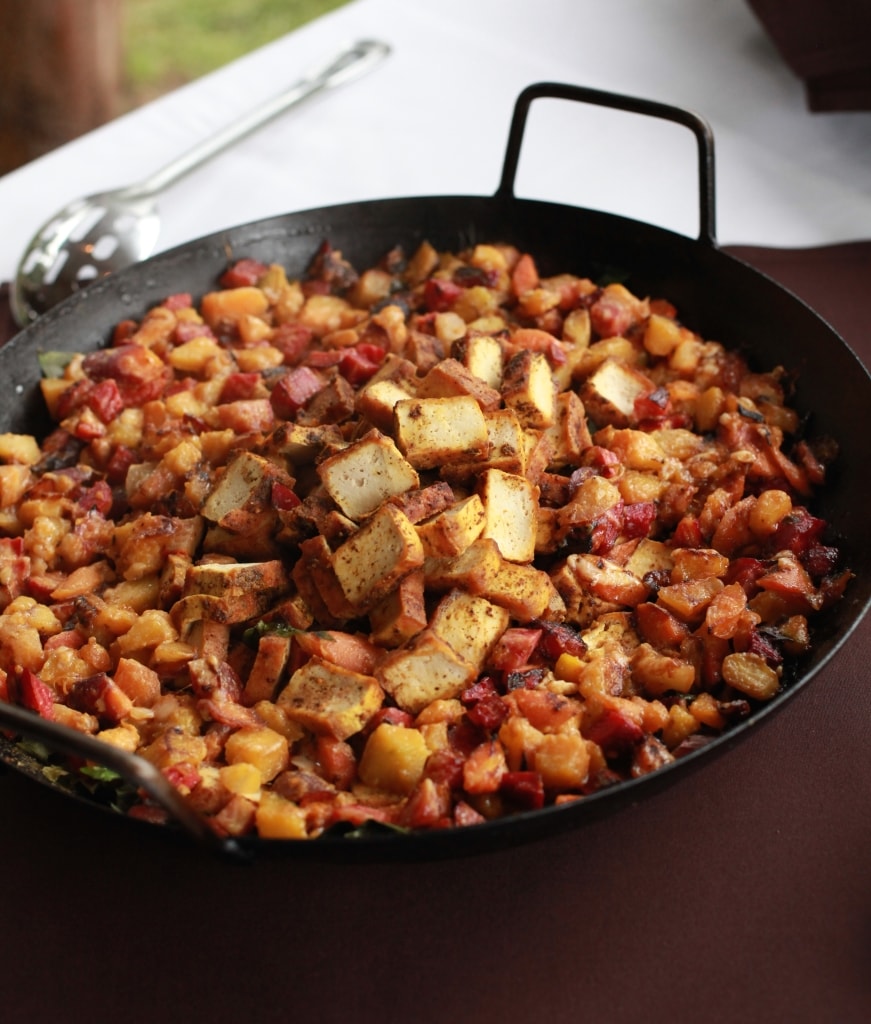 Along with the tofu was kaffir lime fresh fish with sizzling lemongrass oil and O'o Farm vegetables, a wood oven-roasted organic rosemary chicken, O'o Farm greens (that we foraged ourselves) with lemon vinaigrette and a Hawaiian sea salt and herb focaccia bread that seriously tasted so darn delicious I had two pieces!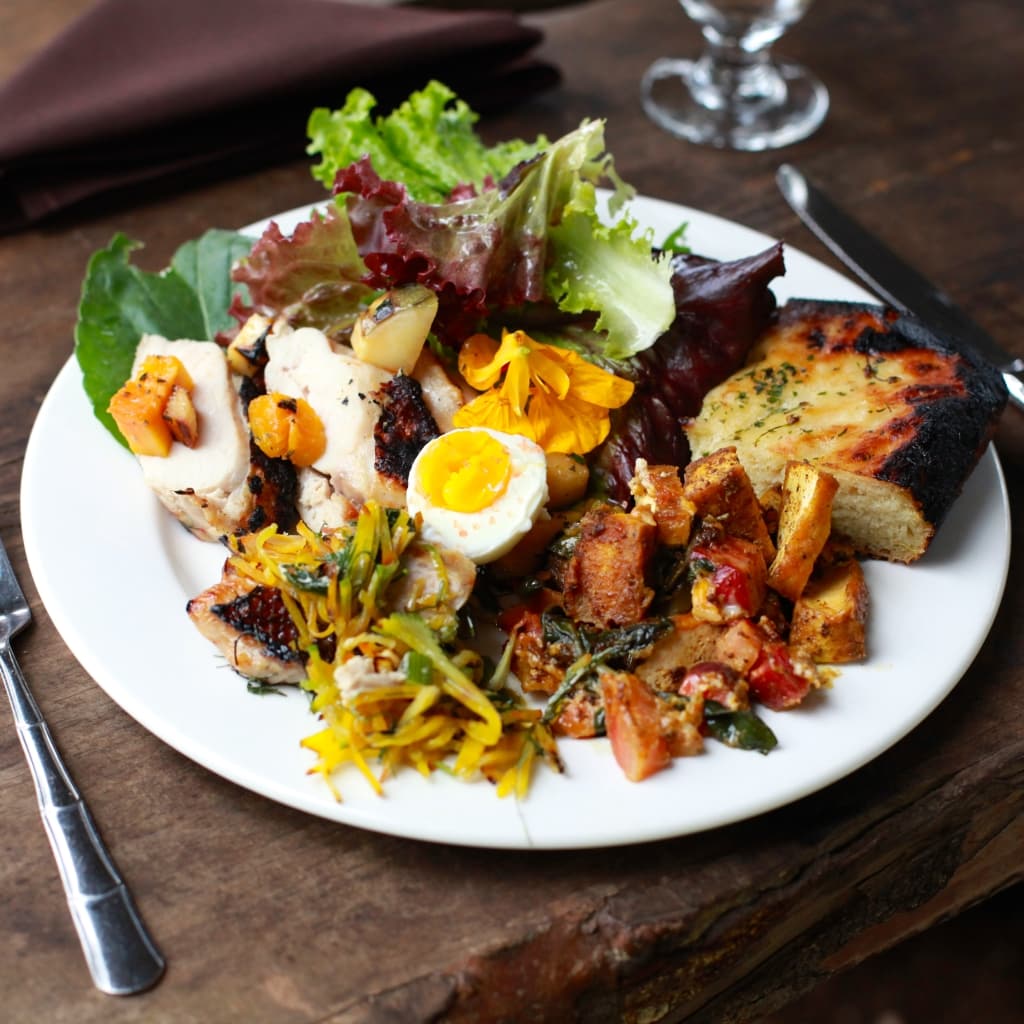 Drooling yet?
Yeah. It was amazing.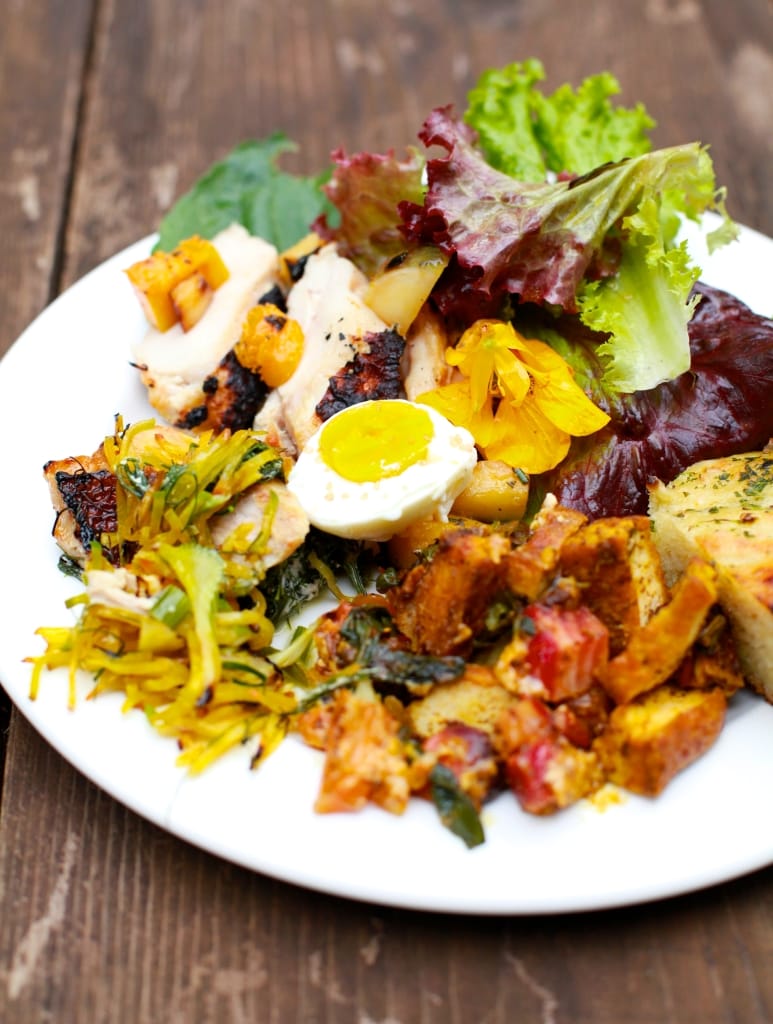 The colours, the flavours, the textures, and the farm fresh goodness of it all was enough to put a huge smile on my face and keep my belly full for hours. I honestly can't even put in to words how good this lunch was!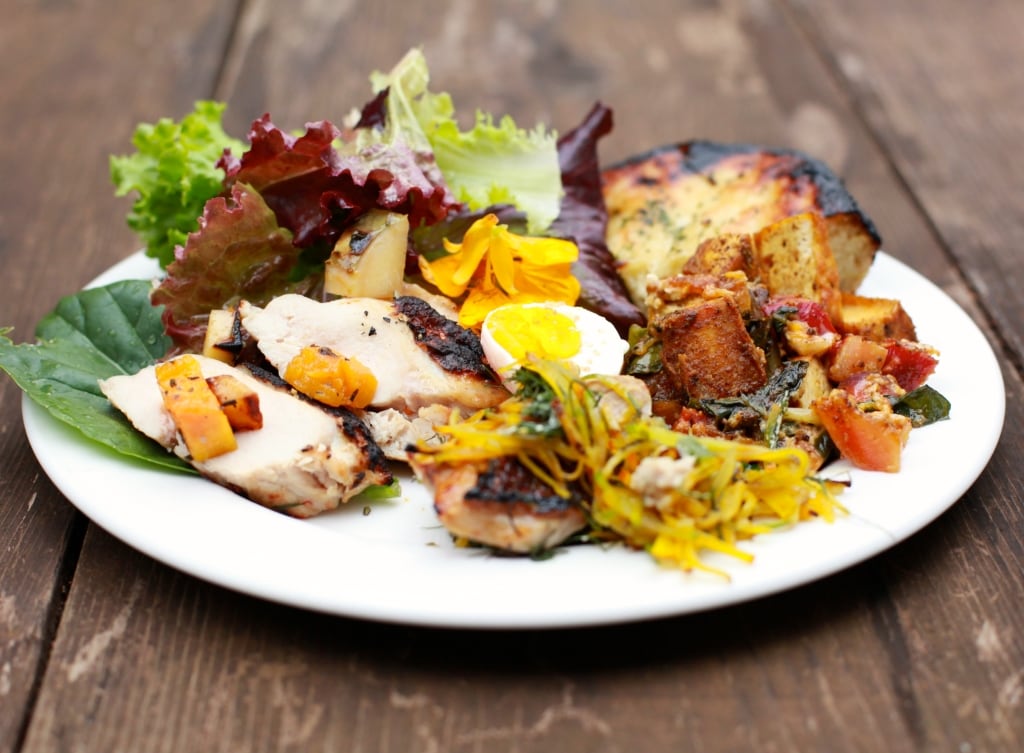 So hopefully the pictures can do the talking!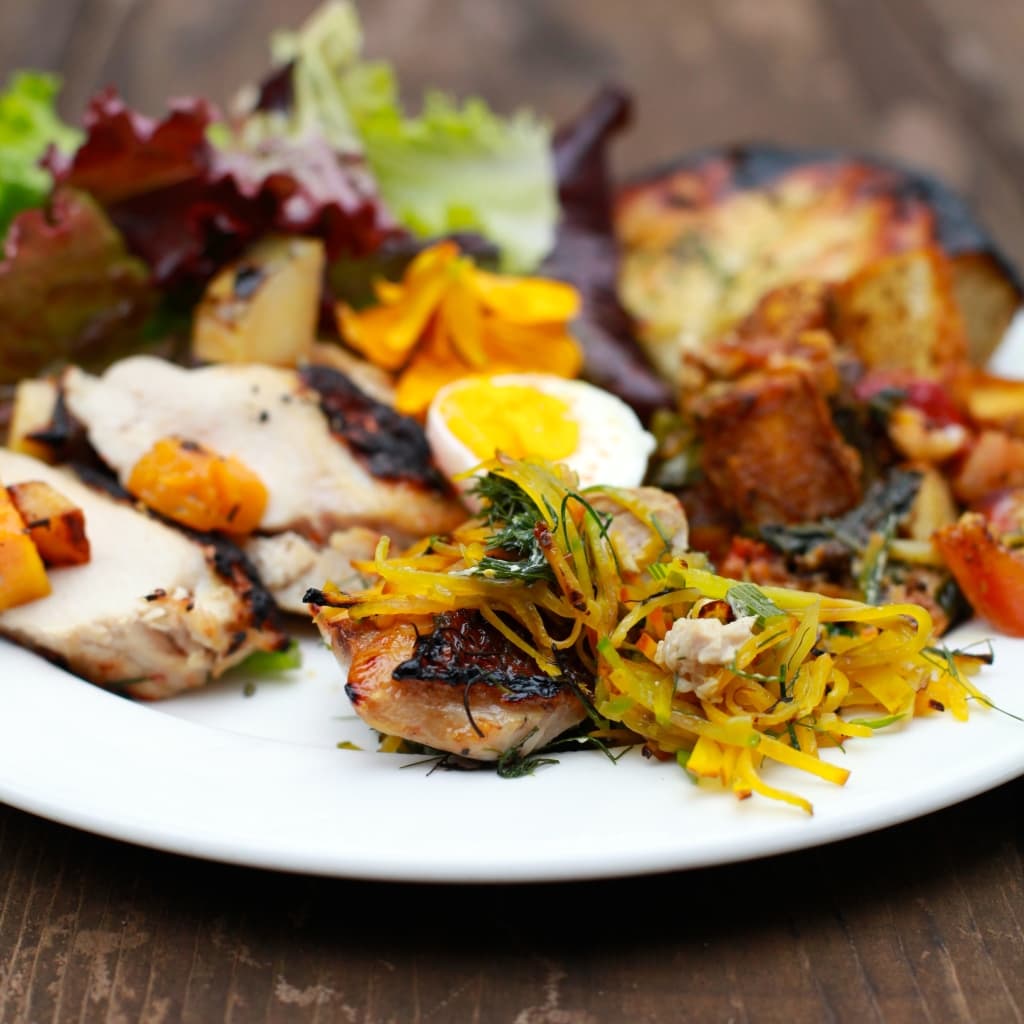 Not only was the lunch delicious, but the setting, the setting was spectacular. A long, rustic, wooden table, simply set, perched on a hill overlooking the farm and the amazing views of Maui, it was impossible to even capture in a picture. If you are ever in Maui, you must go yourself to see and experience this!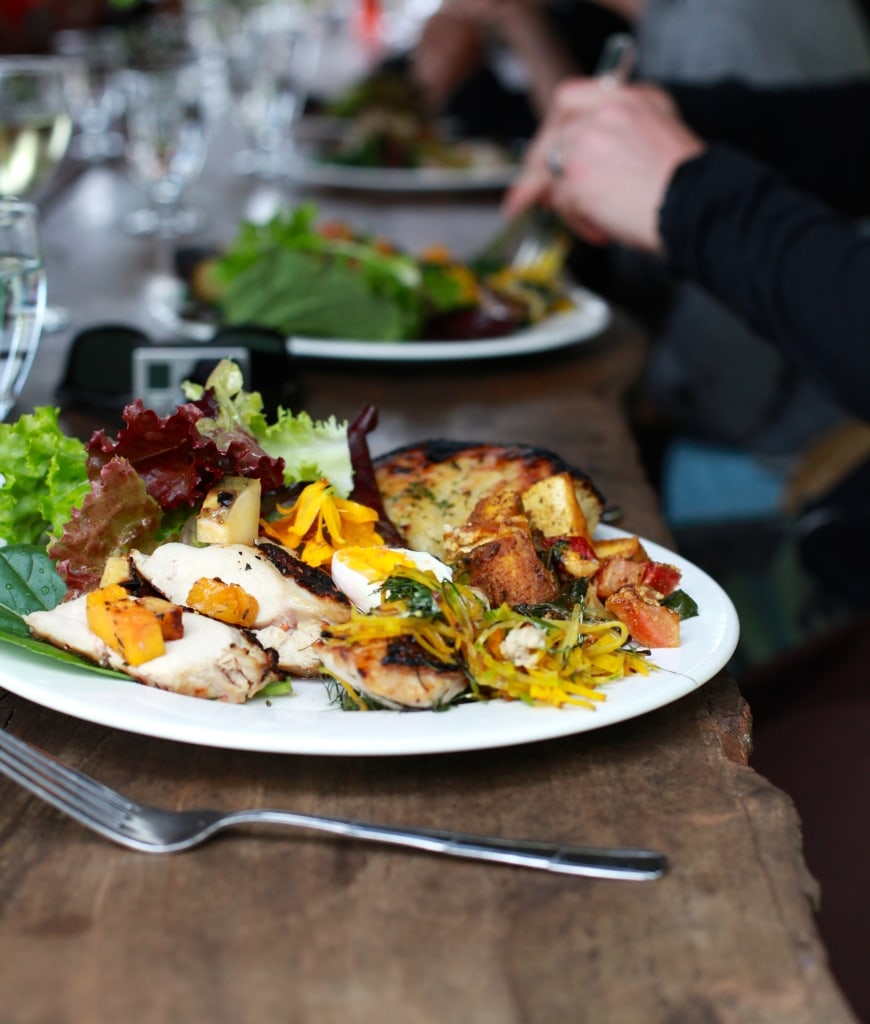 Lunch was followed with fresh roasted and brewed coffee and a simple, delicious dessert of dark chocolate truffles and fruit from the farm.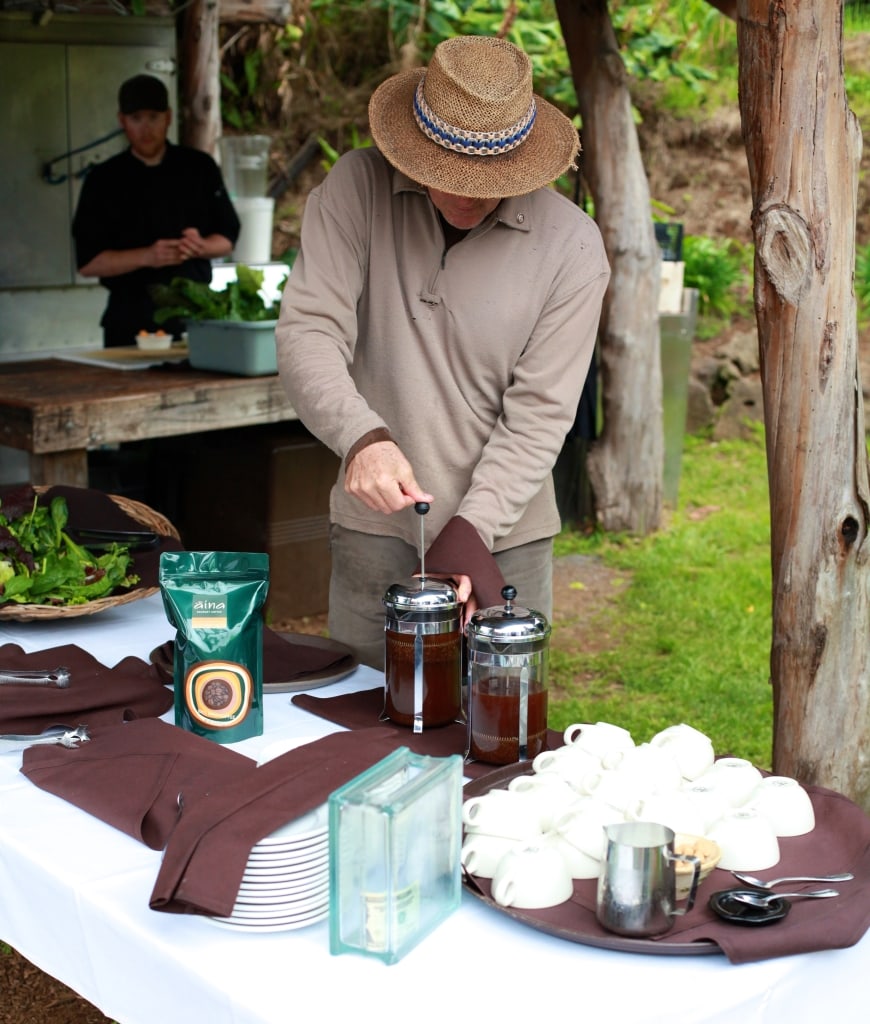 I savoured each and every juicy bite and loved how everything was kept so simple and healthy. I couldn't do the truffles because they contained cream, so the chef kindly gave me a little ramekin of dark chocolate chips – perfect for me to enjoy along with the fruits.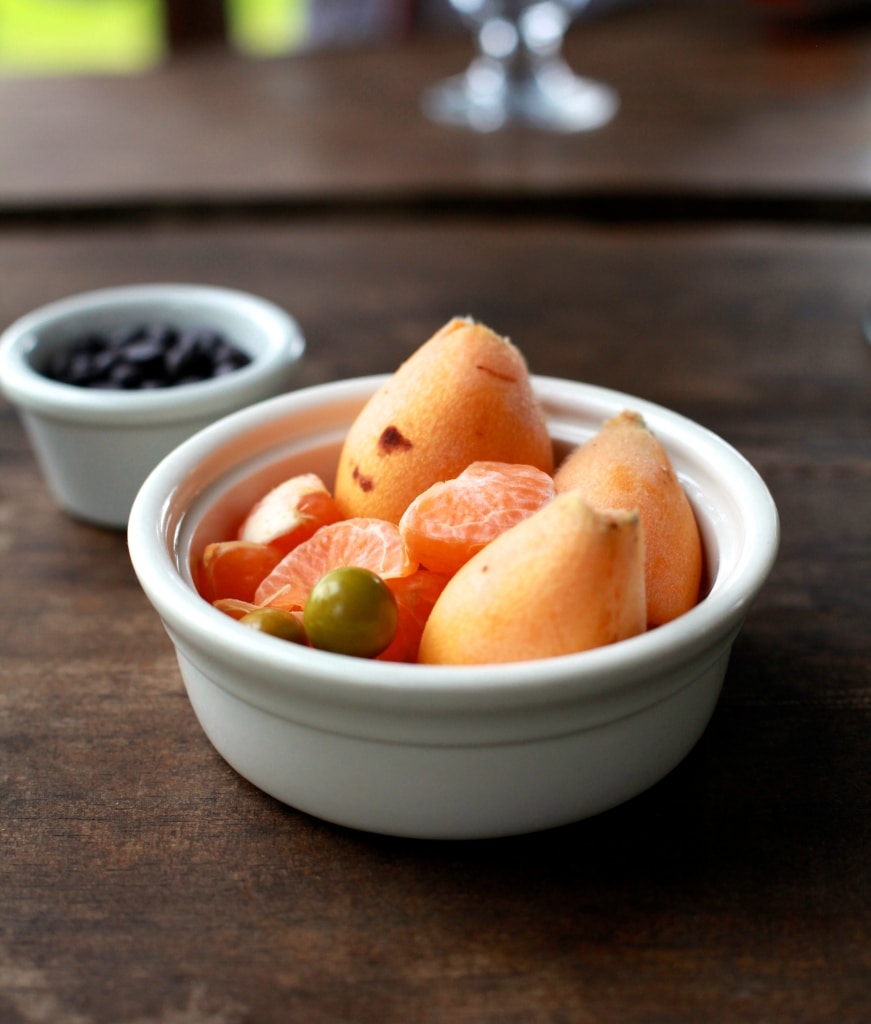 At this point I'm sure it doesn't even need to be said but this was definitely a highlight of our trip and that is definitely saying something because I'm a beach girl through and through!
Thank you so much to O'o Farm for having us, we will definitely be back for another tour and lunch the next time we are here!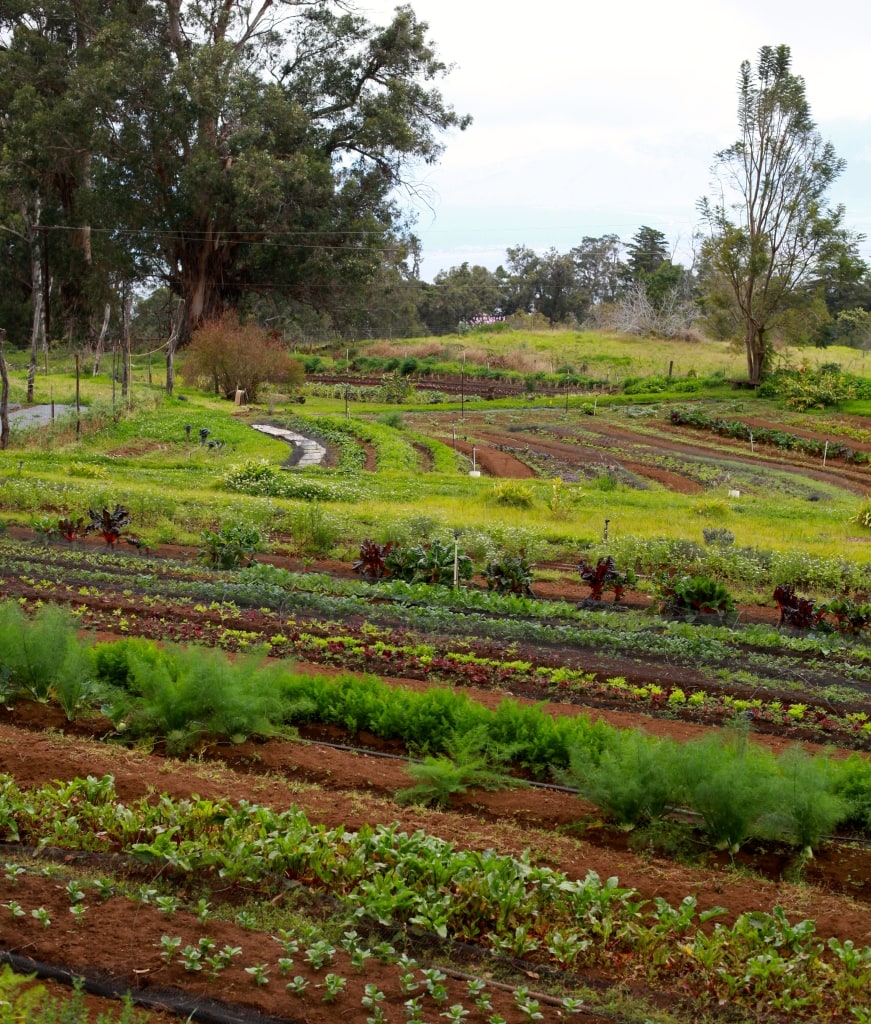 Maui has truly been a slice of paradise!
We ate amazing fresh food, swam in the ocean on the daily, saw plenty of turtles and beautiful fish and even snorkelled with a shark (eep!), we explored the culture, drove the Road to Hana, and also made sure to spend time relaxing and lounging around doing nothing!
I can guarantee we will be coming again!
Aloha,
Christal
Nutritionist in the Kitch