Our 30-Day Progress!
I must admit, I am super nervous about this post, but, VERY excited too! It's kind of intimidating, and scary, and nerve-wracking putting ourselves out there like this for the world to see, but the hubby and I have been working our BUTTS OFF (literally!) over the last 30 days as part of our 12-Week Fit Challenge!
It's been a great 30 days, and I feel I have learnt A LOT about myself and my body! I've been challenged and had my will power tested like never before – it's really been a fantastic learning experience so far! I truly can't WAIT to see where the next 8-weeks pushes us!
I'll start with The Hubby:
The hubby (Justin) has had some big challenges to overcome over the last 30 days as for half of it he has been out of town working in a camp! The challenge this poses is that he doesn't have access to a full kitchen and unfortunately the food choices out there are less than desirable when it comes to eating clean. Another challenge was that the gym at the camp had limited equipment.
His success over the past month was really all about planning and preparing ahead. Before he left out of town we prepped ALL of his meals – breakfasts, lunches, dinners, and snacks. It was a lot of work, but we got through it in one evening, and he was set and ready to go. He also got a gym membership in the town nearby the camp he is working at (which is actually quite close so that was nice!). This way he was able to have access to all the equipment he needed and get his daily workouts in.
I'm super proud of him because even after working those 12 hour days, he pushed through and got his exercise done – and boy does it show! I am SO proud of his progress!! Way to go hunny!
He was also able to find some coworkers to keep him accountable – having that outside support is so essential when it comes to staying motivated! We also talked on the phone every night and helped push each other through the negativity that sometimes likes to take place in your mind when making positive changes for yourself.
So, without further adieu here are his progress pictures so far!!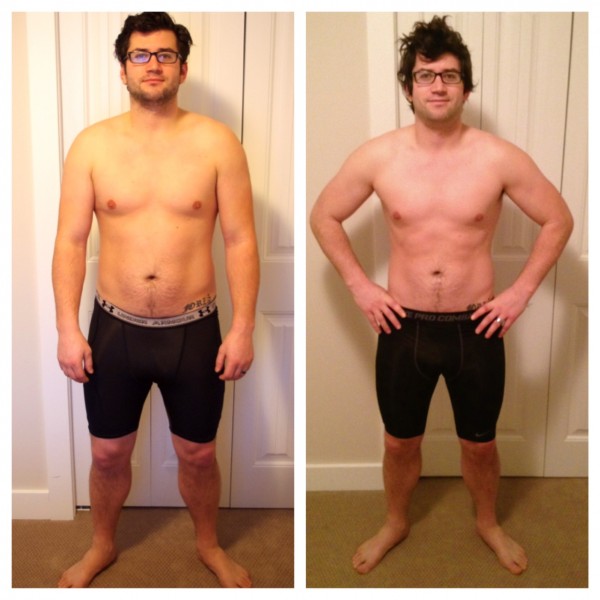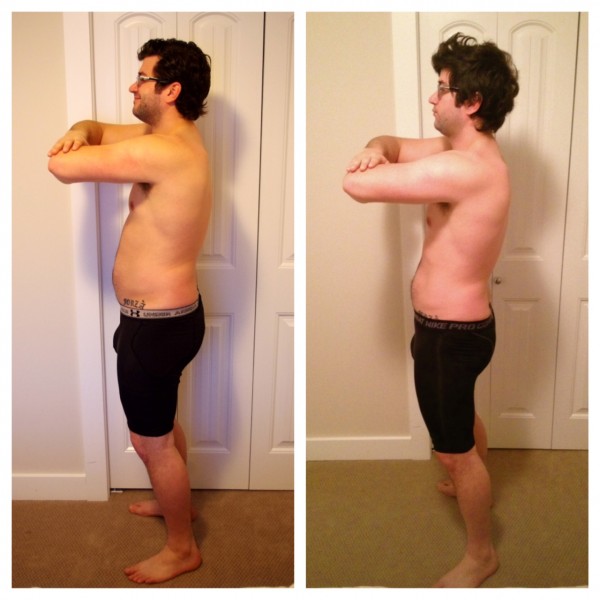 The biggest changes he has noticed so far, is the weight he has lost in his middle. I think we can attribute this to the avoidance of added sugars and alcohol in his diet. The hubby is a BIG sauce fiend … ketchup, BBQ sauce, mayo, teriyaki, HP sauce… you name it, he loves it, and douses it over his food. Unfortunately, most these sauces are LOADED with refined sugars… and too many refined sugars = excess fat storage. Also, avoiding the usual "cold-one" he would crack after work most days has helped reduce empty calories and because the body can't metabolize sugars and fats as efficiently during the metabolism of alcohol, his body has been able to start metabolizing more efficiently!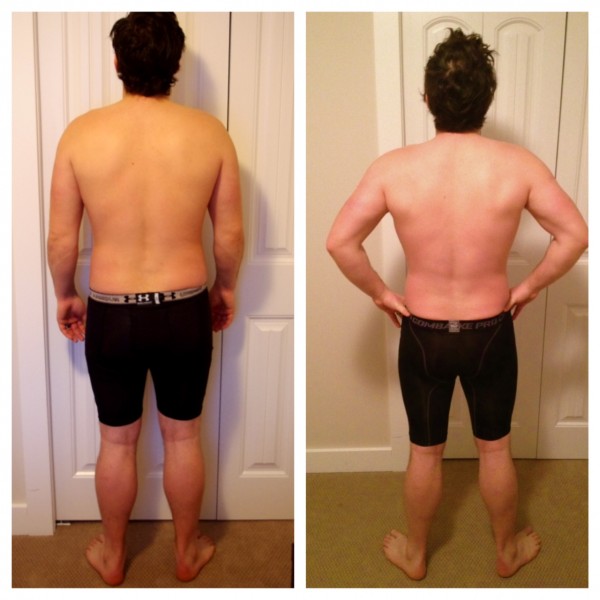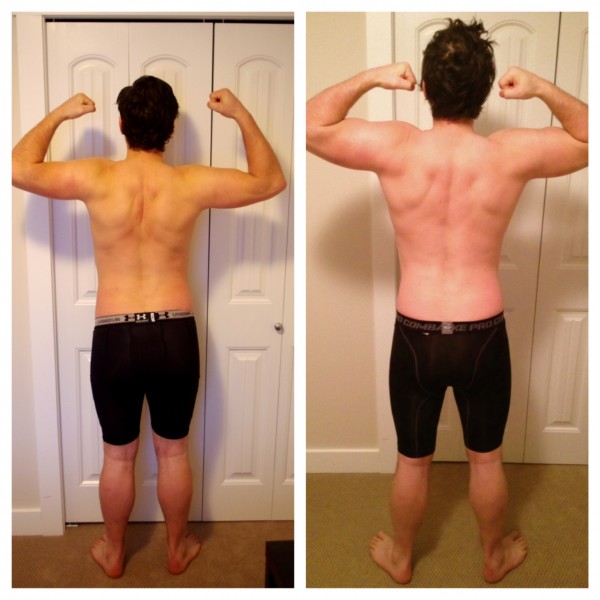 Justin has lost a total of 6 lbs so far! We will find out soon how his body fat percentage has changed – I will post the overall beginning to end stats including weight and body fat percentage for the both of us at the end of our 12-weeks!
Ok, now me…!
As for myself, I've learnt a few things over the last month:
I've learnt about the utter necessity for planning and preparing ahead of time. I always put a big emphasis on this with my clients who are aiming to lose weight, and I now realize that it isn't just for weight loss, but for any health goal you have! Even for my goals, it's been so important to make sure I have my meals planned ahead of time and pre-made so that I am never stuck in a situation where the right choices are not available. I always make sure that the night before I have everything in my fridge that I will eat the next day made and ready to go. It took me a couple weeks to get into this pattern but now it's routine, and I always have the right food ready! It's really a no-fail plan!
I've learnt to become incredibly aware of my thoughts and patterns when it comes to eating. Before I started this challenge, I was a bit of a late night snacker. Although I would always make healthy choices (apple and peanut butter, fruit, veggies and hummus) I was always going into the fridge not long before bed. This was totally a HABIT I had gotten myself into, NOT a true hunger need my body was trying to fulfill. On this plan, I am eating 6 times a day, and quite a bit of food, so after a while I realized my tendency to mindlessly walk into the kitchen after I had eaten all my meals for the day, and reach for a handful of grapes was me in my bad habit! I caught myself doing this often in the first week of the challenge, and I would stop and say to myself "Ok Christal, WHY are you here at the fridge, how did you even get here, and do you really need this food right now?" And my answer was always no. So I would close the fridge, make some tea instead (a great tip!), and then head up to bed not much later. After a couple weeks, my bad habit started to fade away!
I've also learnt about the importance of consistency and rest days in an exercise routine. Before the challenge I was very inconsistent with my workouts – although I was still at the gym 4-6 days a week, I had no direction and would overwork my upper body, underwork my lower body, and be completely inconsistent day to day and week to week with what I was doing. Since starting the challenge I have had a set plan that I have followed exactly. WOW! I can't even begin to describe the gains I have seen in just 30 days compared to the months of aimless working out I was doing before! Something else I have also found so helpful in this challenge is constantly finding inspiration to keep my motivation, while always making sure to have daily affirmations for myself and keep a clear vision of my goals! I use tools like pinterest, magazines, writing things down, and visualizing to help me with this – it's really helping keep me dedicated to this challenge!
Ok, so here are my pictures!!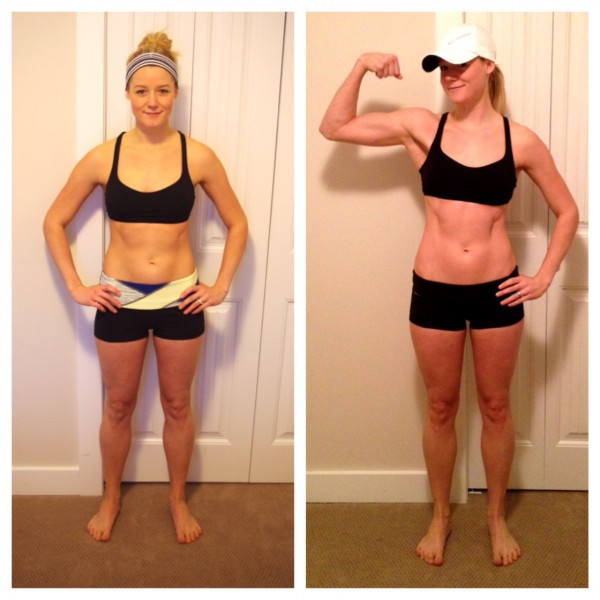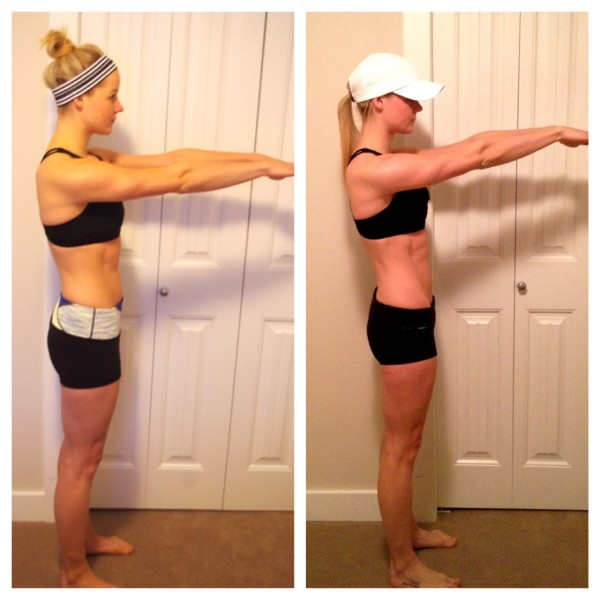 I too have noticed a big change in my midsection. I've felt way less bloated and like I am retaining less water (probably due to the 3 litres of water I drink every day!), I've noticed my abdominal muscles are finally starting to show (I knew they were in there somewhere!), and I've noticed a huge improvement in my overall strength! My legs have always been my "trouble" area and slowly but surely I am noticing my leg muscles getting more firm and shapely!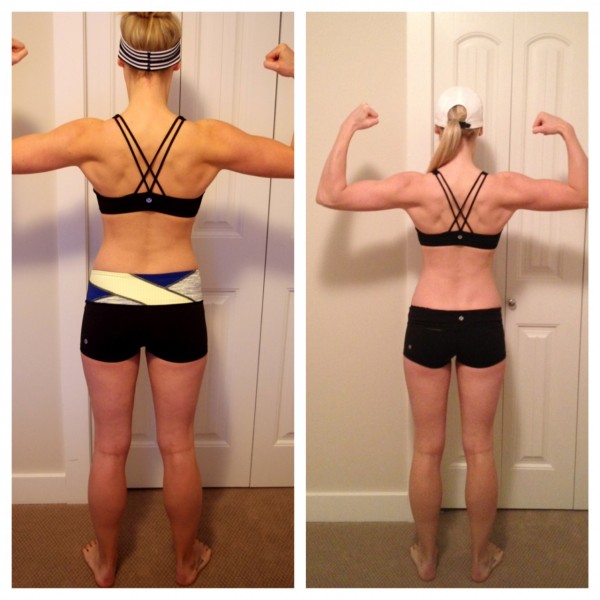 I have lost a total of 4 lbs in the last month! Again, my goals are not solely based on weight at all, but more-so changing my body composition to a leaner, lower body fat percentage! I feel I am well on my way and plan to give it my all over the next 8 weeks!
I wanted to summarize some KEY POINTS that I hope any of you who have weight loss or "get fit" goals will try to implement in your daily lives as we have seen what these have done for us is just 30-days!
1. Eat 6 smaller, well portioned meals throughout the day. Eat breakfast EVERY morning, and do not eat within 2 hours before going to sleep. Stay as consistent as possible – eat every 2-3 hours, and try to eat around the same time each day. Your body will fall into this routine very quickly and your metabolism will love you for it… as well as your digestive system!
2. Eat Clean! Stay away from packaged products as much as possible! Watch for added sugars and try making your own dressings/sauces at home. If you want some ideas on what to eat check out the Essential Grocery List I posted a little while ago!
3. Ensure you are getting a protein source at each meal and snack. This can be animal or vegetarian, and ensure that this source is natural and unprocessed (No deli meats!).
5. Drink your H20! If there is one thing you can do, it's drink more water! Aim to get at least 2L of water per day!
6. Find an exercise plan that fits your schedule and lifestyle and is suited to your goals (hire a professional to make one for you if it is possible!) and then stick to this plan, stay consistent and the results will come faster than you ever imagined!
7. STAY POSITIVE – wow, I can't even begin to emphasize this point enough. Negativity is like a poison for your goals, dreams, and desires. Whenever you feel a negative thought try to make a home in your head such as "you'll never look like that", "you can't do it", "you're going to look/feel this way forever", you KICK THAT THOUGHT TO THE CURB and replace it with an affirming positive thought.. these little pictures you can find all over the web have been a HUGE help for me!!
Thank you for getting through this long winded post! I hope you have been inspired to set your goals and start the process to reaching them or keep pushing if you are in the midst of a positive healthy change already!
If you have ANY questions about what the hubby and I are doing, or eating, or want any other tips – feel free to ask! I love comments and love answering them even more!
It will be back to wonderful recipe posts this week so stay tuned for some delicious, healthy dishes!
Have a wonderful Monday!
Christal (and Hubby!)
Nutritionist in the Kitch