Our 60-Day Progress!!
Well, here we are at another milestone in our 12-week fit challenge! The hubby and I passed our 60-day mark on Sunday, and we are feeling better than ever!
This last 30 days has definitely been tougher (for me anyways) than the first 30 days, but we have both still made awesome progress, and are going to stay strong and push through till the end of this challenge!
For those of you who are new here, I will give you a little insight on what we've been doing!
Quite some time ago, my hubby and I noticed we were both getting a bit too "comfortable" and the pounds were slowly starting to pack on…and we also had a general lack of exercise and motivation to stay in shape! We would dine out at restaurants a bit too often for convenience sake, and we were indulging in the wine a little much. So we decided it was time to shape up or ship out!
We hired ourselves some fantastic trainers (Asha & Rob) from Excel Fitness & Nutrition here in Edmonton, and asked them to whip us into shape! They designed each of us a personalized training and diet plan tailored to our goals and have been keeping us accountable ever since!
So, now here we are, 2 months later and well… you can see for yourselves how far we've come along!
I'll start with the hubby again!
Justin has seriously been ROCKIN' this program. He's been out of town for work a ton in these past two months, but he has managed to still stick with the program!
He planned and prepared meals ahead of time to bring up to camp,  he got a membership at the gym by where he's working, and after 10 or even 12 hour work days, he still gets the workouts done! I'm so proud of his dedication, determination, and consistency!
(The following pics are all Day 1 vs Day 60… I took out day 30 pics because it wasn't working with the pic stitch program I use.. I'm sure there's something I could be doing to make it easier, but whatever, this works for now! I'll try to have each progress pic up for when we do the last one!)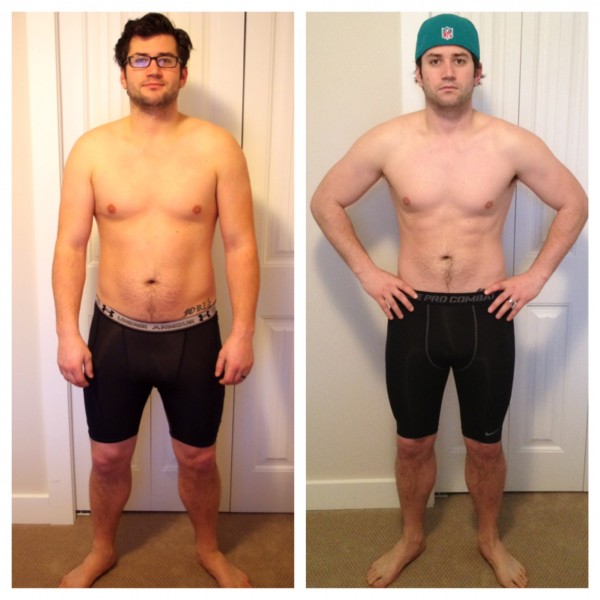 Justin has dropped over 15lbs and 5% body fat so far, (probably more now because the body fat was taken a couple weeks ago!). He looks amazing! His clothes are fitting better, some even too big now, especially his jeans, and his "beer/bbq sauce/ketchup belly" has almost completely diminished!! The abs that were hiding under there are now starting to show!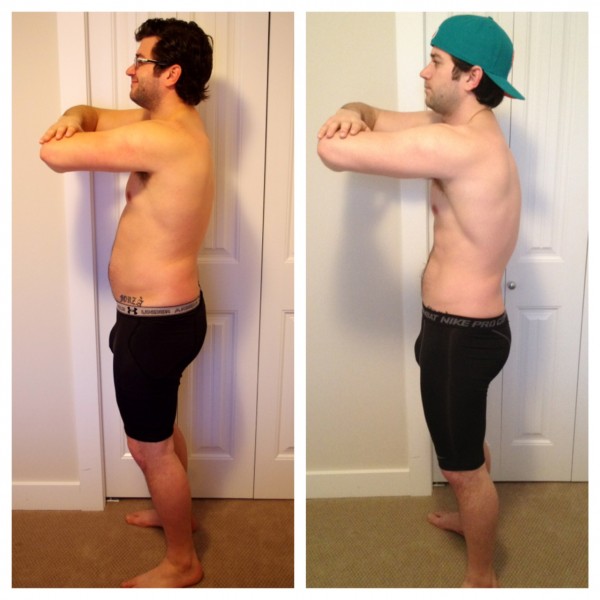 Overall he looks younger and healthier, and he feels that way too!
He has more stamina (… and i'll seriously vouch for that one 😉 ;)…oops TMI??), is happier in general, and doesn't feel like he is dragging himself through most days!
He just left yesterday for another stint away for work, and although I am sad to see him go, I'm super excited to see the changes that he will achieve in just the time he is away.
Way to go Justin!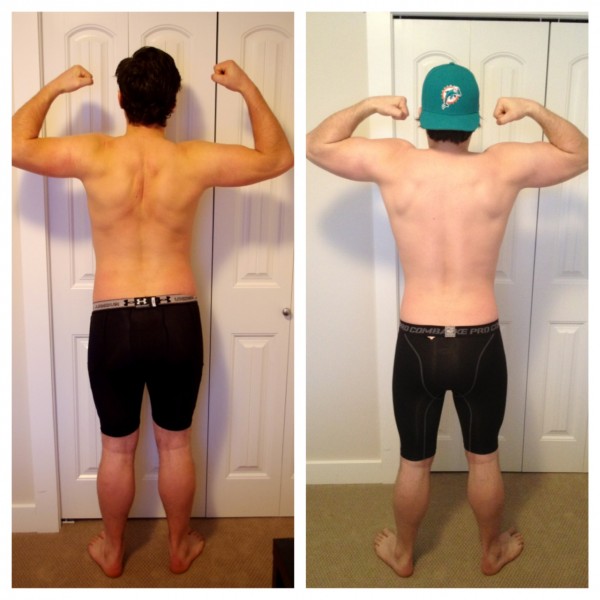 As for me, like I mentioned before, this month was a bit of a struggle for me.
I don't know wether it's my body type, or just the way it goes, but I definitely felt that things were a lot slower moving than they were in the first 30 days. The scale has been my best friend and my worst enemy from one day to the next, as I seem to fluctuate A LOT. My trainer had to remind me that the number on the scale, is just that, a number, and isn't always showing what is actually happening with my body composition.
Don't get me wrong, I've definitely noticed changes, but I do feel like this past 30 days I've had to reaaaaalllly work for it!!  I've upped my cardio, cut down my diet, and intensified my workouts, and I've truly learnt the importance of a good nights sleep!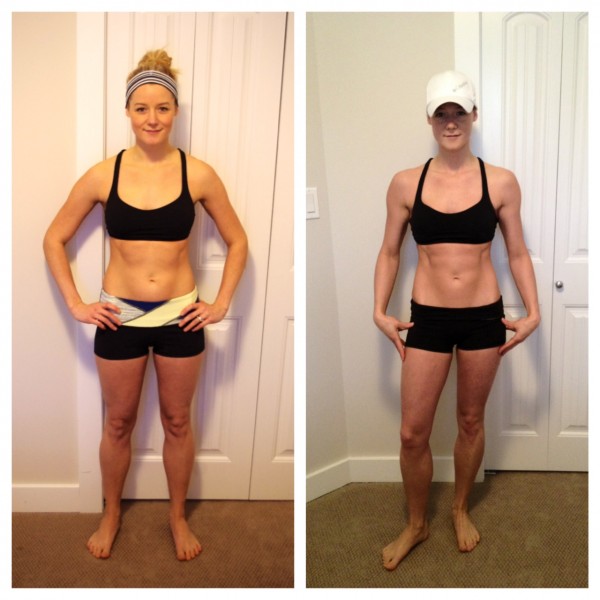 One of my best friends (the awesome girl who first inspired me to start this challenge), had a pep talk with me the other week, and what she said made total sense. I  was getting down on myself because I wasn't seeing changes "fast enough" or "big enough", and she reminded me that the bodies we see in those fitness magazines, of women with chiseled abs and perfectly rounded delts aren't "built in 12-weeks"… many of them have been training for years, and it just takes time, dedication, and consistency, no matter how "fit" you are to begin with.
Ah, yes, my impatience was getting the best of me. So, I decided to have a change of attitude be truly happy with the progress I HAVE made, and stop focusing so much on the progress I have NOT made.. YET.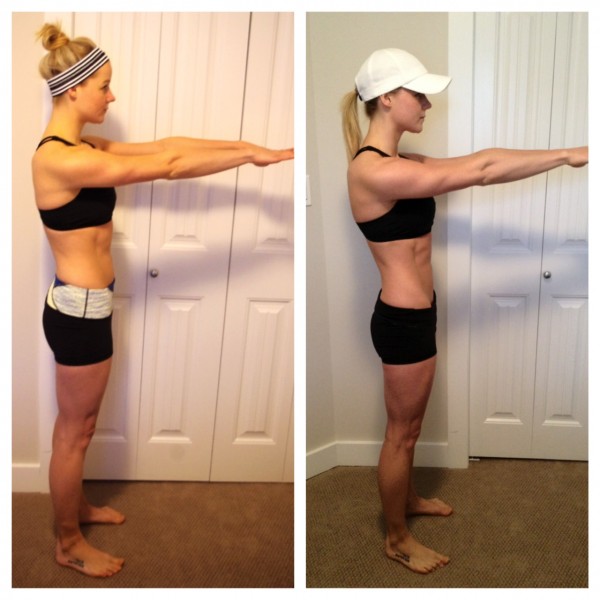 I think this goes for anyone who is trying to transform their bodies. No matter what stage you are starting at, it's so important to just keep a positive attitude and an attitude of patience. In this world of "quick fixes" left and right, the bottom line is that true change takes time, and it's important to enjoy the journey and learn from it while you are in the process!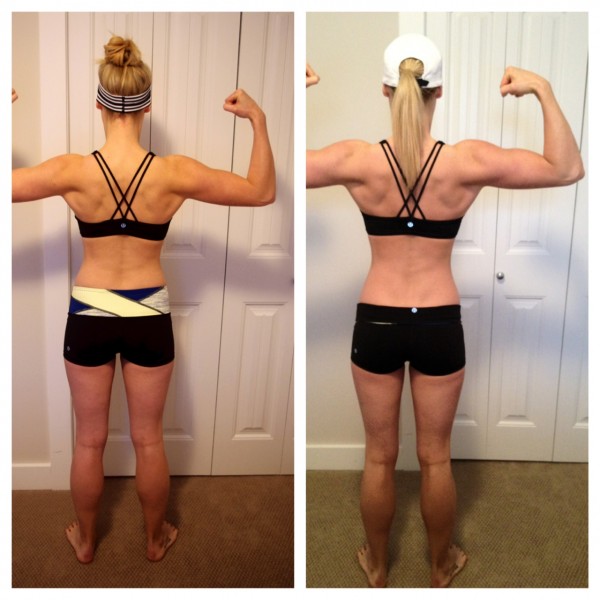 And really, as I was putting together these pictures, and looking at my own, I was able to see those changes right in front of me. I've dropped at least 2% body fat, close to 7 lbs, and I definitely feel more muscular, toned, energetic, less bloated, and gernerally happier each day!
The only drawback to this whole process, if I can be totally honest here, would be…
…well actually, let me tell you what happened last week when the hubby got home after being gone for almost two weeks.
So, Justin walks into the house and we say our hello's and give our hugs and kisses and then we inspect each other to see the changes we've made! I whipped off my shirt to show him my newly forming abs, and this was his response…
"Wow sweety, you look amazing, look at those abs!!! …whoaaa, your boobs are totally gone!! (the well-known 'man-look' of  'oops, I shouldn't have said that" comes across his face)…. I mean, you look awesome still hunny, wow, who cares about your boobs, you look great!!!"
… lol, nice save Justin!
Yes, as I looked down over my what already were humble boobs, they have diminshed quite a bit. But, I guess that's the price you pay for lost total body fat. I now understand why so many women in the fitness industry with incredibly toned bodies end up with breast implants, because frankly, unless you were very well endowed to begin with, you don't end up with much in the end!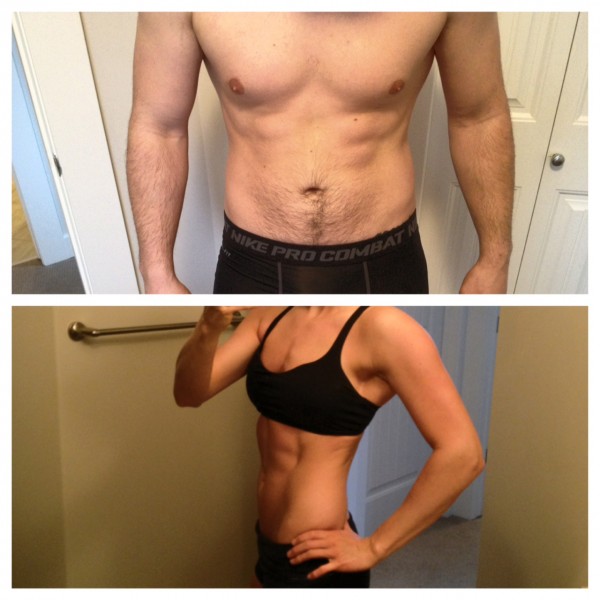 So, here's to the last 30 days of our challenge!
We are on our way to those 6-pack abs!! Thank you to everyone who has been following along and supporting us through this! We hope we have inspired you to start your own "challenge" and get your body and health to where you want it to be!
Have a wonderful weekend!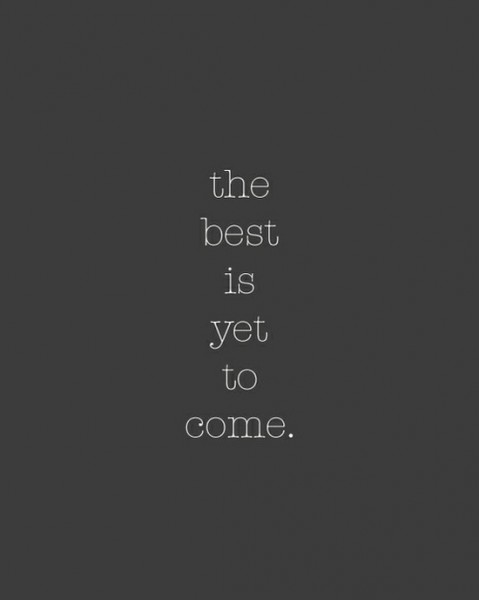 Christal (and Hubby)
Nutritionist in the Kitch