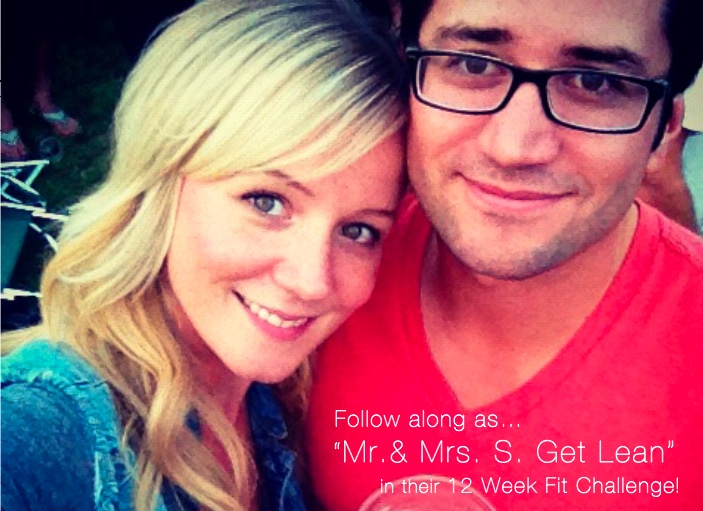 Our 90-Day Progress – Challenge Complete!
Wooooohooo! We have successfully completed our 12-Week Fit Challenge! We both can't believe how fast that time flew by!
For those of you who are new to Nutritionist in the Kitch I will update you on what my hubby and I have been up to over the last 12 weeks!
Quite some time ago, my hubby and I noticed we were both getting a bit too "comfortable" and the pounds were slowly starting to pack on…and we also had a general lack of exercise and motivation to stay in shape! We would dine out at restaurants a bit too often for convenience sake, and we were indulging in the wine a little much. So we decided it was time to shape up or ship out!
We hired ourselves some fantastic trainers (Asha & Rob) from Excel Fitness & Nutrition here in Edmonton, and asked them to whip us into shape! They designed each of us a personalized training and diet plan tailored to our goals and have been keeping us accountable ever since!
So, now here we are, 3 months later and well… you can see for yourselves how far we've come along!
(I'm not very good with figuring out how to put all these progress pics together, so I used word and it turned out a bit blurry! Hopefully you can still see most of the changes! You can see more of our progress pics from earlier progress posts HERE, and HERE) 
Again, I will start with the hubby!
I just have to say he has blew me away with this challenge! Working out of town for a majority of this challenge created a lot of obstacles for him which he worked through!
Justin made sure he had access to a gym wherever he travelled, he prepped and packed his food ahead of time, and he dug deep to find the motivation to finish his workouts even after 10 or 12 hour work days!
…and does it show or what?!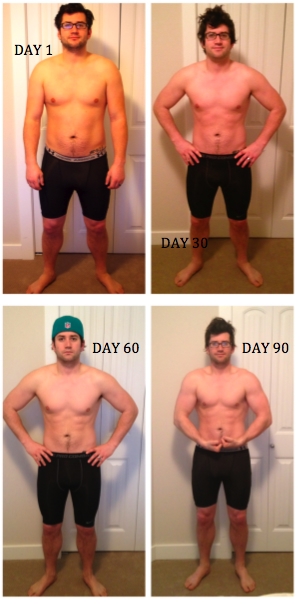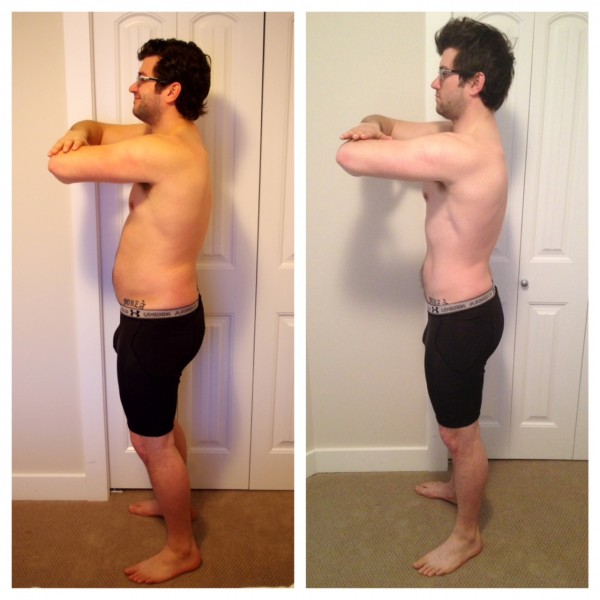 Justin found that what created the most noticeable changes for him was keeping a consistent workout schedule which combined resistance training and cardio 5 days/week, and changing his eating routine while cleaning up his diet!
Staying consistent with his workouts he was able to shed fat and build muscle at a fantastic rate. Cutting out all refined sugars and most of the alcohol from his diet also made a huge difference. Sugar and alcohol was probably the main contributor to his belly fat, and as soon as those diet changes were made the fat started to disappear, and the abs underneath made their debut!
Justin by no means "starved" himself. He eats MORE now than he ever did before but his ROUTINE is different. He used to skip breakfast ALL the time, and sometimes even lunch too. Then he would eat a huge dinner at night. His metabolism took a big dive with this routine.
When Justin started the challenge he changed that routine and started eating every 2 – 3 hours, properly portioned meals, consistently throughout the day. He likely takes in more calories than before, but his metabolism is running like it should be, and therefore the weight keeps coming off!
Overall, since New Years, Justin has lost 22 lbs!! (We haven't had our final body fat percentage taken so we aren't sure the changes there, but I'm sure it's a lot!)
Great job Justin!!!
Alrighty, yours truly.
I have achieved exactly what I aimed for with this challenge; lost those last 8 stubborn pounds, leaned out, gained a fantastic amount of muscle in my upper and lower body, and I am finally able to see my abs!!
I have more energy, feel more confident with how I look, and truly feel like a more positive person in general.
I really do wake up each morning with more spring in my step!
I would say my biggest obstacle in our challenge was sticking to a restricted diet while keeping it interesting. I knew that I had to be creative because I would get bored so easily with eating the same lunch and dinner every day. My awesome trainers gave me a lot of substitutions to work with in my diet plan so I just had to brainstorm and plan ahead to make sure my meals were still diet friendly but also delicious, flavorful, and exciting!
You can see in my recent 'What I Ate' posts (here and here) what my diet looks like from day to day to get an idea of how much and what types of food I eat!
Putting in 2+ hours 5-6 days per week at the gym was also tough to get used to, but I eventually got into the routine and really just made it "a part of my day". I didn't even think twice about skipping my workouts, and when any negative or discouraging thoughts popped into my head, I would chase them out with an inspirational quote or a visualization of my final goals! ( Check out my workout schedule in this post here)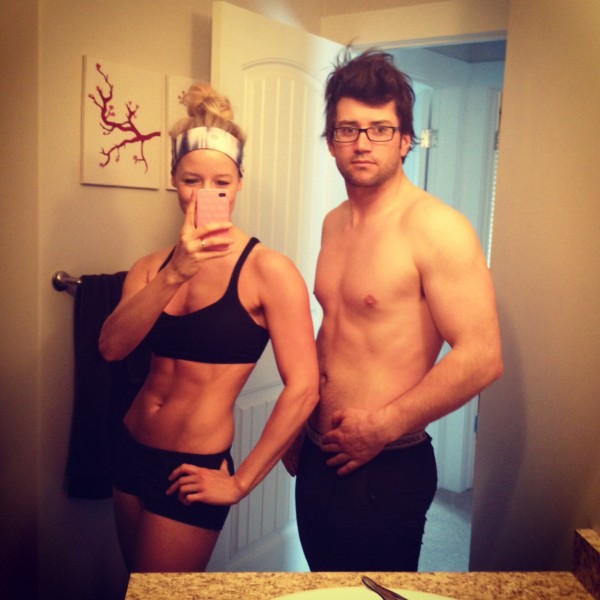 All in all, we are both INCREDIBLY happy we pushed out of our comfort zones and made the commitment to do this challenge.
Having each other to stay accountable was huge – we both highly recommend having a trainer/friend/family member/online community to keep you accountable when doing your own challenge!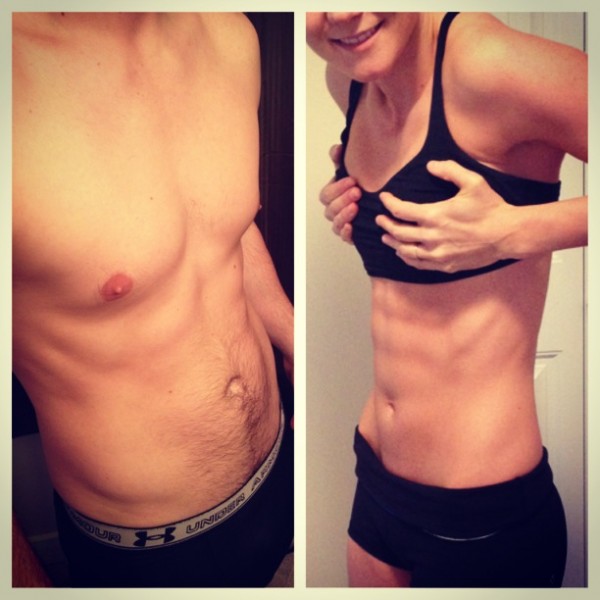 So now what?
Well, even though we are officially done this challenge, we feel that it is a new beginning for us.
We both plan to keep up with the exercise plan (although maybe reduce the intensity a little bit), and stick with the clean eating diet, with possibly a little more leniency here and there. We are both so happy with our results we want to just keep going!
Daily exercise, clean eating, and making health a priority is part of our "lifestyle" not just a temporary thing! We are going to set new goals to keep us motivated and continue on the journey!
The hubby and I hope that through our challenge you have been inspired to start your own, or continue if you already are in the midst of reaching your own personal health/fitness goals.
I also hope that my blog posts over the past 12-weeks have proved that eating clean can still be unbelievably delicious, and that you do not have to starve yourself to lose weight or get the results you want with your health and fitness levels!
If you have any questions about our challenge, please do not hesitate to ask!!
Have a wonderful day!
Christal
Nutritionist in the Kitch