It has officially begun.
The 12-Week "we-are-gonna-get-six-packs", "no-more-jiggle-in-the-wiggle", "you-could-bounce-a-quarter-off-that" Fit Challenge!
My hubby, Justin, and I decided a while back that it was time we challenged ourselves and got out of the 'getting-a-bit-too-comfortable" marriage mode. We both love each other dearly, and don't have any issues with how each other looks, but it's easy to fall into the trap of lazing on the couch, going out for dinners, and cocooning in our own little marriage nest of wine and cheese, all too often.
So, in comes The 12- Week Challenge…and what better a time to start than the NEW YEAR?!
We decided to enlist the help of a couple professionals and hired Asha & Rob from Excel Fitness & Nutrition to whip us into shape!
…I know what your thinking "Why does a Nutritionist need help from other trainers and nutritionists??" …  I'll explain:
1) Like most people, I too like/need the accountability factor. Knowing I have hired professionals to answer to really gives me the motivation and drive I need. Even though I motivate my own clients and keep them accountable, I don't always do it for myself too, so having Asha & Rob to keep me (and Justin) accountable is perfect.
2) In my own practice I do not often deal with clients looking for "sports" based nutrition for muscle building/toning/fitness improvement… rather I most commonly deal clients who want to focus on weight loss/disease prevention/specific health conditions. I am looking forward to delving deeper into this specific type of nutrition and using my own body as the guinea pig!
3) I am not a personal trainer, and although I do have some education in fitness and training, I feel I really need a professional to give me the right tailored fitness plan to help me reach my goals!
Hiring a professional to get you to where you want to be when it comes to your health is really, honestly, the best way to go. As much info as there is online and out there for free, it really makes a huge difference to have a plan or program tailored to your individual needs, goals, likes/dislikes, intolerances, physical limitations, etc. and the face-to-face accountability factor is unbeatable.
So, let me tell you a little bit more about this challenge, and about Justin and I, and our goals we hope to reach in these next 12 weeks.
The Challenge:
Over the next 12 weeks the Hubby and I will be following tailored diet and training plans – specific to our goals. We are both required to eat 6 meals per day, which are set out for us with a range of substitutions. This will help maximize our metabolism and provide our bodies with the appropriate macronutrient amounts to develop lean muscle mass and reduce fat mass.
We are required to exercise 5 days per week, with 2 resting days. Each day of exercise we will focus on a variety of resistance training exercises specific to an area of our bodies and also include cardiovascular exercise most of those days. As we progress through the challenge so will our diet and training – as we will need to continue to challenge ourselves as we grow stronger and get closer to our goals.
We will check in with our trainers on a weekly basis so they can monitor our progress, and meet with them periodically throughout the challenge!
The Hubby:
"Hey everyone, Justin here – I am the "Hubby in the Kitch"… or at the kitchen table…mostly. Taste tester extraordinaire! My reason for wanting to do this is really to challenge myself physically and mentally, and see where I can take my body. I always played sports growing up, and played junior and university football. Eventually when I entered the career world, sports took a back seat to my work, and I didn't stay as physically active as I would have liked. So over the past few years, I feel I've let my fitness level slide and I want to get it back again!
My biggest obstacle with this challenge will be my job – as I am on the road a lot for work. Working in the environmental consulting business I am often in and out of hotels and camps, which makes eating properly and having a regular fitness schedule somewhat difficult. My trainers took all of this into account when designing my plan and have come up with a 12-week program that I feel confident about – and of course, I have my own personal prep chef at home who will make a lot of my meals for me… right Christal!!
My main goals are to strengthen and tone my upper body, find that six-pack that I know is hiding in there somewhere, and to increase my overall well-being and energy levels."
Christal:
Now that you know a little about Justin, I'll give you the lowdown on where I'm at and my goals!
Lucky for me, my career and my passion for health and wellness give me no choice but to keep generally fit and healthy, and I am incredibly thankful for that. I do not, by any means, think that I am "out of shape" or "fat" at all, the reason I want to do this challenge is to push myself like I never have before and truly get into the best shape of my life!! I have heard many people say, "you don't need to do a fitness challenge" or "you're in great shape already!" and those are wonderful compliments, which honestly make me blush!! I truly feel however, that I am not physically where I COULD be, so I hope all who are reading this will understand where I am coming from in making the choice to do this challenge!
My biggest obstacle with this program will be lining up my diet with my schedule. I tend to eat less than I should on most given days, and being in back-to-back appointments most days I can often go 5-6 hours without eating a proper meal, even though I do try to snack in between, I still don't take in as much as I should. My solution is to rearrange my schedule so I can eat more regularly throughout the day – so we will see how that goes!
As for my goals – I aim to focus on toning and strengthening my entire body; head to toe! I want to be stronger, faster, leaner, and more fit than ever before! I also hope to increase my overall energy and stamina!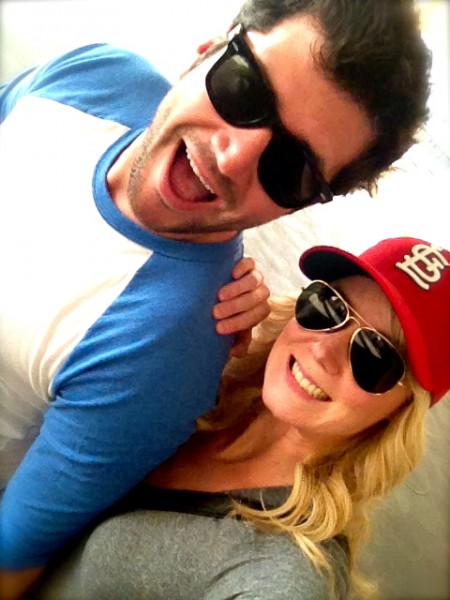 So all we ask of you, wonderful Nutritionist in the Kitch readers, is to also keep us accountable! We would love for you to follow along with the updates, make comments, ask questions, get involved, or even start your own challenge!
I have made a seperate page on the blog for the challenge – Mr. & Mrs. S Get Lean.
I will be posting an update regularly including info such as workout ideas, recipes, examples of what we eat in a day, and of course PROGRESS PICTURES and stats, and I may even do updates that talk about the challenges we come across, because we all know, this isn't going to be easy!!!
I hope that in sharing our 12-week challenge with you , you are able to learn something and are inspired to challenge yourself to become fitter, healthier, and happier!
As you may have guessed, my recipe posts over the next 12 weeks will also be a little different because we are now following individualized diet plans that have been given to us – so I will have to be creative in making recipes that coincide with this diet and that are also delicious, interesting, and exciting enough to share with all of you!
Wish us luck!!
Until next time!
Christal & Justin
Nutritionist (and Hubby) in the Kitch