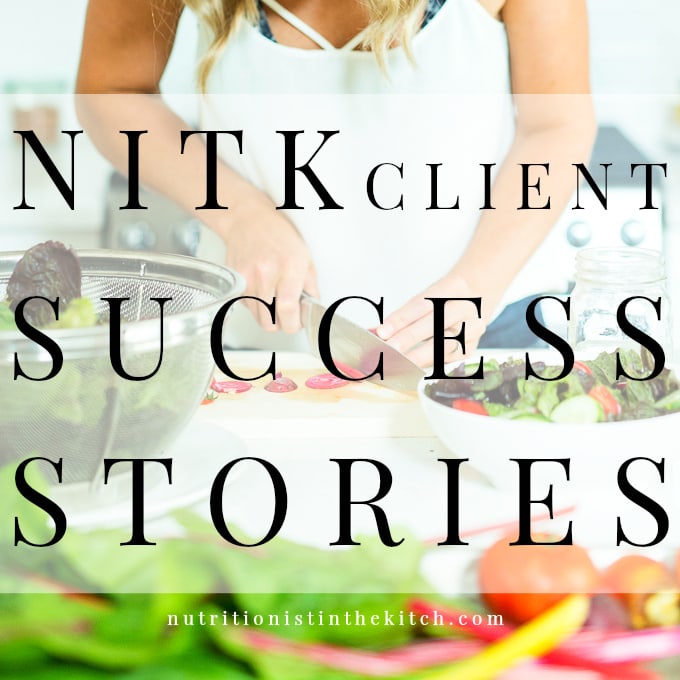 It's NITK Client Success Story Time!
I truly love these posts as I always feel so honoured to highlight some of my sweet and wonderful clients.  To share their success is so exciting for me and I know, for them too! It's always fun to see side-by-side pictures that show their awesome progress!
I wanted to highlight a couple of my ONLINE clients! Oftentimes I work with clients who I never actually meet in person. We meet over Skype, FaceTime (always laughing at those awkward angles) and the phone! Even though we never meet face-to-face I always feel like I know my clients so well as we work together in their journeys!
Sometimes people are hesitant to work with a Nutritionist online but the proof is in the pudding, it works just as well! Thanks to technology it never feels like an "online" appointment when I meet with these clients.
Today I'm sharing the success stories of two clients, Michelle and Anna, both with different goals but similar health issues – bloating and hormonal imbalances!
I'll let them tell you their stories!
MICHELLE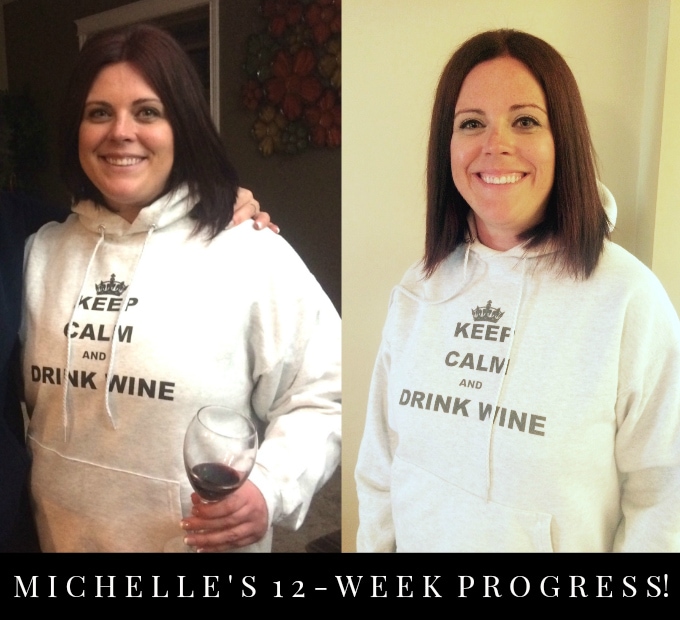 "I started my journey with Christal in March of 2015 at 205 lbs. After making many excuses I was finally ready to do something about my weight and health. I knew in my heart that I needed a plan that was going to fit in with my busy life and that my two beautiful girls could be a part of. A friend of mine had heard Christal speak at a work conference and followed her blog. I had been talking to my friend about seeing a Nutritionist and doing this "the right way", so upon her recommendation, I contacted Christal.
Christal was so easy to talk to and she was thorough in finding out as much about me, my body, and my lifestyle as possible before coming up with a custom plan. I also felt as though she authentically cared about my success.
When my plan arrived I was excited for the first time in a long time to start making some positive changes. The plan was foolproof and laid out in a way that I knew, if I committed,  I would be able to sustain. My family and I enjoy the meals and snacks as they are really delicious, and I never feel deprived. I now know that the foods I was eating before were not filling me up, instead, they were draining me.
When I started with Christal I wasn't sleeping well, I was bloated, had stomach cramps often, was always tired with big black circles around my eyes, and I often felt hot and cold sweats that I now realize were due to blood sugar high and lows and hormonal issues.  
"What I have learned from Christal in the last 3 months now feels like second nature to me.
I now sleep great, have more energy, and my skin has dramatically improved. I have learned that I am capable of making conscious choices that will benefit me even when I am not in the comfort of my own kitchen. I know that I can sustain this lifestyle without question. Before Christal and her unwavering support I would have never thought that. I will be forever grateful for what she has taught me.
If there is anything that really stands out to me as the biggest change, I would have to say that it has NOTHING to do with the scale. The biggest change happened inside of me. I realized that I was worth it, I could do it and I would do it. I have an amazing support group of friends that have cheered me on and supported me through this journey. I have always known that they love me, but now I love me! I found my worth in doing something for myself, and that is such a gift. 
I ended my 3 months at 23 lbs. lost! The physical changes in my body have amazed me. Although I am still on my journey, I know that I can continue on progressing upward and onward! 
ANNA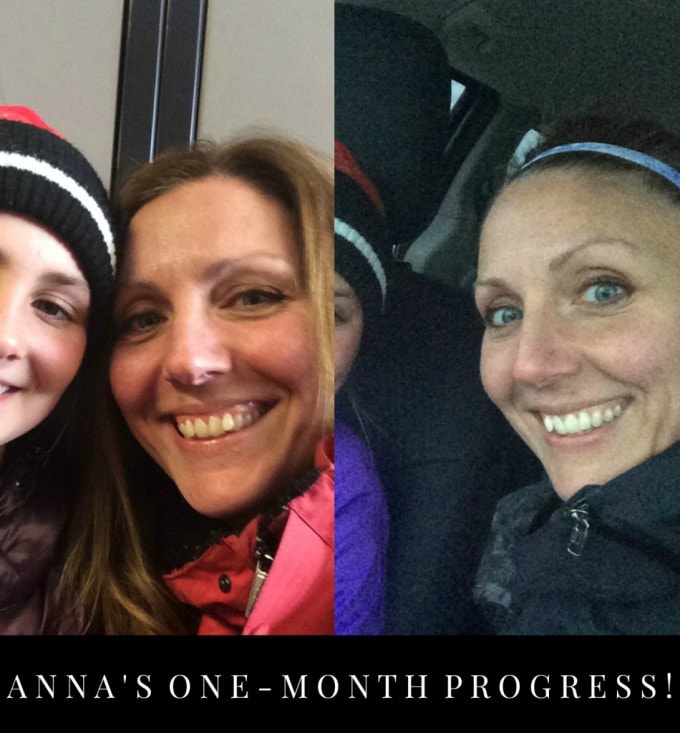 I reached out to Christal for a consultation having been referred by Erica Willick. I'm 42 years old and had been experiencing some uncomfortable weight gain in a short period of time along with swelling (in my face and body) and bloating. As an athlete and fitness coach this bothered me. 
Christal was very thorough in her assessment process and was able to filter out underlying hormonal issues that were lending to my symptoms. We made some dietary changes and added a few supplements. I'm very happy to report the weight gains has stopped and the swelling is gone! 
The phone consultation, recommendations, and follow up emails were very professional and I could feel her genuine concern for my well being.  I have already referred a few people to her for her expertise! 
Two very different stories but two great successes! I love that although all of my clients are different, I can meet them where they are in their own health journeys and get the honour of helping them along the way!
Thank you to both Michelle and Anna for sharing your stories! If you would like to become an NITK client or have questions about my services, please visit my SERVICES PAGE or fill out the form below!
Oh, and before I go….
Happy Father's Day
to all the Dad's out there – be sure to check out
my latest recipe
, perfect for Father's Day!!
Christal
Nutritionist in the Kitch