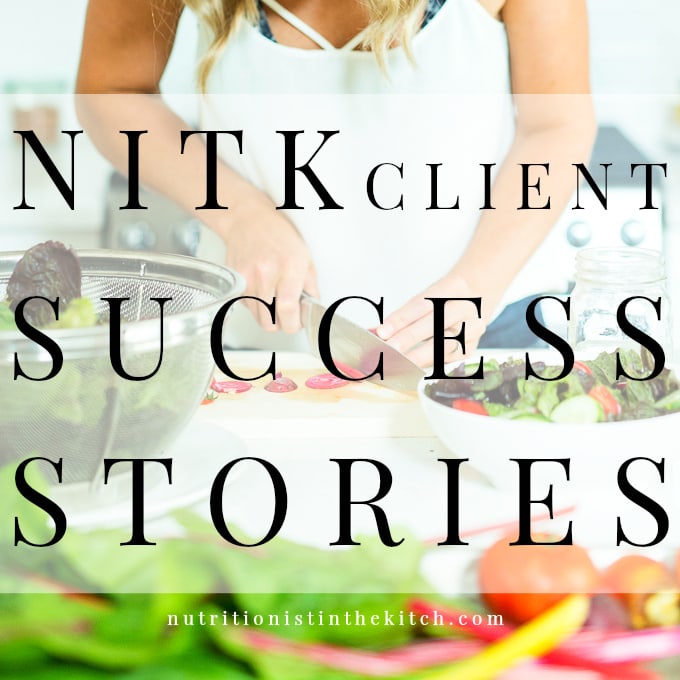 It's hard for me to put into words sometimes how incredibly blessed I feel to be in the line of work that I am. I truly believe that God lit a passion for nutrition, health, and helping others in me and it is humbling to be invited into so many others lives and their very personal  journeys.
I started this Success Stories series on the blog to share the testimonials of some of my brave clients as I really want you, my lovely NITK readers to see that anyone and everyone can benefit from nutritional counselling! I've worked with such a variety of clients over the years and I am still constantly impressed by the amazing success that happens when the mind, whole, healthy, nourishing food, and the body come together in harmony. 
Today Wendy & Christine are sharing their success stories:
"I had been at the same weight for years and made an effort to exercise but without much commitment.  In the past two years I have been traveling more, exercising less (or not at all) and eating without any thought of the cost to my health, appearance and how I felt. 
Slowly the pounds crept on until there were 15 extra of them! 'Handles' turned up in places I didn't have them before and my sense of well being and health was way out of whack.  Too many all-inclusive vacations (is there such a thing?) Thanksgiving, Christmas, birthday parties and a new fondness for sugar turned me into an irritable, unhealthy person and it was time for a change.
I found Christal's website the first week in April and  immediately knew she was the person I wanted to work with.  The blog, recipes, testimonials and plans that I read just made it seem like we would be able to figure this all out together.  It has been a great experience in a number of ways.  Christal spent a lot of time with me in our first meeting getting to know what my concerns were, how I felt, what I was willing to change and determined what kind of plan would be best for me.  I really like lists and schedules and a 'set of guidelines' to follow.  On our following visit she provided me with a complete menu plan based on my likes and dislikes, a grocery shopping list and a food preparation schedule for the week. 
There was a variety of choices and lots of flavour and yes, some more work than I was used to, but that became easier once I got used to cooking for myself on a regular basis again. A couple of years eating fast, processed or easy to eat foods had left me lazy about taking charge of my health beginning in the kitchen. 
I reported via e-mail each Friday about my week and saw Christal for two more visits over  a three month period.  I always got a response to e-mail and on each of the follow-up visits any questions or concerns I had were taken care of. Eating well encouraged me to exercise again and I have been going to boxing and walking 3-4 times a week.   
At the end of June I had reached my goal! I lost 11.5 inches, 11 pounds and my body fat was at a fantastic 20%. 
"I am thrilled with how I feel and look and about what I've learned about food and myself in this process."
It's easier to plan a week in advance than leave my meals to chance. I feel good when I exercise, my digestion is better, my sleep is better and I'm happier when I eat well and exercise regularly.  I will be staying in touch with Christal and dropping in for an occasional tune-up in the future. I would highly recommend her services to everyone looking for help with their health and nutrition concerns. "
-Wendy, Edmonton Alberta
"I hired Christal as my Nutritionist for the Online Nutrition Program in >>>> and am pleased to share my testimonial. I came to Christal with three main concerns; sugar addiction, sluggishness, and anxiety. Christal helped me by giving me the education on how to eat to fuel my body, cut down the sugar cravings, and reduce my anxiety levels through meal planning and balanced nutrition.
Throughout my three-month plan Christal was always available by email and we completed several sessions over Skype where she was able to answer all sorts of questions and provide support.  Christal worked with my lifestyle choices (I am a vegetarian, do not eat soy, and am not all that creative in the kitchen) and she helped arm me with the confidence to continue making healthy choices once our sessions were completed.
"Best of all, Christal is 100% non-judgemental."  
I felt comfortable telling her about all of my secret snack cravings and indulgences – she's was there to help me make informed decisions and create a balanced approach to healthy eating, not cut me off from the foods I loved or pass judgement on me! It was evident while working with Christal that she loves her job and respects her client's goals.  No matter your budget, location, lifestyle, or level of knowledge, Christal can help."
-Christine, Northwest Territories
Thank you so much to both of these amazing women for sharing their experiences. I had so much fun working with them both and there were lots of laughs and a few tears to be shared along the way!
If you are on the fence about opening yourself up to the world of Nutrition and how it can change your life I encourage you to jump over to this side! Trust me, you won't look back!
Visit my SERVICES page to find out more about how you can work with me or if you are ready to dig right in… fill out the New Client Form.** 
Have a wonderful rest of the week! We are off to San Francisco tomorrow! If you have any restaurant or healthy food recommendations please send them my way!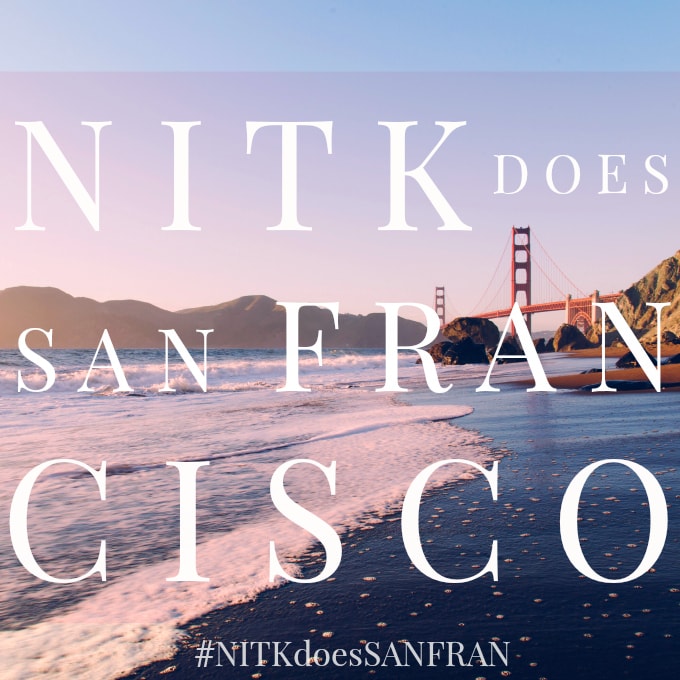 I will be posting on my Instagram and Twitter with the hashtag #NITKdoesSANFRAN for places I stop to eat and things I see if you want to follow along!
Christal
Nutritionist in the Kitch
**I am currently booking NEW clients for October 2015.