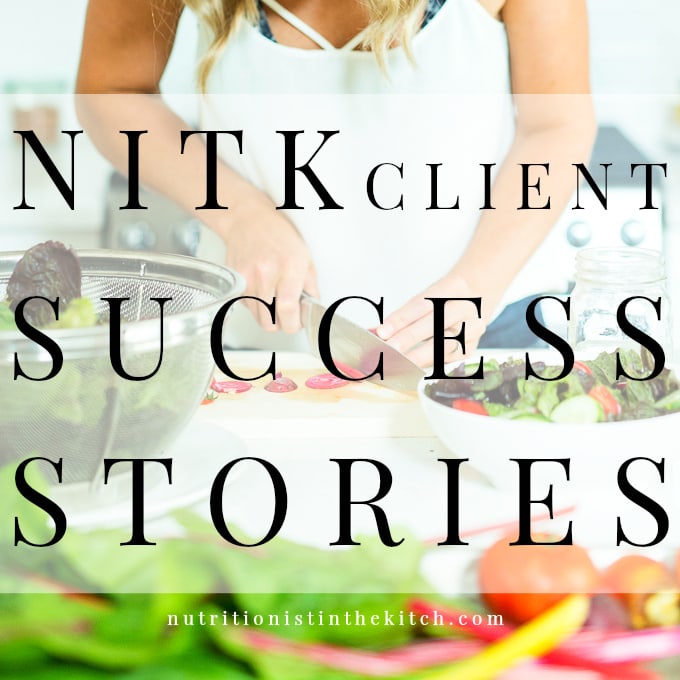 I'm so excited to be sharing another wonderful client testimonial today as part of my NITK Success Stories series on the blog!
Kristina has been such a treat to work with and I'm constantly inspired by her optimistic attitude. Since we began working together her health journey has not been easy but she has persevered through staying honest, transparent, and unbelievably positive along the way!
I'll let Kristina tell you her story:
"In February 2014 I suffered an extensive ankle injury that had me put on a long surgery wait list.  I had constant pain and swelling and was barely able to walk by the end of each day.  I coped with the situation the only way I knew how…I ate my feelings. I ate and ate and ate but never felt any better.  By December, with no surgery date in sight, I had hit rock bottom…240lbs. That's when I stumbled onto Christal's website and made an appointment with her. 
From the moment I met Christal I knew that she was equal parts knowledgable and compassionate.  She never once judged me for making poor choices in the past and she encouraged me and equipped me to make better choices moving forward.  She took the time to understand my needs and desires and habits and formulated a fool proof plan for me.  I knew that when surgery day did arrive I would be a healthier me and that would aid in my rehab. 
After only a month on my nutrition plan I had such a reduction in swelling in my ankle that I could go to physical therapy and acupuncture.  Another month in and I was able to start to exercise again.  By the end of April I had lost 30lbs!  In May I achieved something very exciting and got back into taking dance classes and doing hot yoga.  It was remarkable!  And Christal was there every step of the way for my weekly check ins being a cheerleader and sounding board for me! 
"I had healed myself with a combination of nutrition and exercise and I had lost 56lbs in the process!" 
Fast forward to August of 2015 and I finally had a consultation with a surgeon…the most incredible news was that I no longer needed surgery! I had healed myself with a combination of nutrition and exercise and I had lost 56lbs in the process!  
I am not all the way to the finish line in terms of my weight loss and fitness goals but I recognize how far I have come.  I didn't believe it was possible to change my outsides and have it change my insides right to the depth of my soul but it really has.  These days I smile and actually mean it, I am confident, I'm eager and I am more open to life's adventures!  I can't wait to reach my truest potential and I am so grateful to have Christal's constant guidance to help me get there!"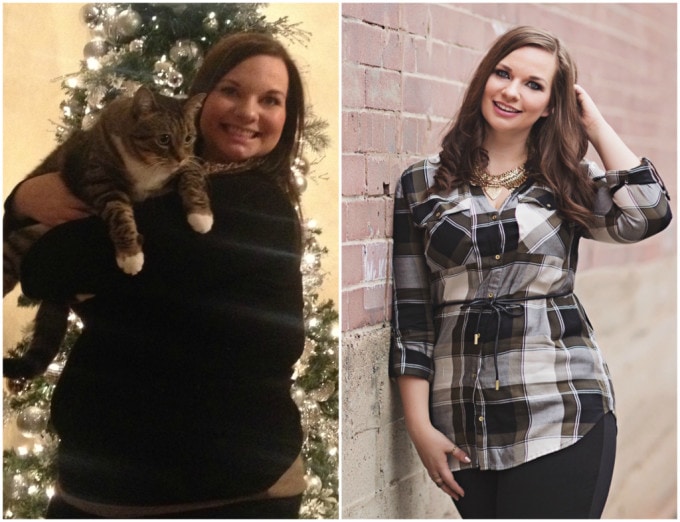 Thank you Kristina for sharing your success story!
If you are ready to take the leap and begin your own wonderful journey in health, healing, and sustainable transformation, I would love to hear from you! Drop me a line through my Contact Page or complete the online New Client Form! You can also take a peek at My Services Page and decide which program would be best for you if you aren't sure where to start.
Enjoy the rest of your week!
Christal
Nutritionist in the Kitch