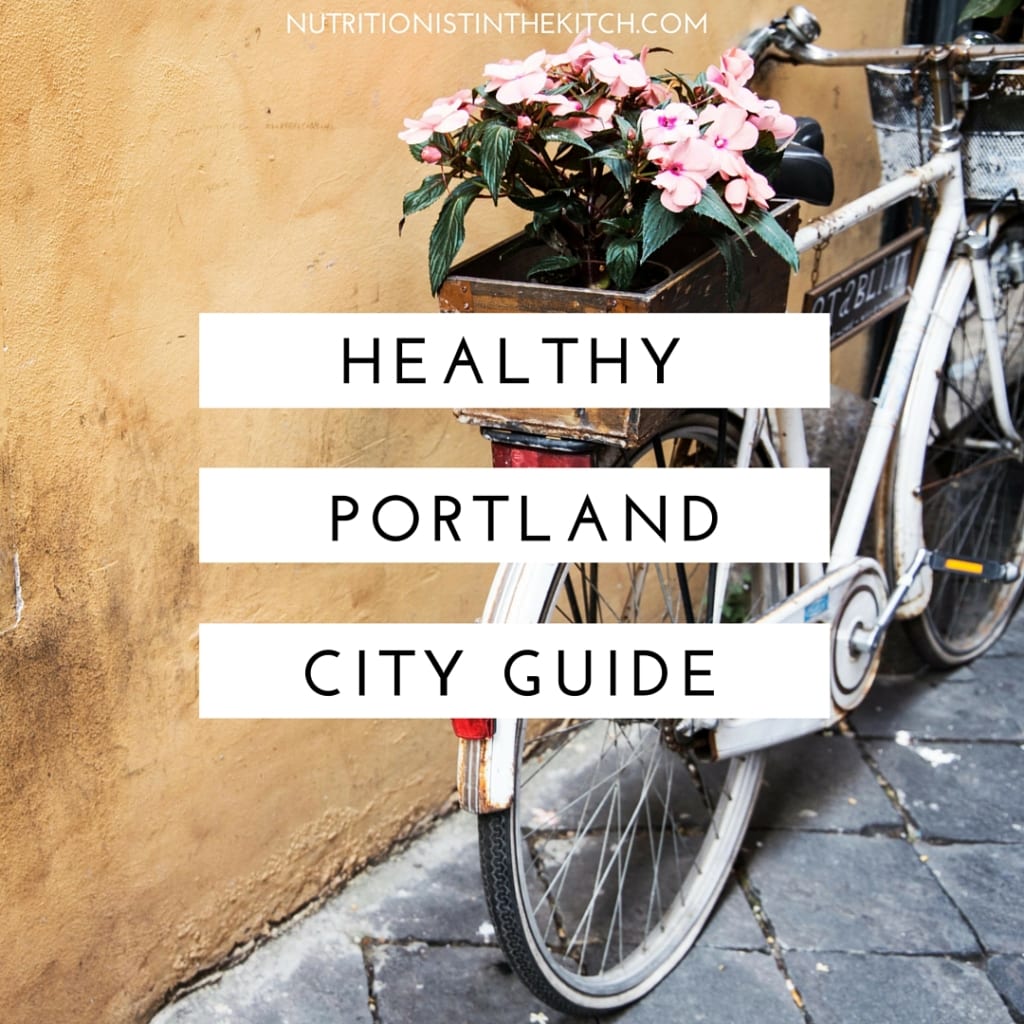 What a great week it's been! The hubby and I have enjoyed celebrating our 5th anniversary driving through Idaho, Oregon, and Washington, and now we are settling into our little vacation rental in BC to relax for the next week. We always try to have a little balance of busy and chill-time on our vacations because if it's all go-go-go we come home unrested and exhausted.
This past week we spent a few days in Portland, a city I've always wanted to visit. I've put together this Healthy Portland City Guide to go along with my other past travel posts (check them out here!). So, I hope you love it and find it useful if you ever head to Portland!
STAY:
Rent an AirBNB apartment: We stayed in an Air BnB rental again (this one which I would highly recommend!) as this is by far our favourite way to STAY on vacations/trips because…
We feel more like locals and get to experience what it's like to live in the city for at least a little bit of time.
We can cook some of our own meals and then dine out for the others to keep some healthy balance.
We have more space to put our feet up and don't have to deal with housekeeping!!! knocks at all hours of the day.
If you just aren't into the idea of a vacation rental then I would recommend staying in a boutique hotel in the Pearl District or Hawthorne District as these areas provide a lot to eat, see, and do!
EAT:
Obviously three days didn't give me a ton of time to really explore ALL that Portland has to offer when it comes to healthy eating, but I did find quite a bit in the time that I had in the city.
Grab groceries from Zupan's Market in the Hawthorne District: This grocery store was a great spot for fresh fruit, organic free-range eggs, artisan granolas, and more. It reminded me of Whole Foods but on a smaller scale, with lots of locally made and produced products.
Get a smoothie or a lunch bowl from Canteen: This spot is hard to miss, the building is really funky and the menu features a whole bunch of plant-based gluten-free smoothies, juices, and healthy bowls. Try a Greens smoothie and a Bangkok Bowl!
Enjoy a delicious vegetarian dinner at Harlow: This restaurant was one of my faves! A beautiful decor inside and a wonderful vegetarian menu with bowls, treats, and much more. I had the Betty Bowl and a delicious raw Triple Chocolate cheesecake!
Stop in at Crisp for a Kaleo Paleo salad: This locally owned restaurant is located in North West Portland, but is a great place to stop for a quick salad if perusing the area. Try the Kaleo Paleo with the most amazing Basil Vinaigrette.
Try the Cioppino at Cabezon: One of the evenings in Portland I was craving seafood, as being close to the coast makes me dream of all the fresh seafood in supply. We decided to go to Cabezon, a pretty little spot that had a healthy Cioppino on the menu (a stew loaded with seafood!) and it did not disappoint! Definitely a dish for any seafood lover.
Drop by The Maple Parlour for a dairy-free or paleo sundae: This was a must for me as I'm a huge fan of sundaes! This cute little shop features naturally sweetened dairy-free ice creams as well as paleo-friendly ice creams, along with a whole bar filled with different toppings that are dairy-free/gluten-free or vegan too!
Hit up some (healthier) food carts: Around the downtown area we spotted a few parking lots that were lined with different food carts. While we didn't eat at any, I did spot several with healthy options on the menu. If we had a couple more days in Portland we definitely would have gone on our own little food cart tasting tour.
Grab an elk burger at Dick's Kitchen: On our first night in Portland we happened upon this spot close to our vacation rental and decided to grab a bite. The restaurant specializes in burgers made with locally produced meats and wild game, with a slogan "Delicious food that nourishes". I had the Elk Burger topped with a blueberry fig compote and was able to get it dairy-free and on a gluten-free bun. They also offer vegan burgers here. Delish!
Go for Tacos on Tuesday at Por Que No: This Mexican restaurant was well worth the wait in line to get in. The tacos are crafted with fresh in-house corn tortillas and are filled with perfectly grilled meat, fish, or vegetables then topped with deliciously fresh salsa and other tasty garnishes like pickled onion and pineapple! Healthy tacos? Yes please!
Stop for a sip & bite to eat at one of the many micro-breweries: While drinking beer isn't maybe the healthiest thing to do, it is one of the musts when in Portland. And, most of these microbreweries offer gluten free beers! We stopped in at Deschute's Brewery for a charcuterie platter and flight of locally produced beers.
DO:
Keeping active in Portland isn't hard. It's a beautiful and very walkable, runable, or bikeable city. Here are a few DO's for Portland that will keep you active as you explore!
Rent a bike using Biketown: Around Portland you'll spot bike racks filled with orange bikes. These bikes are part of Portland's Biketown bikeshare system. An affordable, fun, and great way to get around the city and explore if you don't bring your own bike!
Enjoy a bike ride, walk, or jog through Laurelhurst Park: This park is a gem in the middle of the city. We even saw a little turtle sitting on a log in the middle of the lake in the park. It's a great place to get some clean green air and enjoy the city's nature!
Run along one of the many bridges: Portland has tons of bridges that cross the Willamette River. These bridges are actually a popular part of the city to SEE, but why not turn this SEE into a DO by running across a bridge or two and take in the view!
Drop in for a yoga class: Although we didn't get a chance to do this, I did notice tons of little boutique yoga studios throughout the city, and our rental guidebook mentioned that many have drop in options, a great way to stay in a fitness routine while seeing the city!
Walk & Shop the Hawthorne Boulevard: This street was nearby our vacation rental and was a lot of fun to stroll down. With tons of spots to eat, little local shops, and cafe's it's definitely worth walking. It's quite long so you'll get a lot of steps in while you're at it!
SEE:
Check out the Pearl District: This district is in downtown Portland and hosts many different things to see including parks, shops, theatres, and architecture. We walked around this district for a good half day and enjoyed the surprises around every corner.
See the Keep Portland Weird Sign & Check out Voodoo Doughnuts: As you are walking around downtown Portland, you can head over to Voodoo Doughnuts, a famous shop in the city. While the doughnuts themselves are definitely NOT healthy, they do have a vegan/dairy-free selection, and the building itself is pretty kitschy and a sight to see. Also, across the street is the Keep Portland Weird sign which is a great photo op! Just a note, this area was a little sketchy, so I wouldn't recommend walking around it by yourself late at night.
Head out to the Coast & stroll the many beaches: While this is a Portland City guide, I did not want to miss the opportunity to talk about the Oregon Coast which we camped at for 2 nights. It's STUNNING and definitely something to SEE if you want to get out of the city for a day or two. We stopped by Cannon Beach and camped in Cape Lookout State Park where we took in ocean strolls, hikes, and biking. A beautiful part of the world, I must say.
I hope you've enjoyed this Healthy Portland City Guide! I'd love to hear about your favourite STAY, EAT, DO, and SEE's in Portland if you've been there before. I do hope to be back one day soon!
Christal
Nutritionist in the Kitch