We recently returned from our yearly Summer vacation! Every year the hubby and I take a couple weeks off and head out to British Columbia to camp and relax in the beauty of the province! This year we decided to add Washington into the mix and make our way into Seattle. It was fantastic, I love Washington! It's so beautiful and the trip was splendid! We are definitely going to be back to Seattle sooner than later!
I took a ton of pictures, and I wanted to share some of our trip with you, including some of my eats and treats!
So, in order to not make this the longest blog post in existence, I'll keep the chit chat to a minimal!
Our accommodations in BC – we stayed in Kaslo, right on the Kooteney Lake and rented a condo! It was fantastic, with a beautiful view and had a wonderful patio with a BBQ and Kitchen that we made full use of in order to stay healthy and save moola because we knew Seattle would be pricier on the food front!
The gorgeous views of the lake and Marina!
Ah, bliss.
Kaslo is a really quaint little town and I loved the Community Gardens we spotted! They are starting to get more of this going in Edmonton, and that makes me very happy!
Dinner every night was out on the patio – wine and cards in tow!
I made sure to keep the dinners fresh and light and used fresh BC fruit for a little extra flavour in my locally made Skimmerhorn wine!
Breakfast was my usual gluten free bread, natural peanut butter, fruit, and eggs! Oh, and my probiotics, flax oil, and Vitamin C!
We made sweet potatoes on the BBQ a couple nights because it was just too hot to turn on the oven – they turned out fantastic!
Mmm.. simple, bright, and oh, so delicious!
And… dessert too of course! This was Coconut based chocolate ice cream… yum!
We drove to Nelson, BC one day to check it out – another cute town, with great cafes including this one – originally called the Preserved Seed, but now it goes by The Yellow Deli. It's actually run by people who live out on a commune (…or cult?)… a little odd, but they have a ton of fresh, local ingredients and the food is delicious!
The restaurant is in this neat little heritage home that kind of feels like a treehouse! If you are ever in Nelson, stop by for a bite!
I had the turkey sandwich, with actual farm fresh roast turkey, house baked bread, and house made potato chips on the side. Oh, and one of those delicious tastes-like-a-pickle-should pickle!
We also stopped in a local bakery/coffee shop before heading back to Kaslo and I grabbed a vegan date square – made with dates, soaked cashews, raw cocoa, agave nectar, and hemp seeds. It was unreal – note to self: try to recreate this. 
We also stopped in at the meat market and picked up these local venison smokies! Paired with grilled veggies they made a delicious dinner!
As we made our way to Seattle from BC, we stopped at the Gorge Ampitheatre for an Arcade Fire! It was such a great venue, and the camping location over looking the bluffs was spectacular!!
Once in Seattle one of our first stops was of course, the famous Pike Place Market! I love how the market really emphasizes local, farm/ocean fresh sustainable food and produce! It was also cool to watch the fish mongers and see the original Starbucks!
I really dropped the ball on taking food pics in Seattle – we were so busy – there's a lot more on my Instagram than in this post!
We had a condo rental again, so we made a lot of food at home, and went to Whole Foods every other day to stock up on groceries… man I love that place!
Breakfast was the usual… 🙂
This was a Whole Foods smorgasbord of deli deliciousness – salads, pulled chicken and beef, guacamole and rice! Yum!
We also did a wine tour at Chateau Ste. Michelle Winery just outside of Seattle – it's a gorgeous place.. and well, who doesn't love wine?!
We ended the trip with a couple ball games! Even though the Blue Jays lost… both nights!!! It was still great experience!!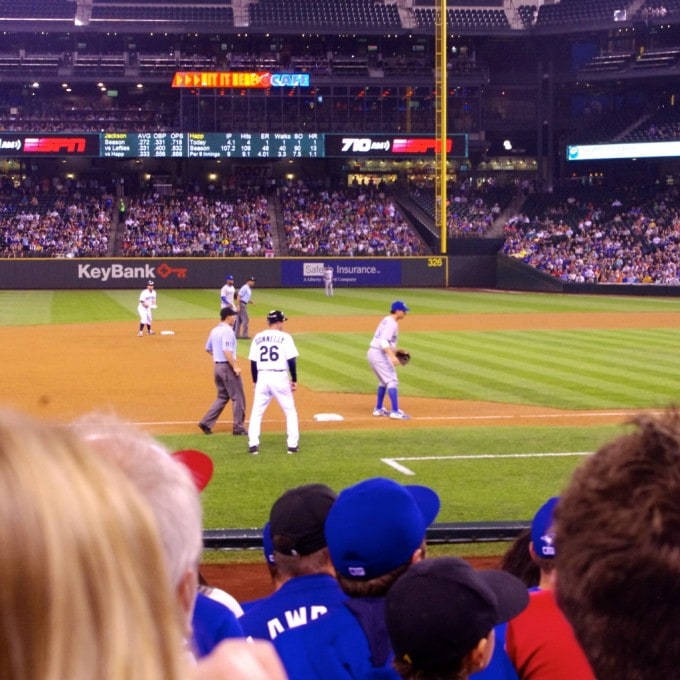 We spent a night in Kamloops coming back from Seattle (it's a long drive.. too long for one day!) and then lazily made our way back home! All in all, a fantastic trip!
Also, if you haven't noticed yet, I've got my new pictures up on the blog! You can check them out on my different blog pages (about, etc.) Thank you soooo much to the incredibly talented Dong Kim for the photos!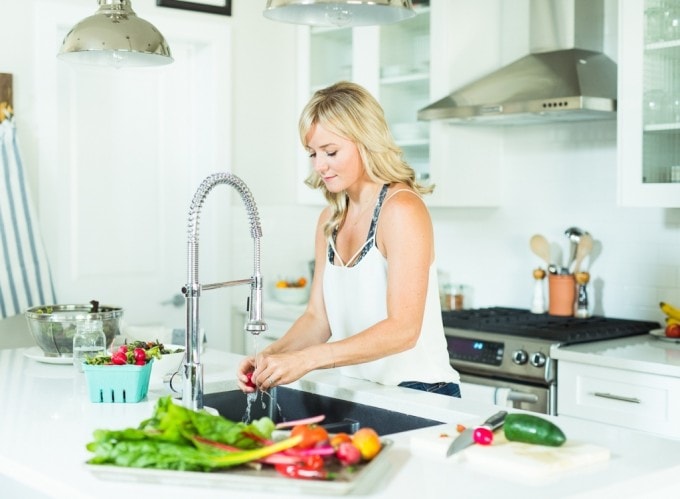 Have a fantastic week!
Christal
Nutritionist in the Kitch