Just when I thought Spring was here to stay… POW, snow. 🙁 Oh well… I can't be that sad… I'm leaving to LA with the hubby on Sunday!! Wooo hoo!
This salad screams summer to me, and that's totally where my head has been these days – in the clouds, thinking about summer! It's these Canadian winters I tell ya, they can be beautiful, but my goodness do they last long or what!
These days I'm all about quick and easy meals. I just haven't had as much time to spend preparing meals for myself, and I'm usually grabbing what's in the fridge and making something impromptu. That's actually where this salad idea came from, and it's become a staple for my clients whom I cook for as well.
It's delicious, and everyone loves the light and fresh flavours!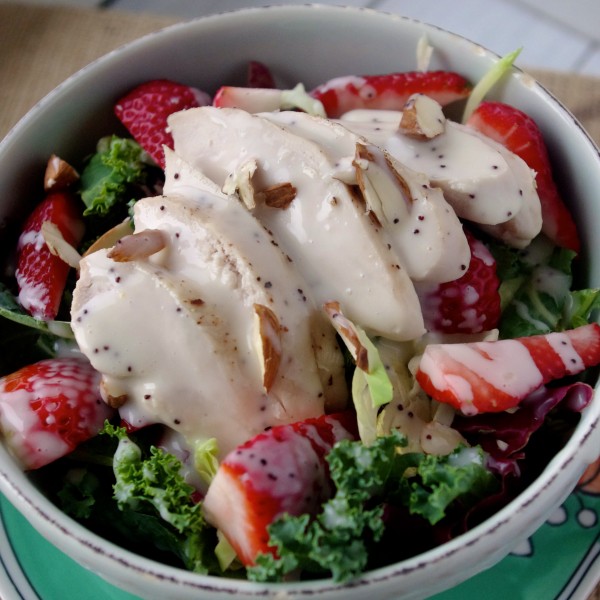 Kale is definitely a superfood, and makes this salad not just a "wimpy little salad" – it brings body, and works well to fill up your belly! The slaw mix adds different textures, more veggie goodness, and color!
Strawberries bring in a delightful sweetness, anti-oxidants, and really make this salad pop!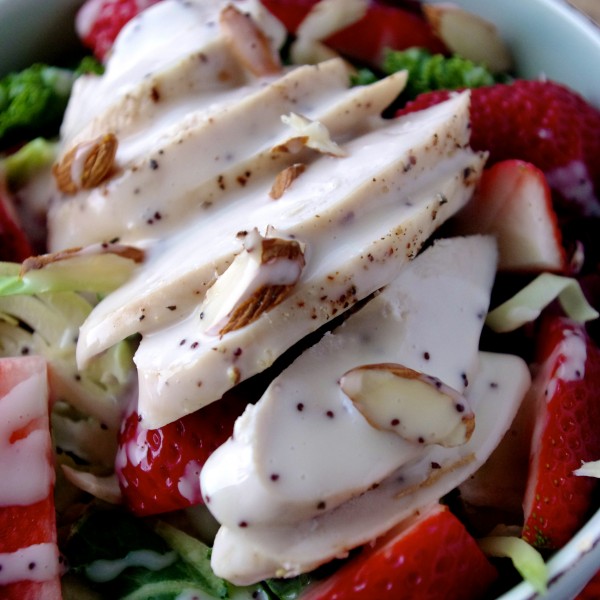 I adapted the poppyseed dressing from a vegan recipe I found on the wonderful Lunch Box Bunch blog – if you've never been over to Kathy's blog you MUST check it out! My version of the dressing doesn't keep it vegan as I use real mayonnaise which has eggs, but you could always use a veganaise like Kathy does!
Chicken was my choice of protein for this salad – nice and light, complementing all the other ingredients perfectly! And, it just wouldn't be complete without a little crunch of slivered almonds!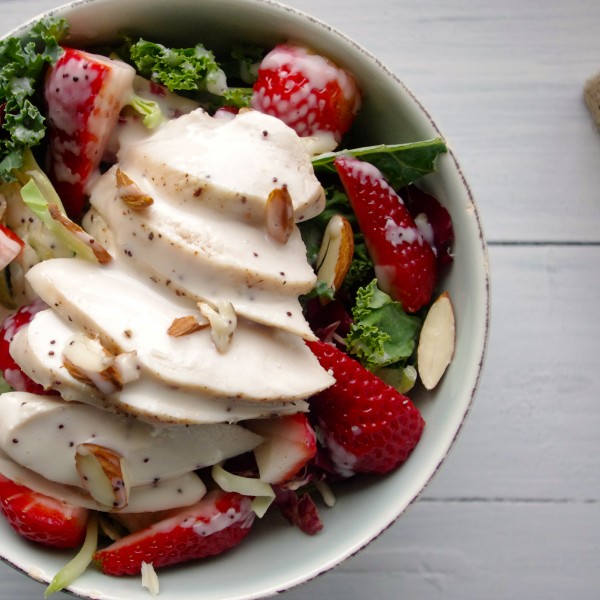 Seriously, doesn't that picture make you drool… just a little?!
It makes me drool, and brings me right into Summer dreamland….we'll get there soon enough.. I hope!! 😉

Strawberry & Kale Slaw Chicken Salad with Poppyseed Dressing (GF)
Ingredients
8 oz baked chicken breast, sliced (I just used salt and pepper to season)
1 cup kale, chopped
1 cup slaw mix (broccoli slaw, cabbage, carrots mixed)
¼ cup slivered almonds
1 cup strawberries, sliced
For The Dressing:
1 tablespoon light mayonnaise
2 teaspoons dijon mustard
1 tablespoon olive oil
1 tablespoon apple cider vinegar
½ teaspoon lemon juice
1 tablespoon agave nectar or raw honey
¼ teaspoon onion powder
¼ teaspoon garlic powder
2 teaspoons poppyseeds
Instructions
Whisk together dressing ingredients until well combined and set in the fridge to chill.
Bake chicken breasts, cool, and slice.
Divide kale, slaw, and strawberries among 2 bowls.
Top with the sliced chicken breast (4oz each), and sprinkle with almonds.
Divide the dressing and drizzle over each salad.
Enjoy!
Notes
*Costco carries a Kale Slaw salad mix which works perfectly for the base of this salad - you can also use the poppyseed dressing that comes in the salad mix if you are short on time.
Nutritional Information
Serving size:
½ recipe
Calories:
340 kcal
*Poppyseed Dressing adapted from Lunch Box Bunch
Christal
Nutritionist in the Kitch