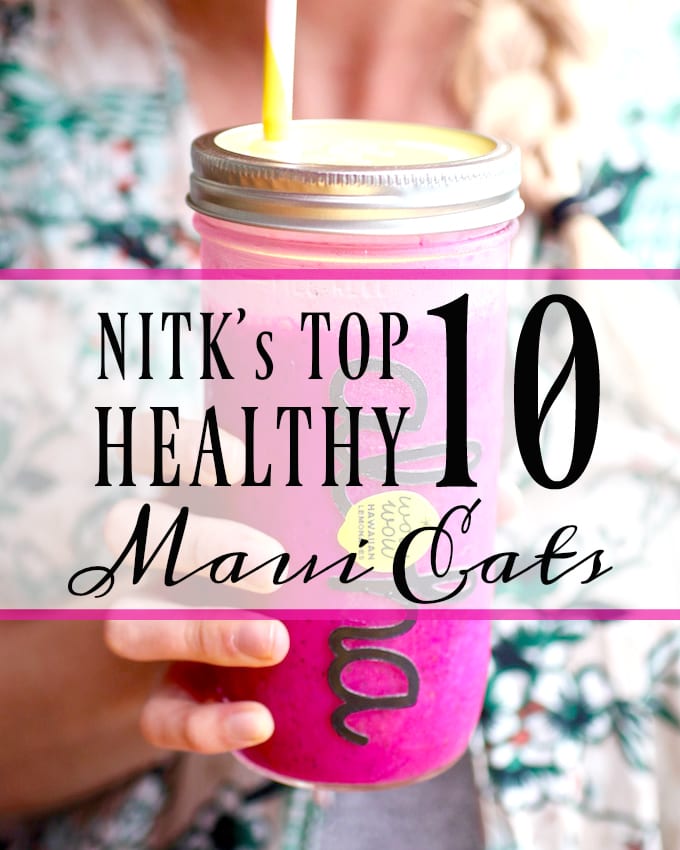 I'm just going to come right out and say it…
I seriously LOVE HAWAII. With all the travel the hubby and I have done over the years, I still have to say that Hawaii is one of my favourite places. It's so laid back, relaxed, stunningly beautiful, and the weather is pretty much perfect year-round. Not to mention… the food. I've been to both Oahu and Maui now and both islands have an awesome offering of healthy eats. I can really tell even in the past few years how Maui has become even more health focused as this time around (our second trip to Maui) there were more great healthy places to discover.
I wanted to highlight my Top 10 places to Eat Healthy in Maui on the blog, and I'm sure as the years go on I'll make more editions like this one. Next year we plan to head back to Hawaii but we want to visit the island of Kauai. Have any of my lovely readers been there? 
In no particular order, here is my Top 10 list:
1. Choice Health Bar // Located in Lahaina on the West side of Maui, this little cafe is a must-visit. With an array of healthy, plant-based items on the menu there's something for every appetite. The hubby and I chowed down on delicious Acai Bowls filled to the brim with granola (they have paleo granola too), berries, coconut, banana, and honey.
2. Paia Bay Coffee // We popped into this little spot on the recommendation of the lovely photographer who did our maternity photos (shoutout to Cadence of Cadencia Photography!) and enjoyed a super delicious breakfast post-shoot. First of all the atmosphere is awesome. There's a lush tropical seating area hidden off the beaten path that is so inviting and makes for a perfect spot to dine. There's a selection of free-range organic egg dishes on the menu, healthy bagels, and more indulgent croissants, and even yogurt parfaits to try.
3. Monkeypod Kitchen // While this place does have more of a "chain" restaurant feel, the menu is far from ordinary. We enjoyed oven-roasted free-range chicken wings (a nice change from greasy deep-fried options which you see almost everywhere), an amazing local avocado and tomato salad, french fries (got to have some indulgence!), and an incredibly tasty pizza made with local pineapple, no cheese at my request, and a perfectly thin crispy crust made with high quality imported Italian flour. Aside from the pizza flour, many of the ingredients used are sourced locally from Hawaiian farms and Monkeypod prides themselves supporting local farmers!
4. Wow Wow Hawaiian Lemonade // I stopped by this super cute little shop in Kihei at the recommendation of a few readers on Instagram and I'm so glad I did! Smoothies, acai bowls, and tasty healthy lemonades galore. I seriously think I did say "wow, wow" when I took my first sip. I opted on the Pitaya Smoothie and it was delicious. One cool thing about this spot, aside from the take-home mason jars and the healthy menu, is that they source fruits and produce locally, focus on positive relationships with growers in the community, and they value the land, heritage, and history of the Hawaiian culture.
5. Honolua Farms Food Truck // Driving up the West coast heading North on Maui right by Honoula Bay you'll come across a bright purple food truck serving up some seriously delicious lunch options. They have Acai bowls and smoothies on their menu but also grass-fed burgers, curries, sandwiches and more to fill you up before heading down into the bay for an amazing snorkel (side note: you MUST snorkel at Honolua Bay on a calm day, it's amazing). They have their own farm where they source all of their organic produce, so it's pretty cool to dine while virtually sitting at the gates to the farmland!
6. Honokowai Farmers Market // This "Farmer's Market" is actually a small grocery store with a cafe and hot/cold food bar that serves up some serious goodies. The store also hosts an actual Farmer's Market in the parking lot certain days of the week. This was one of our go-to spots to pick up a quick lunch from the hot bar/salad bar offering up healthy tons choices and of course our favourite place to stop for a pre-snorkel pitaya or acai bowl. The grocery selection here is also great with a good amount of local organic produce and tons of gluten-free/dairy-free/vegan products to fill your fridge if staying in a condo/vacation rental.
7. The Millhouse Restaurant // Located on the Maui Tropical Plantation grounds, this restaurant is a great place for a finer dining experience. We popped in for lunch one day and enjoyed a delicious meal of locally sourced ingredients including picked vegetables, Kalbi beef over papaya salad, fresh seafood coppino, and tasty steak tacos. They were able to accommodate my dairy allergy with no questions and the view as we ate lunch of the tropical plantation and farmland was spectacular.
8. Mana Foods (& Cafe) // Located in Paia, this grocery store (with a small cafe) is another must if you need to stop up on healthy groceries and wish to grab and acai bowl, smoothie, or gluten-free sandwich to go. The store is filled with aisle after aisle of healthy goods, and their dairy-free area filled with nut cheeses was enough to make me almost cry tears of joy. On the Monday morning we popped in the store was hustling and bustling as it's definitely a popular place!
9. Bamboo Fresh Cafe // Tucked away in the town of Lahaina, this cafe is a perfect place to grab a healthy veggie-loaded wrap, rice or quinoa bowl, or of course a smoothie or acai bowl. We stopped here for lunch one day and I enjoyed a delicious rice bowl loaded to the brim with veggies and topped with organic local chicken. While this cafe is small the serving sizes sure aren't, so come with a healthy appetite!
10. Pacific O' on the Beach // With an incredible beachfront location, and a farm-to-table inspired menu, this was the perfect spot to stop in for lunch on our last day in Maui. The last time we visited the island we took a farm tour of O'o Farms (followed by an unreal outdoor meal…I documented the whole experience in this post) and this is the farm that provides Pacific O' with much of it's ingredients. The restaurant has a great selection of healthy options and we enjoyed the catch of the day, which was Mahi in 3 tasty ways; ceviche, tacos, and an entree plate where the Mahi was crusted then served with an amazing peanut sauce, fresh farm veggies, and rice. The meal totally hit the spot! I recommend visiting both the restaurant and if you have time on your trip, definitely book a farm tour (with lunch) at O'o Farms!
Aside from healthy places to visit, I also recommend one or two days of packing up a picnic and heading to the beach. There's nothing better than sitting in the sand, munching on healthy food, and taking in the amazing ocean views.
I can guarantee there are more amazing healthy places to eat than the ones I've listed above, but I can definitely vouch for these top 10 and hope you'll stop by at least a few on your next trip to Maui.
During our trip we also hit up Whole Foods and Costco to stock up on groceries for our condo so that we were able to make many breakfasts, lunches, and dinners in as well. This is a really great way to stay on budget as dining out every meal can definitely add up in Hawaii. We always rent places through AirBnB, HomeAway, or VRBO.
Have you been to Maui? What are your healthy spots to chow-down? I'd love to hear about them in the comments below… and I'd also love some recommendations for Kauai, our next Hawaii vacation spot! 
Christal
Nutritionist in the Kitch
Disclaimer: I was NOT compensated to write about any of these establishments, they are truly my favourite spots and as always the thoughts and opinions on NITK are my own.