This sandwich reminds me of a chicken salad or egg salad sandwich; it has a rich, creamy texture, and is very filling, BUT it's vegetarian and can be dairy free (if there is no parmesan in the pesto you choose)! The avocado mixed with the mashed chickpeas creates a creamy-like texture, which is a much healthier alternative to a mayonnaise dressing!
I picked up some Pesto when I was in Italy last month, and it is absolutely delicious. The smell is almost intoxicating! I don't eat pesto often because I find a lot of prepared pesto is just too oily.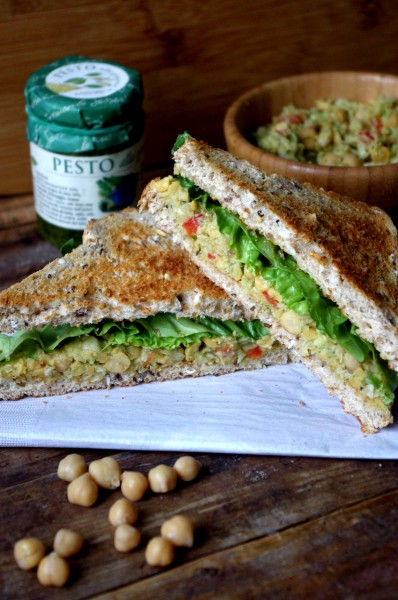 This pesto however, is juuuuust right, and it makes a perfect addition to this sandwich filling – it actually takes center stage because the flavors of the pesto are very prominent!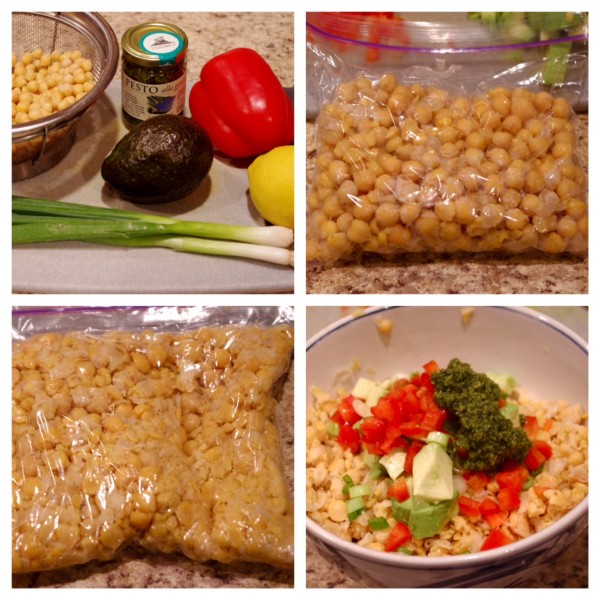 This sandwich makes a hearty and filling lunch or even dinner in a pinch! The chickpeas provide an ample amount of protein and fiber, the avocado and olive oil in the pesto give the mixture a nice dose of essential fatty acids, and the lemon juice adds a pop of antioxidants! Heap this filling between two fresh baked slices of whole grain (or gluten free!) bread, and you have yourself one tasty sandwich!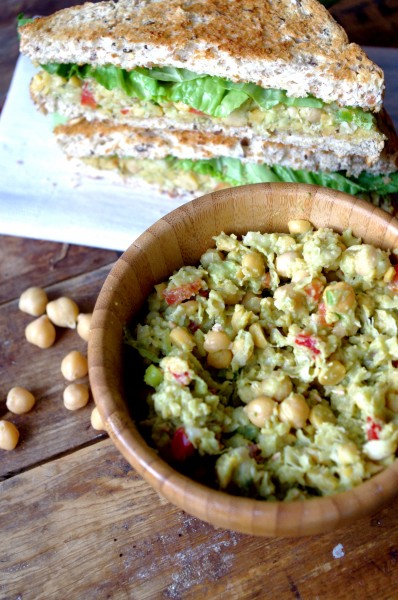 As I was making this chickpea pesto filling, I had some organic tortilla chips in the cupboard… and I thought "hmmm…I wonder…" and YES! this filling works great as a dip too! Put this filling in a wrap, have it with some veggies or crackers, or even put a big dollop of it on a bed of lettuce – there are tons of possibilities!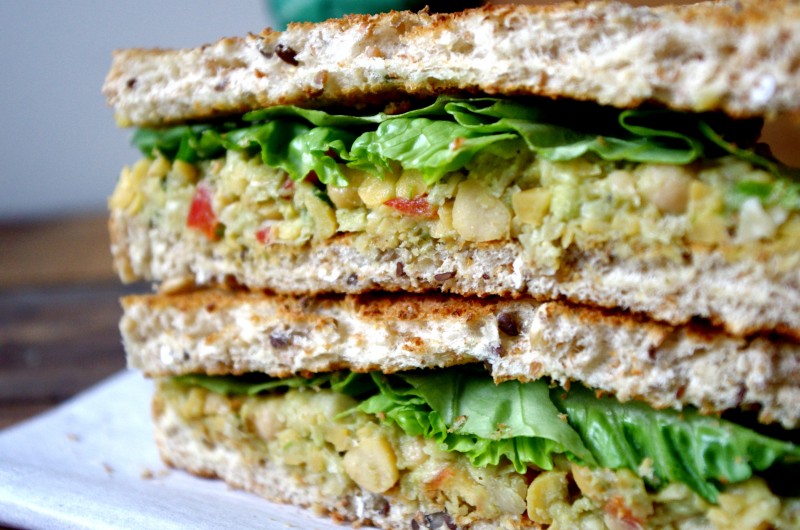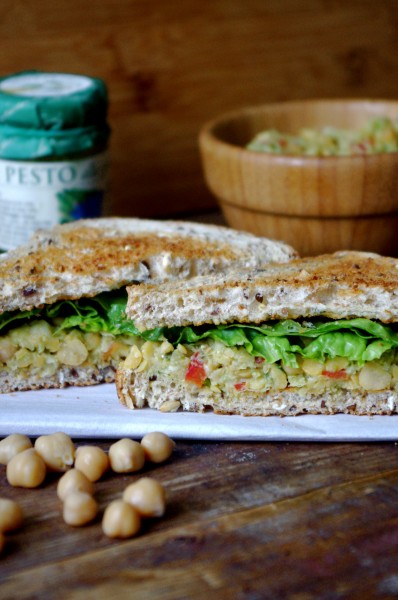 Mashed Chickpea & Pesto Sandwich
Ingredients
1 (15-ounce) can chickpeas (garbanzo beans), drained and rinsed well
½ avocado, diced
1 tablespoon prepared pesto
2 tablespoons red bell pepper, finely diced
1 green onion, finely chopped
½ lemon
salt and pepper, to taste
whole grain (or GF) bread, sliced
Instructions
Drain and rinse the chickpeas and pat try with paper towel.
Put chickpeas in a large ziploc bag, then mash the bag with your hands, crushing the chickpeas until they are a mashed consistency (there can still be full chickpeas in the mix, it just adds more texture, the decision is up to you!)
Once mashed, add the chickpeas to a bowl, and add the avocado, pesto, red bell pepper, green onion, and the juice of ½ a lemon. Mix well so all ingredients are combined.
Season with salt and pepper as desired.
Spoon ¼ cup of the mixture between two pieced of toasted bread. (or have with crackers, tortilla chips, veggies, pita, etc.)
Enjoy!
* I marked this as a Vegan recipe – although the pesto I use does have parmesan cheese, you can easily make your own pesto, or buy pesto that does not contain cheese!
Enjoy!
Christal
Nutritionist in the Kitch