Do you own an Air Fryer yet?? (*affiliate link) I definitely recommend getting one into your kitchen, stat!. This handy kitchen appliance is very easy to use and gives so many different foods that delicious crispy, fried edge that a deep fryer does… just without the deep frying! This simple recipe for a healthy air fryer burger shows just how easy it is to use the air fryer to get a delicious, juicy, tender burger with a perfect outer texture, without ever turning on the grill!
These burgers are made with extra lean ground beef but you can use any other ground protein you desire, such as ground turkey, ground chicken, or even salmon!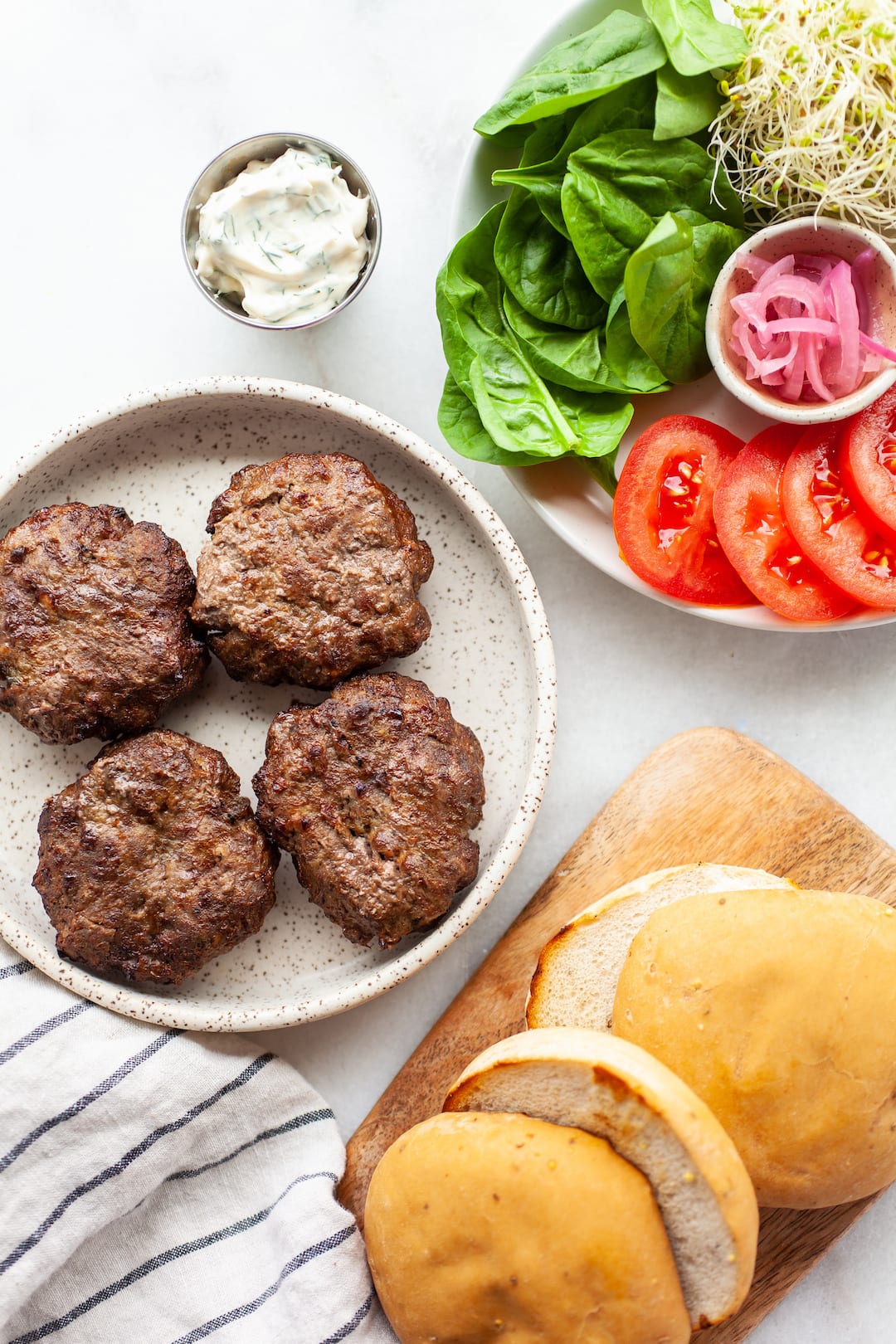 Air Fryer Burger Ingredients
For this recipe I really wanted the perfectly air fried burger patty to be the star, so I kept the burger fillings relatively simple . The ingredients are common, healthy, and most of them you likely already have in your fridge and pantry. All you need to make this tasty dish is:
Extra lean ground beef

(or another ground meat of choice)

Barbecue sauce

(homemade or your favorite store-bought brand)

Egg

Garlic powder, onion powder, salt, and pepper

Burger buns

(I used Northern Bakehouse Gluten Free Millet Buns)

Tomatoes

Lettuce

Sprouts

Onions

(regular and/or pickled onions are great!)

Ketchup and Mustard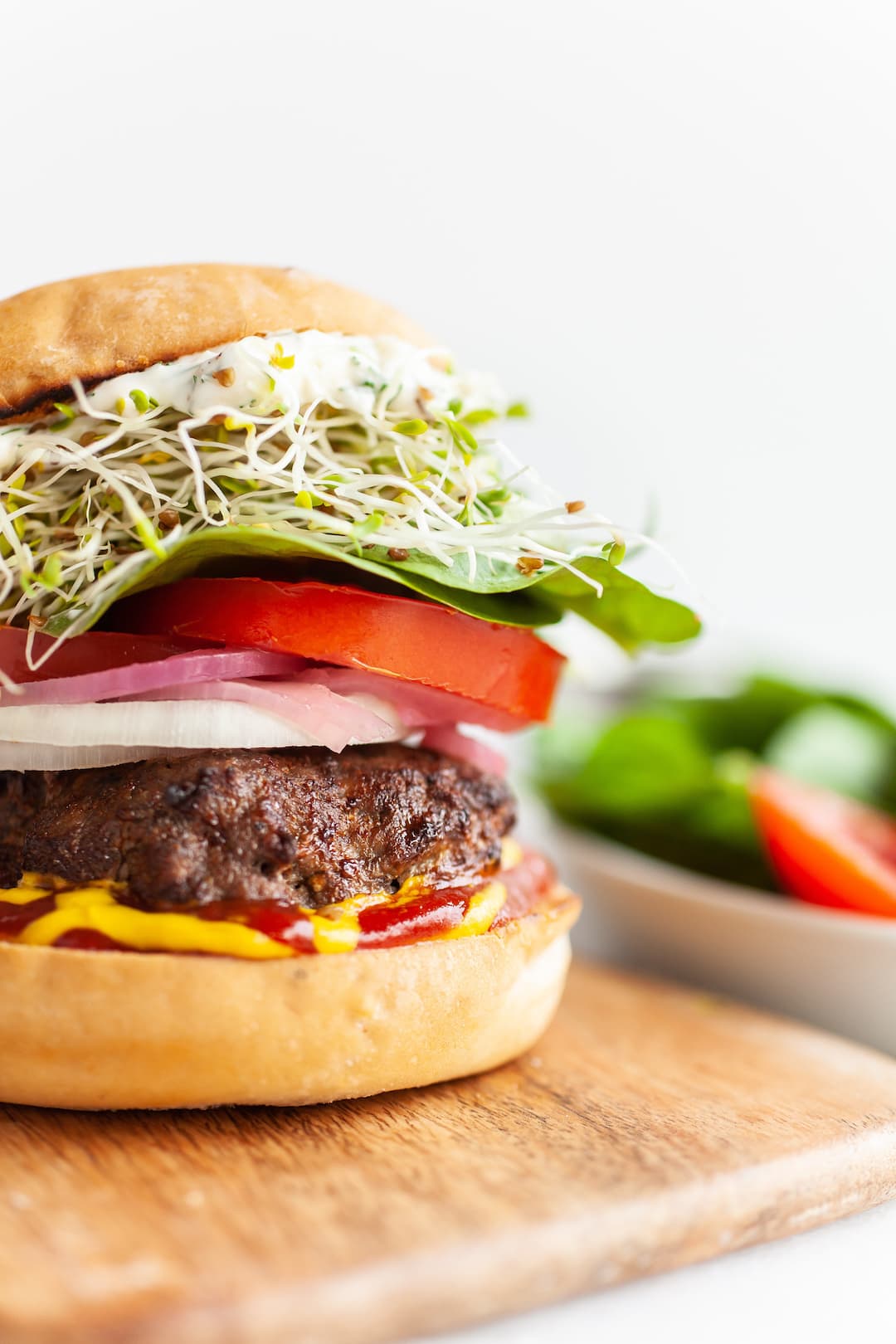 Easy 2-Minute Garlic Dill Aioli
I love making simple at home aioli dips for fries or to add to sandwiches or burgers like these. While you can definitely use plain mayonnaise for this burger, this aioli takes the flavour up a notch! Here's what you'll need:
Mayonnaise
Fresh dill
Garlic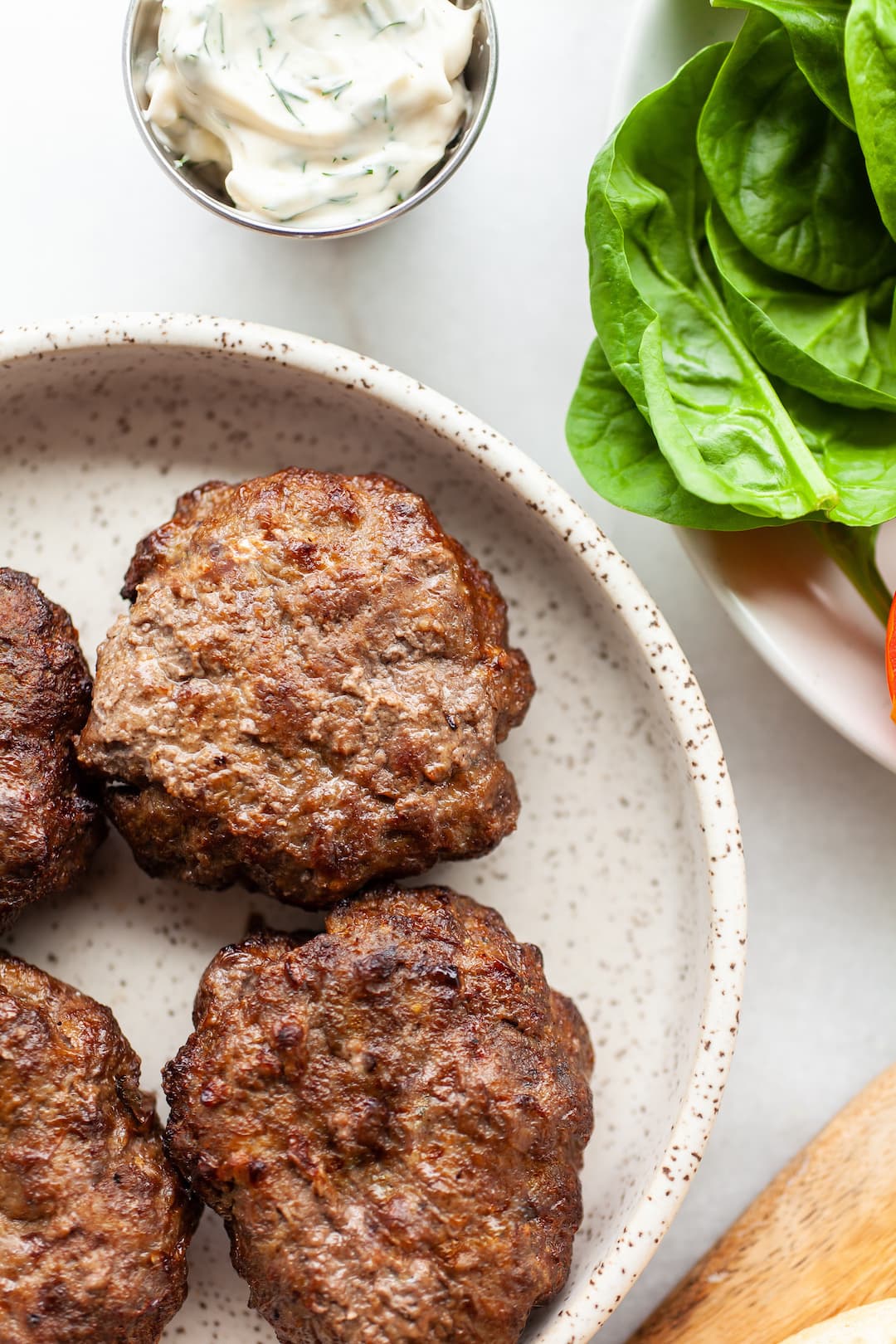 What temperature do you cook burgers in an Airfryer?
Whether you are making beef burgers like these in the air fryer, or trying a chicken burger or turkey burger, you can use the same cooking temperature of 370 degrees.
My air fryer automatically starts at 370 degrees and the temperature can be raised or lowered.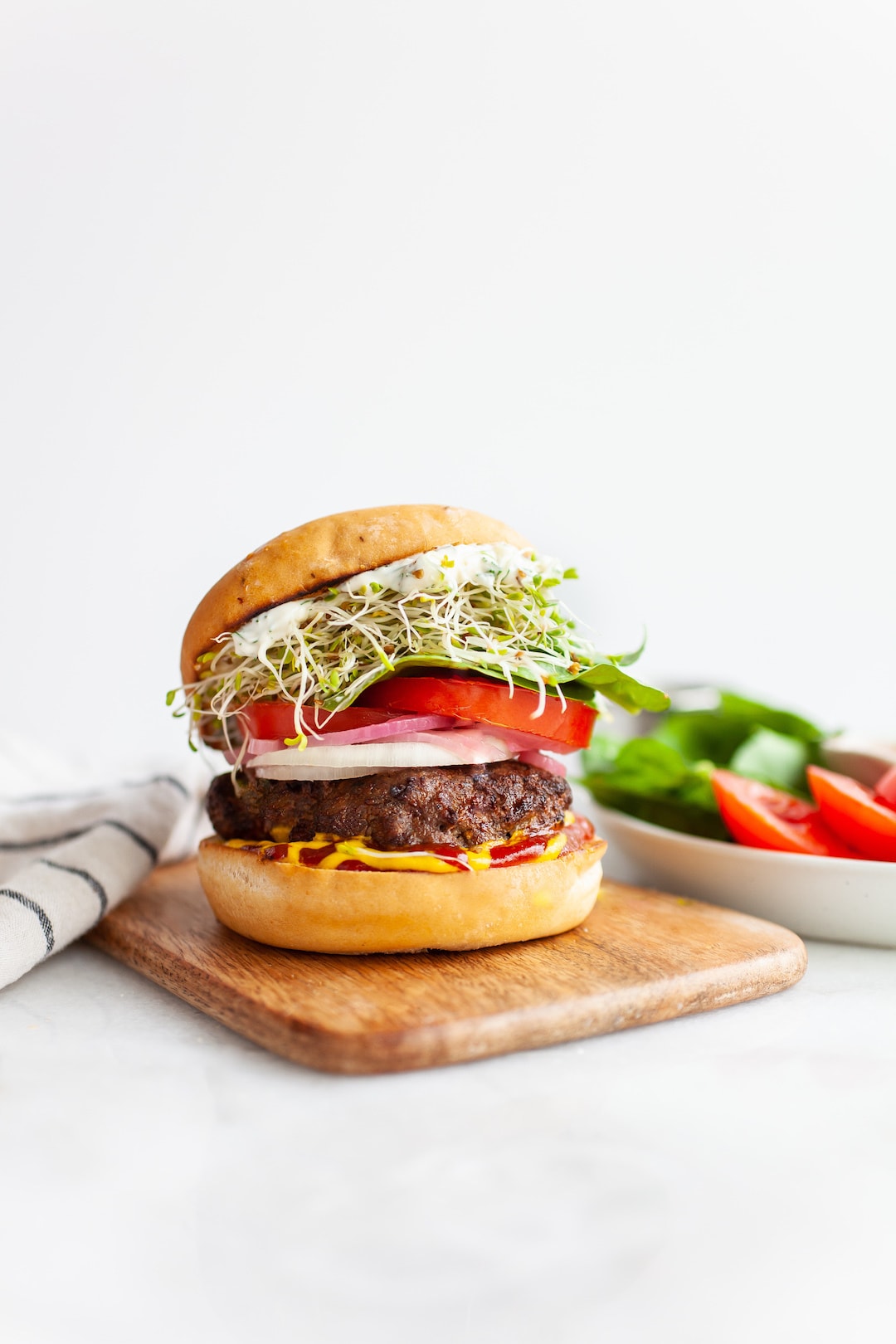 How long does it take to cook a hamburger in an Airfryer?
To cook fish in the air fryer it doesn't take long at all! While the type of ground meat you use may slightly vary the cooking time, here are general recommendations:
First, I recommend preheating the air fryer for 2-3 minutes before cooking the burgers for best results!
Extra Lean Ground Beef: 10 minutes at 370 degrees, flipping once halfway through – internal temperature must reach 160°F
Ground Chicken Breast: 9-10 minutes at 370 degrees, flipping once halfway through – internal temperature must reach 165°F
Ground Turkey Breast: 9-10 minutes at 370 degrees, flipping once halfway through – internal temperature must reach 165°F
Preparing the Air Fryer Burger
Since getting my hands on this air fryer, my hubby and I have been air frying all kinds of things…sweet potatoes, tortilla chips, tofu, regular potatoes, chicken breast, chicken wings, fish tacos, and more. I'm super excited to create many more healthy air fryer recipes for you to enjoy!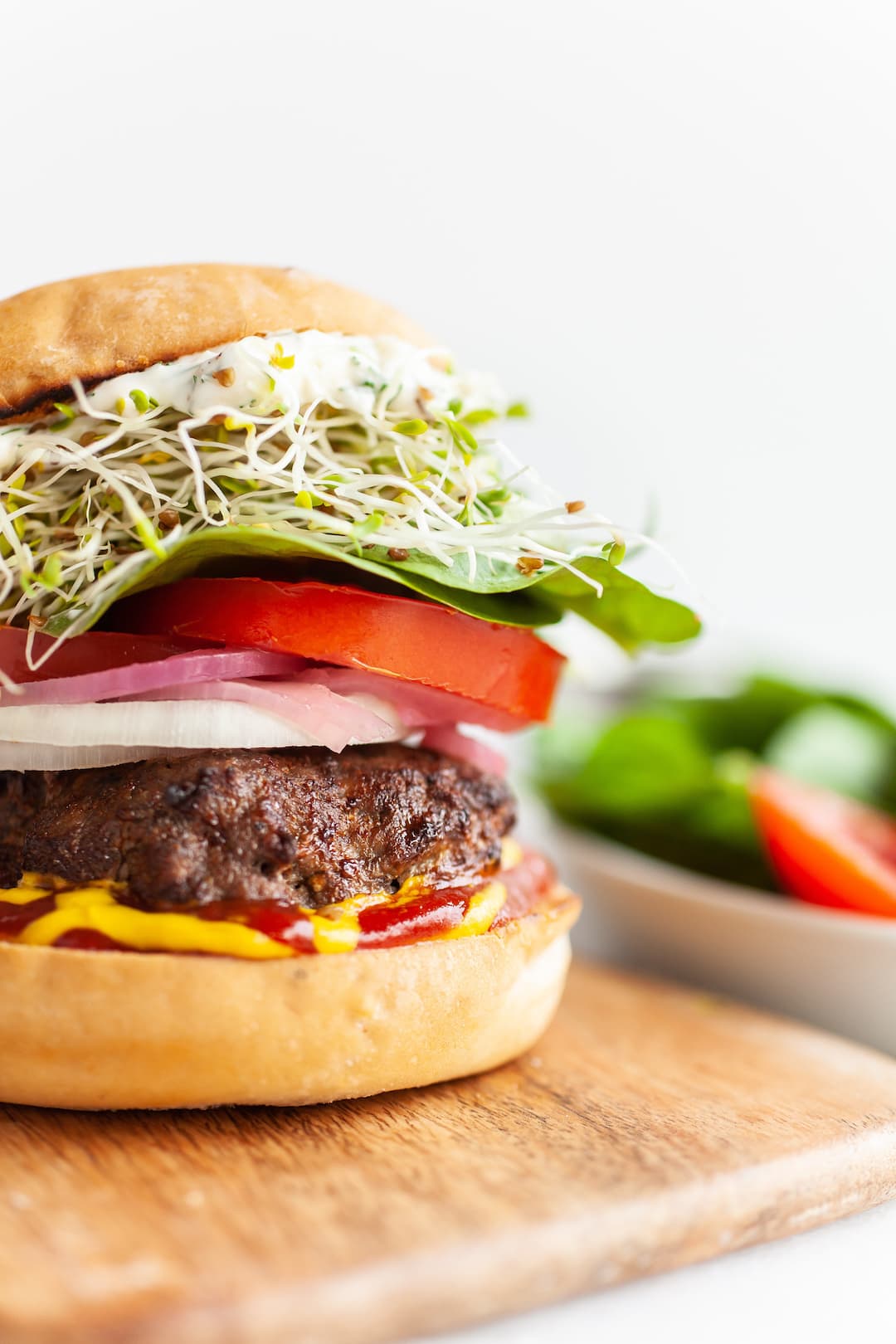 Do you have an air fryer? What kind of delicious and healthy air fried meals or snacks have you been making? Tell me about it in the comments and be sure to pin the photo below the recipe to save this one for later!
Try this burger with a side of Air Fryer Sweet Potato Fries or Air Fried Potato Wedges!
Pin me!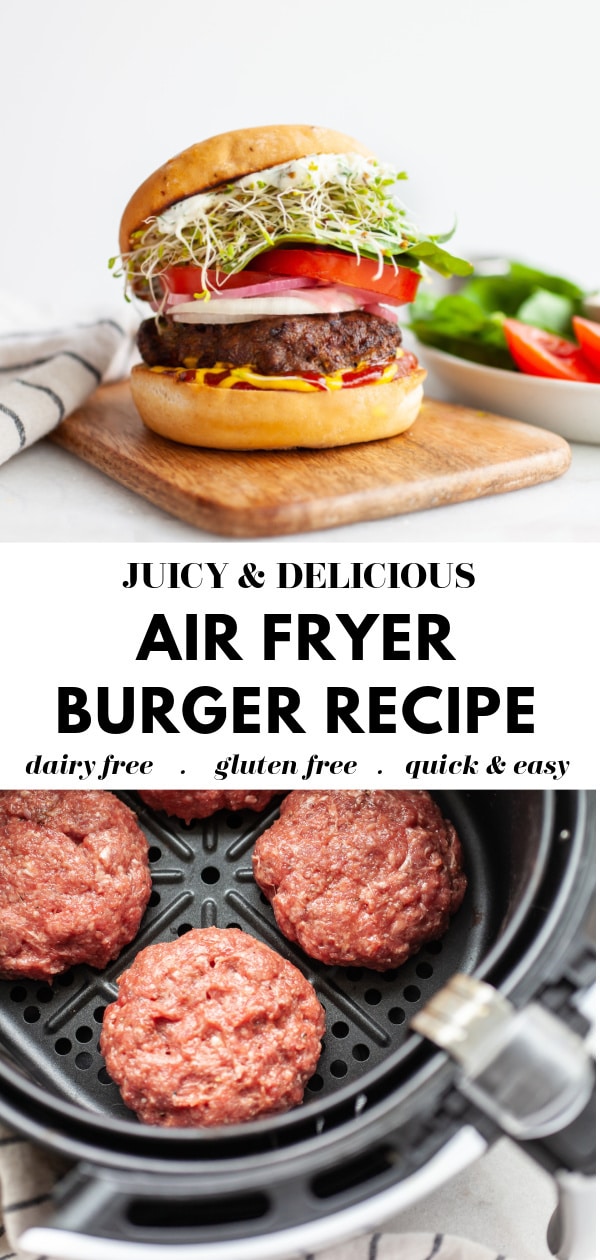 More Air Fryer Recipes You'll Love:
Have a great day!
Christal // NITK