If you don't yet have an Air Fryer of your own (*affiliate link), I highly recommend adding one to your must-have list. This handy small kitchen appliance is very easy to use and creates that delicious crispy, crunchy texture that a deep fryer does… without the deep frying and all of the oil!
This easy and super simple recipe for healthy air fryer tofu shows again just how easy it is to use the air fryer and how quickly you can enjoy crispy, perfectly cooked tofu that is great for dipping or using in an entree, like my Thai Lemongrass Salador a healthy buddha bowl!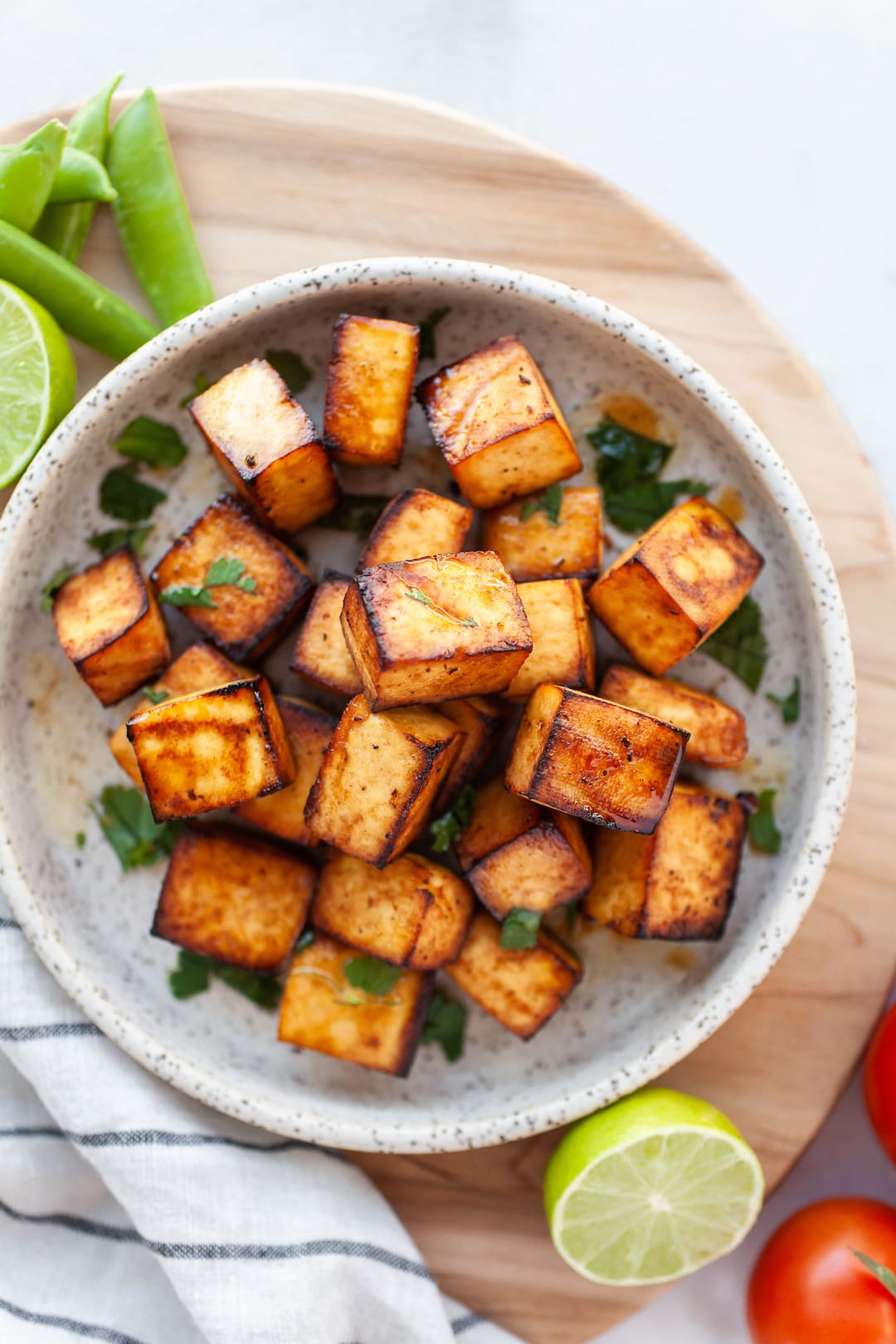 Air Fryer Tofu Ingredients
This tasty recipe is very simple and you need only a handful of ingredients. While you can go-to-town with different marinades, seasonings, and spices when it comes to air fried tofu, my version is a great place to start if you are new to this dish!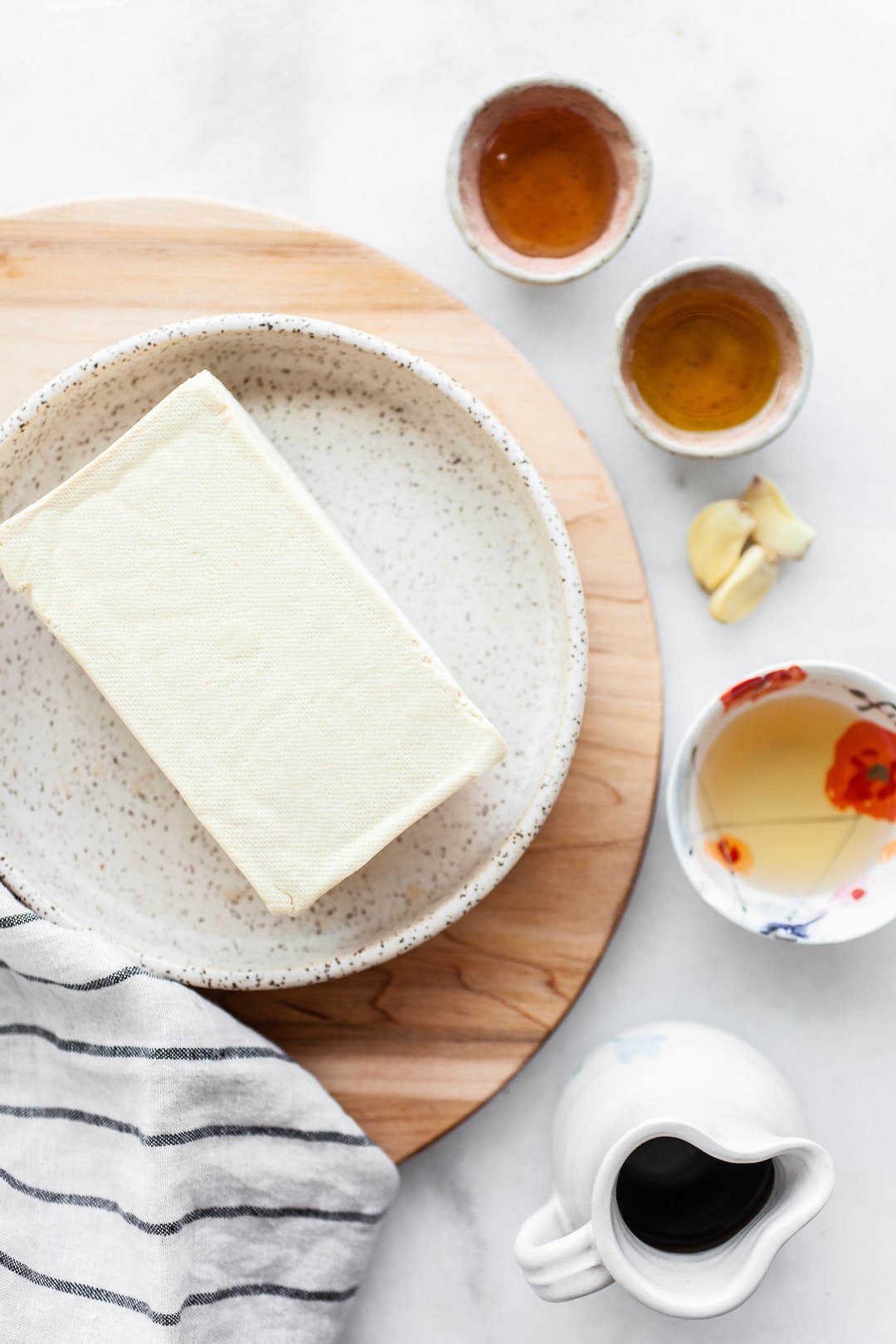 Here's what you'll need:
1 block of extra firm tofu

Rice wine vinegar
Honey or pure maple syrup
Avocado oil or olive oil
Gluten free soy sauce (or regular if you don't need GF)
Garlic
Lime
The marinade is the perfect mixture of sweet, salty, and tangy, and is versatile enough that it can blend into different recipes like stir fries, salads, bowls, or wraps. Or, you can enjoy this tofu on it's own as a snack!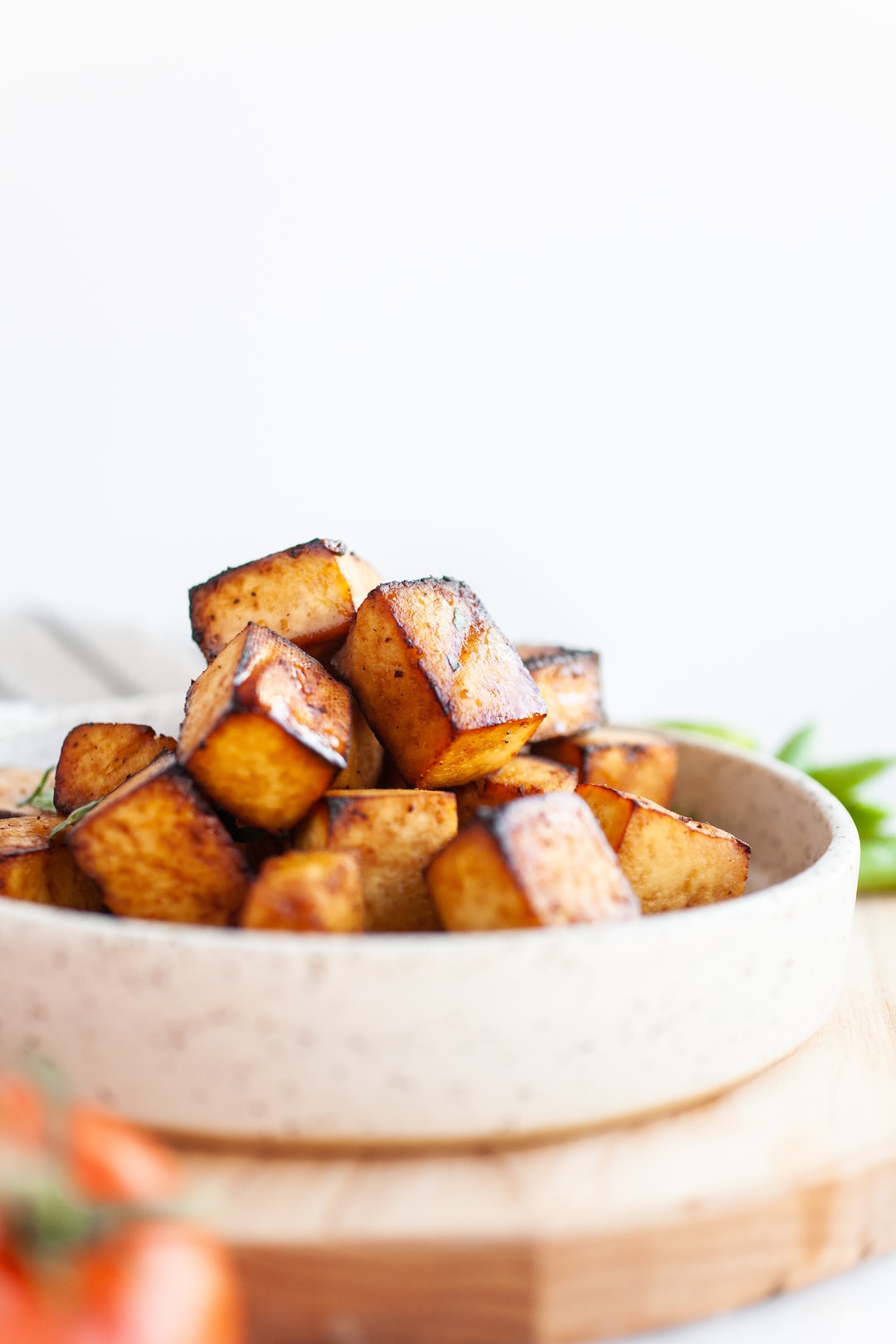 How To Make Crispy Air Fryer Tofu
When it comes to making the best cooked tofu that's crispy on the outside and tender on the inside, with a delicious, light flavour, there's only a few simple steps to follow!
1. Start with a block of extra firm tofu you can find at the grocery store. Extra firm tofu creates the best air-fried version of this plant-based protein.
2. Next, wrap the tofu in paper towel and press for 30 minutes using a tofu press (affiliate link) or a stack of books, or even a heavy cast iron pan to remove excess liquid, then cut into cubes.
3. Whisk together the simple marinade ingredients in a bowl and toss with the tofu cubes. Marinate the tofu for 30 minutes or a few hours.
4. Once the tofu has marinated, pre-heat the air fryer for 3 minutes at 370 degrees. Once heated, place the tofu cubes in the air fryer basket (reserve the leftover marinade to toss with the fried, crispy tofu for extra flavour!).
5. Cook for 12 minutes at 380 degrees, removing the basket halfway through to toss/flip the tofu cubes for even cooking.
6. Remove the air fryer basket when the cooking time is done and transfer the hot, crispy tofu to a bowl and drizzle with the leftover marinade, or use in your favourite recipe!
How long do you cook tofu in the air fryer?
Cooking times can vary for tofu in the air fryer. There are different levels of crispiness you can achieve depending on your preferences.
If you prefer golden, slightly crispy tofu with a soft centre, you can cook for less time, and if you like really crunchy, crispy tofu, with a firmer centre, you can cook for longer.
As a general rule, I recommend cooking tofu in the air fryer between 10 and 18 minutes at 380 degrees.
Check the tofu periodically during cooking by removing the basket and trying a piece, then end cooking when the tofu when it has reached your preferred level of crispiness!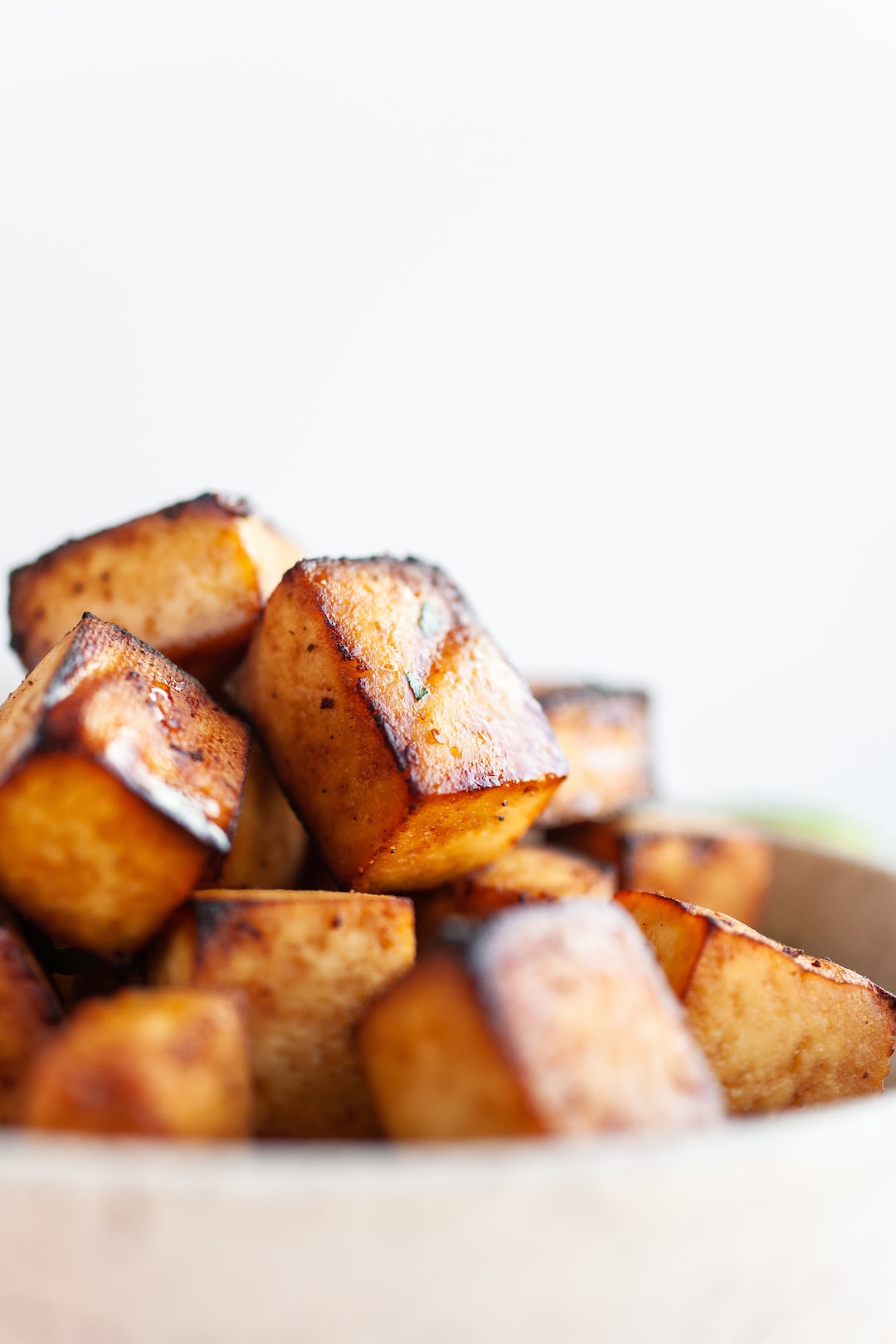 Extra Tips & Tricks
To get the best results with your tofu, I have a few extra tips:
Don't skip pressing the tofu:

While it does add extra time to the preparation of this recipe, pressing the tofu is imperative to getting that delicious crispy texture. Without pressing the tofu there will be a lot of extra moisture left in the tofu and that prevents optimal crispiness.
Make sure to use extra firm tofu: There are many varieties of tofu on the market including silken tofu, medium tofu, firm, extra firm… the list goes on. Extra firm is the best option for air fryer tofu that is crispy on the outside and tender on the inside as it has the least moisture content.
Adjust the cooking time if needed:

Because not all air fryers cook exactly the same, and preferences are different for each person, you might find you need to reduce or increase the frying time by a couple of minutes. Aim between 10-18 minutes of cooking time, and check the

tofu every couple of minutes after the 10-minute mark until you've reached your desired crisp-level.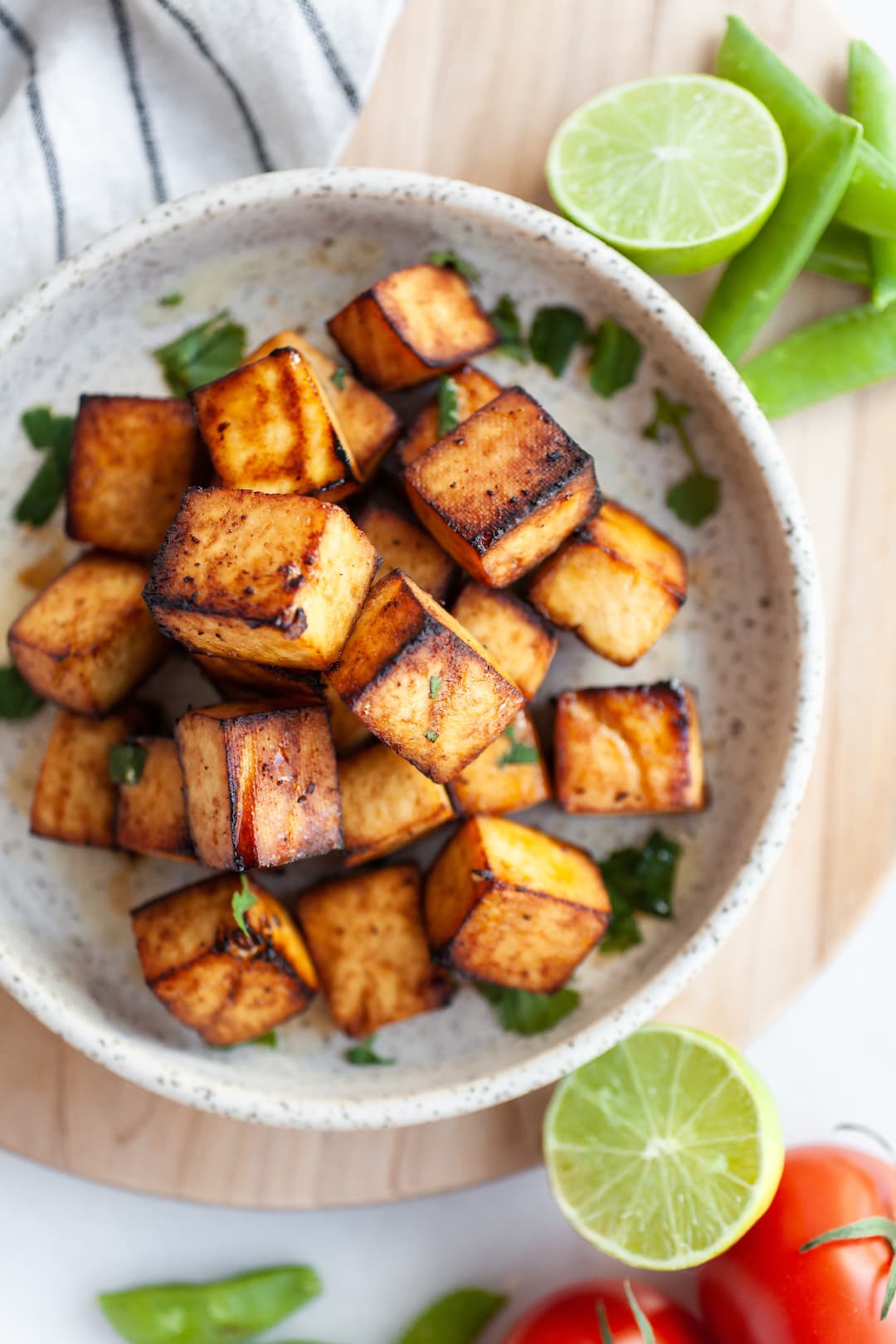 Do you have own an air fryer yet? What type of delicious snacks or meals do you plan to try? Tell me about it in the comments and be sure to pin the photo below the recipe to save this one for later!
Pin me!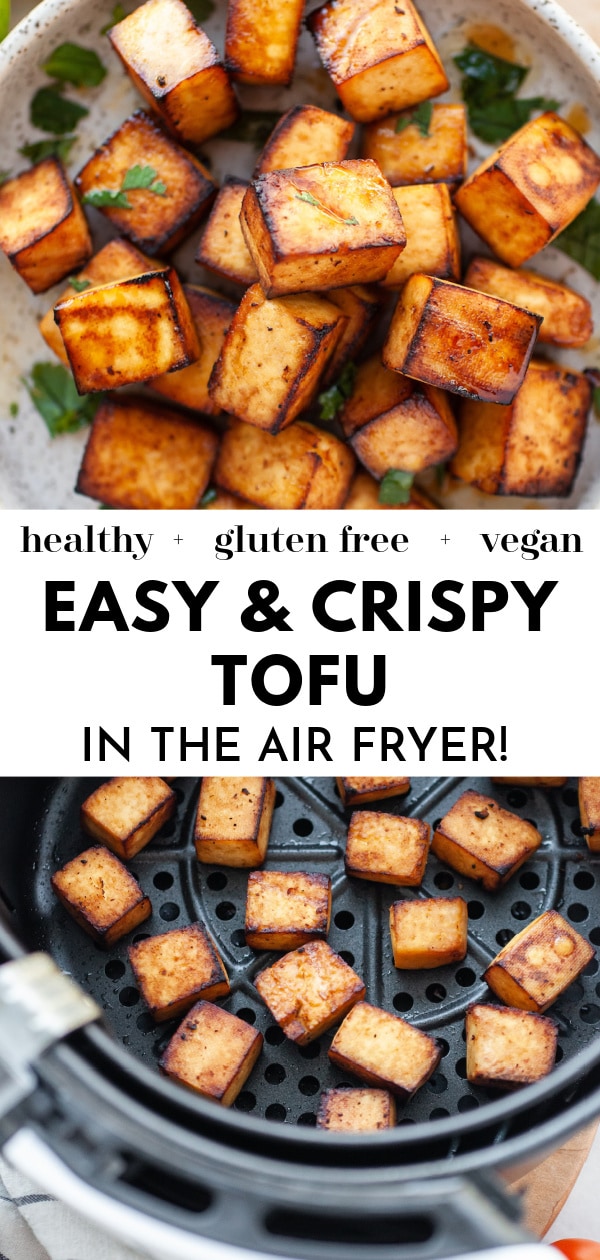 More Delicious Recipes You'll Love:
Also, try my Air Fryer Tilapia with Easy Mango Salsa, or Loaded Air Fryer Nachos!
Have a great day!
Christal // NITK