This delicious and healthy take on a Southwest Salad is dairy free, gluten free, and packed with nutritious ingredients including U.S.-grown brown rice, beans, corn, avocado, and veggies. Then, drizzled with an easy homemade creamy lime vinaigrette.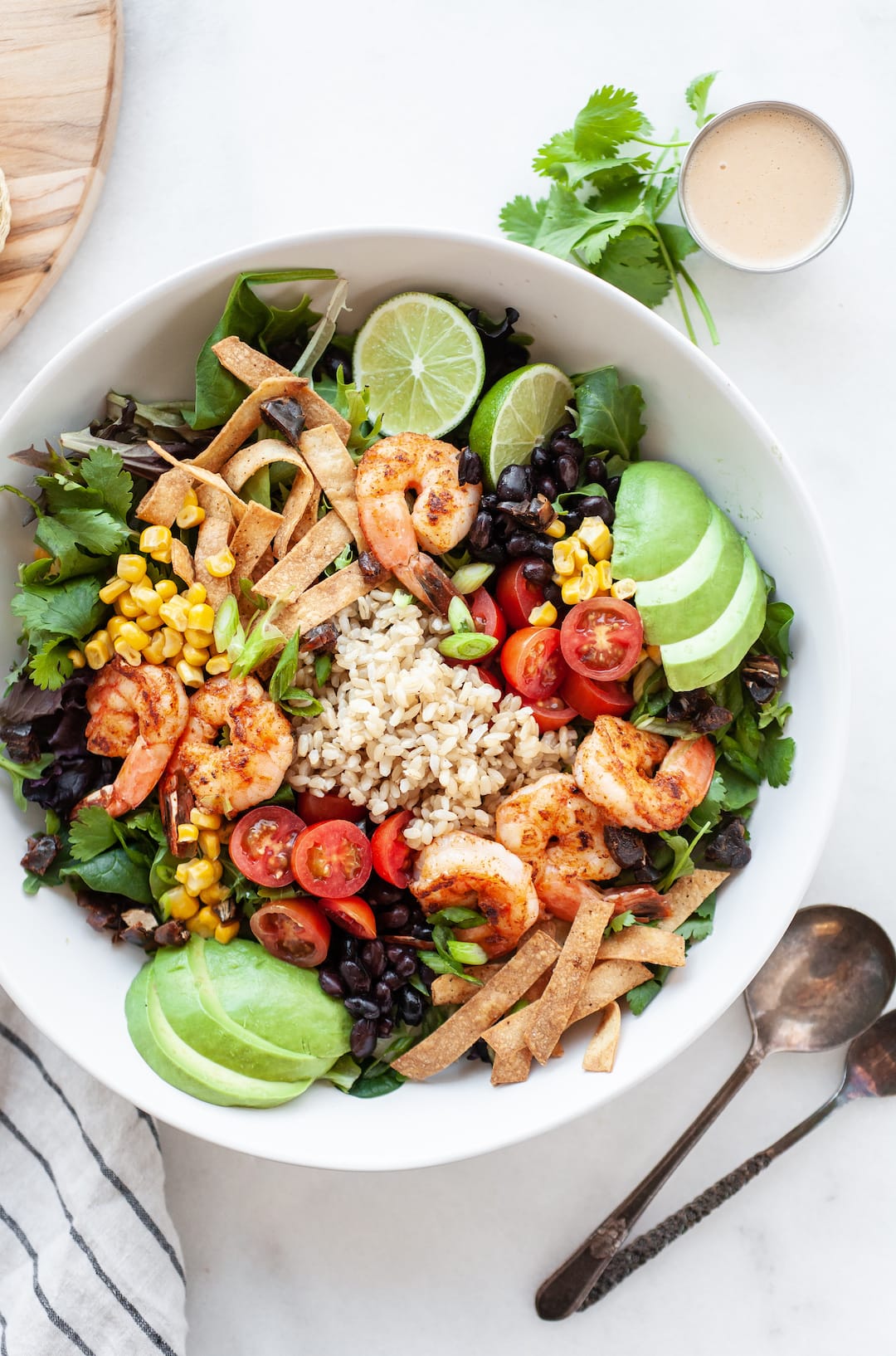 This blog post is in partnership with USA Rice however all opinions are my own.
A Healthy Southwest Salad
I have to admit, these days one of the things I miss the most is going for a casual dinner out on a whim. With two kiddos in tow (and the 'state' of current events) it takes a lot more planning and work to get out.
Restaurants are also often known for their not-so-healthy menu choices, but in consideration of March being Nutrition Month, I wanted to shine a spotlight on how to create mouth-watering, restaurant-worthy meals at home that are nutritious too!
This healthy Southwest Salad is a twist on a long-time restaurant favourite of mine, made with a nutritious and bountiful combination of ingredients and a super simple homemade dressing that comes together in minutes.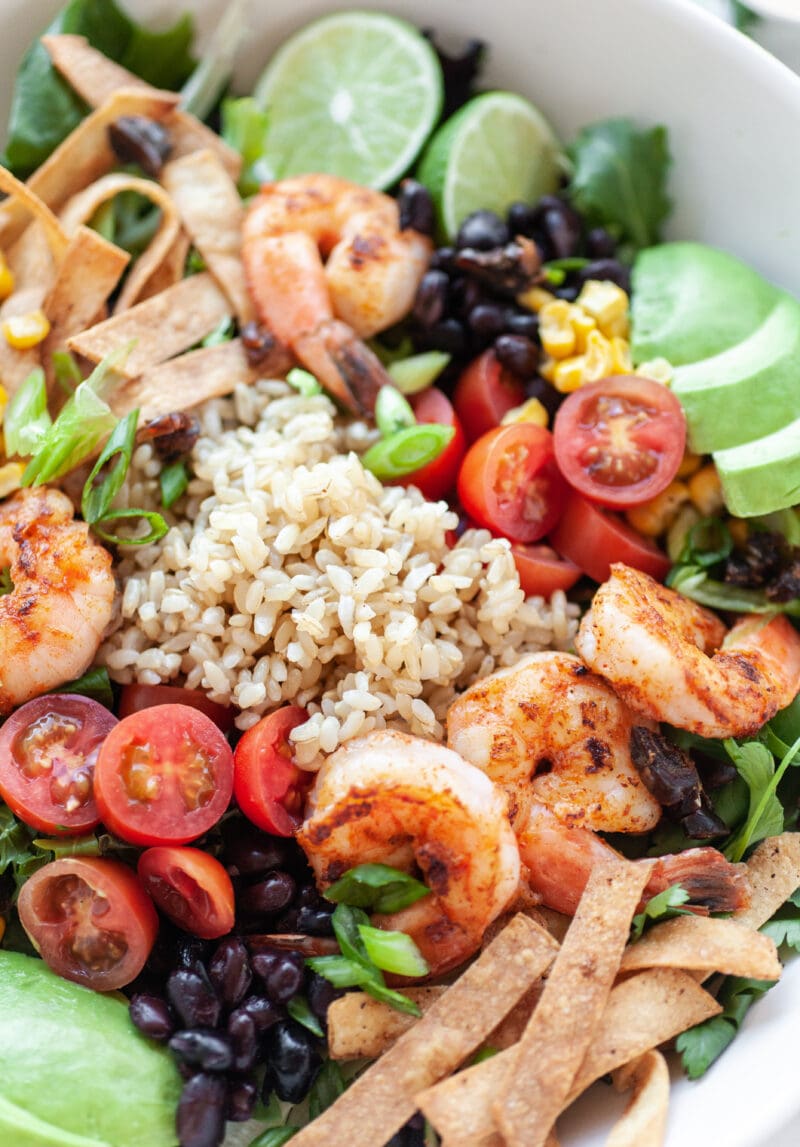 What makes this salad nutritious?
This delicious Southwest Salad is packed with antioxidants from the fresh vegetables, fibre and energizing carbohydrates from the U.S.-grown brown rice, beans, corn, and dates, and healthy omega-rich fats from the avocado.
The simple homemade dressing is not loaded with refined sugar like many restaurant dressings, instead it's sweetened with honey, and the salad is "lightly" dressed versus being smothered in dressing.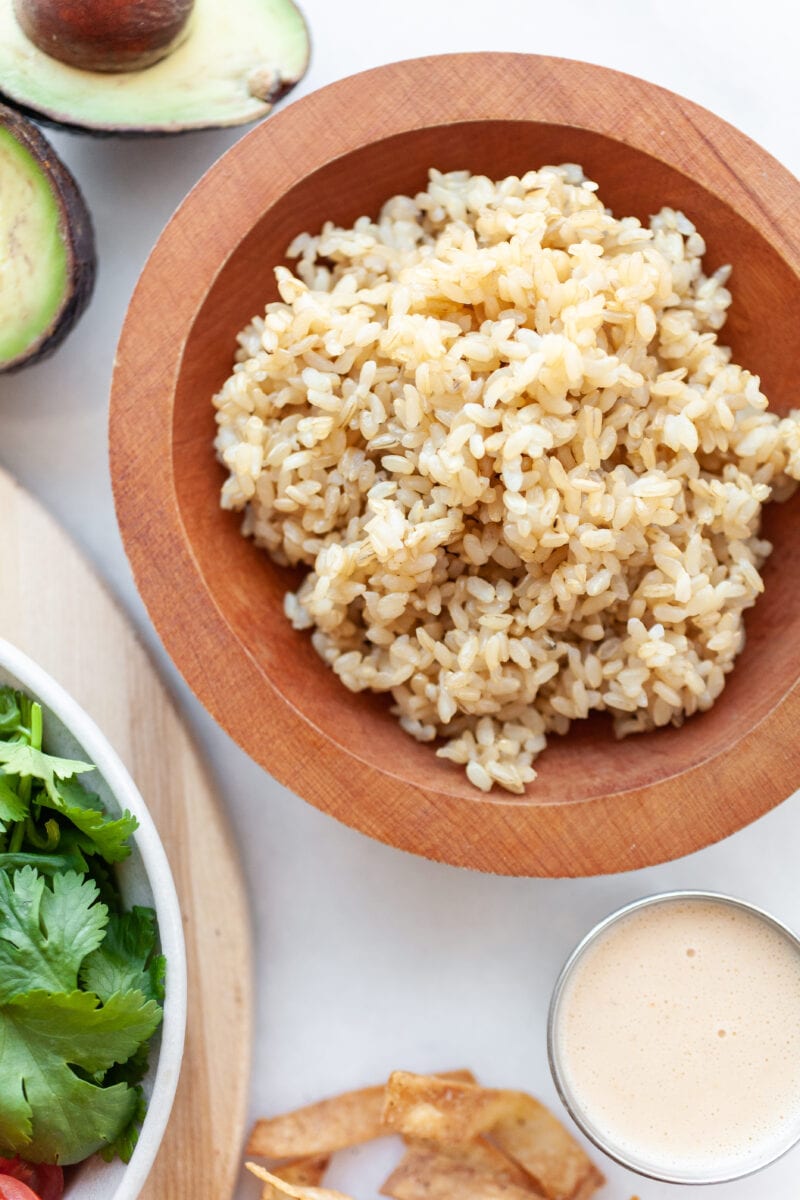 The Star Ingredient: U.S.-grown brown rice
One of the best features of a restaurant-style salad is that they often contain a plethora of unique ingredients beyond just lettuce and protein. I worked at a restaurant for many years and there were always new salads being added to the menu with unique combinations of vegetables, nuts, seeds, fruits, and other add-ins.
U.S.-grown brown rice is a game-changer ingredient in this Southwest salad. And if you're sceptical, let me guarantee you, rice totally goes great in a salad! Not only does this versatile pantry staple make the salad more filling and add in a great texture, it's also a very healthy addition.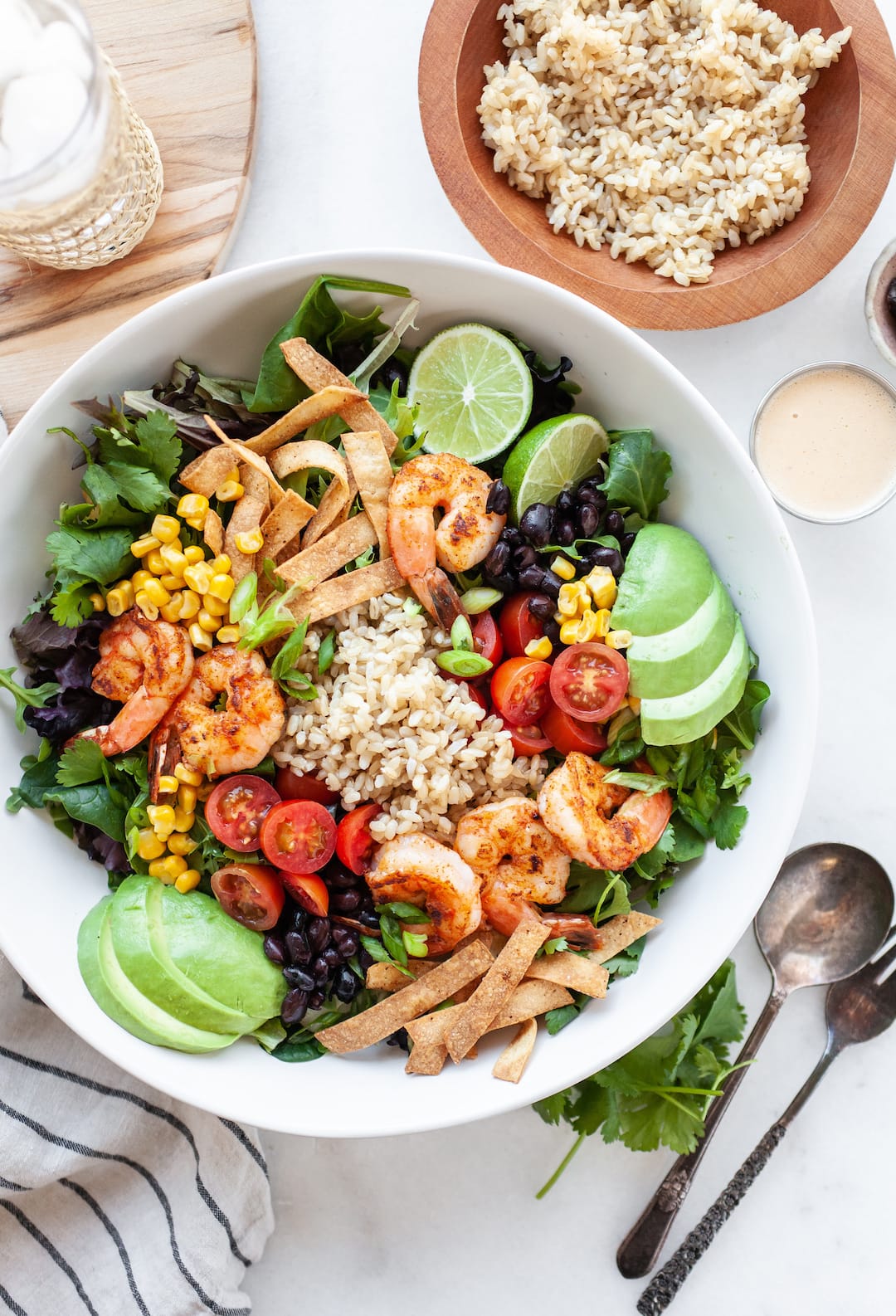 Rice is a fantastic source of minerals including magnesium, iron, and potassium, as well as vitamins like vitamin B6, which is vital for amino acid utilization in the body.
It is a naturally gluten-free grain and is a fantastic source of complex carbohydrates for long-lasting energy and fibre for healthy digestive function.
Storage Tip: U.S.-grown brown rice, unlike white rice, contains oil in the bran layer, so it has a limited shelf life of 6-months. To keep it fresh longer, store it in a cool place such as a refrigerator or freezer!
What is a 'Southwest Salad'?
A 'Southwest' salad is a salad that contains ingredients inspired by the southwesten region of the United States, most notably Arizona and New Mexico. The flavours and ingredients of this region include a blend of Mexican, Native American, and a splash of the American Frontier.
Think spices including cumin and chili powder, herbs like cilantro, and fresh produce including tomatoes, peppers, corn, onion, and lime. Rice, beans, and other starchy carbohydrates are also very common.
There are many variations for Southwest salads but you will find flavours like those above sprinkled through them all in some way or form.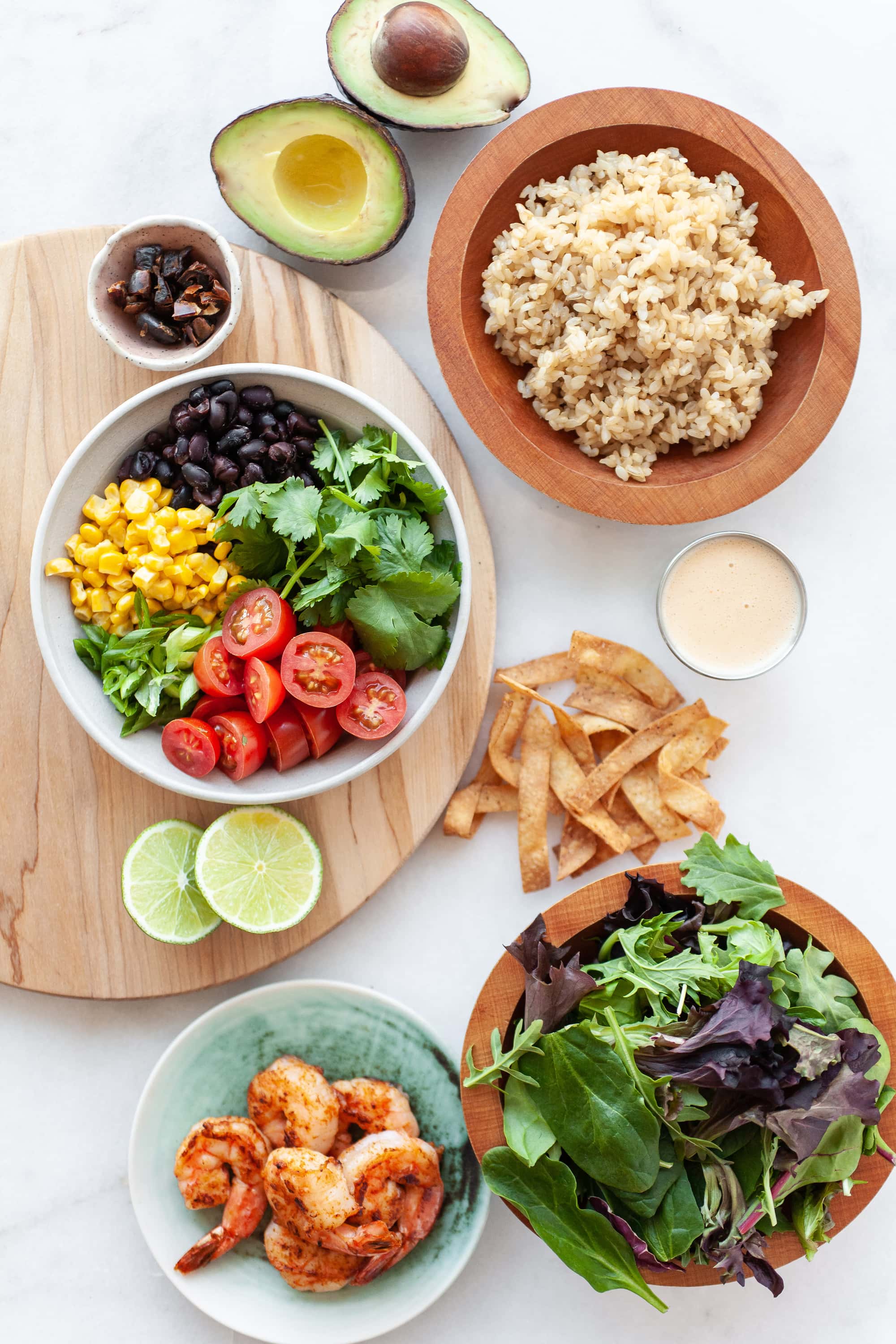 The Salad Ingredients:
For my healthy take on a Southwest salad, I've included an array of common fridge and pantry ingredients that blend together to create an incredible flavour and texture in every bite!
Here's what you'll need:
U.S.-grown brown rice

Spring mix lettuce

Cilantro

Cherry tomatoes

Corn (I used frozen, thawed)
Black beans (canned work great)

Green onion

Avocado

Pitted dates (trust me on this one!)

Tortilla strips (I made my homemade air fryer tortilla chips, cut into strips, but you can use any store-bought variety as well)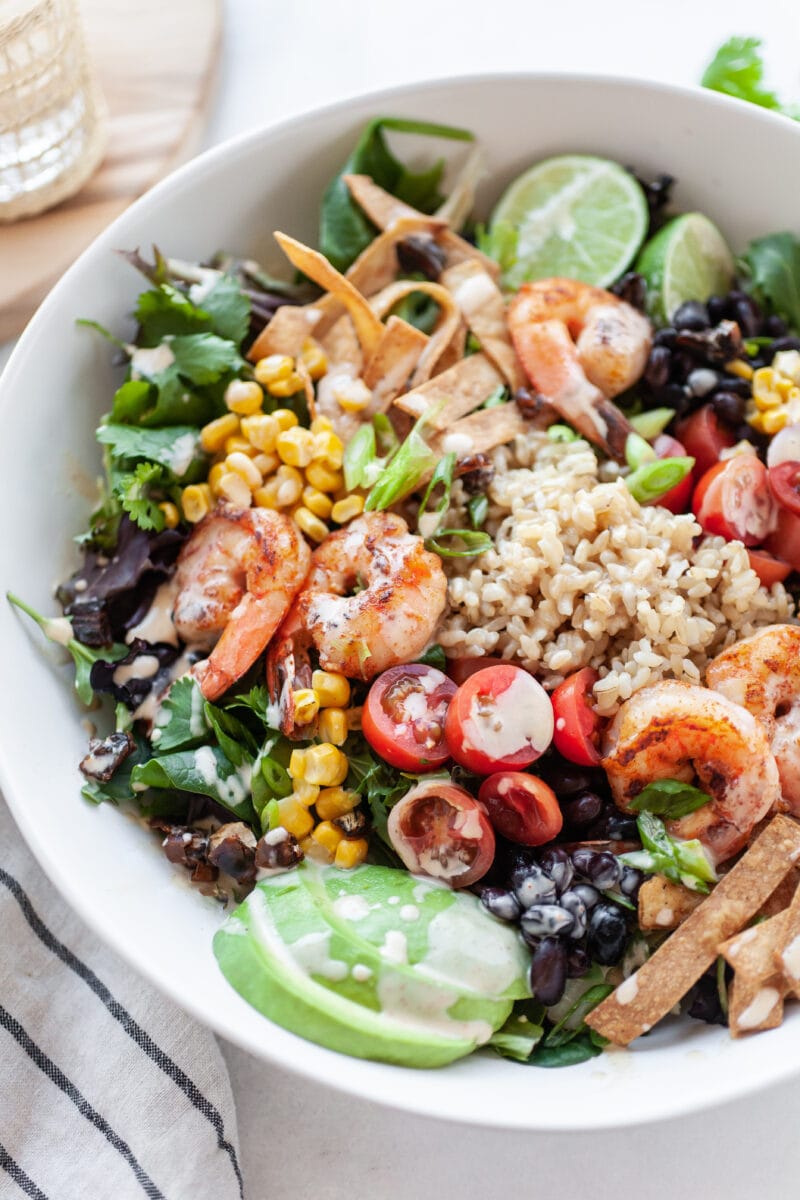 Creamy Lime Vinaigrette Ingredients:
The easy homemade dressing for this tasty salad is a simple mixture of more common fridge and pantry ingredients but adds an explosion of flavour to the salad.
Here's what you'll need:
Honey

Olive oil

Lime juice

Apple cider vinegar

Mayonnaise

Taco seasoning
I love how the rice in the salad soaks up the dressing and becomes even more delicious. It's like a burst of flavour with every bite of rice!
What is Southwest dressing made of?
Just like the ingredients in the salad, Southwest dressing can vary from recipe to recipe, but often contains the common Southwest flavours like lime, cumin, chili powder, coriander, and garlic.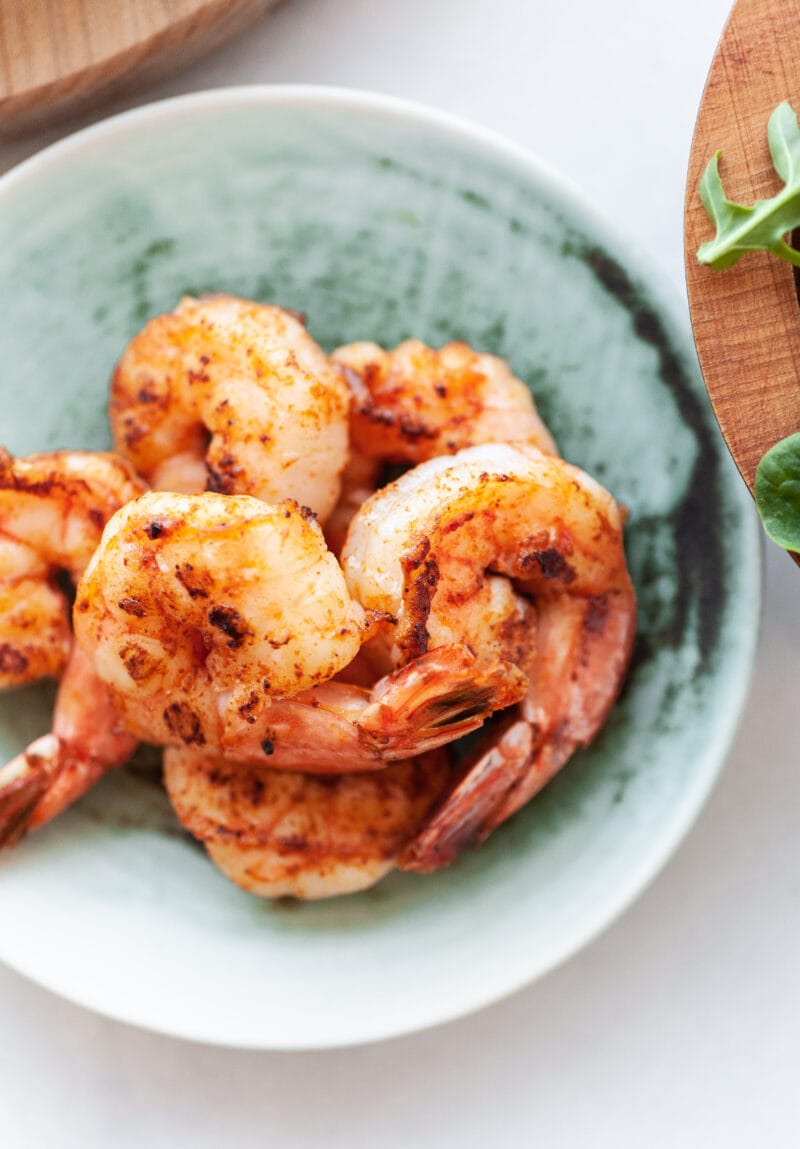 Optional Protein in a Southwest Salad
For this salad I decided to add in pan-seared shrimp that I tossed with olive oil and taco seasoning then cooked in a pan for a few minutes until done. I love that the shrimp brings in additional protein along with the beans but adding an animal protein is totally up to you!
You can keep this salad completely plant-based (with the exception of the eggs in the mayonnaise for the dressing), or add in grilled chicken breast, salmon, sliced steak, or shrimp like I did.
Have you ever tried making a restaurant-style Southwest salad at home? Tell me about it in the comments and be sure to pin the photo below to save this recipe for later.
Pin me!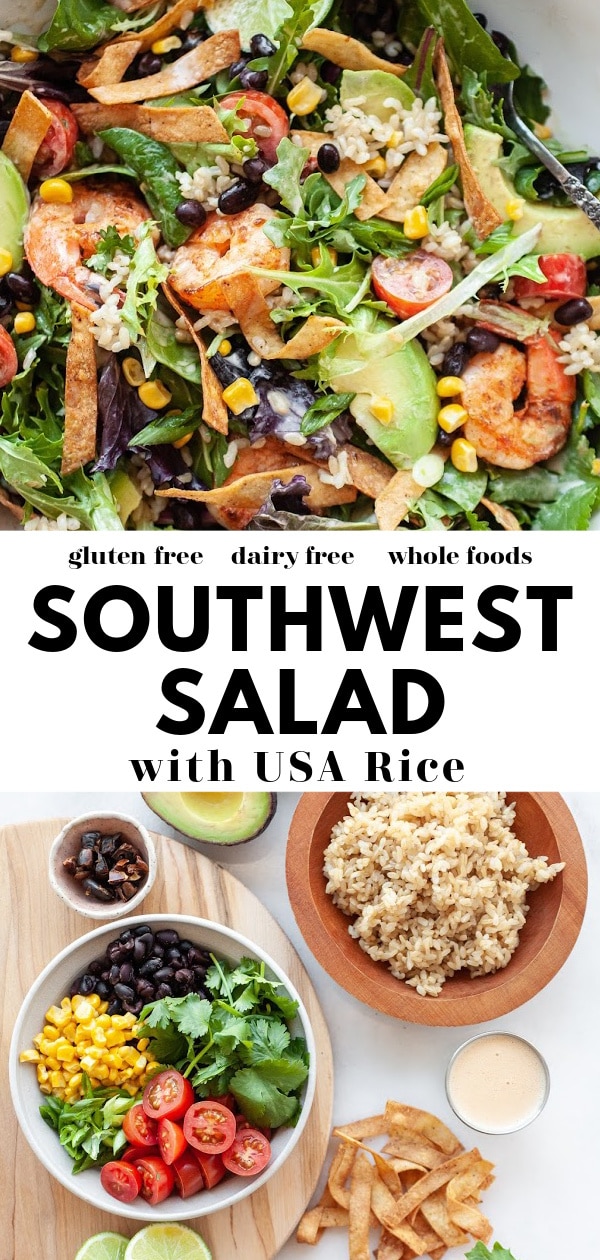 Don't forget to visit https://riceinfo.com/ for more rice recipe ideas and easy how-to videos! Rice is such a great, versatile, healthy grain, you can find hundreds of ways to enjoy this ingredient at home!
Christal // NITK
More salads you'll love!