If you don't own an Air Fryer yet (*affiliate link), I definitely recommend adding one to your must-have list. This small kitchen appliance is incredibly easy to use and gives so many different foods that delicious crispy, crunchy fried edge that a deep fryer does… without the deep frying!
This delicious and super simple recipe for healthy air fryer tortilla chips shows how easy it is to use the air fryer and just how quickly you can enjoy homemade tortilla chips perfect for dipping and snacking.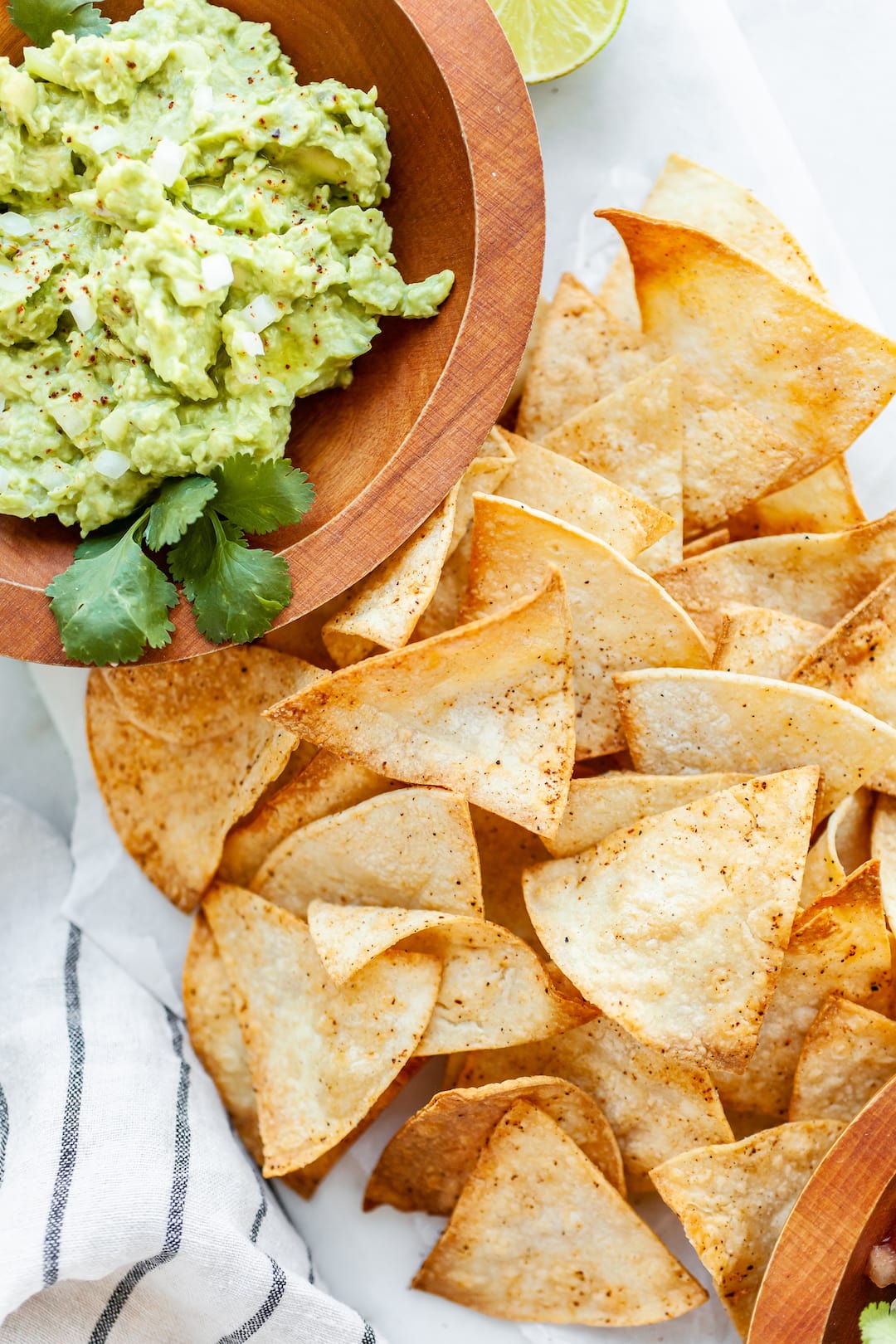 How To Make Crispy, Crunchy Air Fryer Tortilla Chips
When it comes to making the best tortilla chips in the air fryer, there's really only a few simple steps to follow!
1. Start with slicing plain white corn tortillas you find at the grocery store into six triangles. I prefer white corn tortillas (instead of yellow) as I find the flavour is more subtle and it reminds me of restaurant-style tortilla chips.
2. Next, preheat your air fryer for 3 minutes.
3. Toss the corn tortilla triangles in a large bowl with oil (avocado or olive), salt, and a sprinkle of chili powder.
4. Place them in the air fryer basket (be sure not to overlap the triangles too much for more even cooking).
5. Cook for 4 minutes at 370 degrees, removing the basket halfway through to flip the chips and arrange evenly again (they get tossed around in the air fryer while cooking).
6. Remove the air fryer basket when the cooking time is done and transfer the chips to a plate covered in paper towel.
7. Let tortilla chips cool for 5-10 minutes to get to full crispiness.
I wanted to make a boat-load of tortilla chips so with my 6-Quart Air Fryer (*affiliate link) and I had to work in batches as I could fit about 12 chips in the fryer at once. The chips turned out wonderfully and my family loved them including my toddler who couldn't get enough!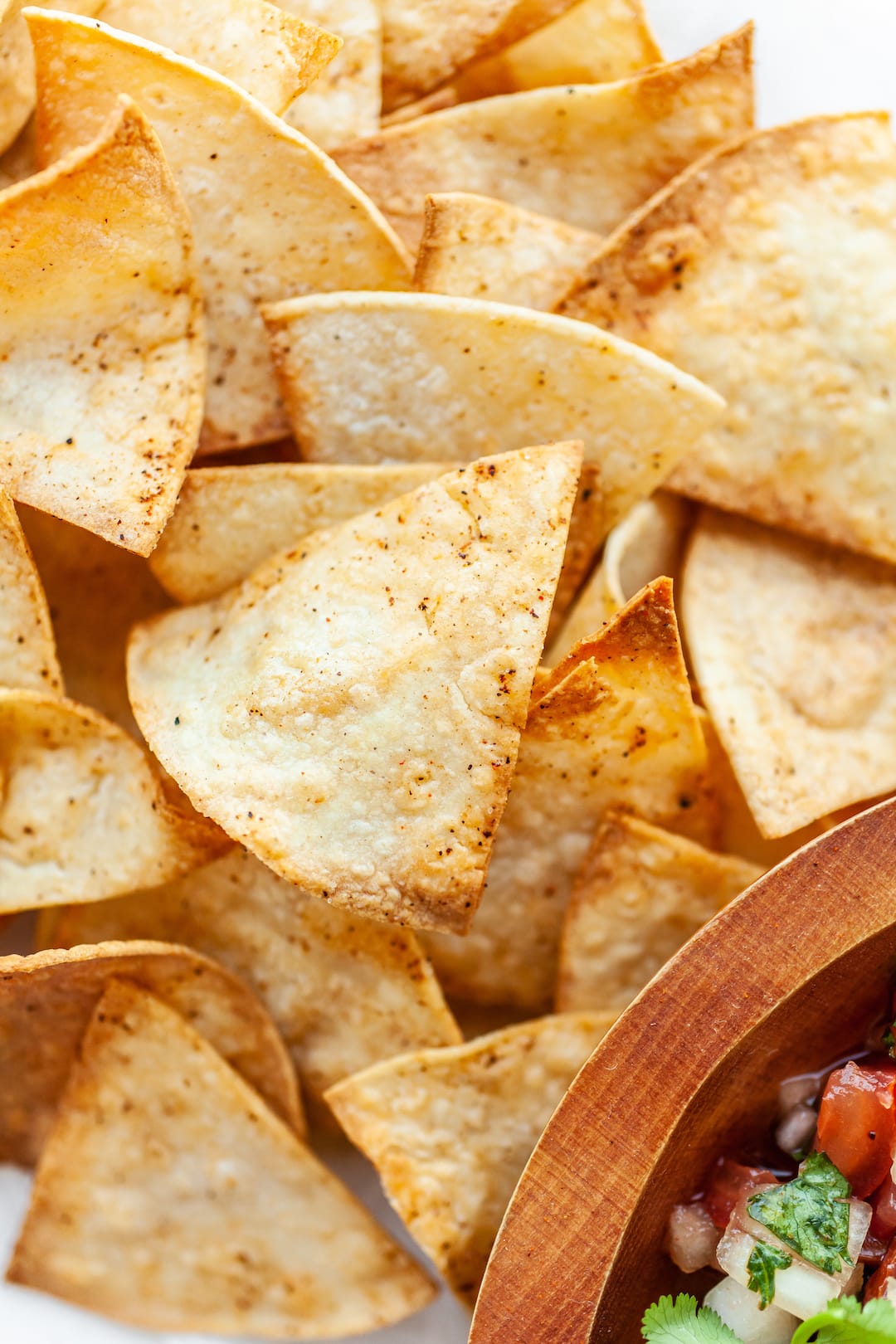 How do you heat tortilla chips in an air fryer?
If you love how restaurant tortilla chips are hot fresh out of the deep-fryer, you can mimic this at home by reheating all of the chips at the end in the fryer.
To reheat, simply place all of the tortilla chips back in the air fryer basket once they have fully cooled and reached ultimate crispiness. Air fry the chips for 1 minute at 350 degrees.
It's totally fine if the tortilla chips overlap in this step as they have already been air fried and cooled.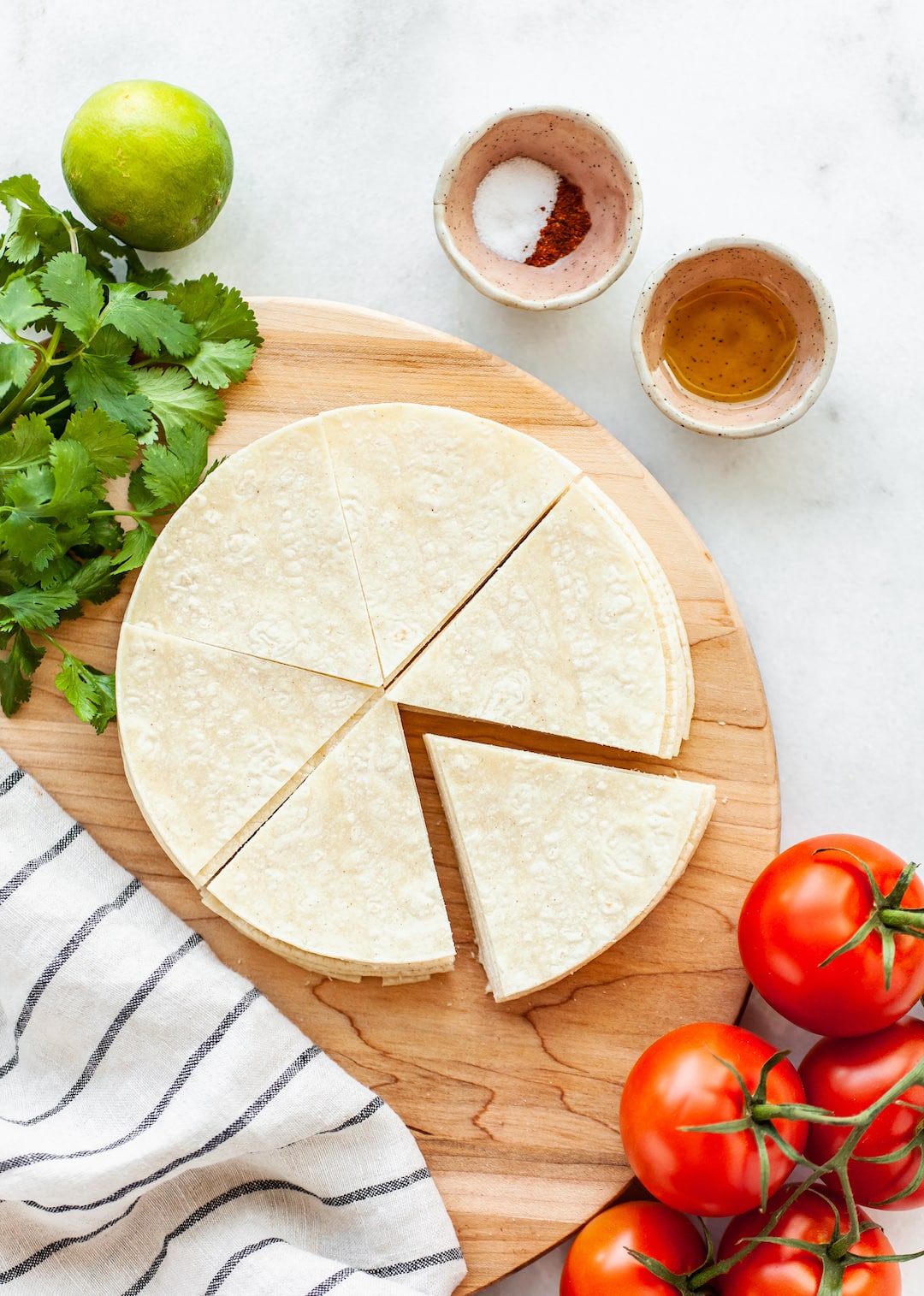 Air Fryer Tortilla Chips Ingredients
When I say this recipe is incredibly simple, I mean it is incredibly simple. While you can go crazy with spices and seasonings, I decided to add only two to my tortilla chips which leaves you with the ability to add variety if you choose!
Here's what you'll need:
6″ Soft white corn tortilla shells

(store-bought is totally fine)

Sea salt

Chili powder

Avocado oil or olive oil
Optional sauces for dipping: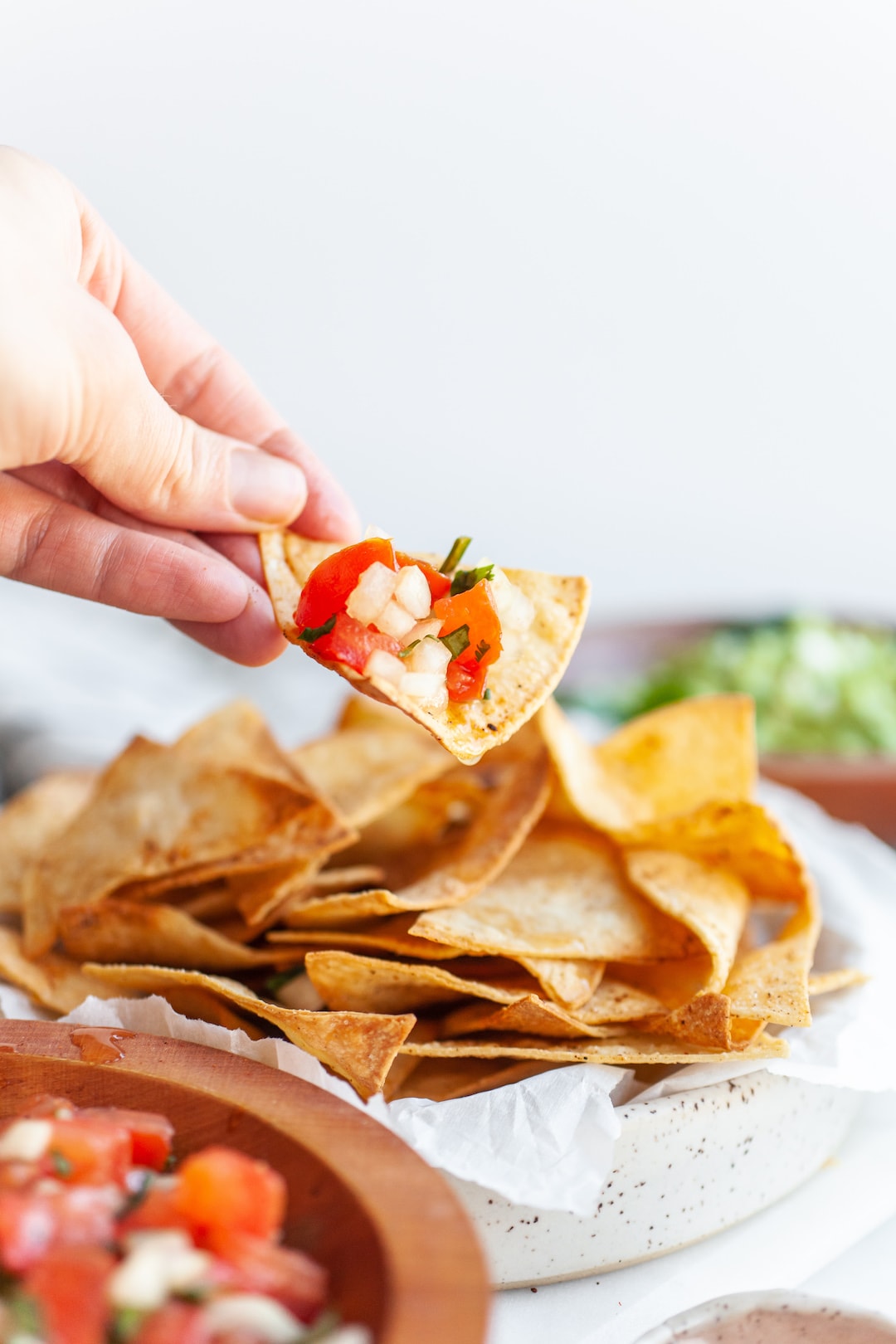 Tortilla Chip Flavour Variations
To change it up you can add some delicious twists to these air fryer tortilla chips! Here's some inspiration:
Nacho Cheese: Add a little bit of (dairy free) cheesy flair to these chips by adding 1 tablespoon of nutritional yeast, 1 teaspoon of paprika, 1 teaspoon of garlic powder, and 1/2 teaspoon of taco seasoning to the mix when tossing the chips in a bowl with the salt, chili powder, and oil.
Margarita Lime: Bring in the lime with this margarita twist! When the tortilla chips are done cooking in the air fryer toss them in a bowl with 1 tablespoon of lime zest and an extra pinch of chili powder, then let cool.
Cinnamon Sugar: Into sweet instead of savoury? Omit the chili powder and sea salt, then toss the uncooked tortilla triangles with the oil and 1-2 tablespoons of coconut palm sugar, and 1-2 teaspoons of cinnamon, then cook in the air fryer!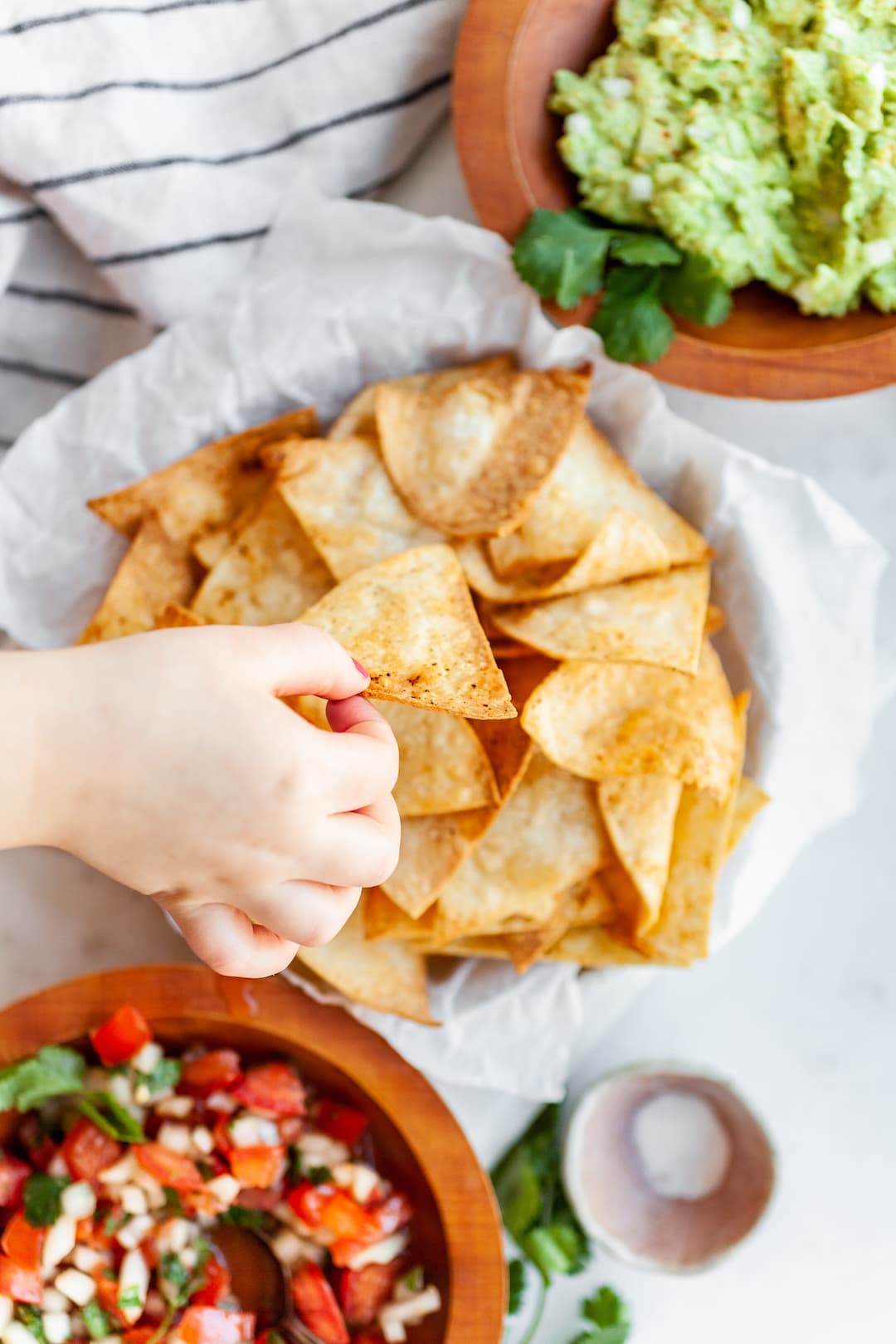 Do you have own an air fryer yet? What type of delicious snacks or meals do you plan to try? Tell me about it in the comments and be sure to pin the photo below the recipe to save this one for later!
Also, try my Air Fryer Tilapia with Easy Mango Salsa, or Loaded Air Fryer Nachos!
Pin me!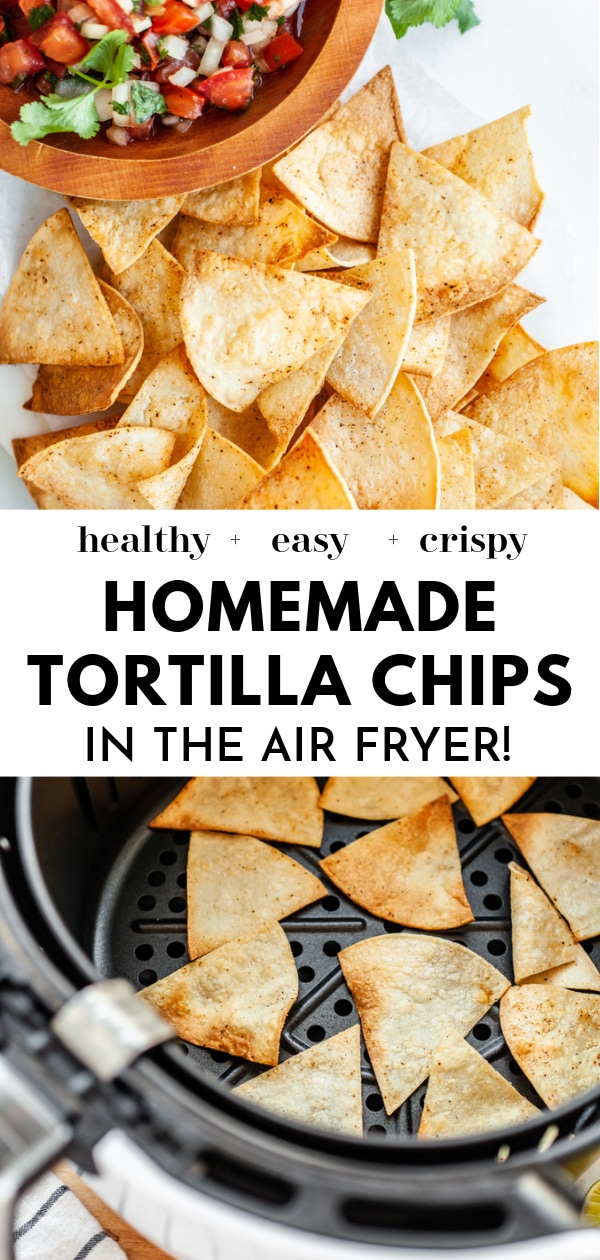 More Chip Inspired Recipes You'll Love:
Have a great day!
Christal // NITK