If you don't own an Air Fryer yet (*affiliate link), I highly recommend adding one to your must-have list. This small kitchen appliance is very easy to use and gives so many different foods a delicious crispy, crunchy texture that a deep fryer does… without the deep frying! This simple recipe for healthy air fryer tilapia shows just how easy it is to use the air fryer for perfectly cooked fish.
The perfectly seasoned tilapia tacos is light, slightly crispy on the outside and flaky and tender on the inside. The mango salsa topping is simple and minimal and makes the best accompaniment for this tasty fish.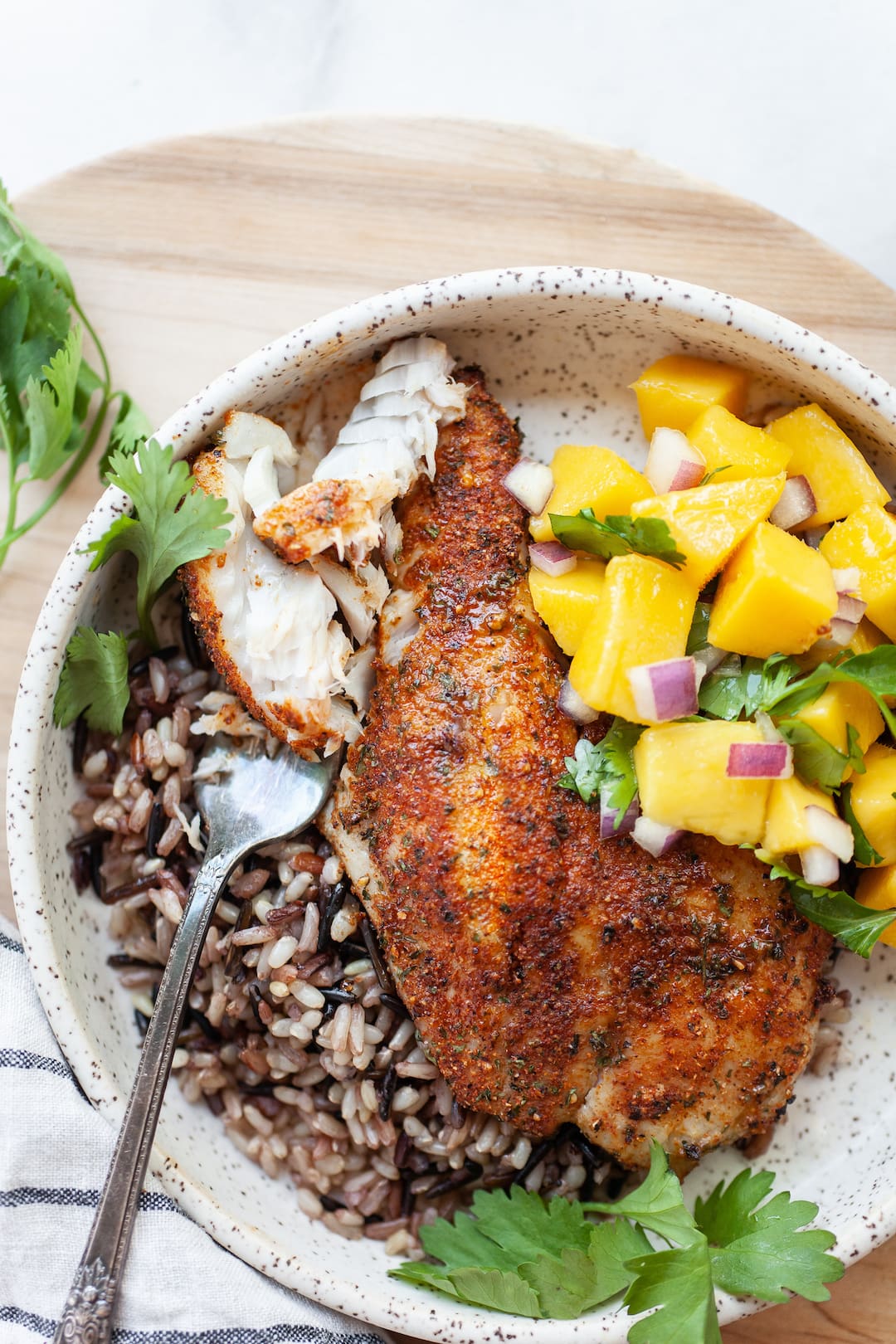 Can you cook fish in an Air Fryer?
Absolutely! When you think of "air frying" you might think of foods that are more common to be deep fried like fries, chicken wings, and mozzarella sticks, but you can seriously put almost anything "fryable" in an air fryer and get great results, including fish.
When it comes to cooking fish in the air fryer you can bread the fish with a heavier breading to get a more deep-fried crunchy texture like that of "fish and chips" or you can lightly season and get a more baked texture. You can easily use fresh fish, frozen fish, fish sticks, and the like in an air fryer.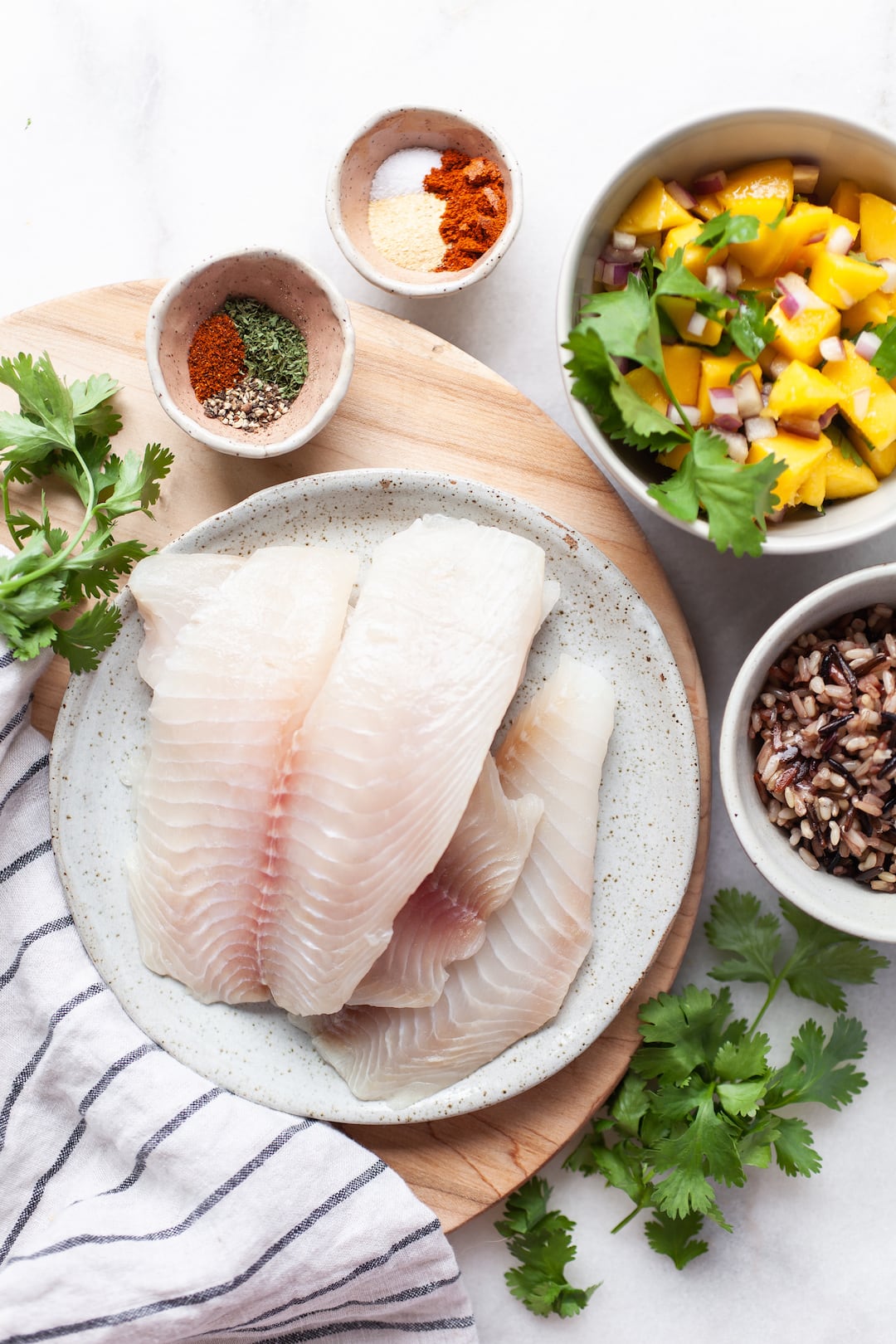 Air Fryer Tilapia Ingredients
For this recipe I really wanted the perfectly air fried fish to be the star, so I kept the ingredients list really simple . The items you need are common, healthy, and most of them you likely already have in your fridge and pantry.
Here's what you'll need:
Fresh tilapia filets

Garlic powder

Chili powder

Paprika

Dried parsley

Salt and pepper

Olive oil

Mango Salsa Ingredients
The light and fresh mango salsa is totally optional but elevates this simple dish. It's perfectly sweet with a touch of tanginess and the flavour goes so well with the seasoned tilapia.
Here's what you'll need:
Fresh mango

Fresh cilantro

Red onion

Lime

Salt
Other Optional Accompaniments:
To make this a heartier meal I chose to add in wild rice but you can also use white rice, brown rice, corn tortillas (to make tacos!), or any other carbohydrate you wish to add (or none at all).

How long do you air fry fish filets?
To cook fish in the air fryer it doesn't take long at all! While the type of fish you use (fresh, frozen, etc.) will vary the cooking time, here are general recommendations:
First, I recommend preheating the air fryer for 3-5 minutes before cooking fish for best results!
Fresh fish filets: 6-10 minutes at 330-400 degrees, flipping once halfway through (increase the temperature for heartier fish like halibut or salmon, and lower the temperature for thinner fish like tilapia).
Frozen fish filets (unbreaded): 10-12 minutes at 370 degrees, flipping once halfway through
Frozen breaded fish sticks/bites/etc: 8-10 minutes at 400 degrees, flipping once halfway through
Note: These are general cooking times and may vary depending on the brand/size of the fish.
Preparing Air Fryer Tilapia
I've been using my air fryer even more than my oven lately. I find in the summer it's so handy as you don't have to preheat the oven or heat up the house by turning the oven on. The air fryer truly does cut down on time and makes cooking a breeze!
Do you have an air fryer? What kind of delicious and healthy air fried meals or snacks have you been making? Tell me about it in the comments and be sure to pin the photo below the recipe to save this one for later!
Pin me!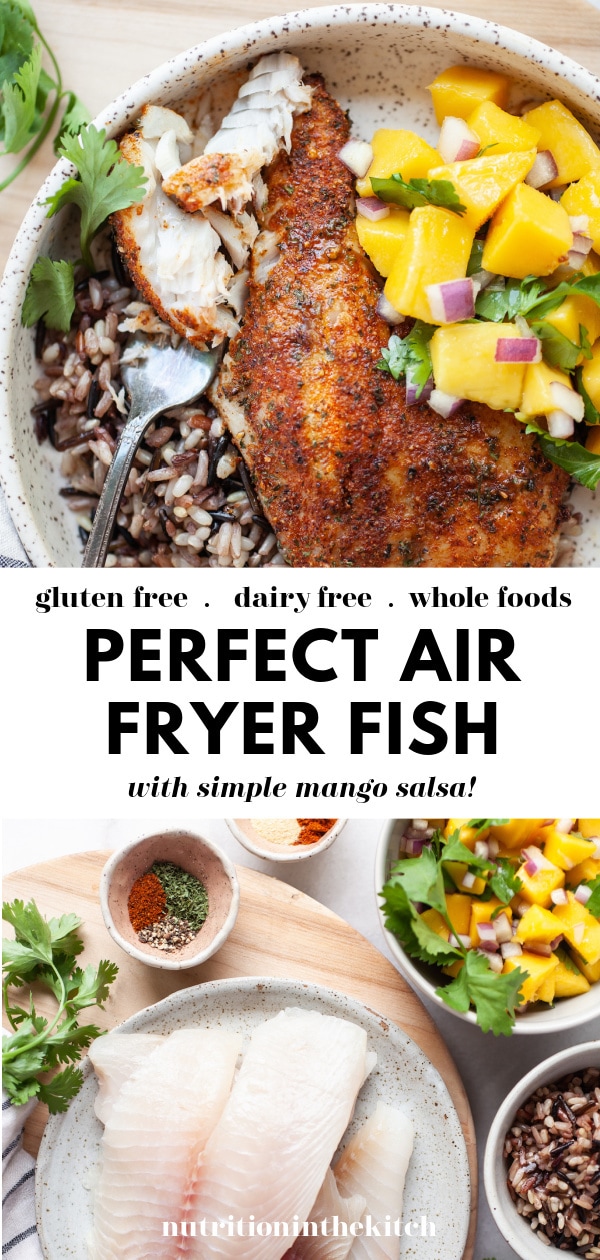 More Air Fryer Recipes You'll Love:
Have a great day!
Christal // NITK