Being the massive pinterest fan that I am, I am on the site, well, quite often to say the least. Through my pin browsing, I kept coming across these baked veggie chips of all sorts! Zucchini, sweet potato, kale, etc. and they all looked so delicious so I thought it's about time I make some of these!
I have to admit I have never been a huge zucchini lover, and I think it's honestly because I just don't ever use the vegetable often in my cooking. I'm not really sure why, because after making this recipe, let me tell you, I'll be using it a lot more!! Yum!
These chips are incredibly simple to make, and the only time consuming portion is the amount they actually need in the oven. Aside from cooking time, they are quick and easy to whip up. They are low in calories (about 60 calories for 20 chips!), low in fat, and they totally satisfy a "bad chip" craving! 🙂 I love the pungent flavor that the parmesan adds, and I love that these chips are light and crispy not heavy or greasy!
Oven Baked Zucchini Chips
Ingredients
¼ cup dry whole wheat breadcrumbs
¼ cup grated fresh Parmesan cheese
¼ teaspoon seasoned salt
¼ teaspoon garlic powder
⅛ teaspoon freshly ground black pepper
¼ cup unsweetened almond milk (you could also use skim milk)
2½ cups (1/4-inch-thick) slices zucchini
Cooking spray
Instructions
Preheat oven to 425 degrees.
Combine first 5 ingredients in a medium bowl stirring with a whisk.
Place milk in a shallow bowl. Dip zucchini slices in milk and dredge in breadcrumb mixture.
Place coated slices on an oven proof wire rack coated with cooking spray; place rack on a baking sheet.
Bake for 30 minutes or until browned and crisped.
Enjoy!
Can you say deliciousness?! Yes, they are THAT good. Go make them, go make them now 🙂 Here's one more picture, just for good measure… is your mouth watering yet?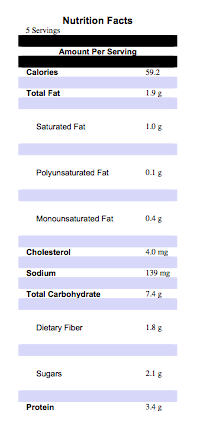 Christal 
Nutritionist in the Kitch