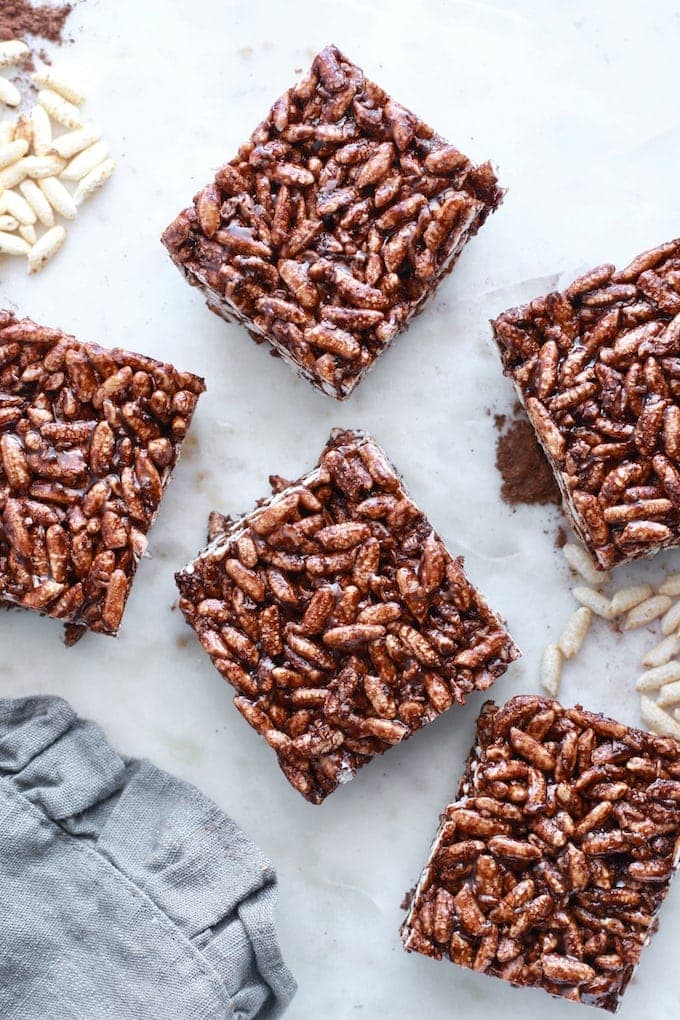 A Healthy Rice Crispy Squares Recipe…oh yes!
When life gives you brown rice cereal… you make a delicious healthy rice crispy squares recipe with brown rice! I'm revamping this delicious and popular recipe from the blog as I noticed it still gets a decent amount of traffic and it was time to whip up this recipe again. It's just so delicious! I wanted to make a healthier treat/snack for Hemsley (my 20-month old daughter) to enjoy so this recipe fit the bill. Hemsley is a huge fan of brown rice cereal in general, the completely natural, one-ingredient-only (brown rice) cereal, so I figured she would love these naturally sweetened rice crispy treats too. We are at the stage where I am giving her some "sweet" treats now and then as I honestly want her to enjoy all kinds of food; the healthy, the savoury, the naturally sweet, and even a few baby burgers here and there!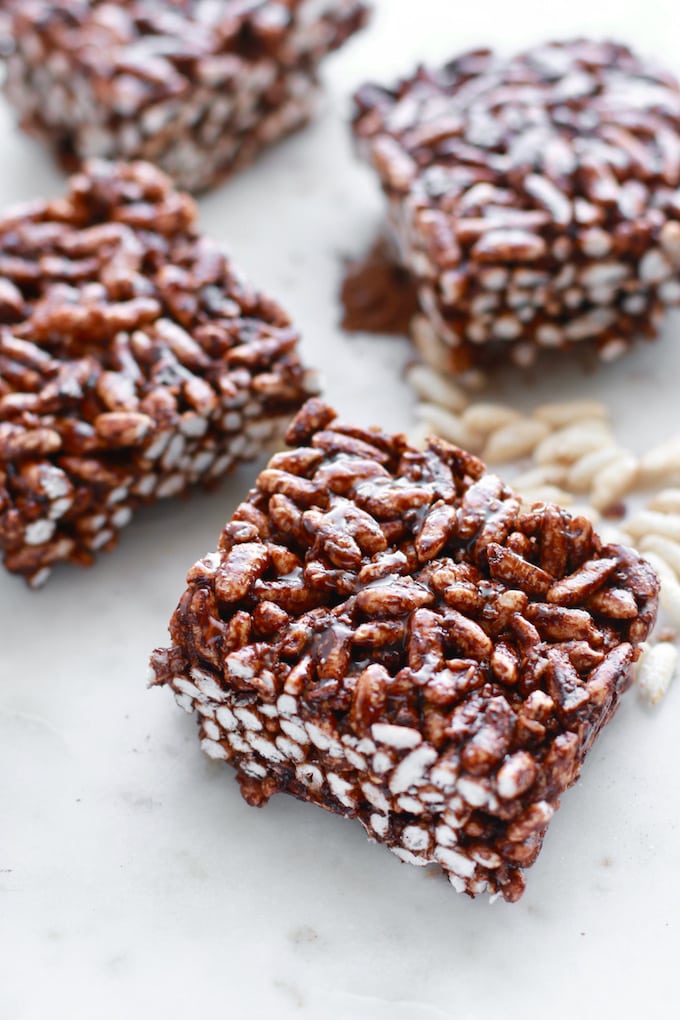 Typical rice crispy squares are made with rice krispie cereal, which is pretty much puffed refined rice, stuck together with melted butter and marshmallows (ahem, refined sugar bombs) so they aren't the healthiest treat in the bunch. My challenge with this healthy and dairy free rice crispy treats recipe was to keep my version tasting just as delicious while keeping the refined sugars and dairy out.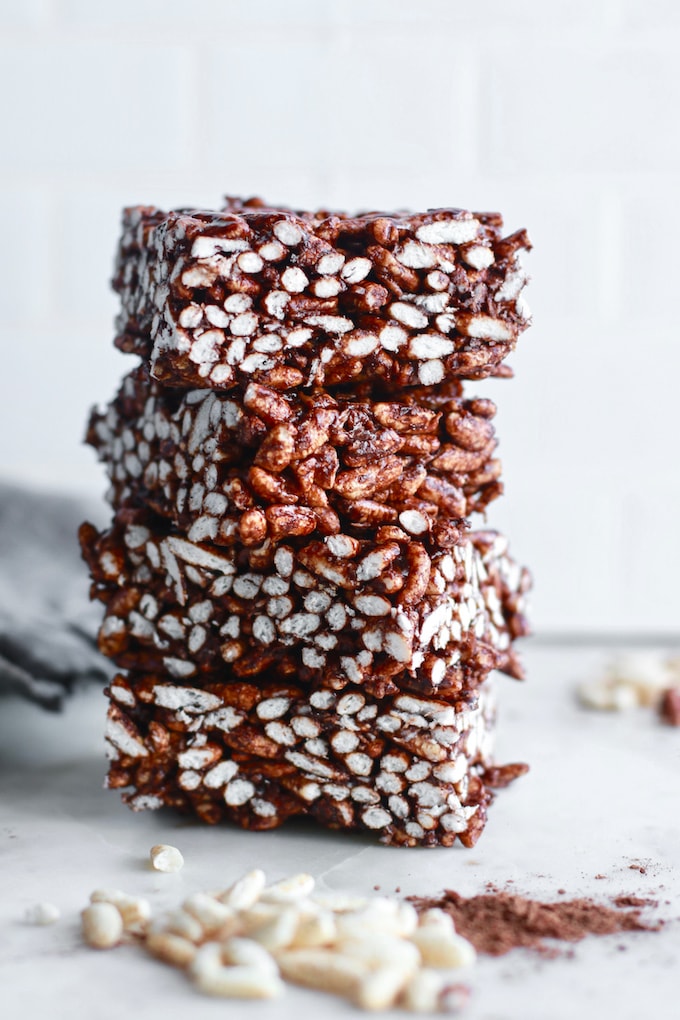 The brown rice cereal I use for this recipe is from Nature's Path and it really is just whole grain brown rice, puffed. To sweeteners, preservatives, or any other odd ingredients. To bind the brown rice puffs I used a mixture of unpasteurized honey, natural almond butter, and Earth Balance soy-free vegan butter which is a mixture of oils (palm, canola, safflower, flax, and olive), then I added some raw cocoa powder and shredded coconut for even more flavour and texture.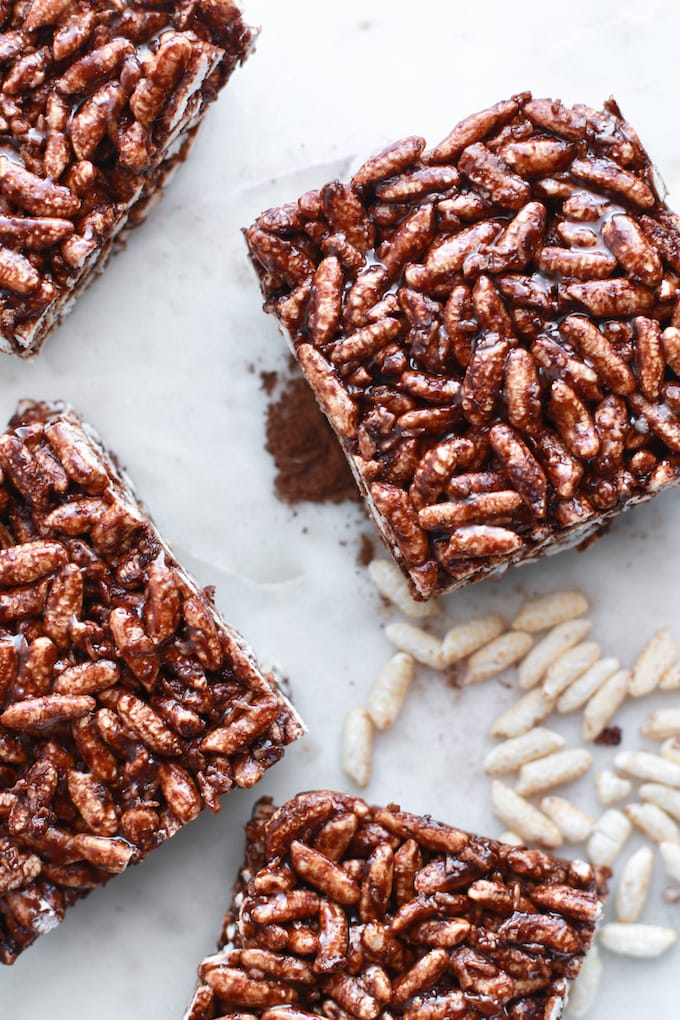 This healthy rice crispy squares recipe contains an ample amount of fibre, energy boosting complex carbohydrates, natural sweetness, vitamins, minerals, and healthy fats so they truly are the perfect sweet treat for you, your little ones, or really anyone else in your family. I also feel confident they are healthy snacks for kids lunch boxes (as long as they can have almond butter at school) and it's a great recipe to bring to a party or gathering any time of year.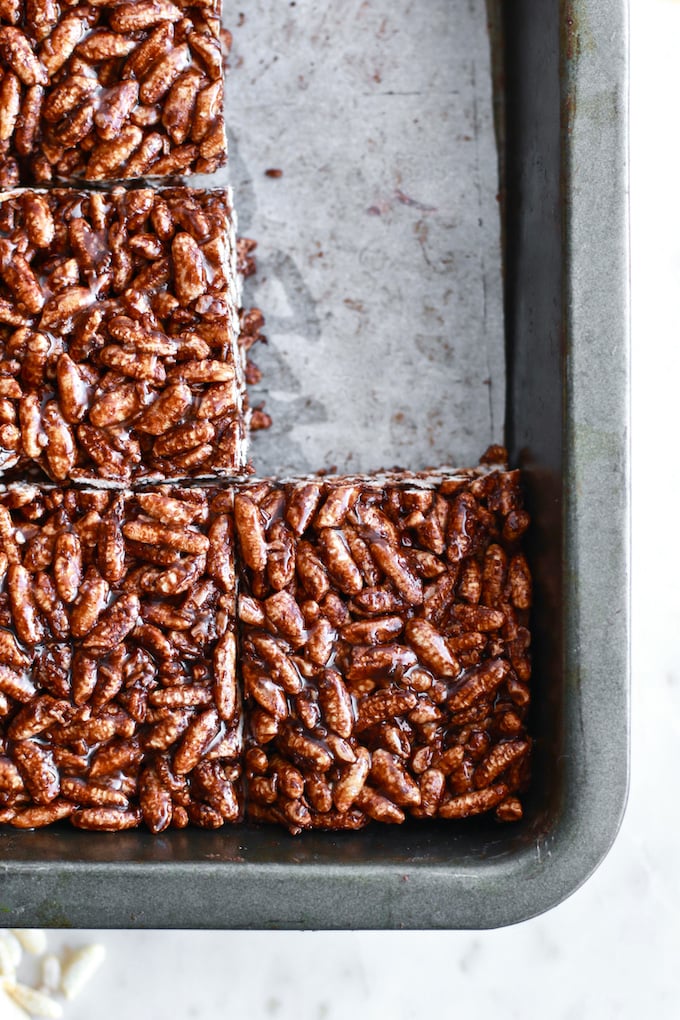 Have you ever created a healthier version of Rice Crispy Treats? I'd love to hear what ingredients you used. Let me know in the comments below! 

Healthy Rice Crispy Squares with Brown Rice and Cocoa
Healthy Cocoa Rice Crispy Squares
Ingredients
4 cups brown rice crisps cereal (Nature's Path is great, but you can use any brand)
¼ cup natural almond butter
⅓ cup raw honey
¼ cup Earth Balance vegan butter or regular organic butter if you prefer
3 tablespoons raw or regular cocoa powder
¼ cup shredded, unsweetened coconut
Instructions
In a pan over low heat melt the vegan butter, almond butter, and honey and stir until well combined.
In a large bowl add the rice crisps cereal, coconut, and cocoa powder.
Pour the melted almond butter mixture over the cereal mixture and stir until well combined.
Press the mixture into a 8x8 pan lined with parchment paper (the smaller the pan the thicker the squares).
Top with another piece of parchment paper and press the mixture firmly into the pan. Very firmly.
Place the pan in the freezer for 1 hour and move to the fridge and leave overnight.
In the morning cut into squares and enjoy!
Store the remaining bars in the fridge.
Be sure to pin the photo below to save this recipe for later and of course, share the love!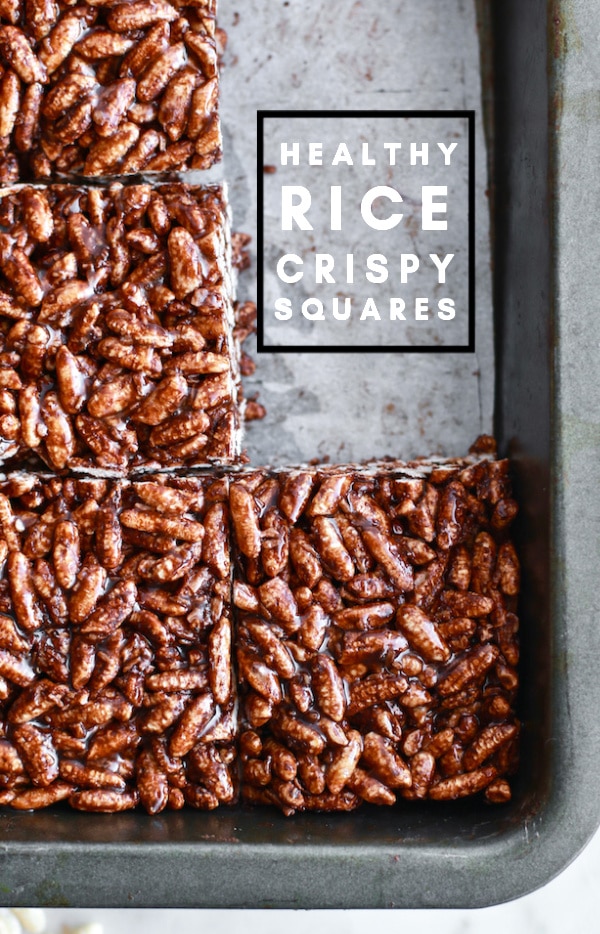 If You Liked This Healthy Rice Crispy Squares Recipe, Try These Too:
No-Bake Frosted Walnut Brownies
Have a lovely Sunday, 
Christal // NITK