This delicious and healthy breakfast muesli is so simple, gluten free, dairy free, and plant-based. It's a filling and nutritious breakfast or snack to enjoy any day of the week!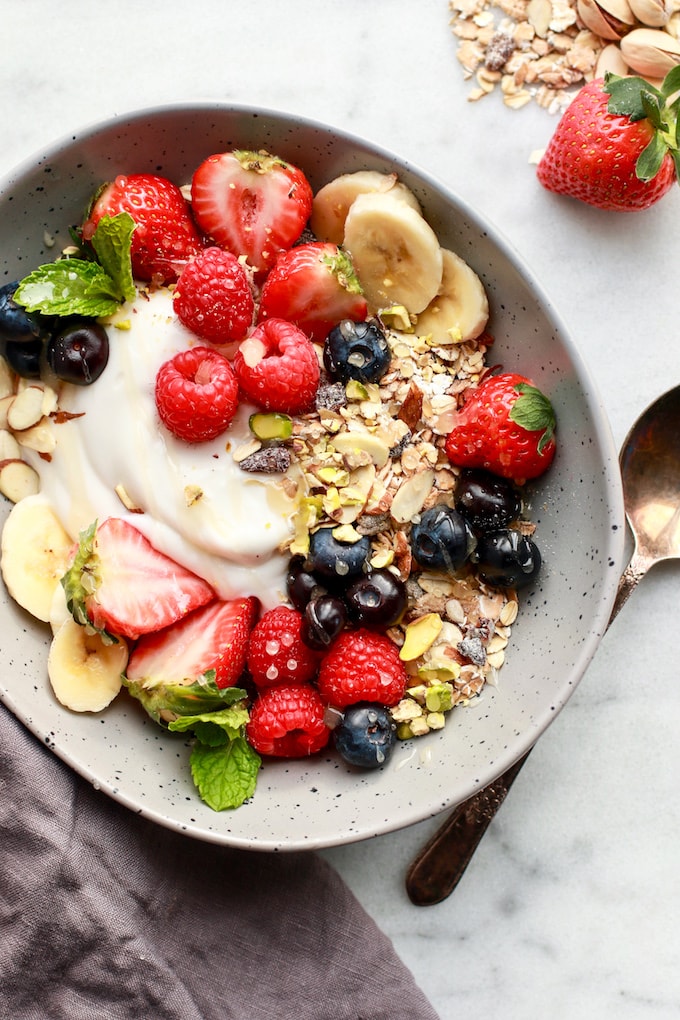 Simple & Healthy Breakfast Muesli
In preparation for our Maui trip this year I decided to do a few more recipe revamps on the blog of some of my favorite, and still popular recipes. These revamps are such a great way to take old content (sometimes with embarrassingly bad photography…at least I've come a long way?!) and give them new life. I
'm sure if you are a regular reader you see that I do this on occasion and it's always nice to see these old posts get some fresh love!
Today's breakfast muesli is a favorite of mine and has been for years. I'm actually pretty sure I ate this for breakfast every morning for about 6-months straight back in 2015. Seriously! It's just so tasty, fresh, simple, and perfectly filling for those who like to be satisfied but not stuffed at breakfast.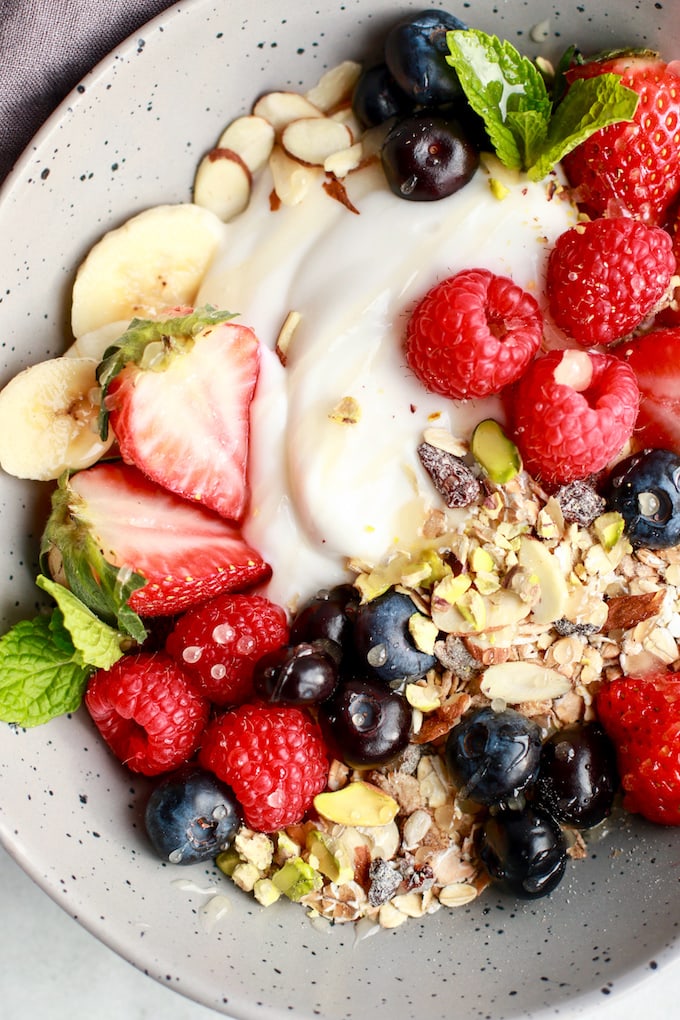 This breakfast muesli recipe is easy, filling, healthy and quick – which is what everyone can benefit from in the morning, right?? In less than 5-minutes this bowl can be easily whipped up, providing the body with complex and simple carbohydrates for energy, fibre for healthy digestion, proteins for blood stabilization and fats for that satisfying factor! 
This breakfast bowl is definitely well balanced nutritionally and is actually a breakfast that I've been making myself while here in Maui too as it's a great way to start the day before heading off to the beach or out for a snorkel. It' energizing, not too filling as to leave you feeling heavy, and it's easily digested!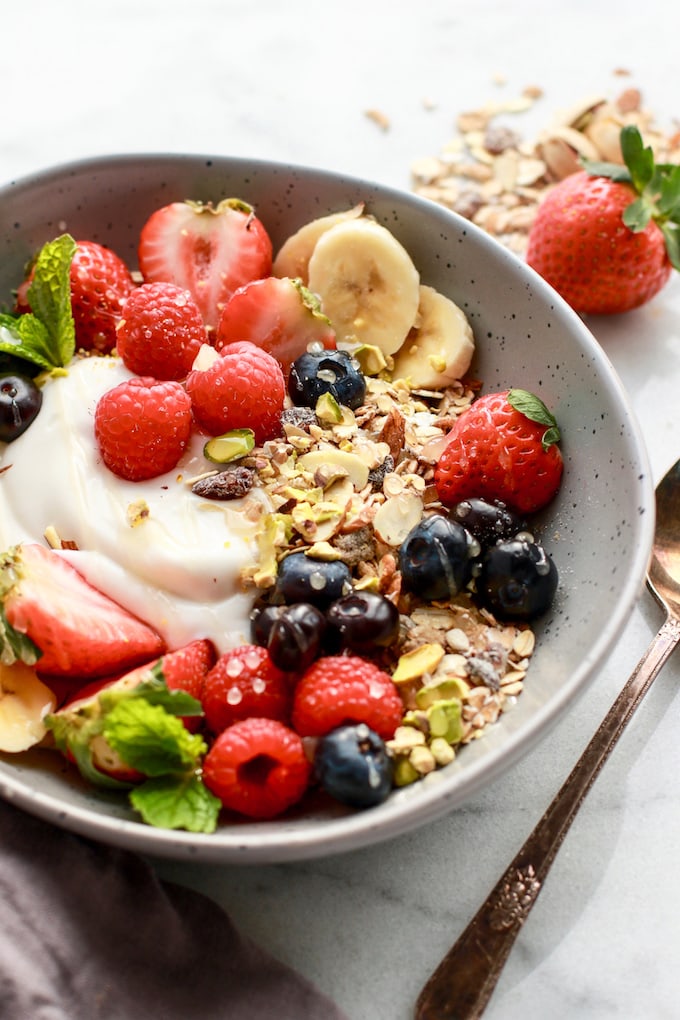 One of the best things about this breakfast bowl is that you really can get creative with the recipe and alter it to your liking. Change up the berries to different fruit, swap out different brands of muesli, use Greek yogurt, coconut yogurt, or almond yogurt, and sprinkle with your favourite fun toppings like cocoa nibs, hemp seeds, and toasted coconut.
The sky's the limit with this one!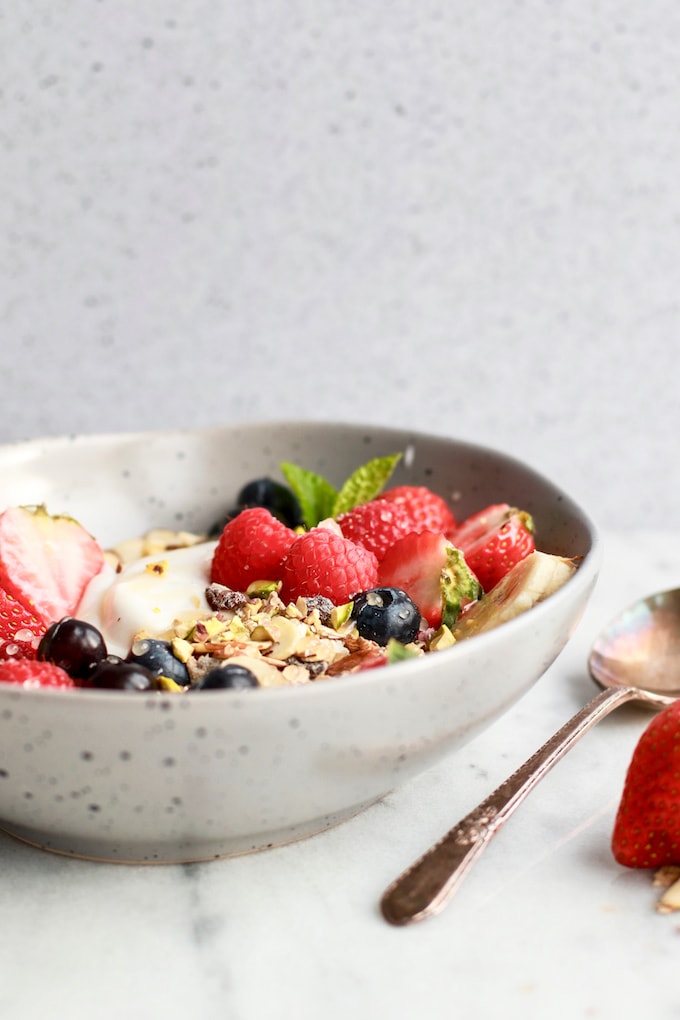 I'd actually love to host a friends brunch in the future and make breakfast muesli bowls the main dish with a table spread with all the different add-ins and toppings. Wouldn't that be a fun way to gather with friends, enjoy a healthy meal, and get creative at the same time?
Breakfast Museli Brunch Party. It's happening, you just wait!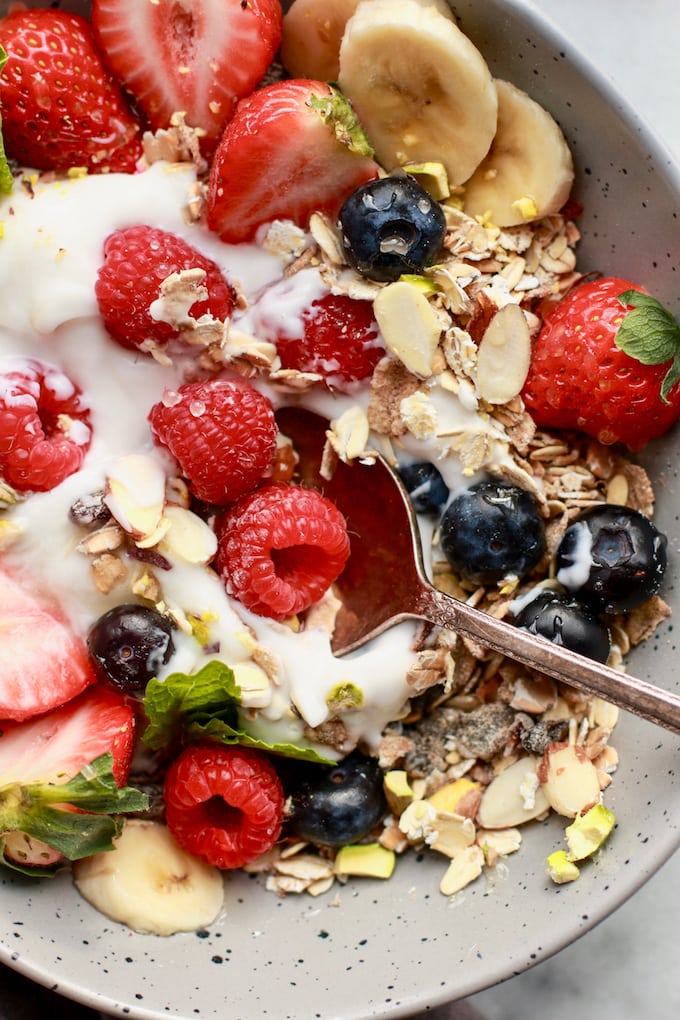 What's your favorite quick and easy breakfast?
Tell me about it in the comments below and be sure to pin the photo after the recipe to save this post for later and of course, share the love!

Simple & Healthy Breakfast Muesli
Ingredients
½ cup plain dairy-free Coconut yogurt (or plain 0% fat Greek yogurt if dairy-free isn't needed)
¼ cup unsweetened gluten-free muesli (if you can, try to find one with a mix of nuts, dried fruits, and gluten-free rolled oats)
½ cup fresh sliced strawberries
¼ cup fresh raspberries
¼ cup fresh blueberries
½ banana, sliced
1 tsp honey or pure maple syrup
1 tablespoon crushed pistachios
mint garnish (optional)
Instructions
Place yogurt in a bowl.
Add in the muesli.
Top with sliced banana and berries.
Drizzle lightly with honey or pure maple syrup.
Sprinkle with the pistachios and garnish with mint, if using.
Add in any other toppings you'd like (cocao nibs, coconut, hemp seeds, chia seeds etc.)
Devour!
Pin me!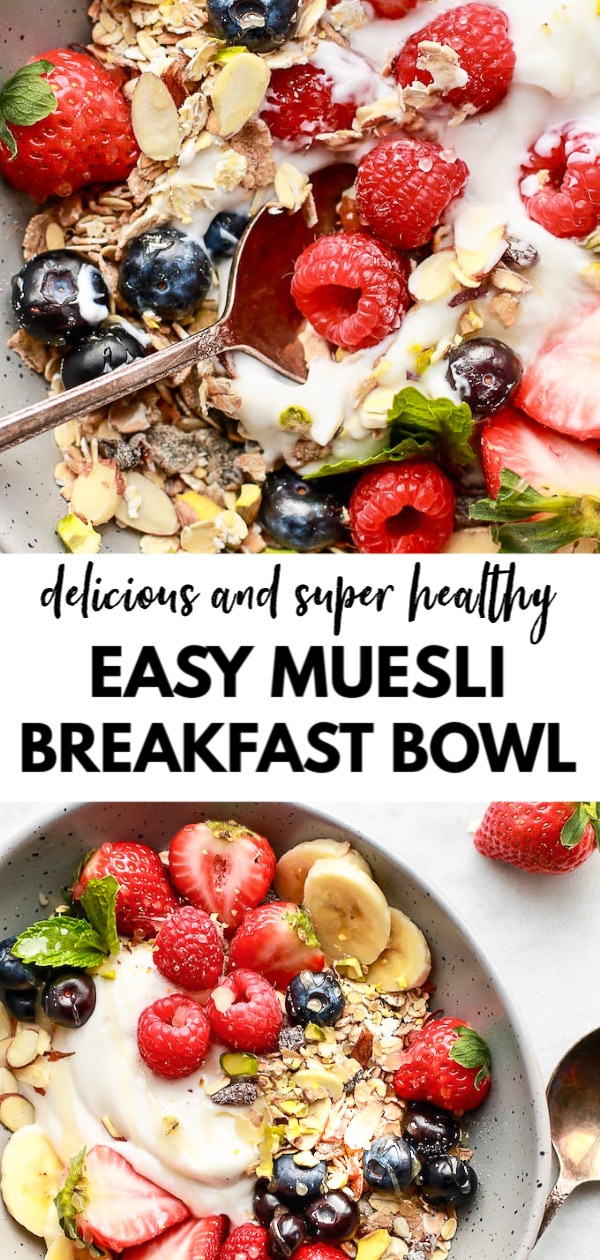 Have a lovely Sunday,
Aloha!
Christal // NITK