Dairy Free Frozen Yogurt… Yes Please!
Several years ago a little frozen yogurt shop opened up close to our home. Surprisingly enough, this was a bit new for our city, so I had to check it out and I'll admit, I developed a bit of an obsession. I was really hooked, I mean who doesn't like fro-yo??
Funnily enough, most fro-yo joints market themselves as "healthy". But often, with some investigating you'll find the frozen yogurt is really no more than a glorified ice cream, loaded with refined sugars and even artificial ingredients. That's what I found when I moseyed along to this little spots website to look at the ingredients lists and nutritional information.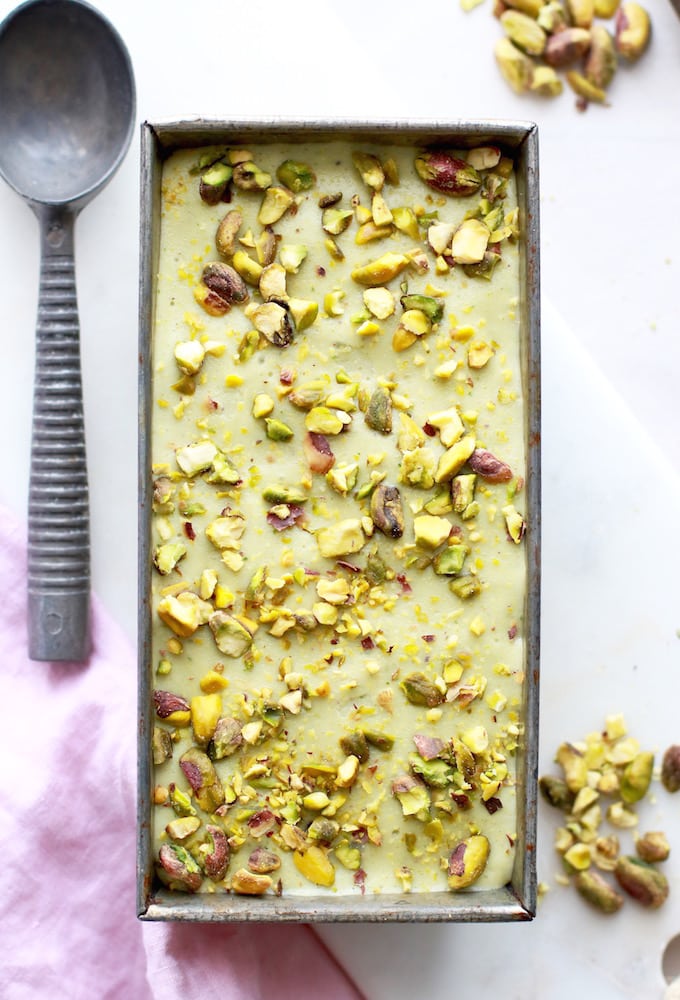 Bummer. At least I lived in ignorant bliss for a short while. I eventually decided to forgo the fro-yo and make my own healthier version at home!
When I began brainstorming different fro-yo flavours that I could whip up in the kitch, I landed on the shelled pistachios sitting pretty in my pantry. I also remembered that I had almond extract hidden in my pantry too, and with a little creativity I knew I could conjure up a vibrant green, sneakily healthy, refined sugar-free version of Almond Pistachio!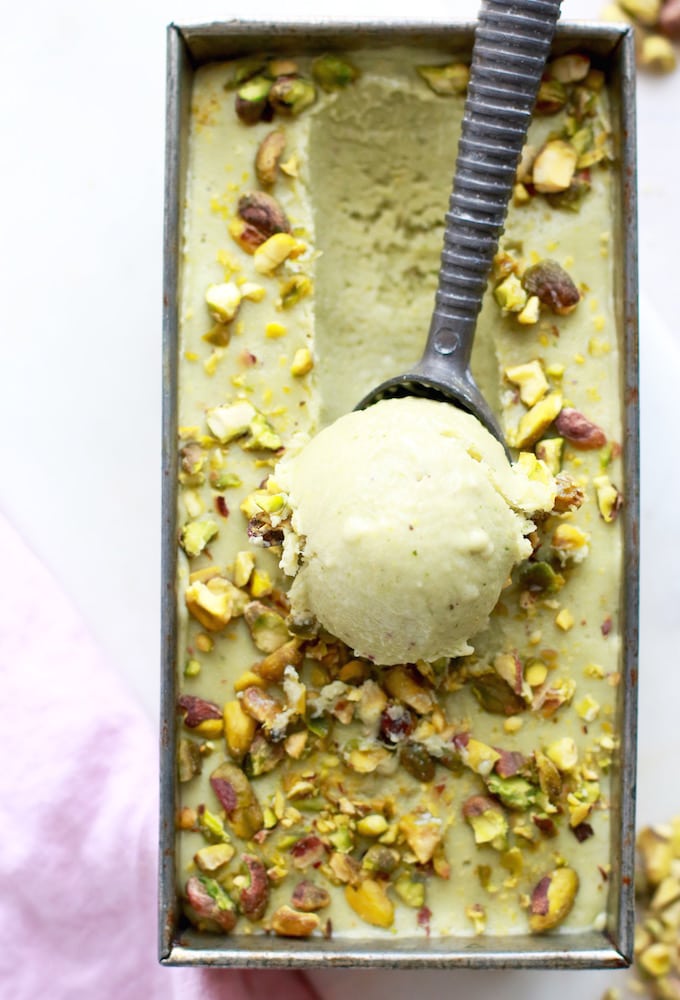 The simple components of this delightful frozen yogurt work perfectly together to make a flavorful, clean, green, almond pistachio that contends with any shop yogurt.
In my original version of this recipe (my pre dairy allergy days) I used 0% fat plain Greek yogurt as the base, which is naturally high in protein and contains no added sugars. This is definitely an option for those of you with no dairy intolerance looking for a higher protein dessert. For this recipe revamp however, I swapped the Greek yogurt for unsweetened coconut yogurt, which is of course dairy free, higher in healthy fats, but does not contain the protein.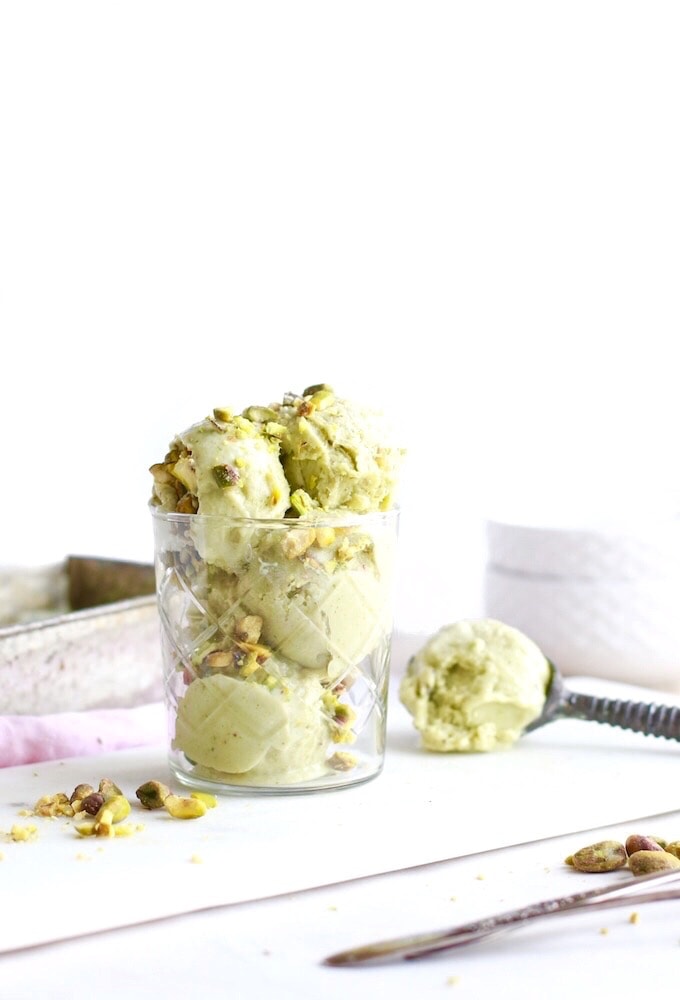 Along with the yogurt I added some frozen banana which creates an extra creamy texture and adds natural sweetness. I also threw in some frozen spinach for extra nutrition and a green hue, as well as avocado which brings in additional creaminess, healthy omega rich fats, and a tad more green.
For sweetness I used raw honey which I prefer as it does not have a strong flavour. For my vegan readers you could definitely use an alternative liquid sweetener of choice however it may affect the overall flavour.
At this point you might be thinking "Wait, what? Spinach? Avocado? What is this crazy concoction?". Trust me, in the end you don't taste any of that at all!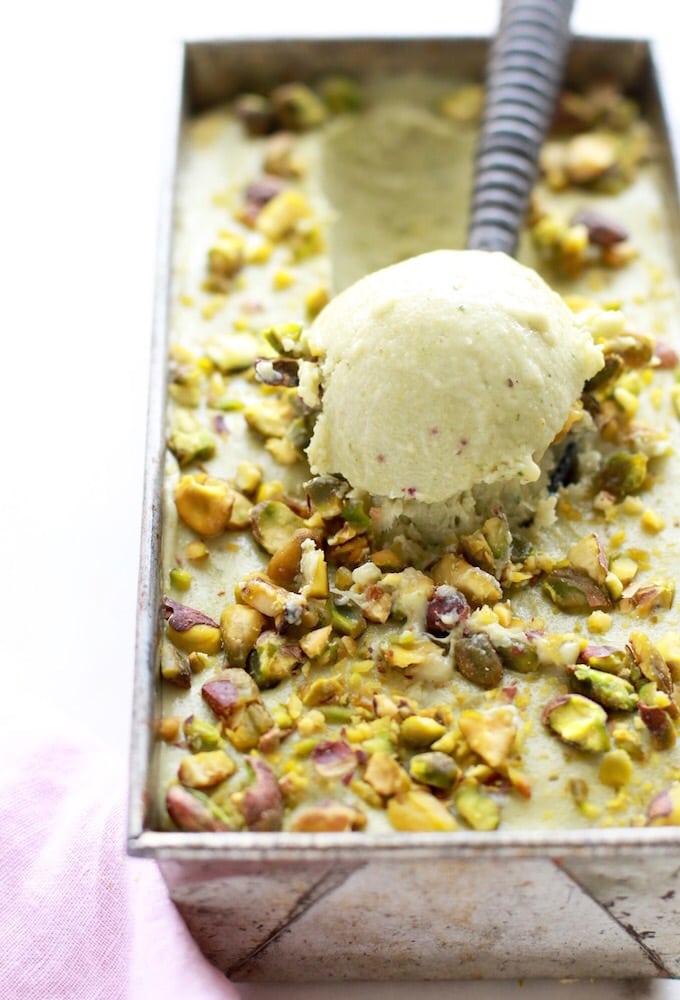 The two key ingredients for that almond pistachio flavor really do their job to make this fro-yo taste exactly as it should. The first, pure almond extract, and the second… pistachios! Almond extract is pretty powerful in flavour so it shadows most of the banana and the pistachio blends wonderfully with the almond extract.
I chose to add a small amount of xanthan gum which helps give this fro-yo a nice, soft, texture, especially after freezing, but you can omit this if you want.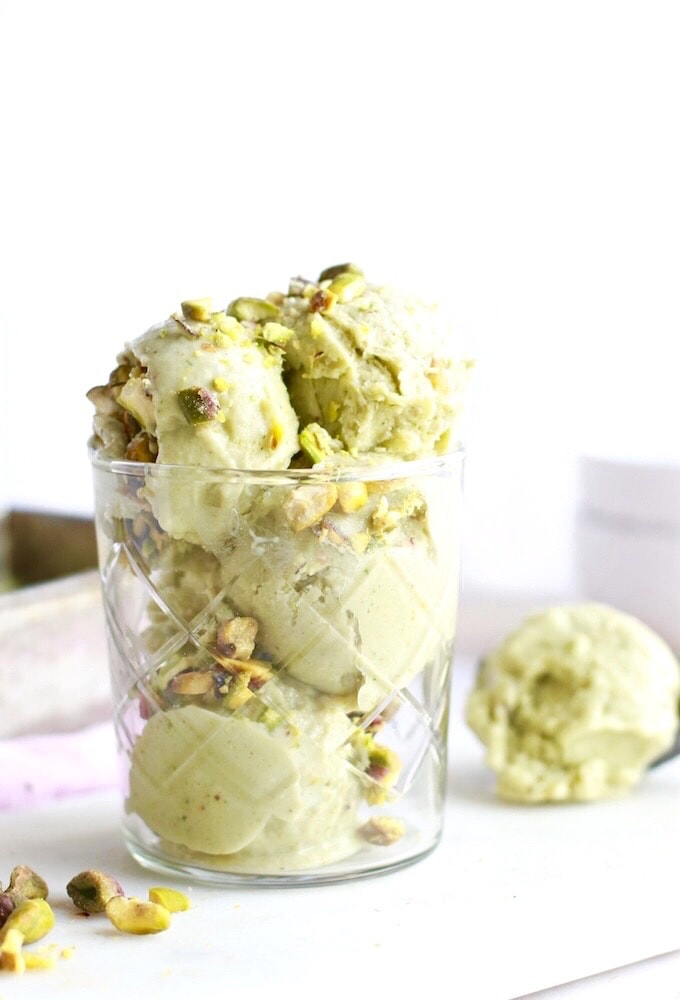 In the blender went all the ingredients and after some vigorous blending, a smooth creamy almond pistachio yogurt base was born. I poured the creamy fro-yo mixture into a small loaf pan and placed it in the freezer to set for a few hours.
Mmmm…creamy, dreamy, healthy, wholesome, naturally sweetened almond pistachio fro-yo. You had me at hello. This dessert is truly as delicious as it looks. Each cold, creamy, almondy, bite.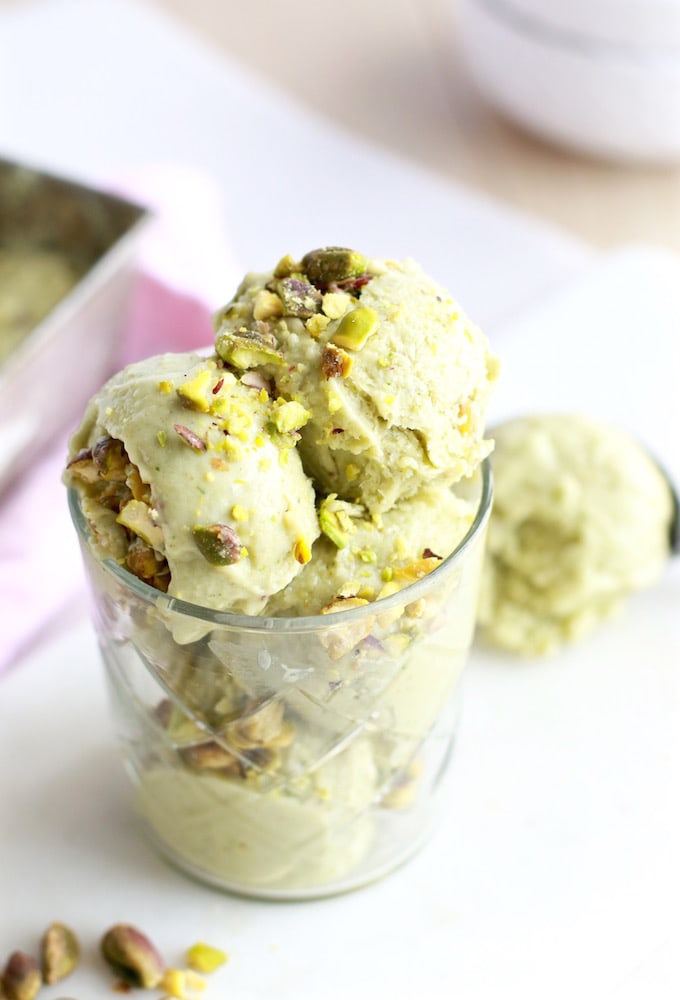 Are you a fan of frozen yogurt? What's your go-to flavour, and do you make your own healthier version at home? I'd love to read about it in the comments below!

Healthy Almond Pistachio Frozen Yogurt
Ingredients
1½ cups unsweetened coconut yogurt OR 0% fat plain Greek yogurt
2 medium bananas, frozen into chunks
2 small nugget frozen spinach (30g) OR 1 cup raw spinach
½ medium avocado
¼ cup raw honey
¾ teaspoon pure almond extract
¼ teaspoon xanthan gum
2 tablespoons + 2 tablespoons (crushed) shelled raw pistachios
Instructions
In a high speed blender or food processor, blend together yogurt, frozen banana, spinach, avocado, stevia, almond extract, xanthan gum, and 2 tablespoons of the pistachio until completely smooth and thick.
Line a loaf pan with parchment paper and pour mixture into the loaf pan.
Smooth with a spatula then sprinkle with the remaining 2 tablespoons crushed pistachios.
(If you have an ice cream maker you can pour this mixture into your machine and finish according to manufacturers instructions)
Add the loaf pan to the freezer and freeze for 3-4 hours or until firm enough to scoop with an ice cream scoop.
Enjoy!
Notes
Nutrition stats based on recipe using stevia as a sweetener.
Have a wonderful Sunday!
Christal // NITK