This delicious and healthy taco salad recipe is gluten free and loaded with veggies, extra lean ground beef, easy baked tortilla chips, dairy free cheese, and a simple salsa dressing!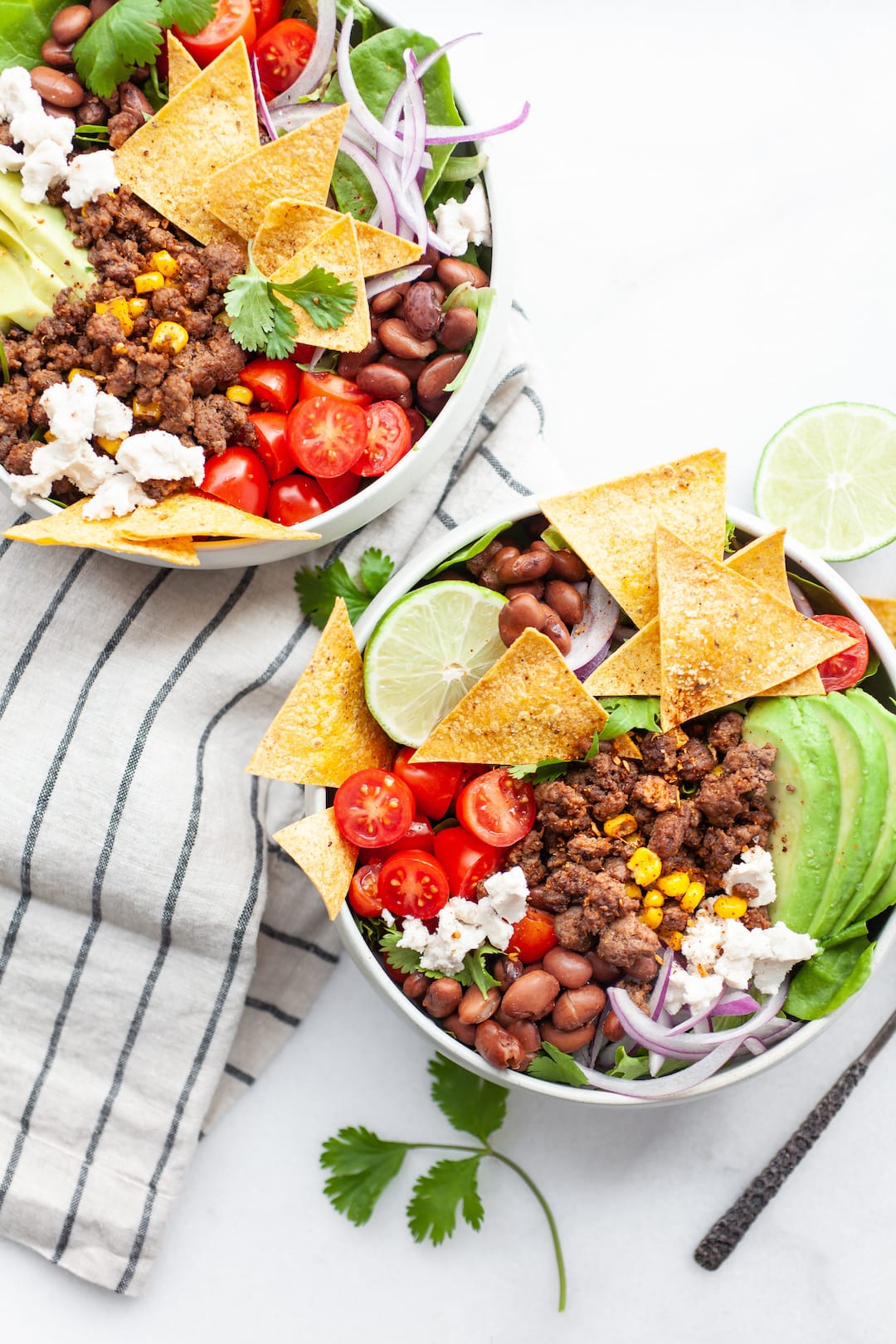 The Ultimate Healthy Taco Salad Recipe
I'm always excited to see my blog reach thousands of new people in the month of January through their searches for healthy recipes on Google, Pinterest, or social media. While the bump in traffic is anticipated, it's always fun to see it come to pass and know that many people have resolved to eat healthier and show their body's some extra love for the new year. Today's Healthy Taco Salad recipe is another great option that my current and new readers will now get to enjoy and I've been dying to share it with you all!
For as long as I can remember I've been a fan of taco salad. Back in the days before entering the nutrition field, I would enjoy it more "traditionally" with iceberg lettuce, tomatoes, loads of cheddar cheese and sour cream, and a large portion of fried tortilla chips, and while I still crave the dish, I've figured out several ways to make this salad a little healthier as well as gluten free and dairy free for myself and those who have food allergies or intolerances.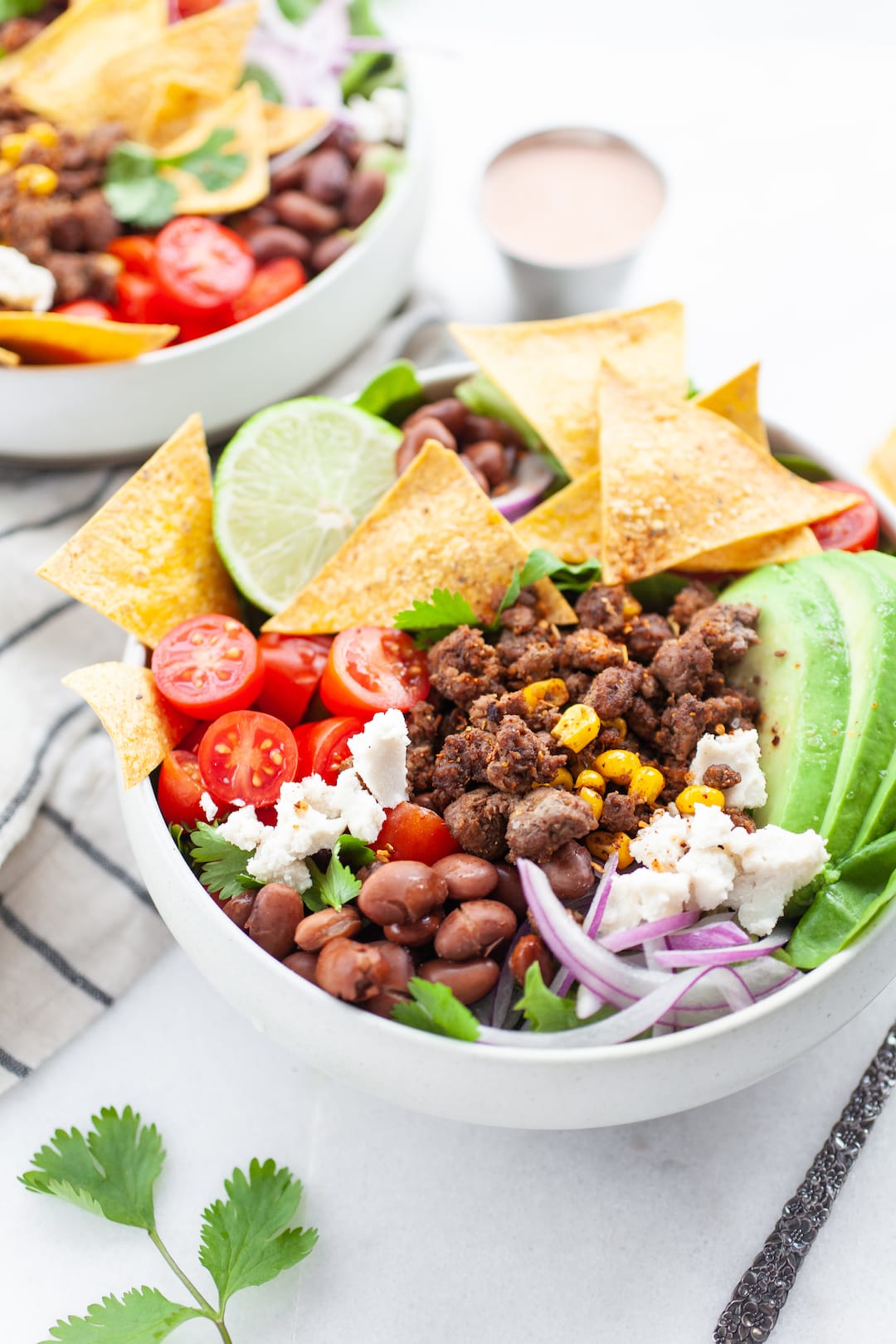 Healthy Taco Salad Recipe Ingredients:
To make my healthier, nutrient dense taco salad that's allergen friendly, you'll need the following ingredients:
Dark leafy greens (I used a spring mix of spinach, red chard, radicchio, and baby romaine)
Organic Pinto Beans or Black Beans (canned or homemade)
Corn Kernels (I used fresh from frozen corn)
Extra Lean Ground Beef (I used Top Grass organic, grass-fed Alberta Beef)
Organic Taco Seasoning (Simply Organic brand is great!)
Dairy Free Cheese (you can use any brand you prefer, I used Miyoko's Mozzarella)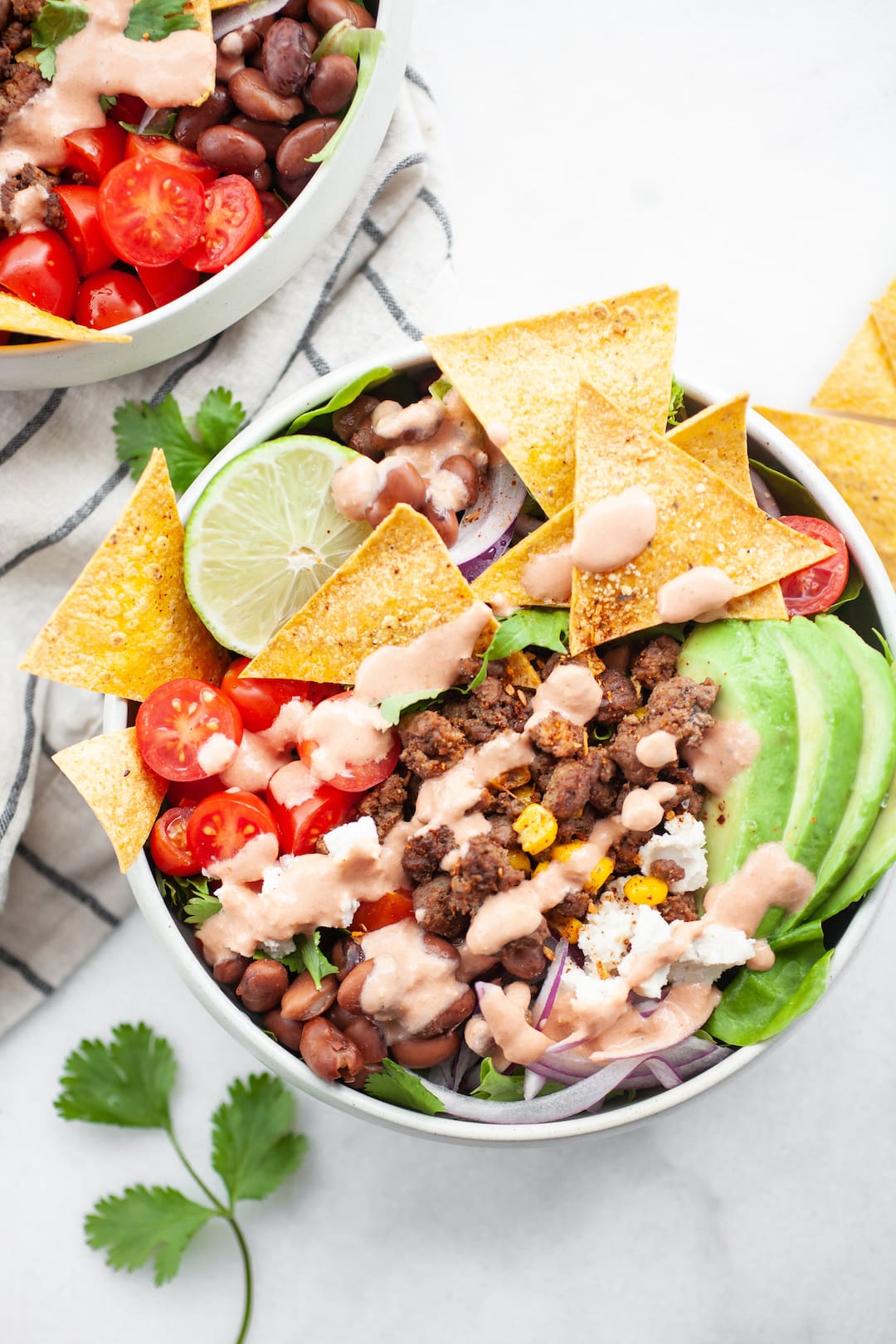 The Healthy Taco Salad Recipe Dressing:
Taco salads are often enjoyed with packaged dressing such as ranch or chipotle but I opted to make my own simple healthy dressing using the following ingredients:
Salsa (jarred or homemade)
Dairy Free Sour Cream (any brand)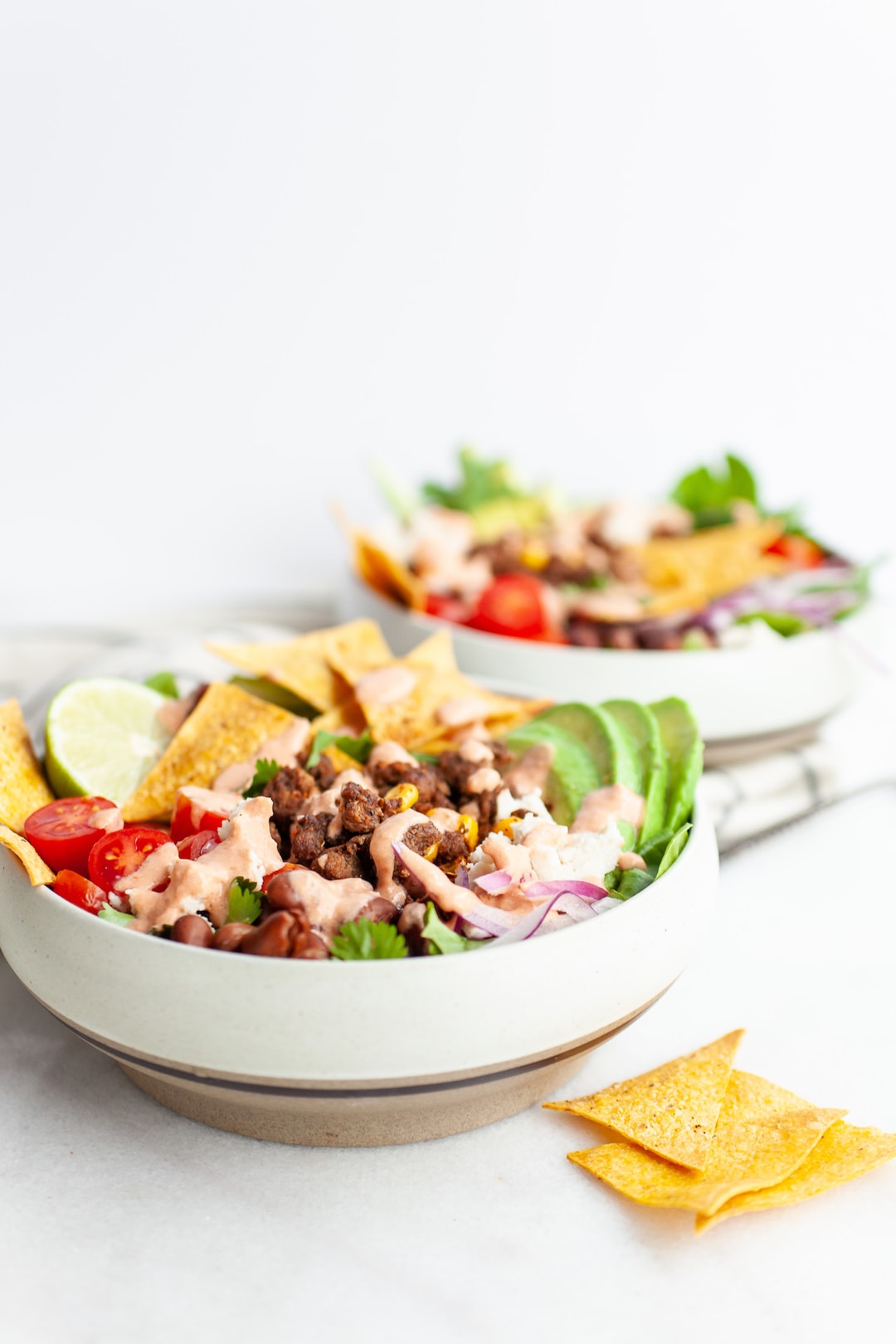 What Makes This Salad Healthier?
My favorite thing to do to traditional, more indulgent recipes is to switch and swap ingredients to bring up the nutritional value! By using dark leafy greens instead of iceberg lettuce, there's more antioxidants and nutrients in the salad including vitamin A, vitamin C, and magnesium. The avocado brings in healthy omega-rich fats and vitamin C, and replacing the cheddar cheese with dairy-free mozza (made from cashews) makes this salad suitable for those with lactose intolerance or whey allergies.
To the healthy taco salad, I also added beans (not always found in traditional taco salad) which brings in tons of fibre and a nice dose of protein, corn for more fibre and b-vitamins, and the dressing is made simply from a mixture of olive oil, lime, salsa, honey, and dairy-free sour cream.
Instead of using fried taco chips from the bag, I baked my own chips easily (and quickly!) at home using fresh corn tortillas, salt, and a touch of organic taco seasoning!

Now…Let's Talk About The Beef!
I teamed up with Alberta Beef Producers to make this healthy taco salad recipe so it of course contains a perfect serving of what I like to call "the best beef in the world". As a born and bred Albertan you might think I'm a little biased but truly, Alberta Beef is like no other and is celebrated and renowned for it's amazing flavour and standard of quality. In Alberta there are more than 18,000 cattle producers who maintain a high standard of food safety, animal health and environmental stewardship, ethical animal care, and world-class processing facilities. Almost all of these producers are family farmers and having married into a farming family I have come to appreciate the hard work and care that goes into these day to day operations.
The Top Grass beef I used for this healthy taco salad recipe is produced only a few hours from where I live and their cattle graze beautiful landscapes Some of my favorite road trip moments include driving through the Alberta prairies and looking out the window to see fields of cattle roaming.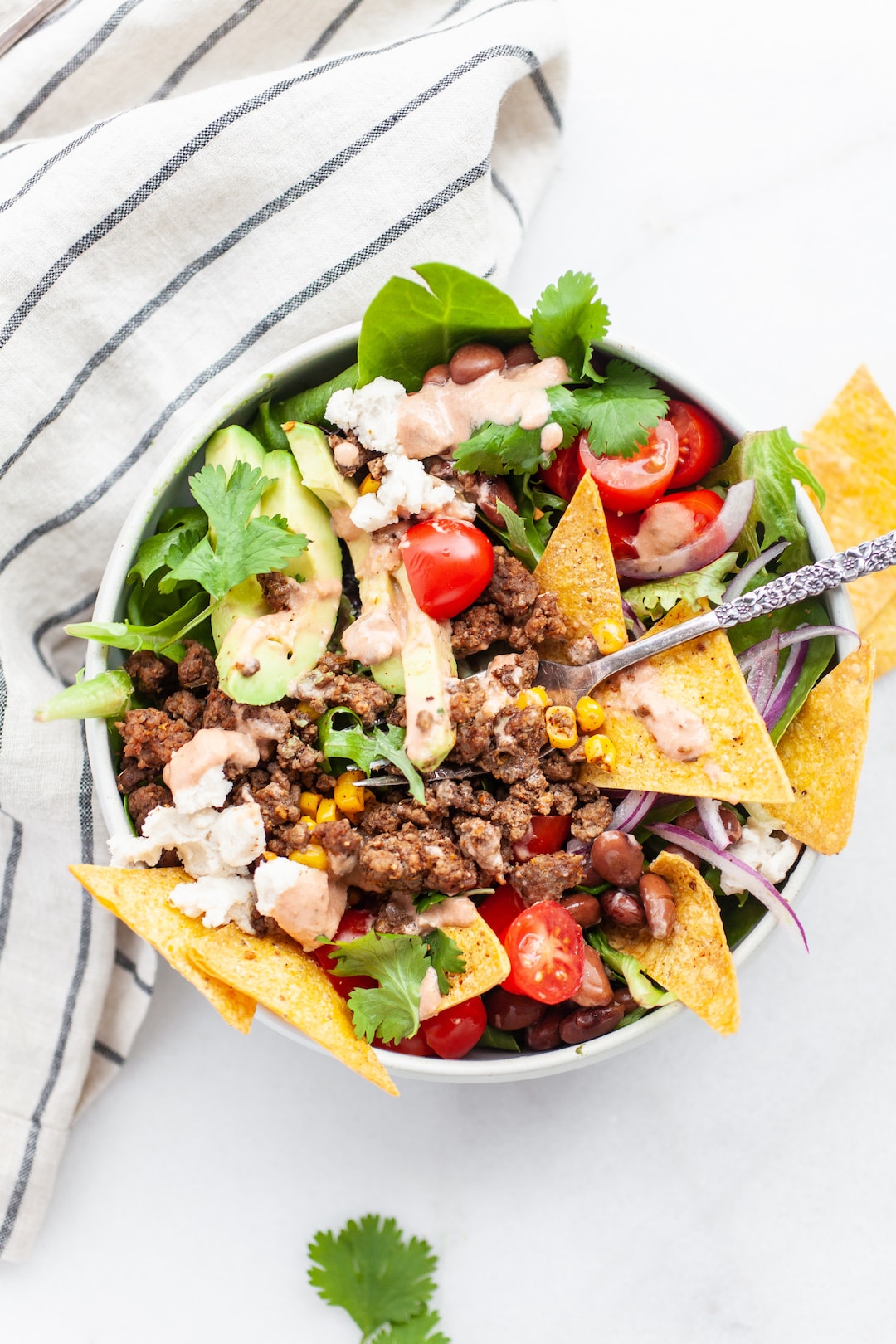 When it comes to nutrition and convenience, Alberta Beef is always a great choice and made the perfect addition to my healthy taco salad recipe. It's a fantastic source of protein, iron, zinc, selenium, b-vitamins, vitamin d, and magnesium and can be used in so many ways. Even though I enjoy eating primarily plant-based we almost always have a package of ground beef or sirloin in our fridge or stocked in the freezer for easy weeknight meals including chili, lasagna soup, and pasta bolognese, beef and broccoli which makes amazing lunch leftovers, and perfectly grilled burgers in the summer months. This healthy taco salad recipe is another easy meal that is welcomed in January as we are all leaning to lighter meals post holiday season!
Whether you are on the healthier eating train or not-so-much this January, you'll definitely enjoy this delicious recipe so be sure to add it to your must-make list and pin the photo below the recipe to save this one for later!
Pin me!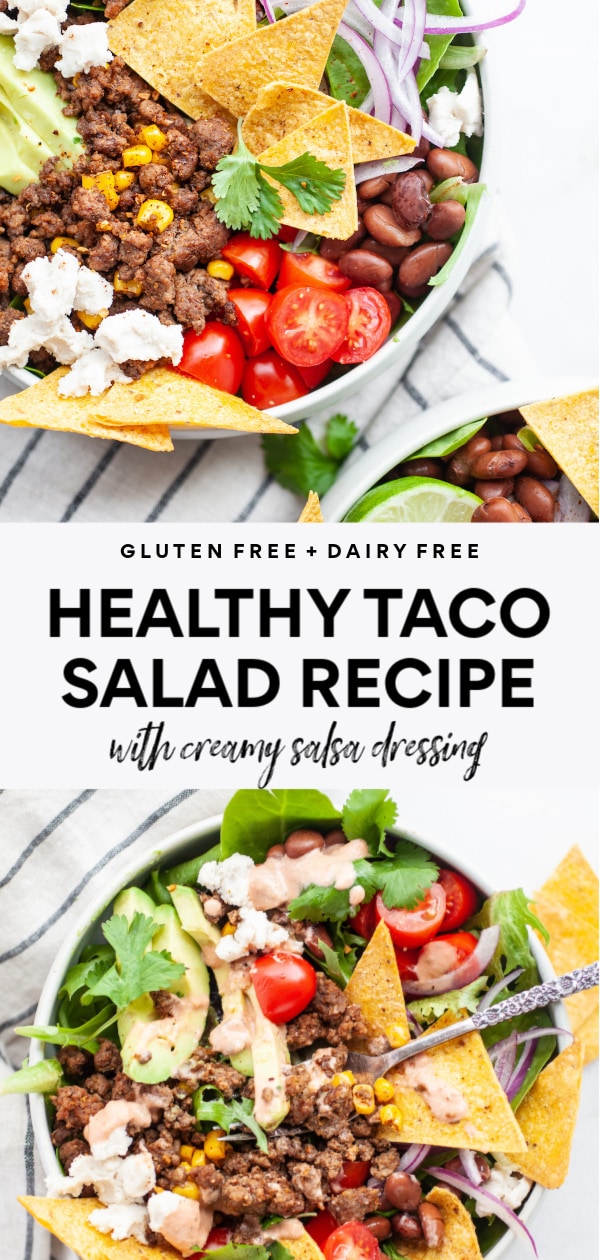 Have a wonderful Sunday!
Christal // NITK
This post was sponsored by Alberta Beef Producers. All the thoughts and opinions are my own.