I LOVE THAI FOOD.
Yes, that deserved all capitals, because I seriously love Thai food that much. I went to Thailand back in 2006, and seriously, what an amazing trip, a wonderful country, and ohhh my! the food. It's just so fresh and flavorful! So every now and then I get on this Thai kick and start making curries, soups, salads, whatever, you name it, it's Thai, I'm makin' it!
This salad is wonderful. It's fresh tasting, light, nutritious and super easy to make. The dressing is completely the star in this dish as it is bursting with flavor. Lemongrass has such a unique flavor, it's earthy, yet tangy, and so strong on it's own, yet subtle when added to the right dish. The ginger works perfectly with the lemongrass as well – I use Gourmet Garden fresh herb pastes all the time when cooking!
The only little thing about the salad that I would change for nutritional reasons, is the white rice noodles. I don't like white rice, pasta, bread, sugar, none of it!
White = Refined = BAD in my books.
However, I have had a hard time finding brown rice noodles (not sure if they even exist), and the noodles are only a small portion of the dish so… hmm.. well I guess I'll let it slide.
Other than the noodles everything is wonderful; LOTS of veggies, low calorie and high protein tofu, and a light and tasty dressing!
I plan to do some more Thai inspired recipes in the near future so if you want to see something specific just send me a message or leave me a comment! I love feedback!
Now go and make this salad for dinner, or for lunch, or hey, breakfast, who knows some people are weird…my sister-in-law eats mashed potatoes for breakfast…no joke.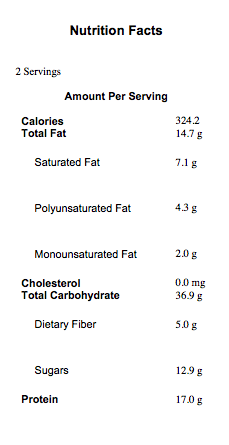 Enjoy!
Christal
Nutritionist in the Kitch
Tasty Thai Lemongrass Salad
Ingredients
½ block of extra firm tofu, cut into thin strips or ½ inch cubes (or use chicken breast or prawns!)
1 Tbsp coconut oil
90 grams flat rice stick noodles
2 cups romaine lettuce, chopped
1 carrot, cut into matchstick pieces
½ cucumber, cut into matchstick pieces
1 green onion, sliced (or sliced red onion)
½ cup bean sprouts
2 Tbsp cilantro
--------------------------
Lemongrass Dressing:
2-3 cloves garlic, minced
1 Tbsp ginger, minced
3 Tbsp lemongrass (fresh or prepared, I used the prepared lemongrass)
1 serrano chili, minced (optional)
1 tsp ground turmeric
4 Tbsp low-sodium soy sauce
2 Tbsp fresh lime juice
1-2 Tbsp honey
Instructions
In a small bowl combine all ingredients for dressing and whisk together.
Cut tofu (or other protein) into small pieces and toss with 1 Tbsp of the dressing mixture, marinate for 15 minutes while preparing vegetables.
Meanwhile, cook rice noodles according to directions, usually about 4 minutes in boiling water, then run noodles under cool water.
Cut all the vegetables. Assemble the salad with lettuce on the bottom, topped with the cooled noodles, then arrange the cut vegetables.
In a non-stick pan, heat coconut oil under med-high heat, add marinated tofu (or other protein), and cook until browned and crispy (around 5 minutes for tofu, more for other protein)
Add tofu to the salad, and dress with 1-2 tablespoons of Lemongrass Dressing.
Garnish with cilantro (or crushed peanuts is tasty as well).
Enjoy!