This recipe was originally posted in November of 2013 and has since been rephotographed and revamped for relevancy and quality! 
We have been enjoying a wonderful weekend away in Seattle, what a great city. If you've been following me over on my Instagram stories you'll have seen all the little places we are visiting and the beautiful AirBnB rental we are staying in. I'll be sharing more on this in an upcoming blog post! One awesome thing about Seattle right now is the colours and the leaves, oh all the gigantic, colourful beautiful leaves!
In honour of the beautiful Fall colours here in Seattle, I've revamped a bright, vibrant, beautiful orange hued pumpkin recipe that needed to be in the spotlight again since I first posted it in 2013. My Easy Blender Thai Pumpkin Soup!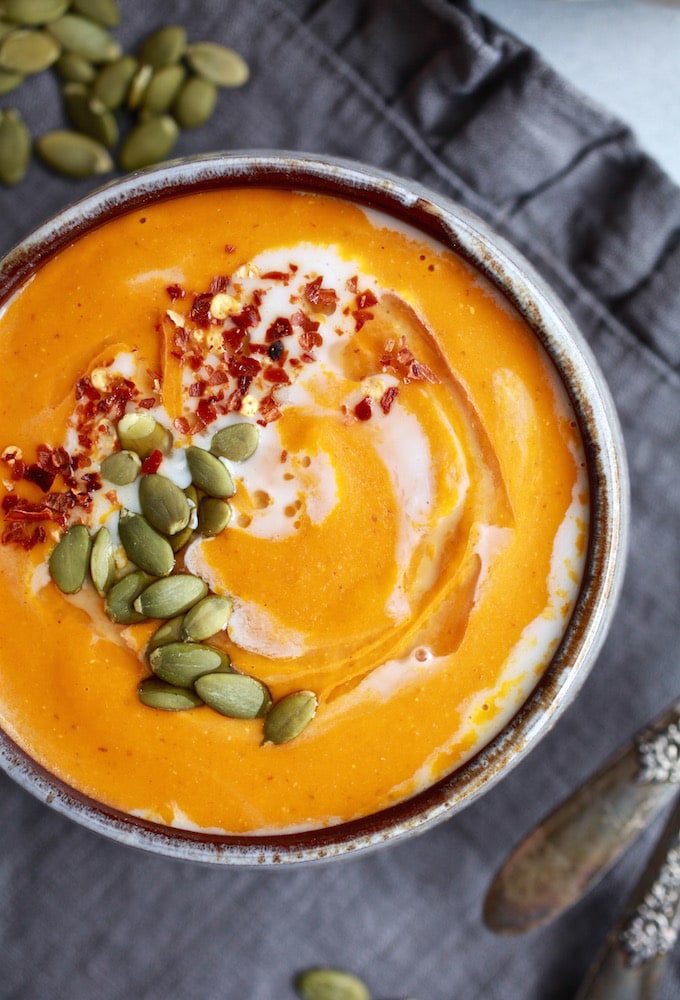 Blender soup is seriously the best. It's just so simple and foolproof. Anyone can whip up a batch and feel like a star in the kitch. Plus, making soup in a blender is fun!
I find all cooking fun really, but there's something about not caring if the onions are cut perfectly because it's all getting pulverized into a smooth, creamy, dreamy, soup in the end. I've never been a fan of cutting onions, so I do it as fast as I literally could without chopping my fingers off for this soup to avoid the horrible onion cries.
This version of blender soup is similar to the Vegan Borscht I created years ago. Originally I adapted this pumpkin soup recipe from the Vitamix cookbook but since I've added in a few twists and turns including adding a special ingredient for extra creaminess inspired by my friend Amanda from Heartbeet Kitchen.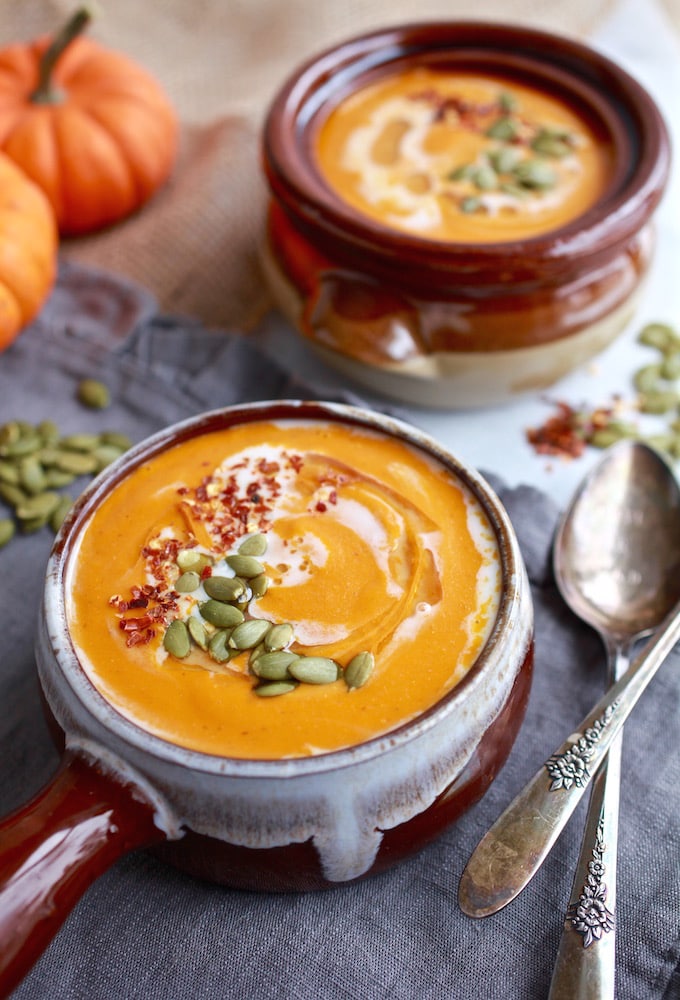 This pumpkin soup is creamy, rich, velvety, and has wonderful Thai flavours of red curry, galangal, lime leaf, and sesame. It's full of nutrients including vitamin E, many of the B vitamins, vitamin C, iron, magnesium, and fibre. Along with the vitamins and minerals, there's a nice dose of filling fats from the coconut milk, touch of sesame oil, and the topping of pumpkin seeds.
I also added a little bit of chili flakes for some spice and extra kick. It's cold during the fall and winter so why not add a little extra heat to warm the body up from the inside out! This soup is so easy, tasty, and definitely a must make for the season.
I'll let these remaining mouthwatering pictures do the rest of the convincing…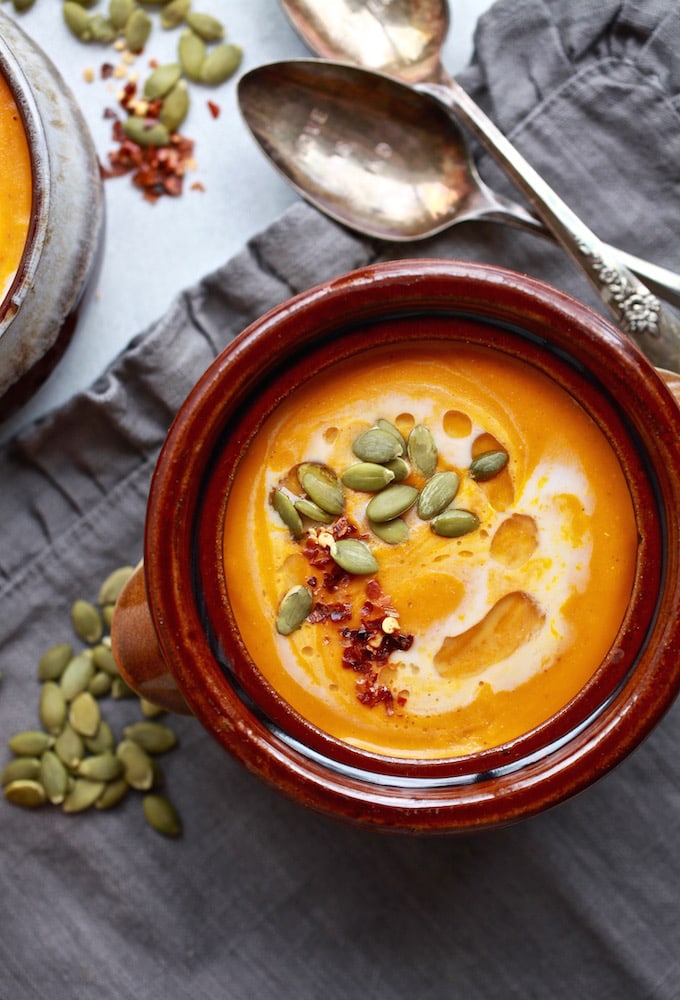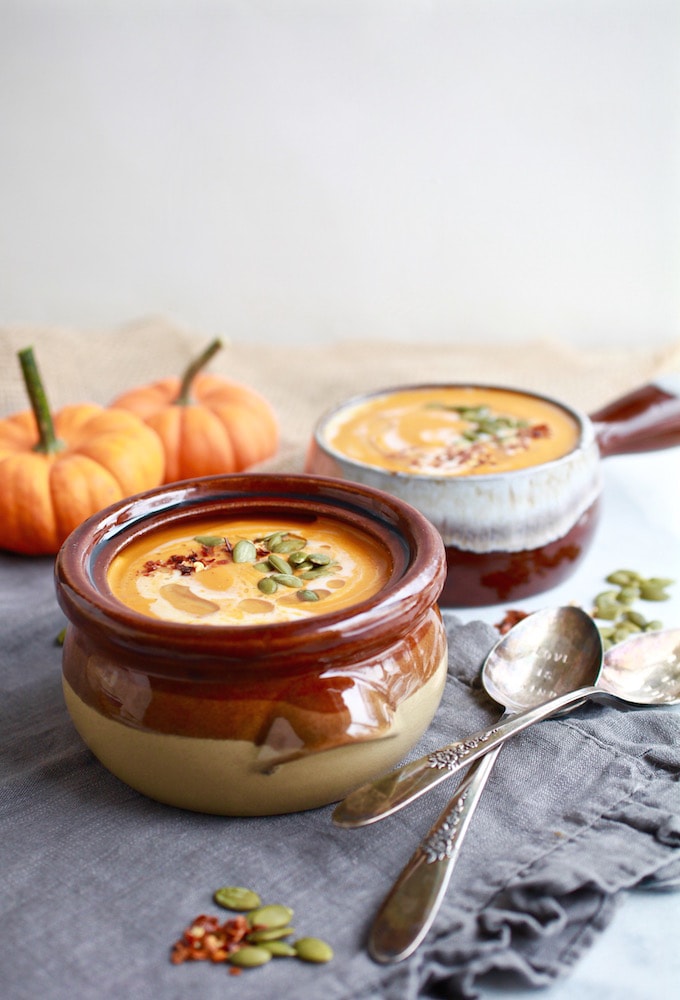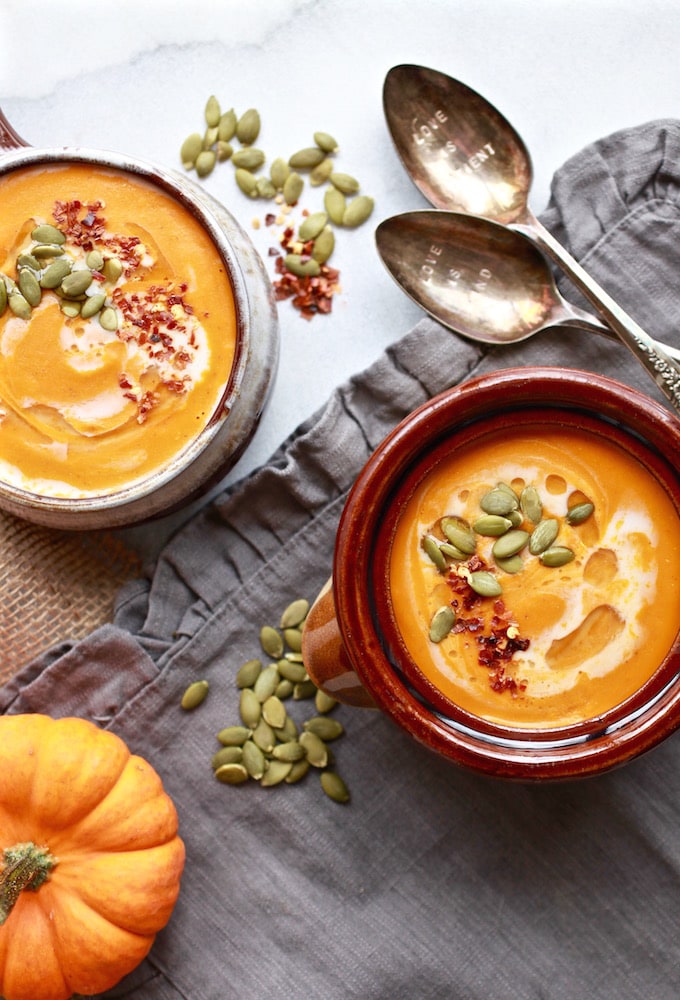 Easy Blender Thai Pumpkin Soup // Gluten & Dairy Free
Ingredients
½ large onion, peeled, chopped
1 tablespoon olive oil
1 tablespoon tomato paste
1 tablespoon Red Thai Curry Paste
1 15oz can pumpkin pureé
1 tablespoon minced ginger root
1 garlic clove, peeled, chopped
1 cup vegetable broth
1½ cups coconut milk
2 slices of your favourite plain or whole-grain gluten-free bread, diced into chunks*
½ teaspoon salt
½ teaspoon pepper
1 tablespoon lemon juice
Optional Garnishes:
drizzle of coconut cream
drizzle of sesame oil
sprinkle of chili flakes
sprinkle of pumpkin seeds
Instructions
Heat a pan over medium-high heat.
Add in olive oil.
Sauté onion in olive oil until soft.
Add tomato paste, red curry paste, pumpkin puree, ginger, garlic, vegetable broth, and coconut milk to the pan and stir until thoroughly heated through.
Transfer soup mixture to a blender and add in lemon juice, salt, pepper, and the bread chunks.
Blend on low and slowly increase to the highest setting and blend for 30 seconds to 1 minute on high or until completely smooth.
Divide between 3-4 bowls and garnish each bowl with the optional garnishes.
Enjoy!
Notes
*Adding the bread to the soup is optional but it creates a thick and velvety texture that's absolutely delicious! Without the bread the soup is still great but will be a thinner consistency.
Enjoy the rest of your weekend!
Christal // NITK