Air Fryers (*affiliate link) have gained huge popularity over the past year and its no surprise.. This small kitchen appliance is incredibly easy to use and gives so many different foods that delicious crispy, crunchy fried edge that a deep fryer does… without the deep frying!
My delicious and super simple recipe for healthy air fryer carrots shows how easy it is to use the air fryer to make perfectly cooked sides that amplify any meal. We enjoyed these carrots the other evening with chicken breast and rice and they were the star of the meal. Even Julian, my little 8-month old gobbled the carrots (cut into small pieces of course) right up!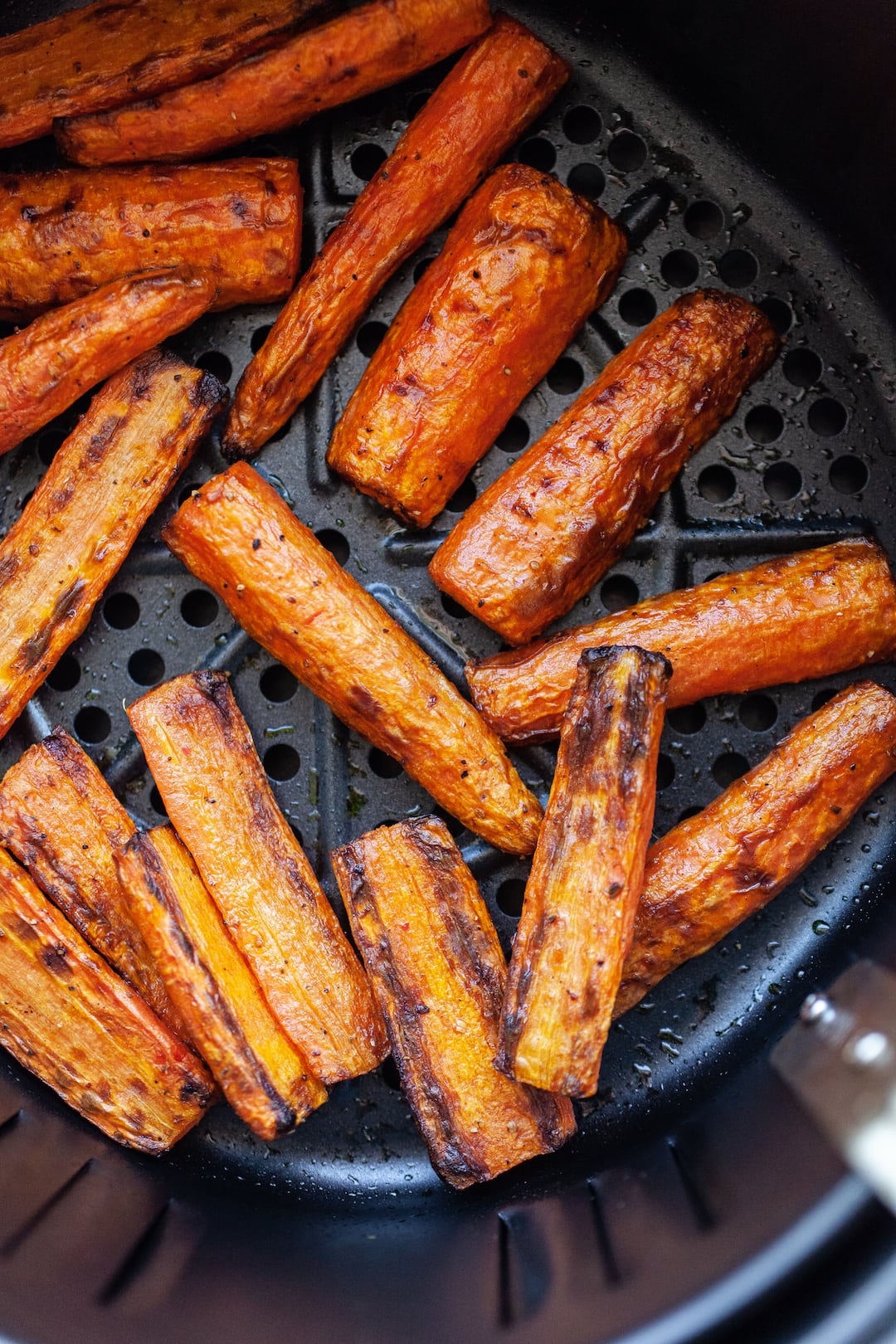 Air Fryer Carrots Ingredients
When I say this recipe is incredibly simple, I mean it is incredibly simple. You can definitely change up the herbs or add your own medley of spices and seasonings if you wish!
Here's what you'll need:
4-5 large carrots

Sea salt

Pepper
Avocado oil or olive oil

Fresh dill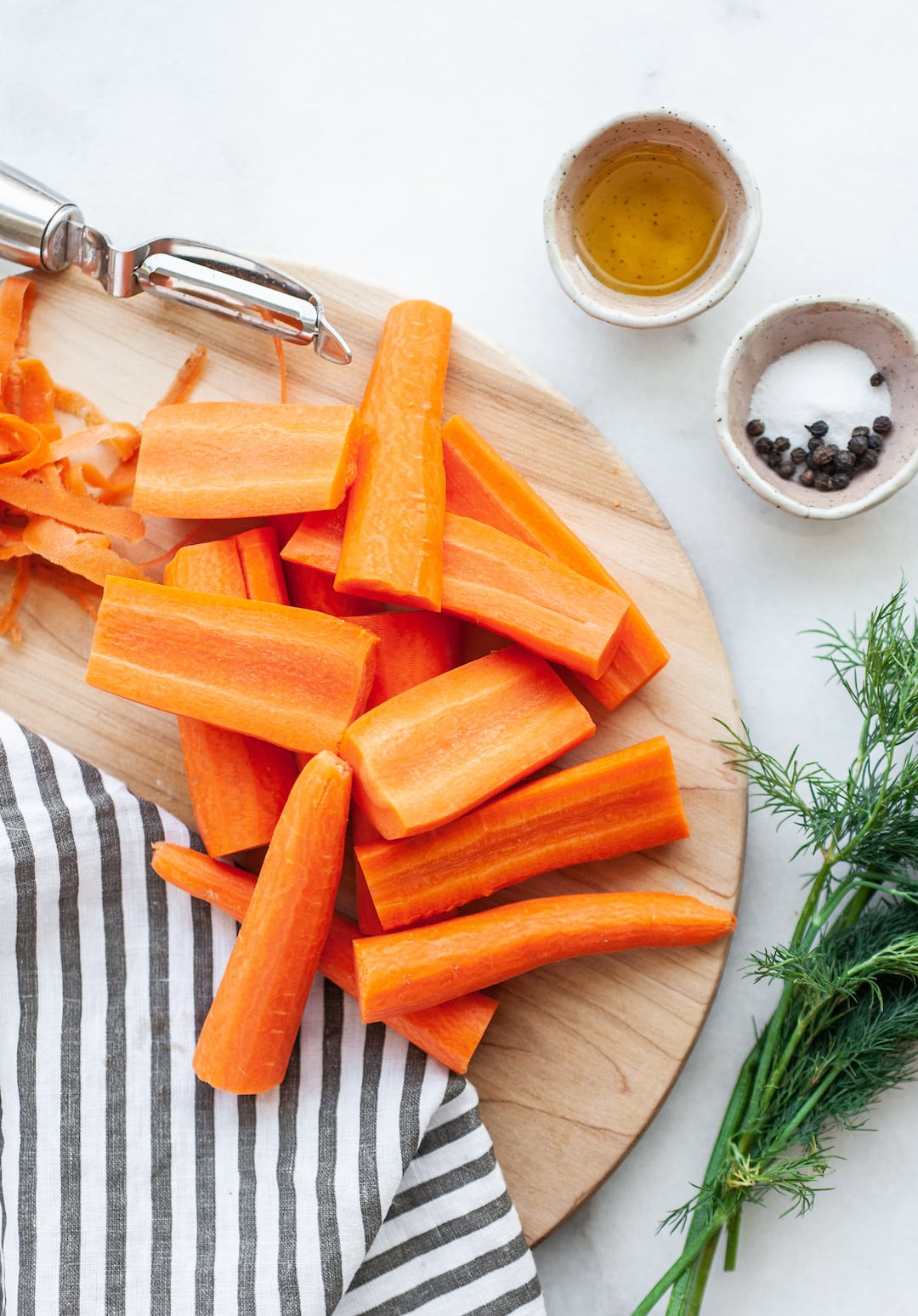 How To Make Roasted, Tender Air Fryer Tortilla Carrots
When it comes to making the best carrots in the air fryer, there's only a few simple steps to follow!
1. Start by peeling large loose carrots, then cut them into 3 equal sections, then slice in half lengthwise to create similar sized pieces.
2. Next, preheat your air fryer for 3 minutes.
3. Add the carrots to a bowl with oil (avocado or olive) and sea salt and toss to coat.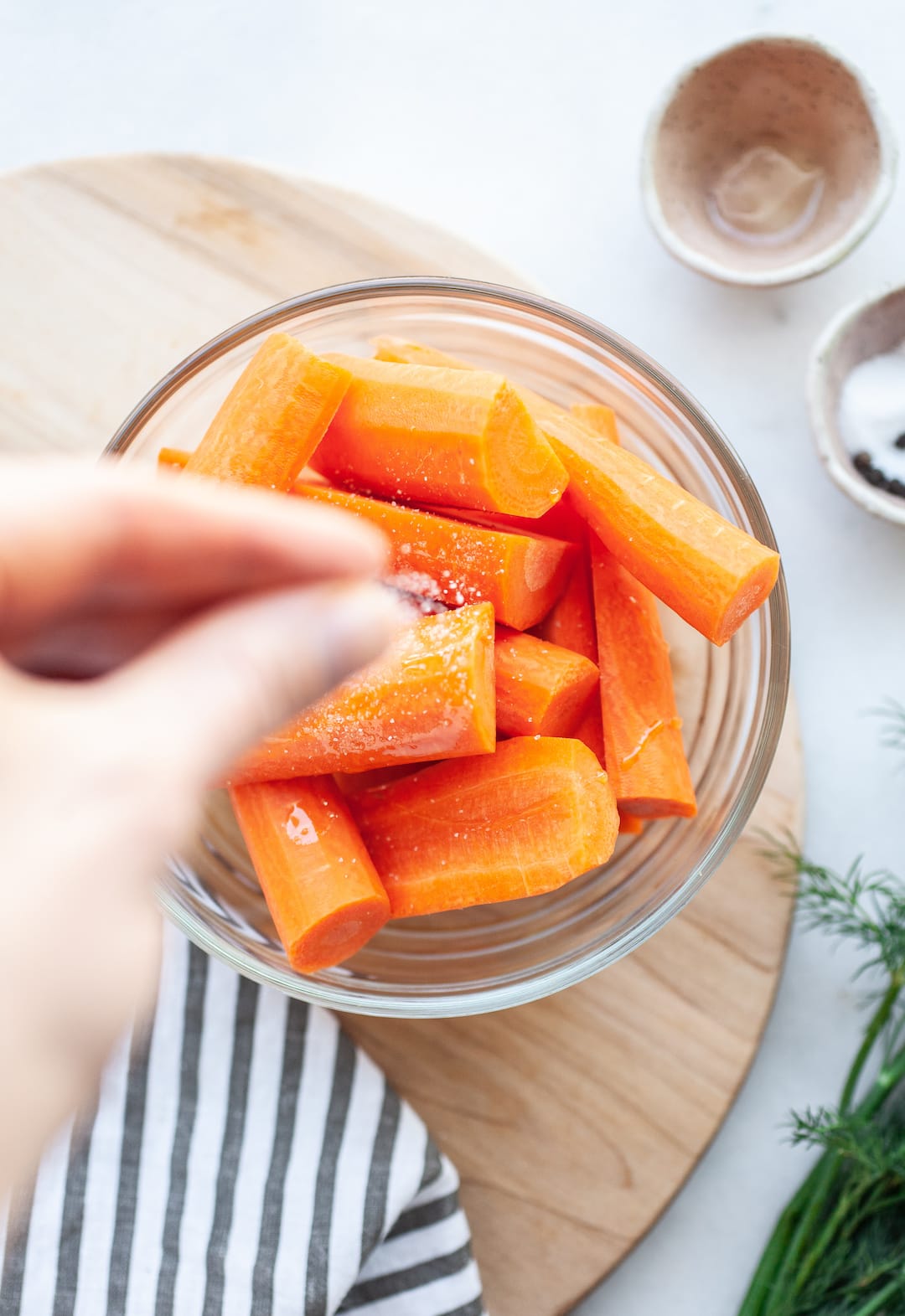 4. Place the carrots in the air fryer basket (be sure not to overlap the carrots too much for more even cooking).
5. Cook for 15 minutes at 400 degrees, removing the basket at the 10-minute mark to shake the basket and arrange the carrots evenly again.
6. Remove the air fryer basket when the cooking time is done and transfer the carrots back to the original bowl with the oil and salt, and add in chopped dill, then toss once more to coat.
7. Transfer to a serving dish and enjoy!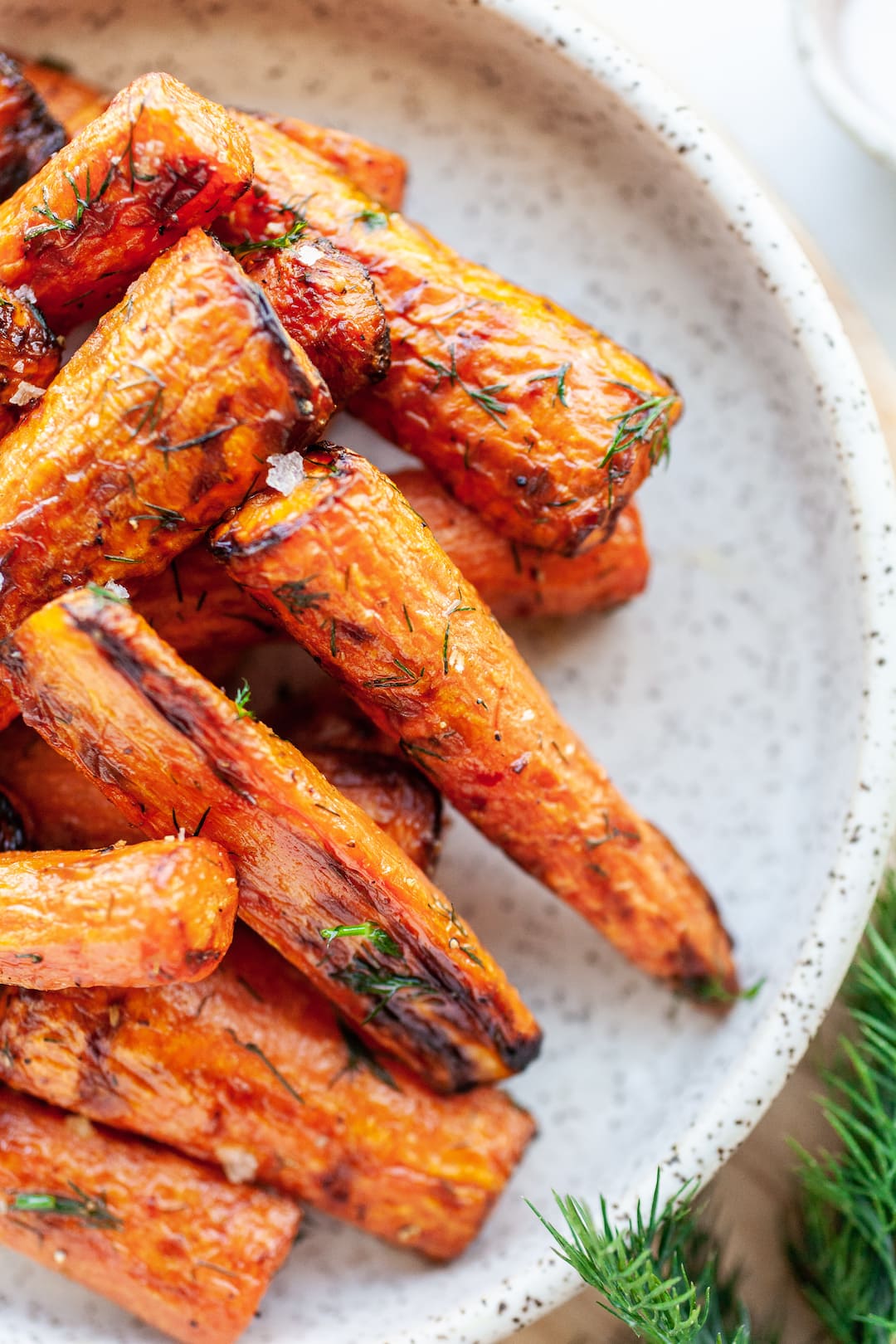 I was able to fit 4 very large carrots in my 6-Quart Air Fryer (*affiliate link), but if you want to make a really large amount you'll have to work in a couple batches.
Try A Vegetable Medley: Another time when making these carrots, I added in broccoli and cauliflower florets at the 10 minute mark and piled them on top of the carrots for the last 5 minutes of cooking. It was a delicious combination and all the veggies were cooked perfectly!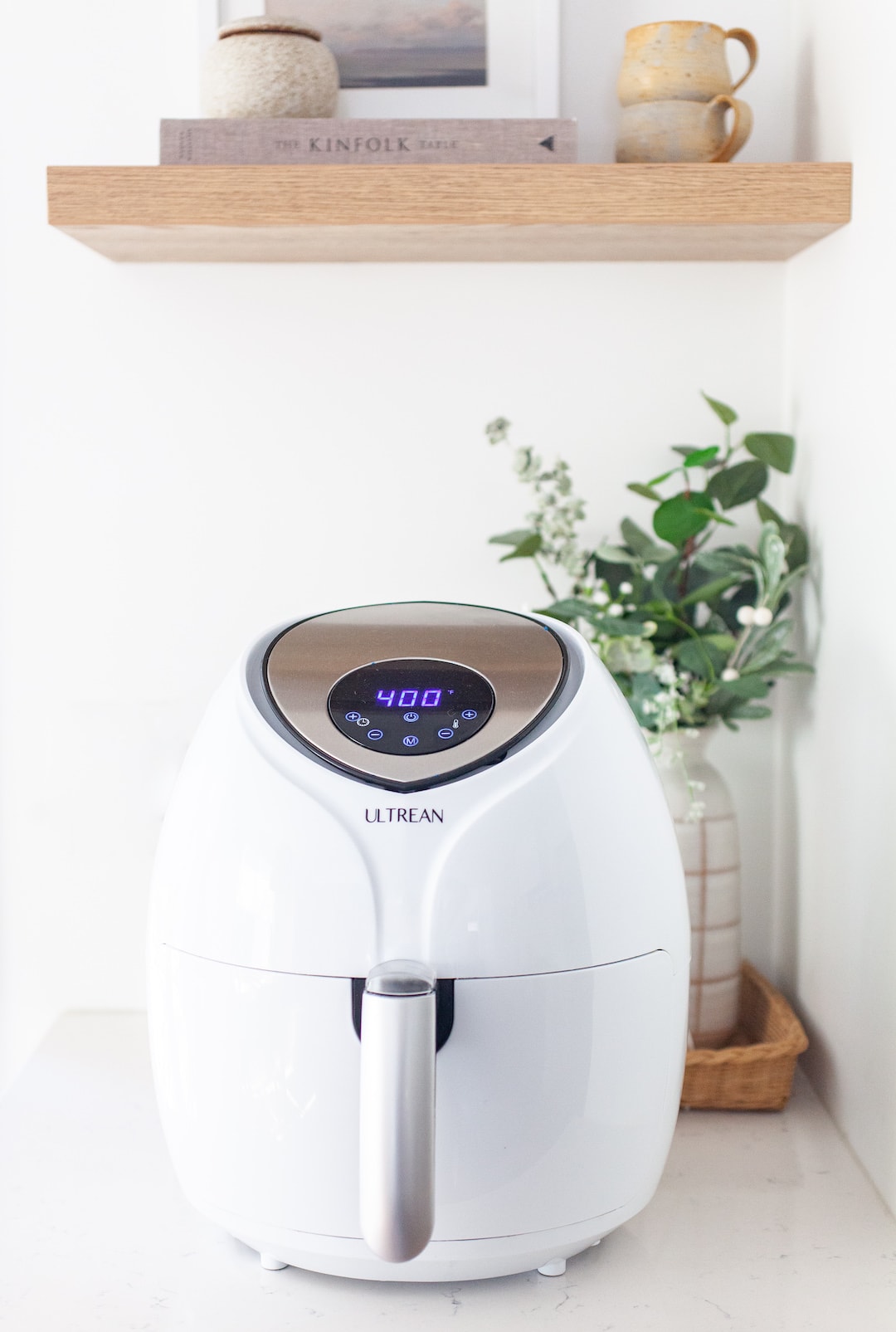 How do you steam carrots in an air fryer?
Because of the mechanism of the air fryer, the carrots will resemble roasted carrots more than they will steamed. Adding excess water to an air fryer can actually damage it as air fryers are meant to crisp food and not to create or add moisture the way that steaming or boiling would.
To summarize, for truly steamed carrots that are not crispy, but are soft and tender on the inside and outside, I recommend going with the stove-top method rather than using an air fryer!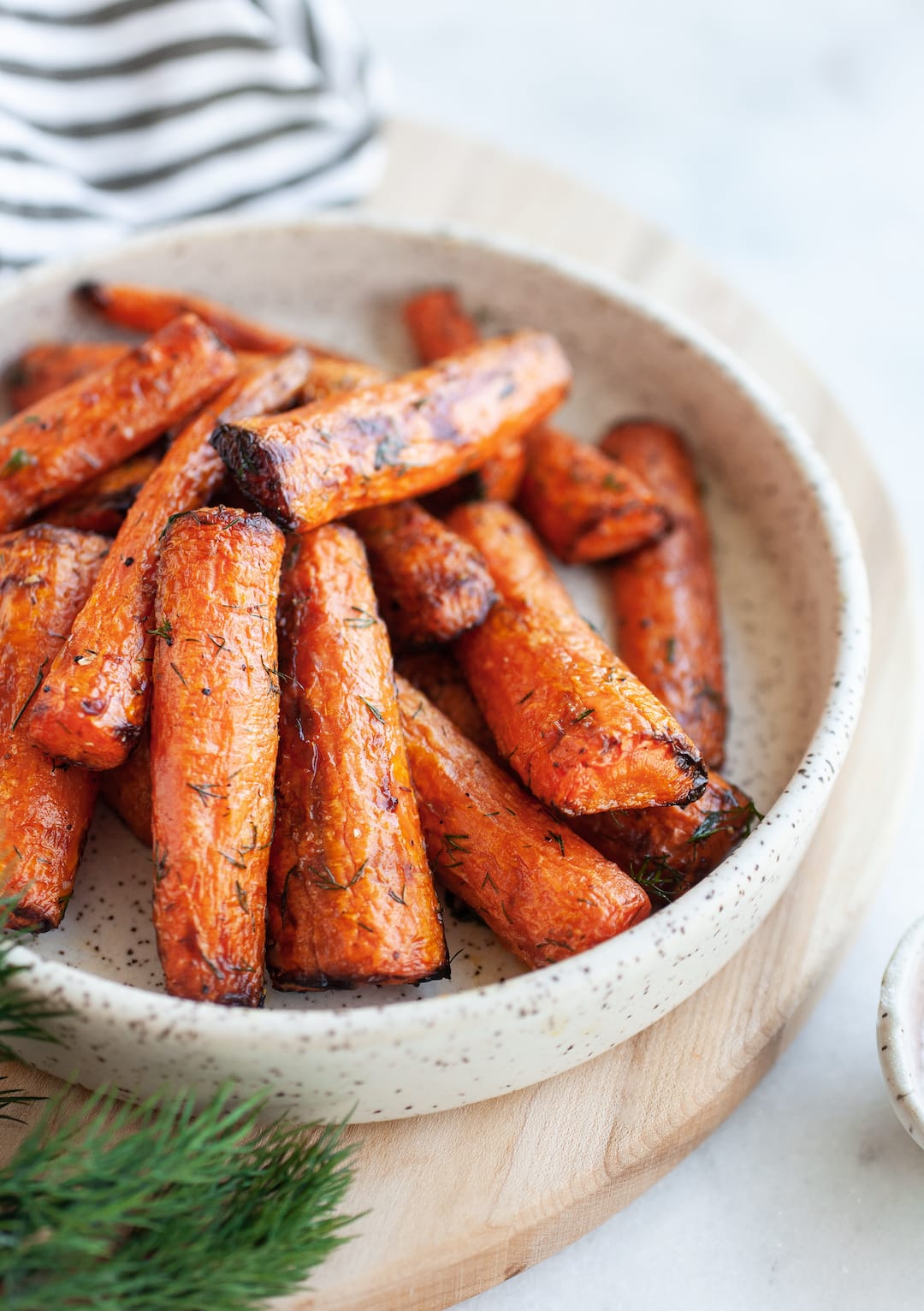 Air Fried Carrots Flavour Variations
To change it up you can add some delicious twists to these air fryer carrots! Here's some inspiration:
Maple Rosemary: Add 1 tablespoon of pure maple syrup to the oil, salt, and pepper to toss with the carrots before cooking, then omit the dill and toss the cooked carrots with 1 teaspoon of finely chopped fresh rosemary.
Cilantro Lime: Bring in the lime with this delicious twist! When the carrots are done cooking in the air fryer, omit the dill, and instead toss them in a bowl with 1 tablespoon of lime zest and 2 tablespoons of fresh chopped cilantro.
Garlic Butter: Swap the oil for melted vegan butter (or regular) and add in 2 cloves of minced garlic with the salt and pepper to toss with the carrots before frying.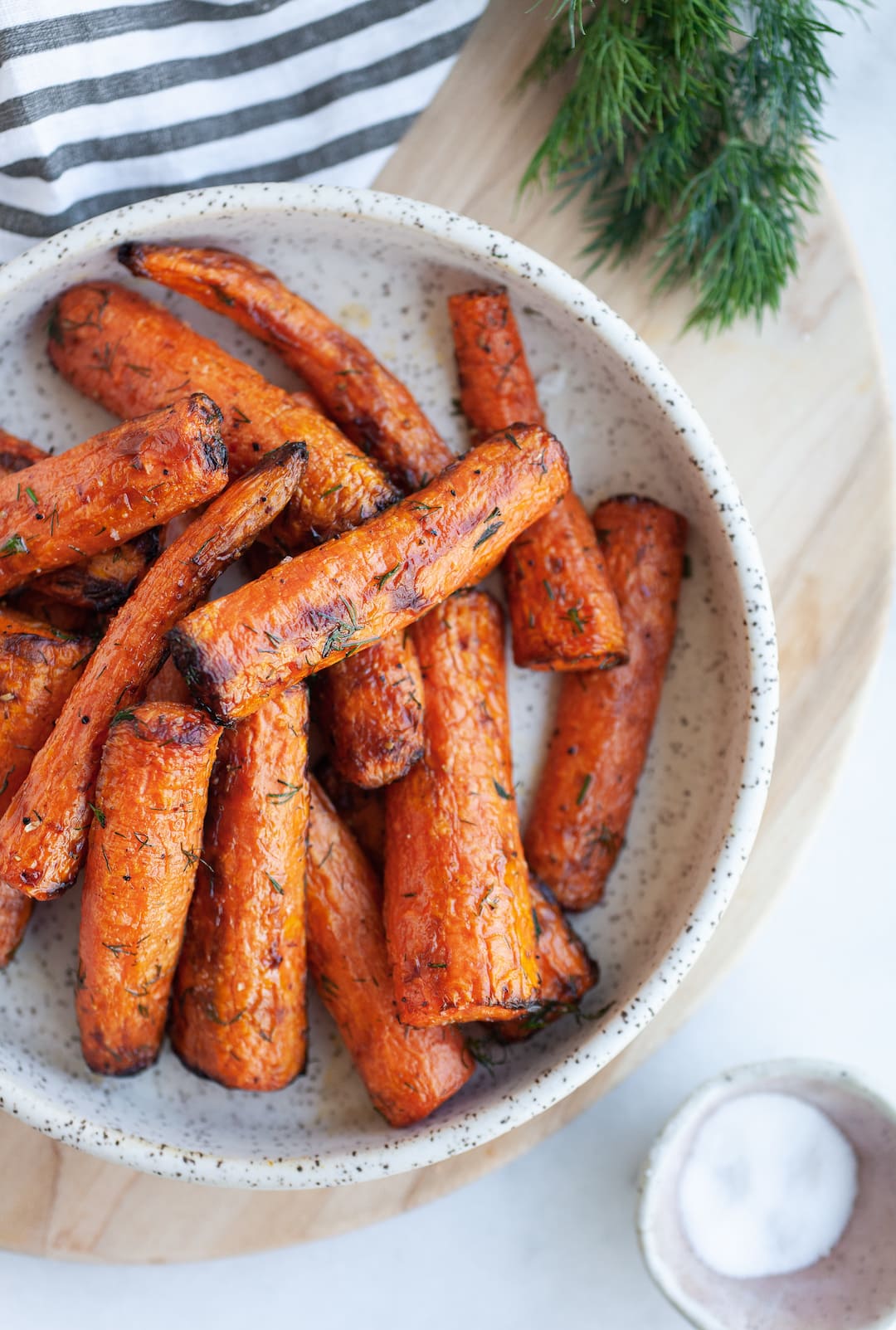 Do you have own an air fryer yet? What type of delicious snacks or meals have you tried? Tell me about it in the comments and be sure to pin the photo below the recipe to save this one for later!
Pin me!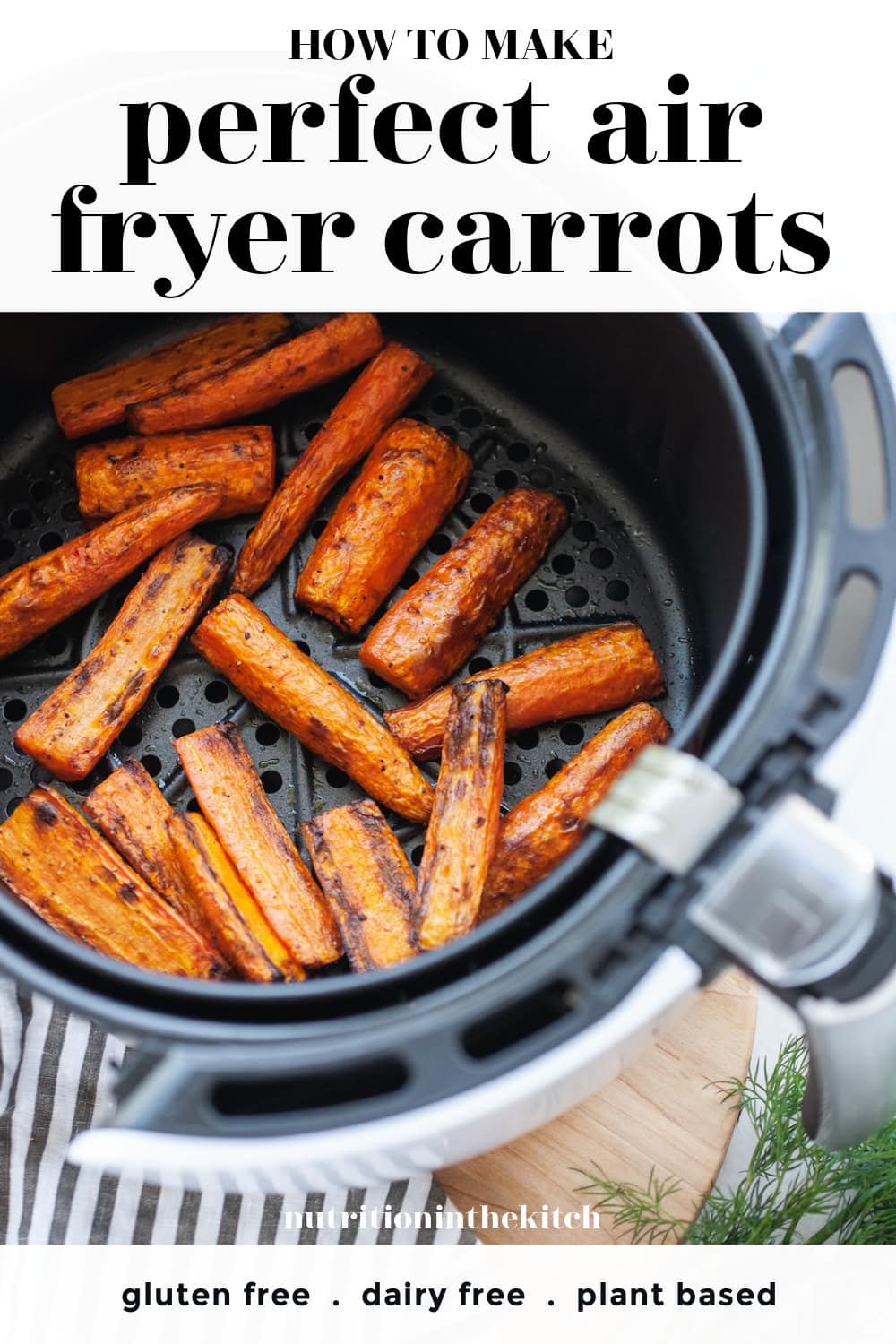 More Recipes You'll Love:
Have a great day!
Christal // NITK