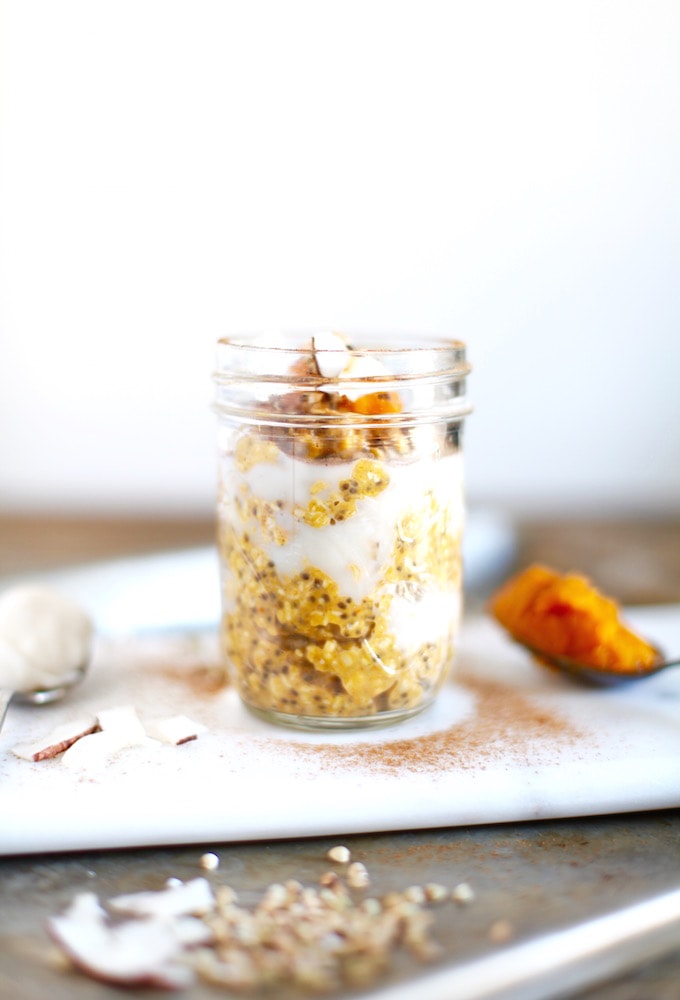 Since my last pumpkin post I've had several people tell me that it's OK. It's OK if I love pumpkin and want to keep posting pumpkin recipes, it's OK if I eat pumpkin puree by the spoonful, it's OK if I've ordered can, upon can, of organic pumpkin puree from SPUD as of late. It's OK!! Many of you are just as obsessed as me!
So, that means that this recipe should definitely be well received by all of you pumpkin lovers out there! Which is great, because let me tell you you – it's a must-make!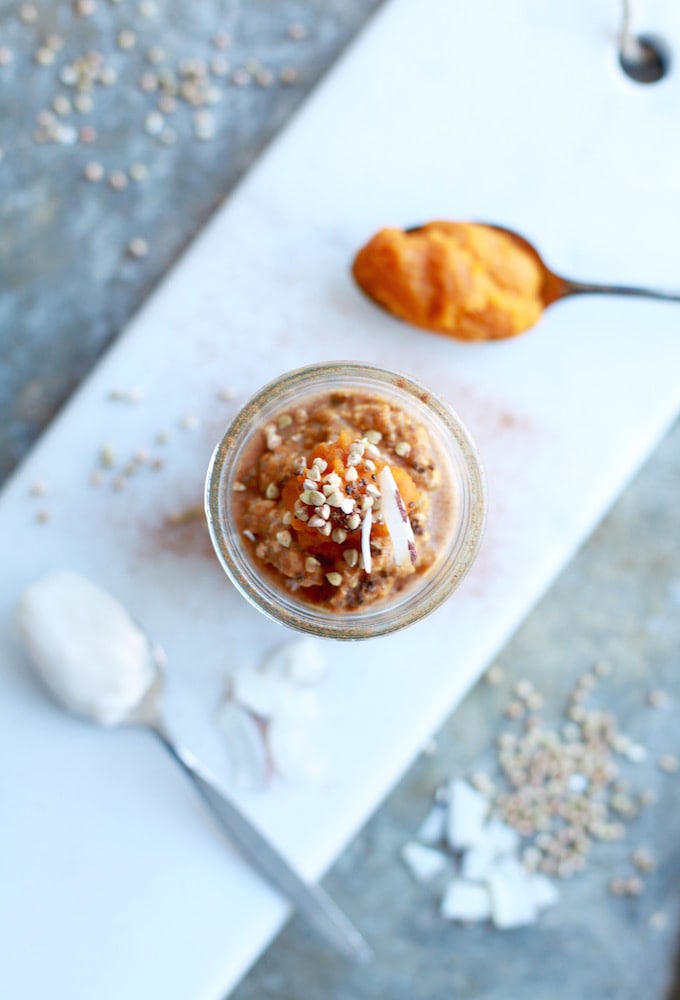 Overnight oats are definitely nothing new, I know that – I've been down the "OO" road quite a few times (here, here, and here to name a few!), but todays recipe adds a twist to the typical overnight oats with one simple ingredient! This particular ingredient adds an element of texture that kicks the whole overnight oats concept up a notch on the awesome scale!
Buckwheat groats my friends, buckwheat groats.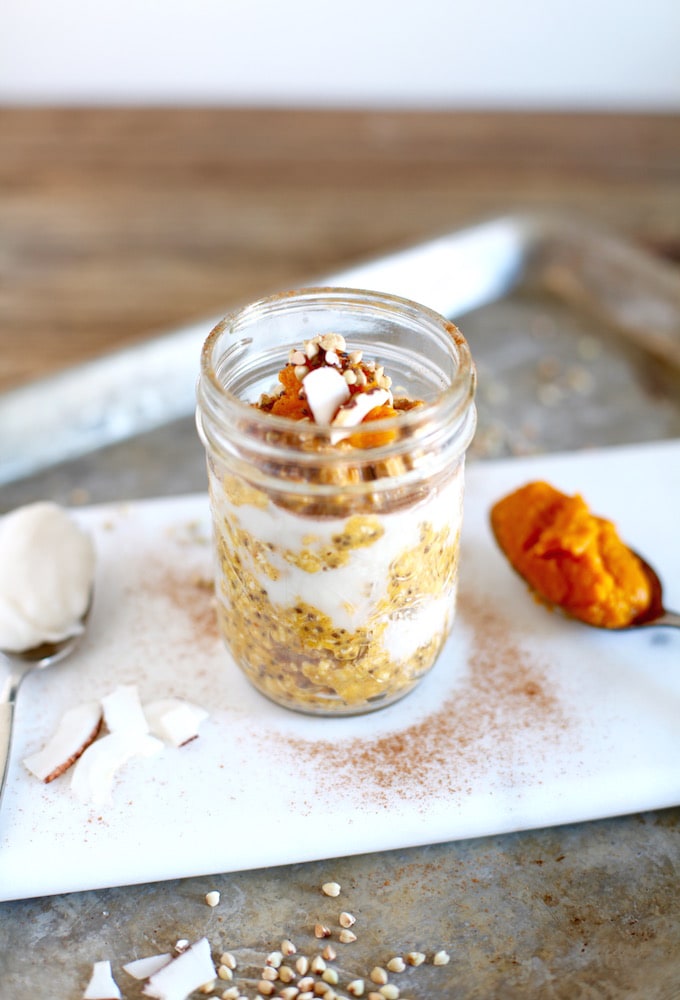 Groats??!… What? Is? That? 
I'll admit, it sounds a bit weird. The first time I heard about groats, I had to google it. Buckwheat groats are the hulled seeds of the buckwheat plant. So interestingly, they are a "seed" with a mild flavour and are wonderfully crunchy and delicious! I love to toss buckwheat groats on top of smoothies or my yogurt to add that extra yum factor.
Buckwheat is also gluten free, making these tasty groats perfect for anyone with a gluten intolerance or allergy.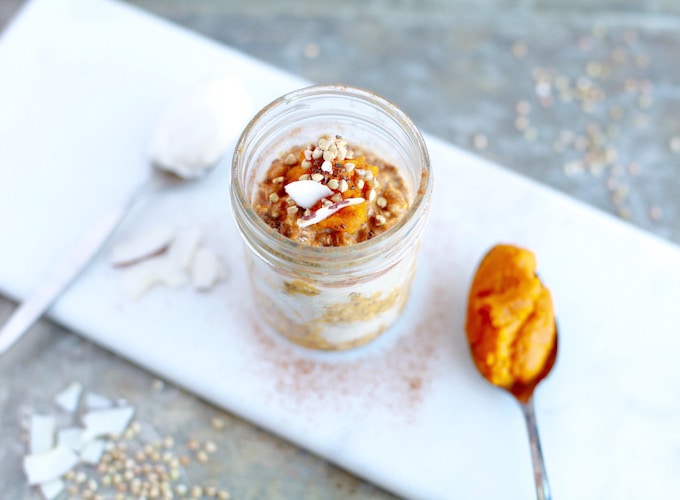 Because pumpkin season is in full swing and I have a big bag of buckwheat groats in my pantry, I figured it was time to make some overnight oats magic happen!
Many of my nutrition clients aren't morning people, and I don't blame them, there aren't many of us early risers out there (I actually can't believe I'm one now, I used to drag my butt out of bed at the very last minute when I was younger!), so the problem is that many of them also (before working with me of course) skip breakfast – a very, very, very important meal of the day!
To get my clients back on the breakfast train, I love to give them overnight oat recipes because all they need is 5 minutes the night before to make a nourishing, filling, delicious breakfast that is ready-to-go in the morning, no extra time or work required! So sleep in my pretties, sleep in as much as your hearts desire!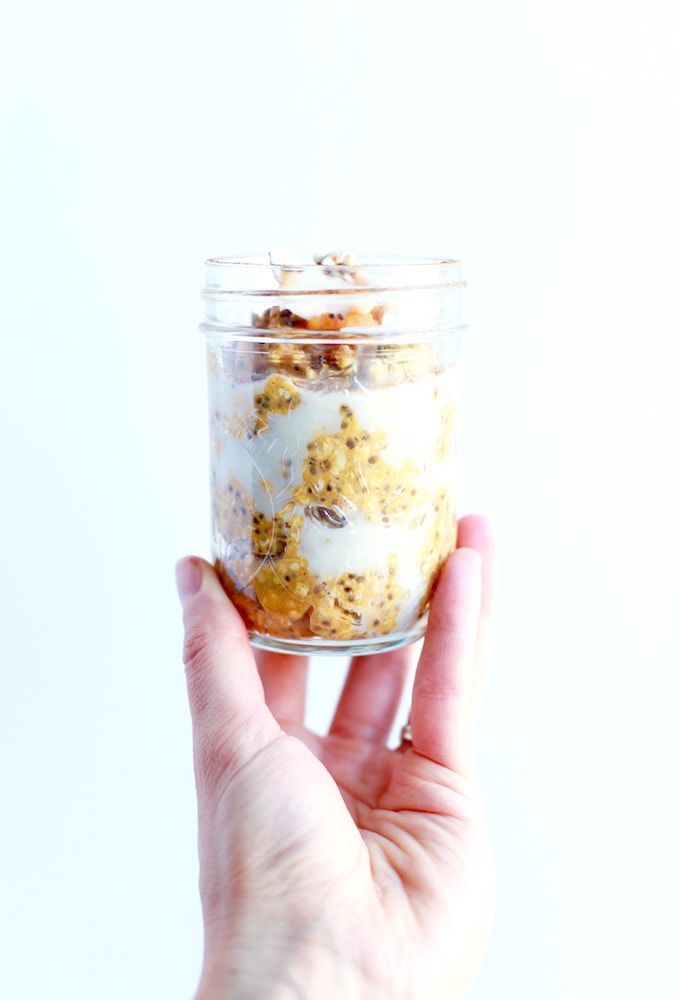 Back to the groats… as I conjured up an irresistible combination of ingredients to really make that pumpkin pie flavour shine through in this breakfast recipe, I decided the addition of buckwheat groats would be the kicker. And oh, oh yes, was I right.
The groats soften overnight, but not a whole lot, and so in each rich, creamy and flavourful bite of the overnight oats are little bits of crunchy + chewy surprise! That might sound off but it's the best description I can give it, and trust me, it's awesome.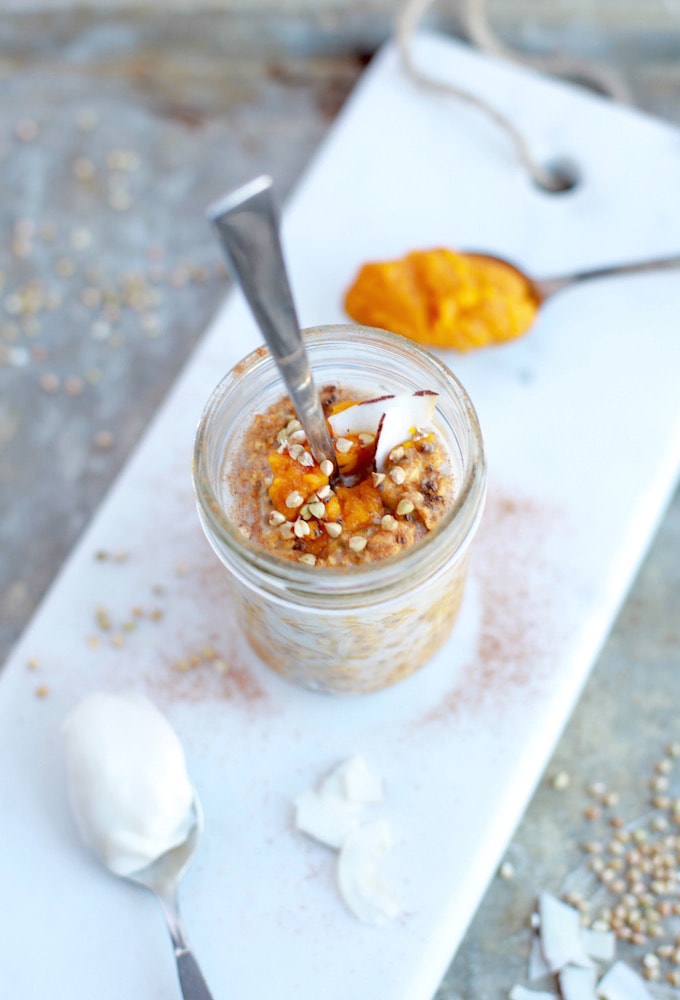 Not to mention the groats add a nice hit of insoluble fibre, flavonoids, magnesium, and manganese!
The coconut yogurt also made this batch of overnight oats super rich and creamy, and for all of you out there who don't like coconut (I hear you lovely reader who participated in my online reader survey ;)) you can definitely use plain Greek yogurt, almond yogurt, or cashew yogurt instead!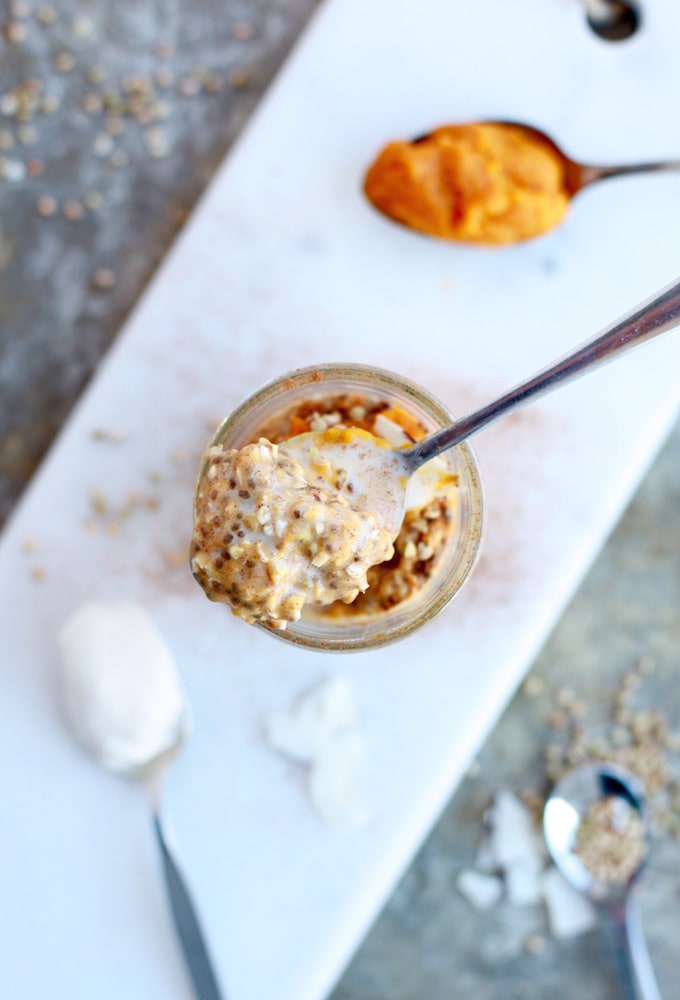 In closing,
To Those Who Skip Breakfast: your metabolism thanks you for trying this delicious recipe in advance. Go, and skip breakfast no more! 🙂

For Those Who Skip Breakfast // Pumpkin Pie Overnight Buckwheat + Oats
Ingredients
¼ cup gluten free rolled oats or quick oats
2 tablespoons buckwheat groats
1 tablespoon chia seeds
1-2 tablespoons pure pumpkin puree (depending on how pumpkin-y you want it!)
¼ cup plain coconut yogurt (or Greek yogurt if you eat dairy)
1 tsp honey or pure maple syrup or 8 drops of liquid stevia
1 tsp pumpkin pie spice
¼ cup unsweetened almond milk
Instructions
Add all ingredients to a jar or bowl and stir until well combined.
Refrigerate for minimum 3 hours or leave overnight in the fridge.
In the morning add in a splash of almond milk if you prefer, and eat!
Notes
Store in the refrigerator for up to 3 days.
Nutritional Information
Calories:
273 kcal
Fat:
8g
Carbohydrates:
44g
Sugar:
5g
Fiber:
12g
Protein:
8g
Have a lovely rest of the weekend and Happy Thanksgiving to all my fellow Canadians!
Christal
Nutritionist in the Kitch