This delicious recipe for chocolate overnight oats is super simple, easy to make, and full of rich chocolate flavor. It's gluten free, dairy free (no yogurt!), vegan, and can be enjoyed for breakfast…or dessert, you decide!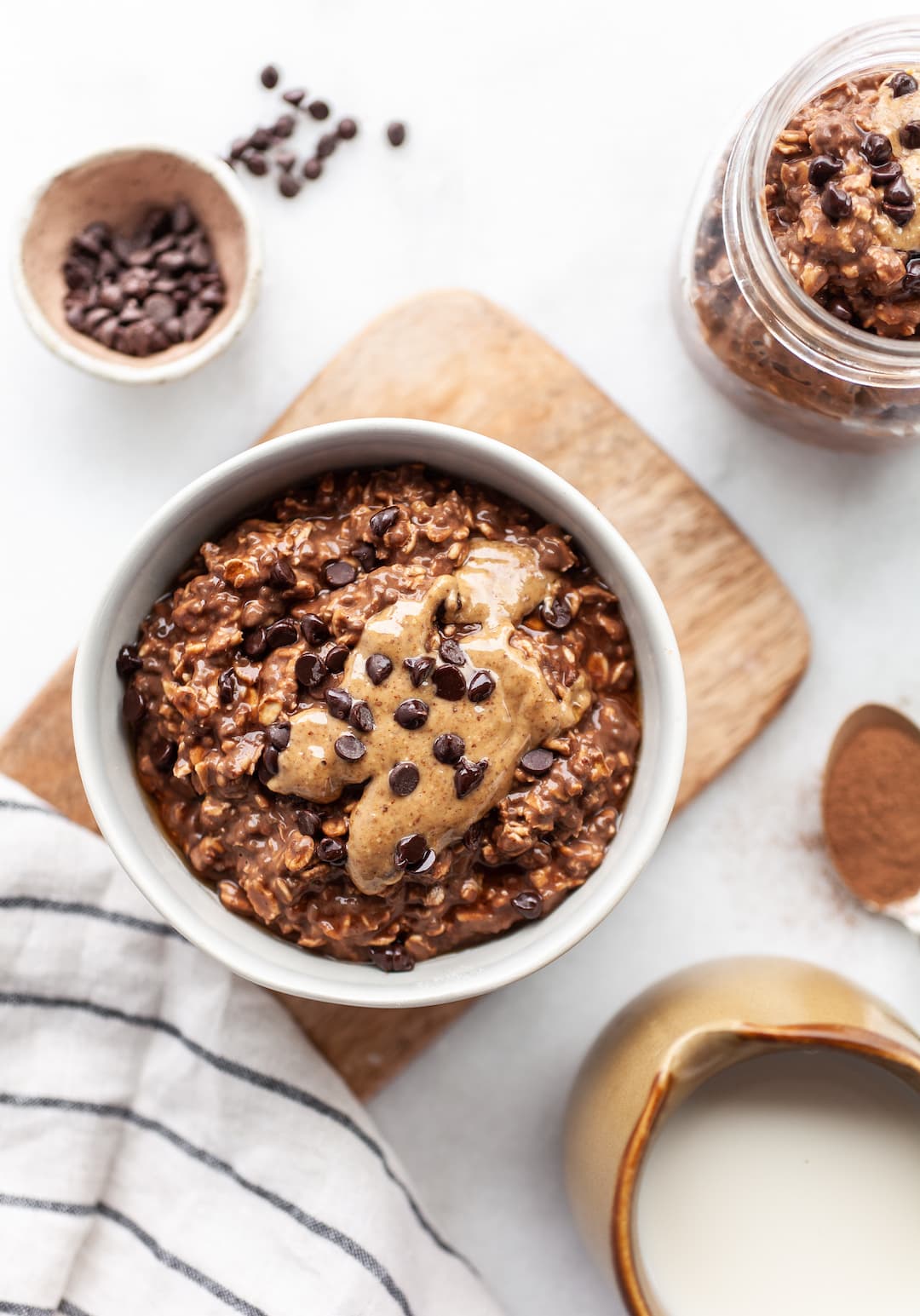 Let's Make Chocolate Overnight Oats!
One of the most popular recipes on the blog right now is an overnight oats recipe… healthy vegan cookie dough overnight oats to be exact. It's clear people love this easy and delicious breakfast idea (or snack/dessert!), so today, I've decided to add to the list my new healthy chocolate overnight oats recipe.
This rich and creamy version of overnight oats is filled with chocolatey goodness but is completely dairy free. No yogurt or cow's milk involved. The creaminess comes from the perfect mix of unsweetened almond milk and cocoa powder, along with smooth almond butter.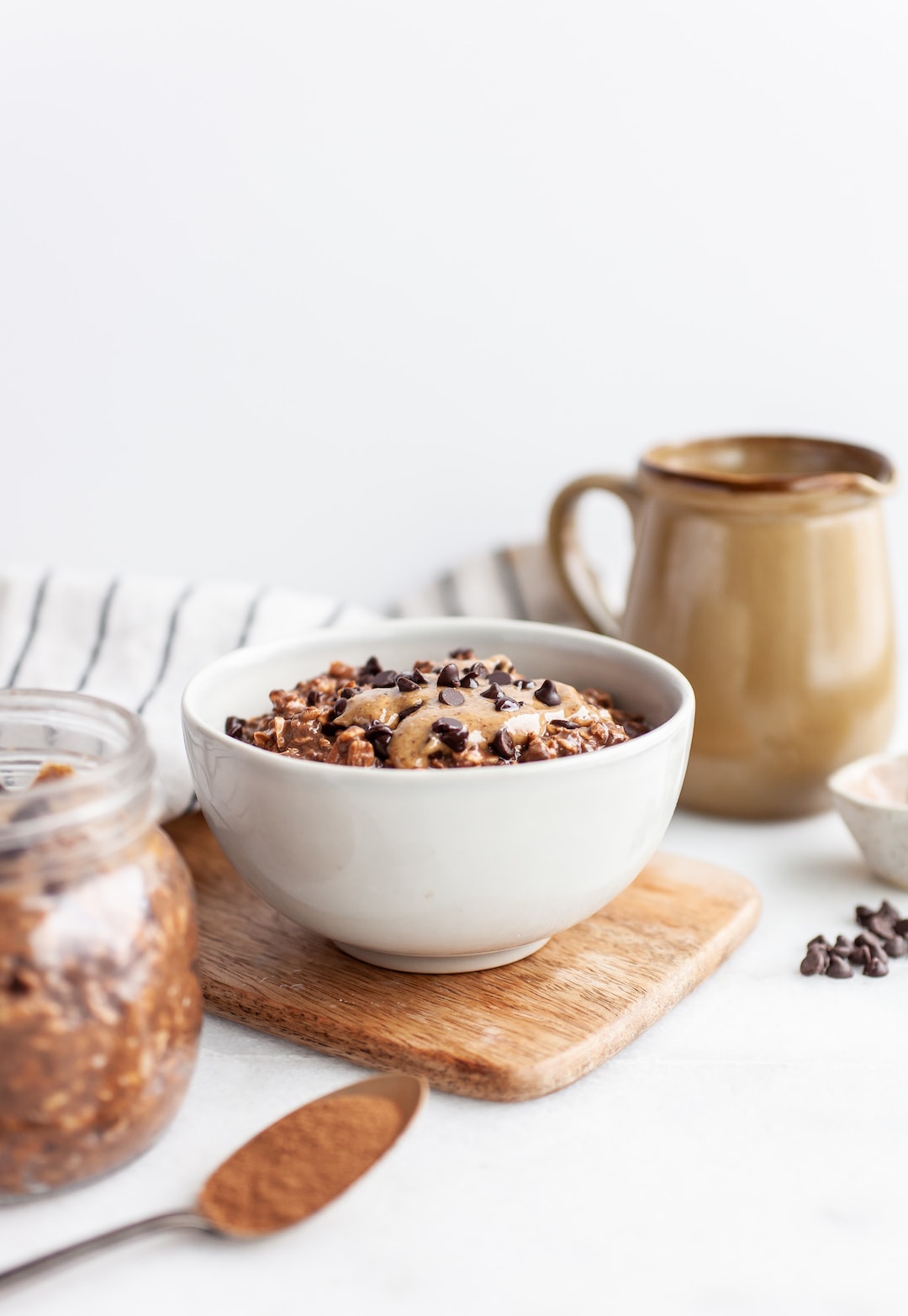 What Are Overnight Oats?
Traditional oatmeal is a cooked dish that you boil or microwave. Rolled oats are combined with liquid (water, milk, or non-dairy milk) and cooked until warm and soft.
"Overnight Oats" takes the cooking out and instead the oats soak overnight (or for at least 4-5 hours) in the liquid and by morning you have a soft, cooked oat consistency that is ready to eat!
You can enjoy overnight oats cold right from the fridge or warm them up quickly in the morning, it's totally up to you and your preference.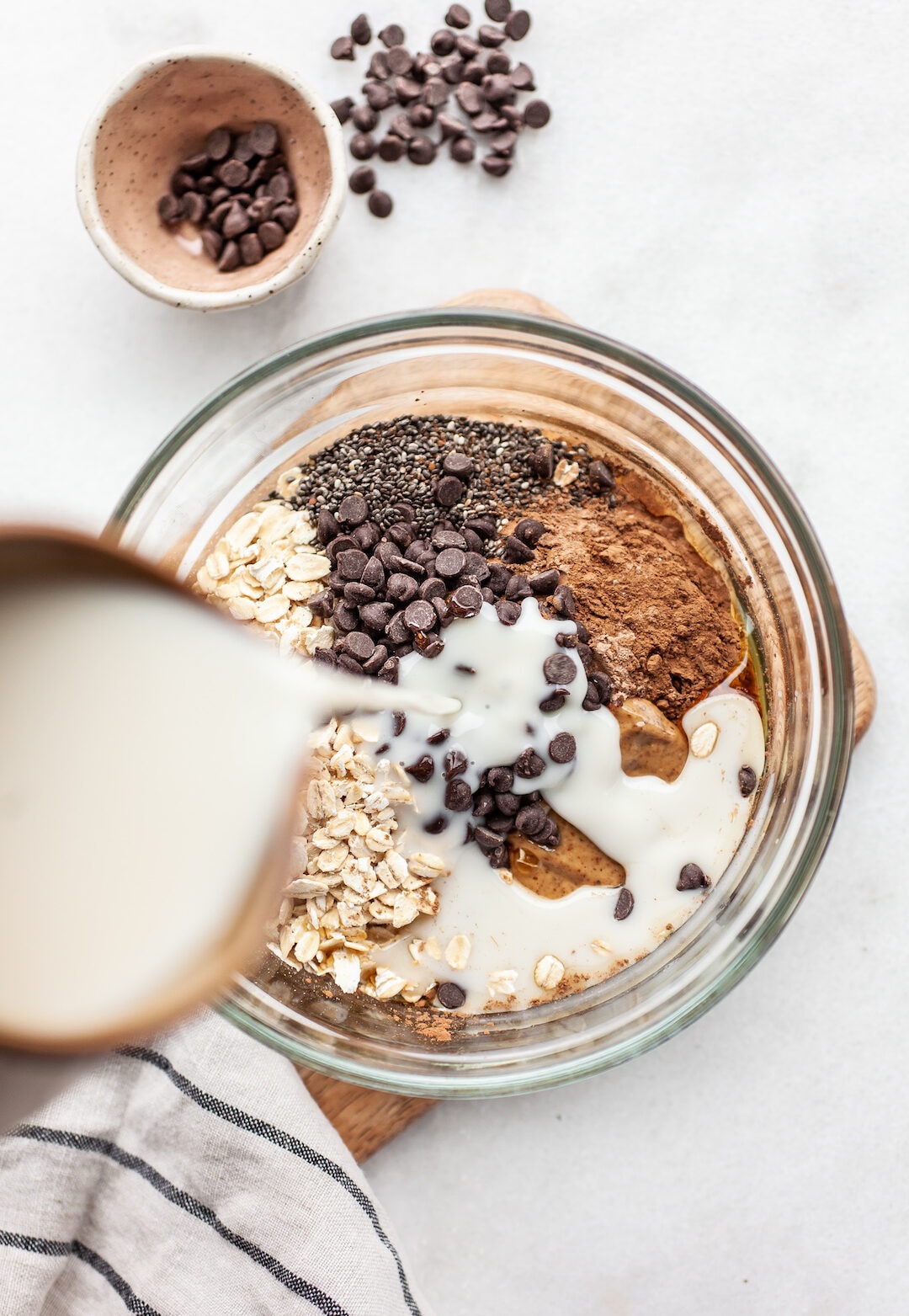 If you make overnight oats in a jar or Tupperware container, this easy breakfast can be taken on-the-go which is great for those who are rushed in the mornings or those who aren't into cooking a big breakfast.
I know from my nutritional consulting experience that a lot of people fall into this category!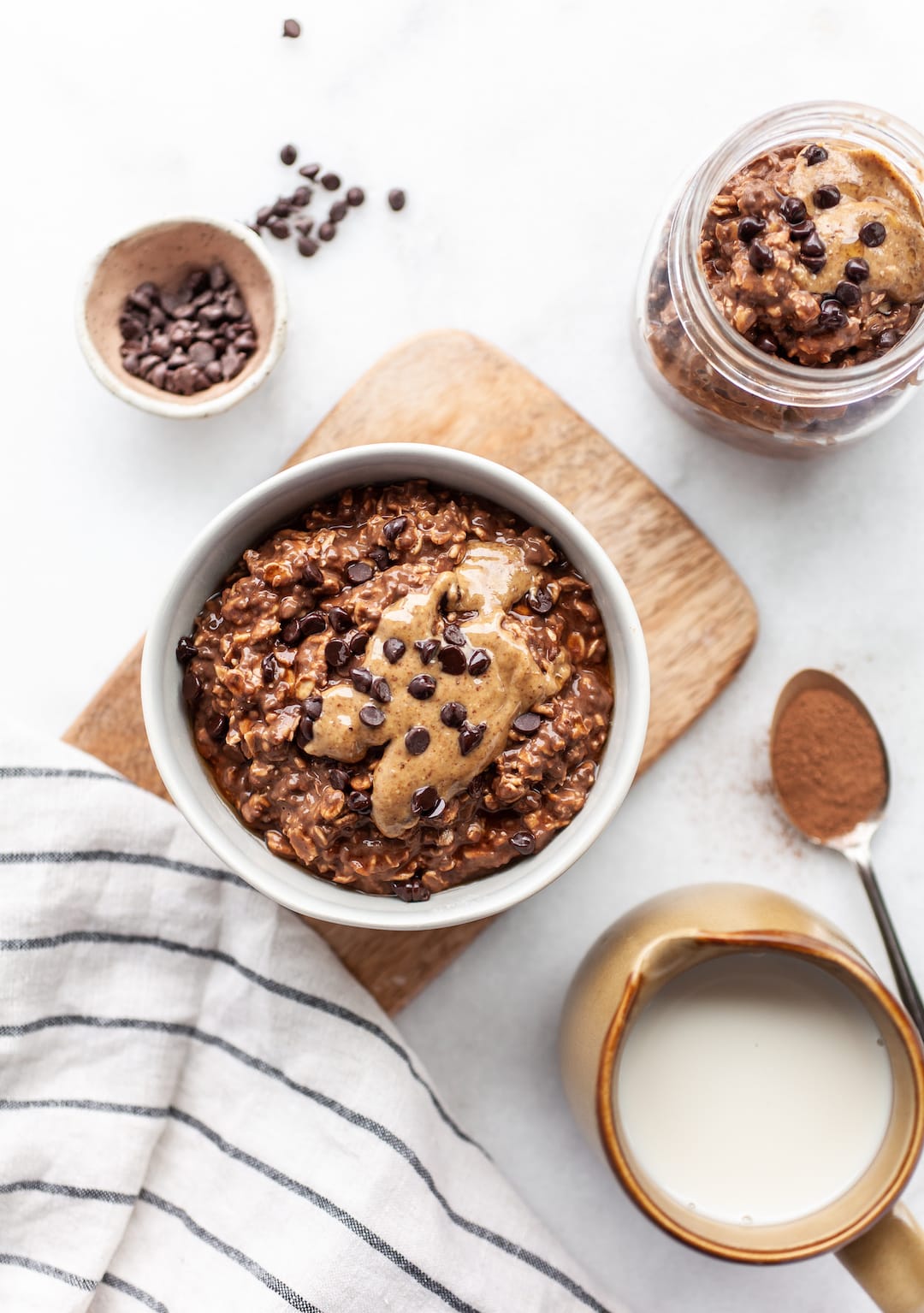 Are overnight oats actually healthy?
Obviously every recipe is different, but those made with natural sweeteners, rolled oats, and other whole-food ingredients, in my professional opinion would be healthy…yes!
When made with whole foods including whole grain rolled oats, chia or flaxseeds, nut butters, and fruit or maple syrup (common ingredients found in overnight oats), this popular dish provides an ample amount of energizing complex carbohydrates, fibre, healthy fats, protein, vitamins, and minerals.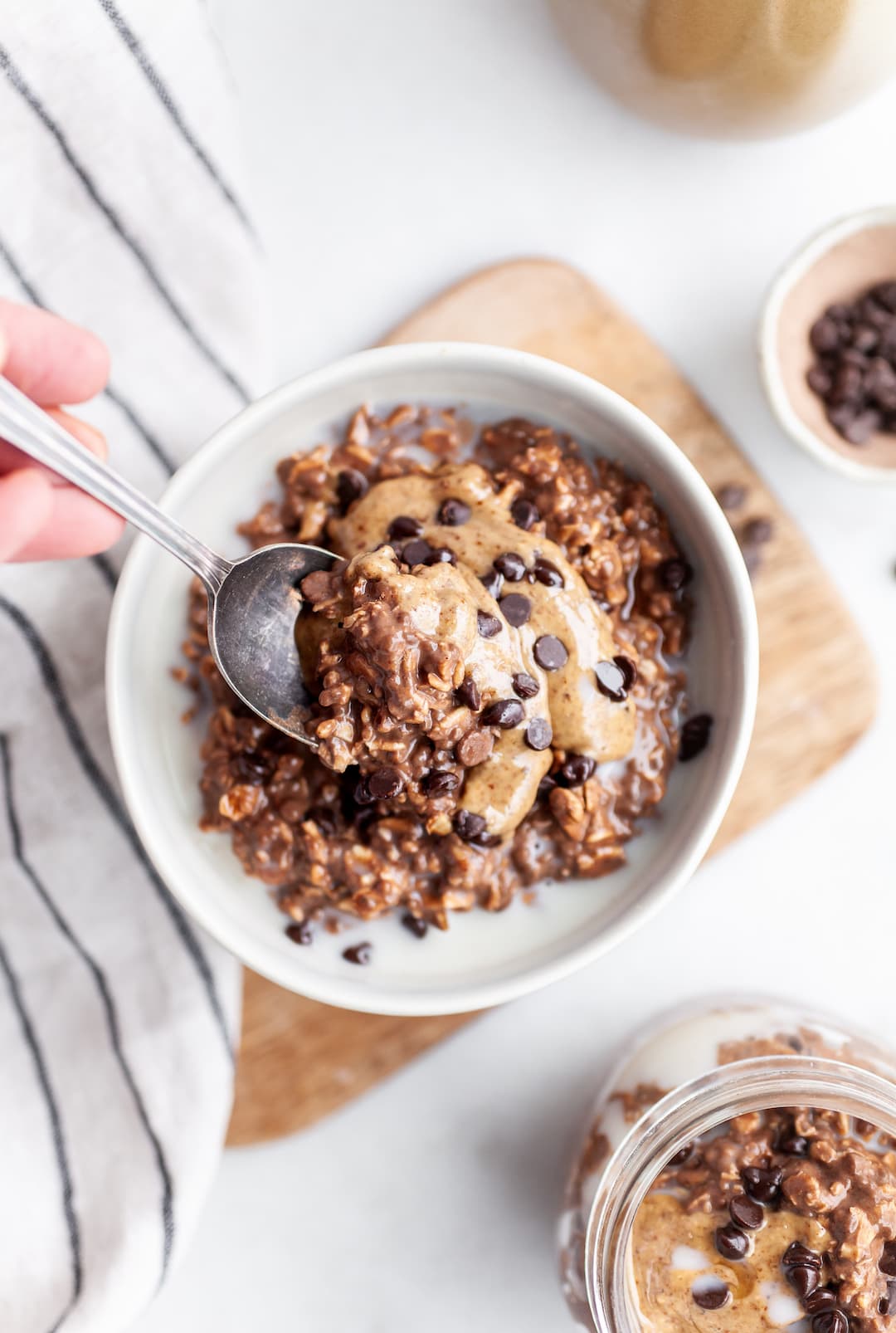 While, it is possible that some overnight oats recipes contain a high amount of calories per serving, it's simply important to be mindful of what your body needs. Everyone is unique, so one persons "big breakfast" might be another persons "light snack".
Something else to be mindful of is ensuring you include a good amount of protein to balance out the carbohydrates in your overnight oats. Many people use Greek yogurt as a protein source, but if you need a dairy free or vegan option, you can go with a plant-based protein powder that is free of artificial ingredients or additives.
Ingredients for Chocolate Overnight Oats:
Making a batch of chocolate overnight oats is very simple. You'll need the ingredients below and then you can include other additions such as berries or other toppings if you choose.
Here's what you'll need:
*contains affiliate links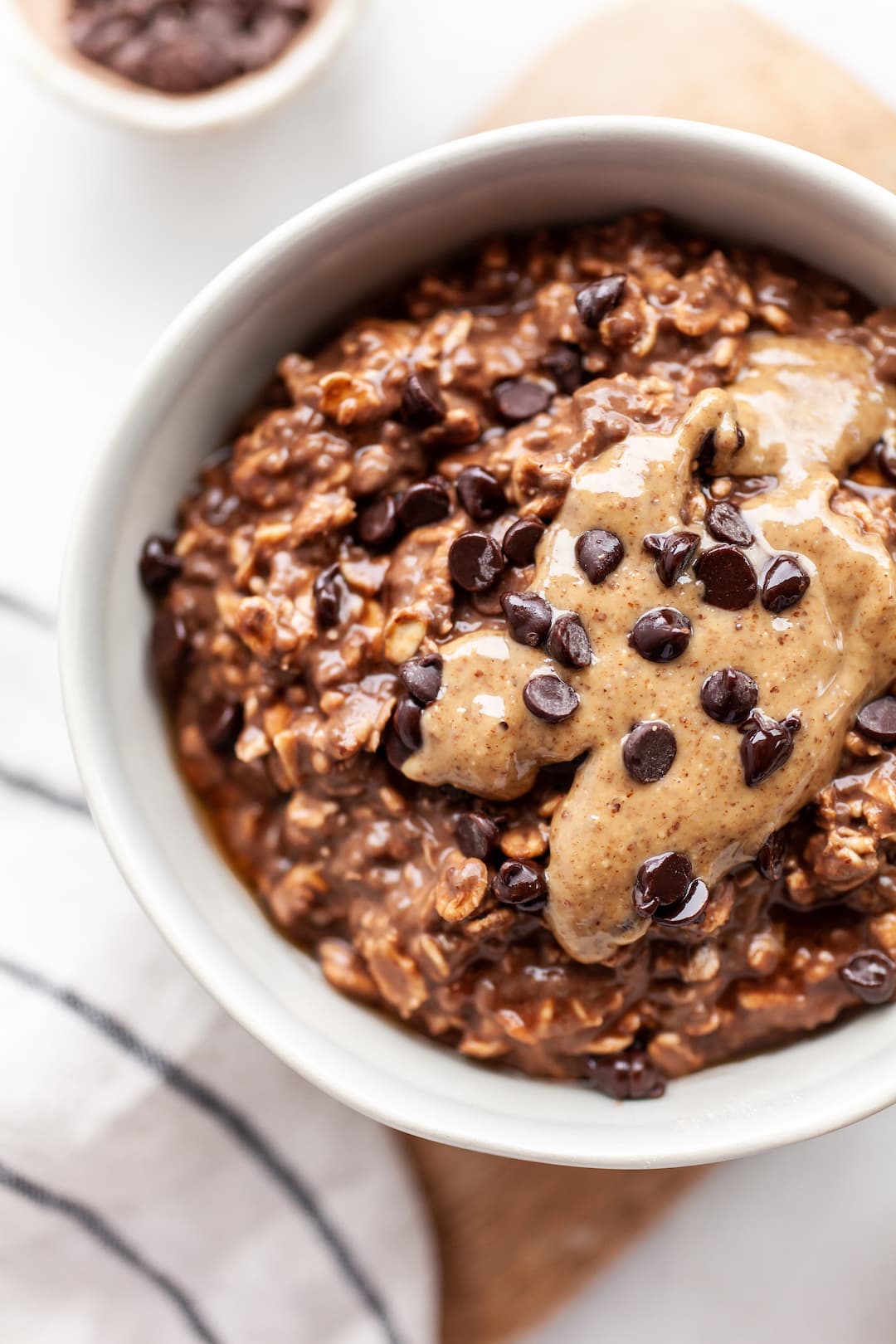 Notes on Protein Powder for Chocolate Overnight Oats
When it comes to choosing a protein powder for this overnight oats recipe, you have the option of choosing your favourite brand if you already have one you love, or one of my recommended brands. I find some protein powders have a strong, overpowering flavour, and some have a gritty texture (especially when it comes to plant-based protein powders) so, here are my recommendations and tips!
If there is a brand you are familiar with and love, go with that one! You're already used to the taste and texture so it won't come as a surprise to you in your overnight oats.

Looking for recommendations? Try Orgain Creamy Chocolate Fudge * as the taste is subtle and the texture is good.
If you do not like the flavour of protein powder and do not need vegan, I highly recommend an unflavoured collagen protein powder (Organika* and Vital Proteins *are great options!).
*contains affiliate links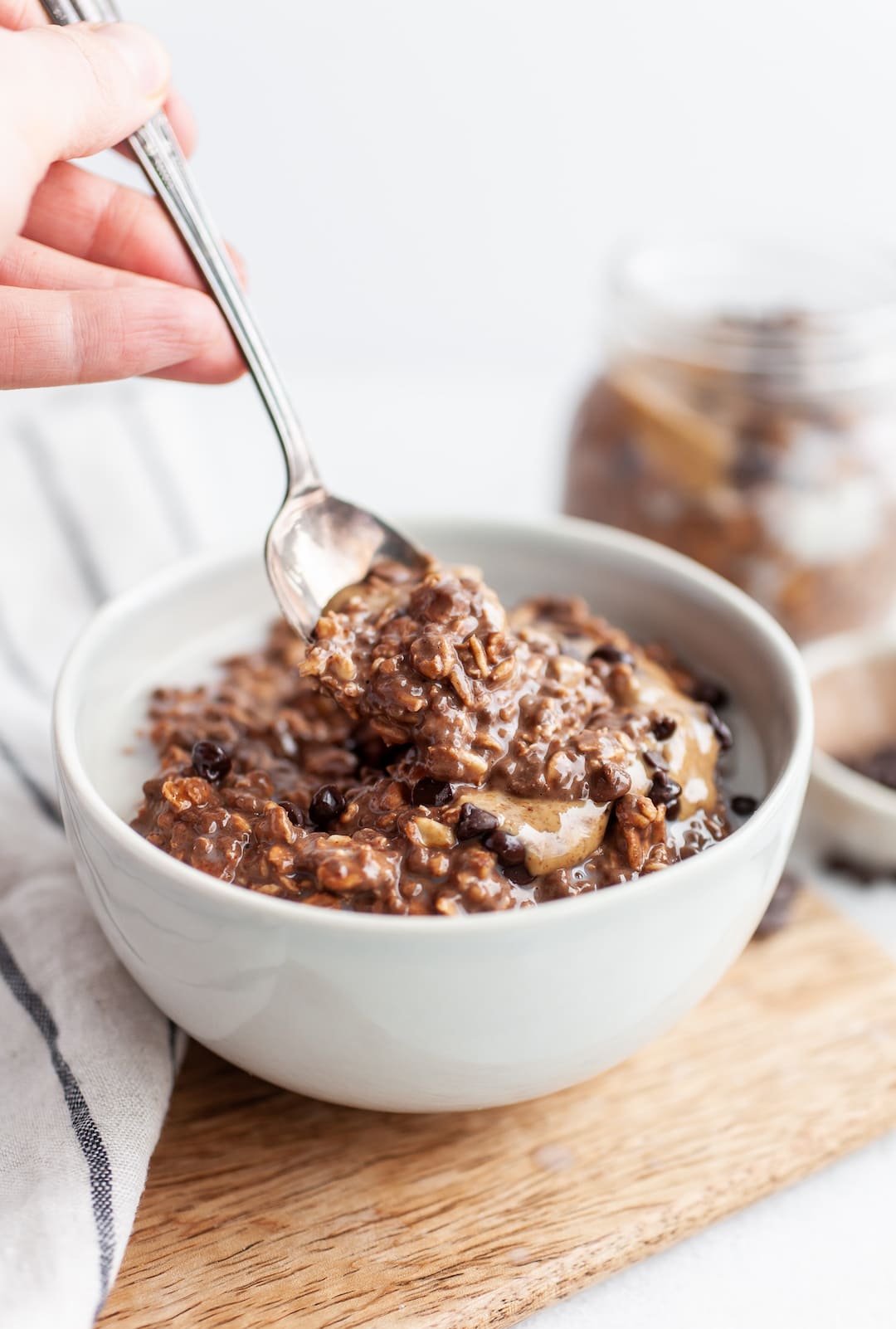 This healthy overnight oats recipe is easy, delicious, and definitely worth a try…especially if you are a chocolate lover like I am!
What is your favourite flavour of overnight oats? Tell me about it in the comments section and be sure to pin the photo below the recipe to save this one for later!
Pin me!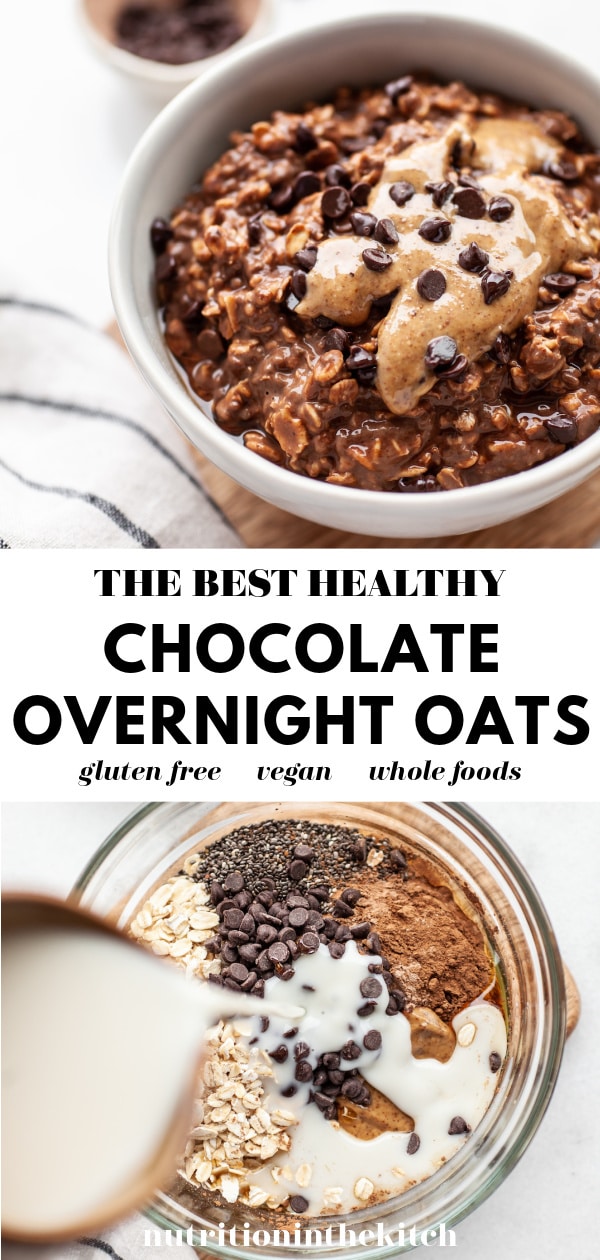 More Overnight Oat Recipes You'll Love:
Have a wonderful day!
Christal // NITK