This delicious and easy recipe for air fryer breakfast potatoes gives you restaurant-style potatoes right at home! They are healthy, flavourful, and crispy, perfect for including in a delicious breakfast.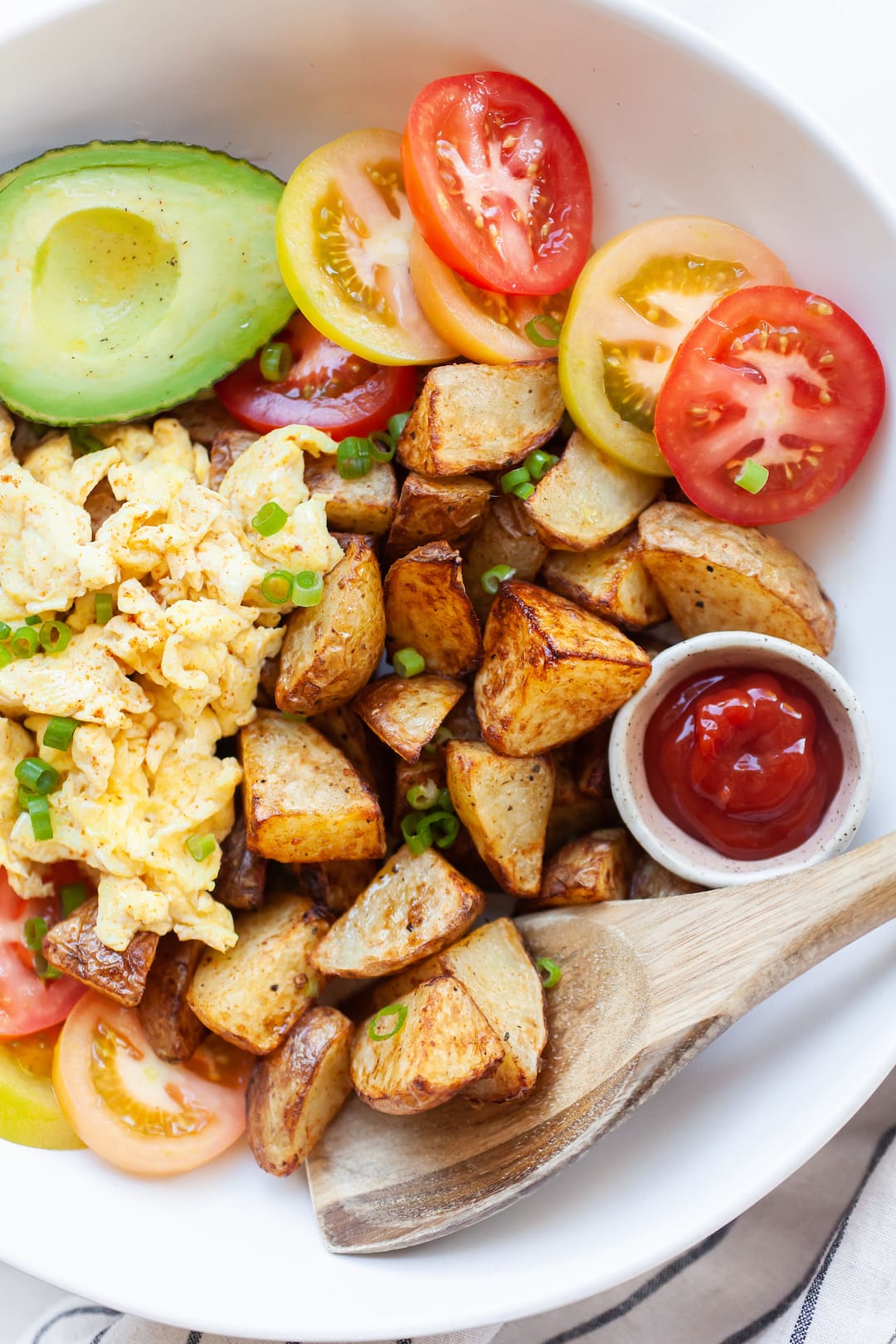 If you are looking for more Air Fryer Recipes don't miss my air fryer burger, nachos, tilapia, tofu, tortilla chips, carrots, and fish tacos!
How To Prepare Breakfast Potatoes in an Air Fryer
I've always been a fan of traditional breakfast plates. With perfectly cooked eggs, bacon (although I like turkey bacon best!), sliced tomatoes, and the perfect, crispy and hearty breakfast potatoes.
This classic combination is super filling and for some reason reminds me of being on holidays as it's usually a breakfast I often get if I'm at a hotel.
Making breakfast potatoes perfectly crispy without deep frying can be a challenge, but with an air fryer you can achieve that perfect taste and texture in a much healthier way!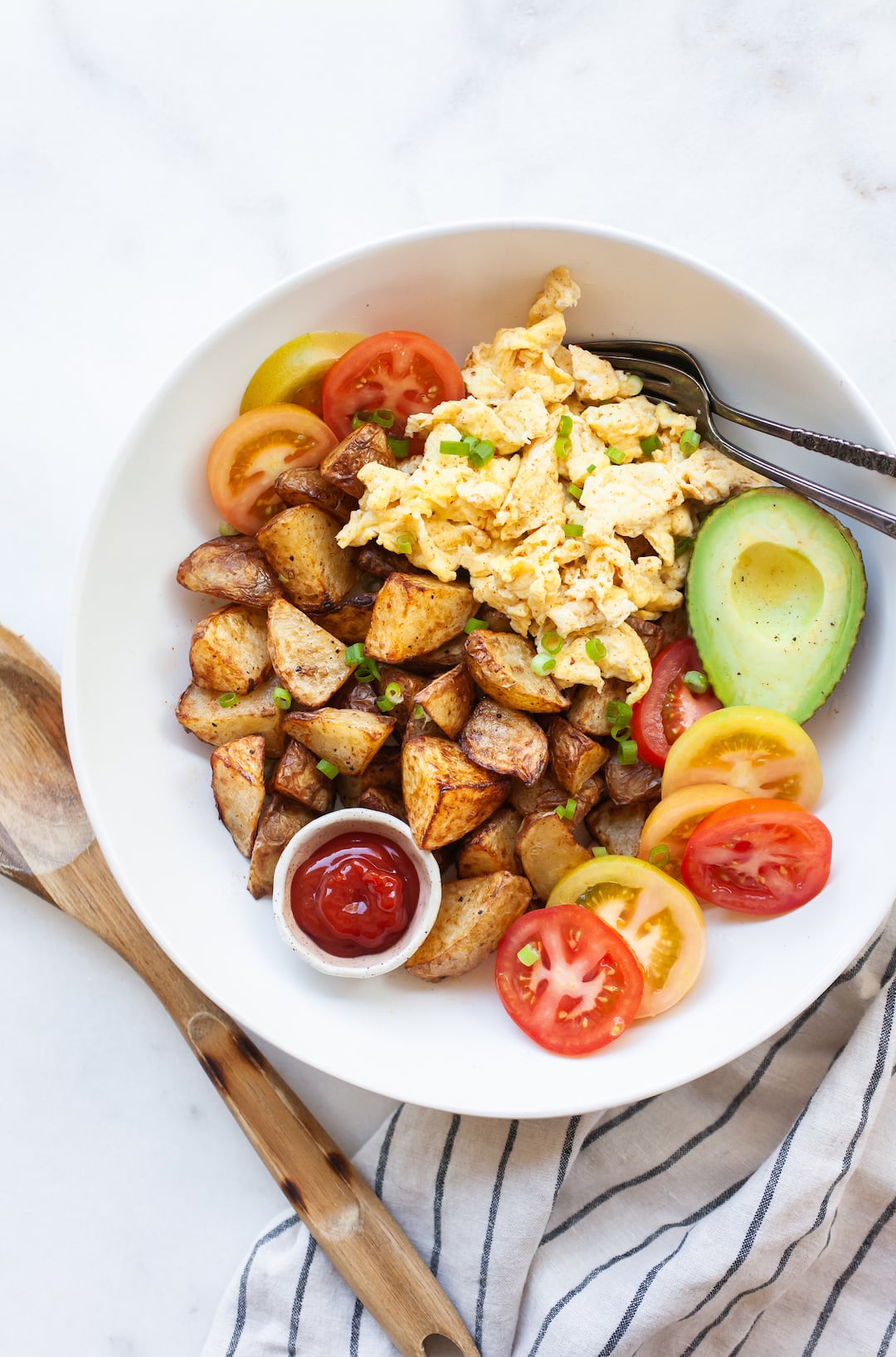 If you don't own an Air Fryer yet (*affiliate link), I definitely recommend adding one to your must-have list. This small kitchen appliance is incredibly easy to use and gives so many different foods that delicious crispy, crunchy fried edge that a deep fryer does… without the deep frying.

Should you wash potatoes before air frying?
When it comes to making air fryer potatoes I do recommend giving them a good scrub before cutting, seasoning, and placing in the air fryer.
Potatoes can sometimes have some dirt residue left on them, plus theres always the possibility of them having been touched by many people at the store as well. So, it's a good idea to give them a wash first.
Can you use PAM in an air fryer?
Yes!
While I prefer to use traditional olive oil in the air fryer, and to toss with the breakfast potatoes, you can also use olive oil PAM to give the air fryer basket a light spray and spritz the potatoes as well before tossing with the seasonings.

Ingredients for Air Fryer Breakfast Potatoes:
To make super flavourful breakfast potatoes that are crispy and have a savoury, satisfying flavour you will need a few ingredients listed below.
white, red, or russet potatoes (it's up to you!)
olive oil
salt and pepper
paprika

dehydrated onion flakes

(or onion powder)

green onion, chopped (for garnishing)
I enjoy my air fryer breakfast potatoes alongside scrambled eggs, sliced tomatoes, avocado, ketchup for dipping, and another good sprinkle of salt and pepper. But, you can have them any way you prefer with your breakfast.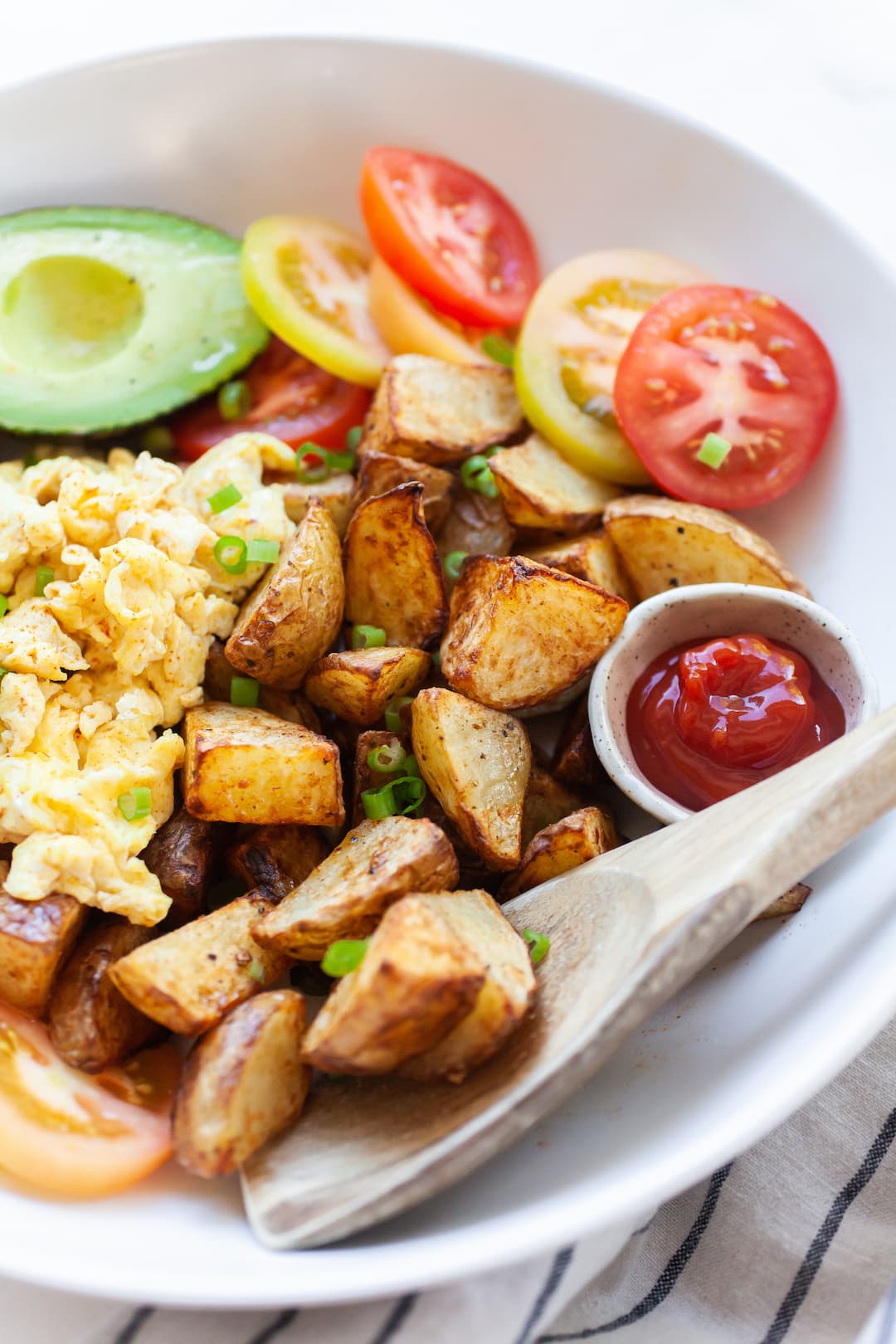 Tips for Making Air Fryer Breakfast Potatoes
When it comes to making these potatoes perfectly crispy and delicious, there are a few tips to follow for best results.
Do I need to soak the potatoes before air frying?
No! I usually recommend soaking potatoes before putting them in the air fryer, but for this recipe you do not need to soak the potatoes and you'll still get them nice and crispy. Soaking, simply removes some of the excess starch from the potatoes which can make them crispier, but while you can soak these if you want, it's still not necessary as long as you follow the tips below.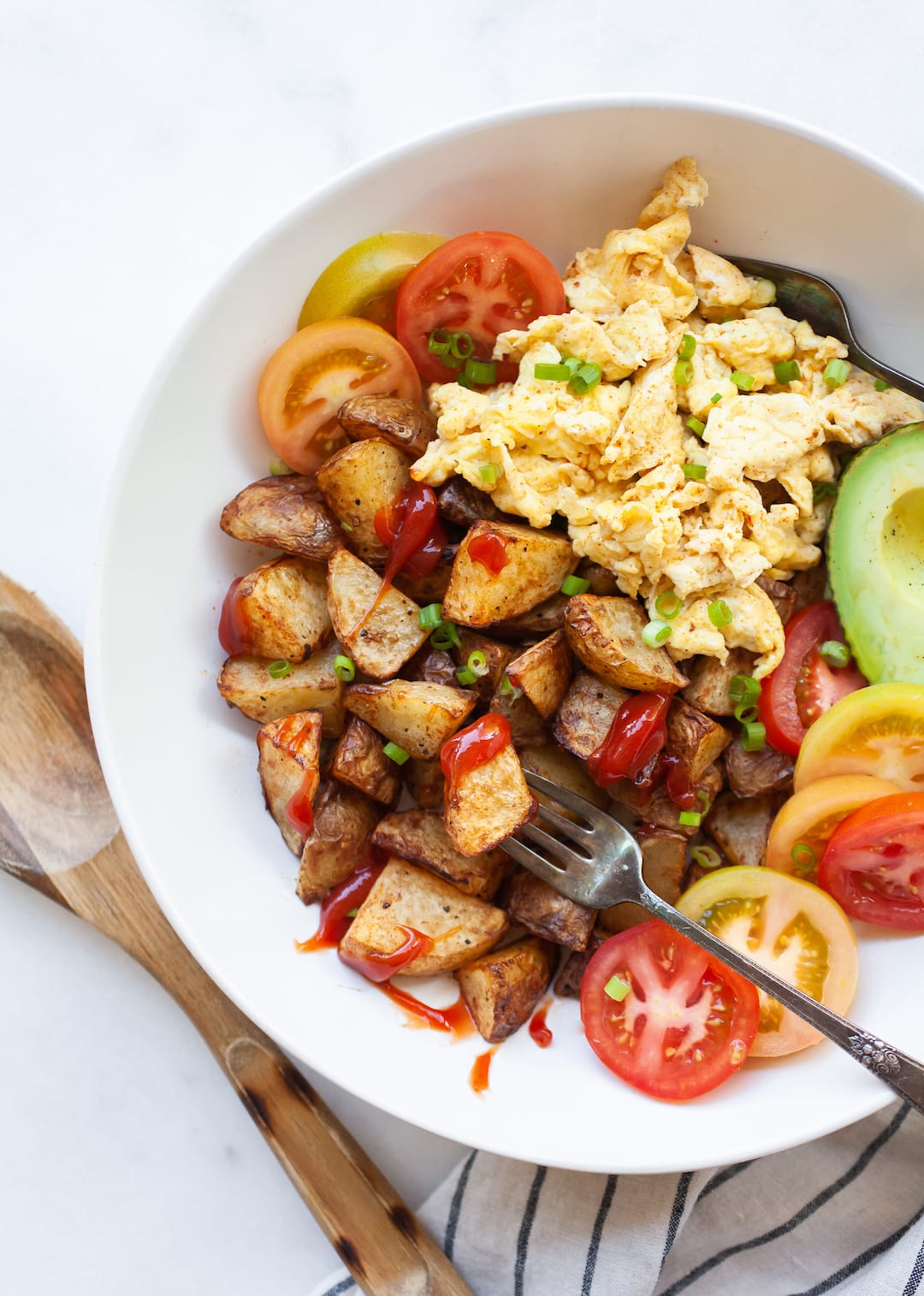 1. Be sure to brush the air fryer basket lightly with olive oil and toss the potatoes with olive oil. This prevents the breakfast potatoes from sticking to the bottom of the air fryer basket when cooking.
2. Do not overlap the breakfast potatoes in the air fryer basket. This will allow for more even cooking so that each and every potato gets nice and crispy.
3. Be sure to pre-heat the air fryer for 2 minutes. Adding the potatoes to a hot air fryer will help with the cooking process and ensure they get nice and crispy.
4. Enjoy the potatoes hot right out of the air fryer. The same as deep-fried potatoes, the longer you wait to enjoy them, the softer and less crispy they become. Enjoy these babies right out of the air fryer for the best texture!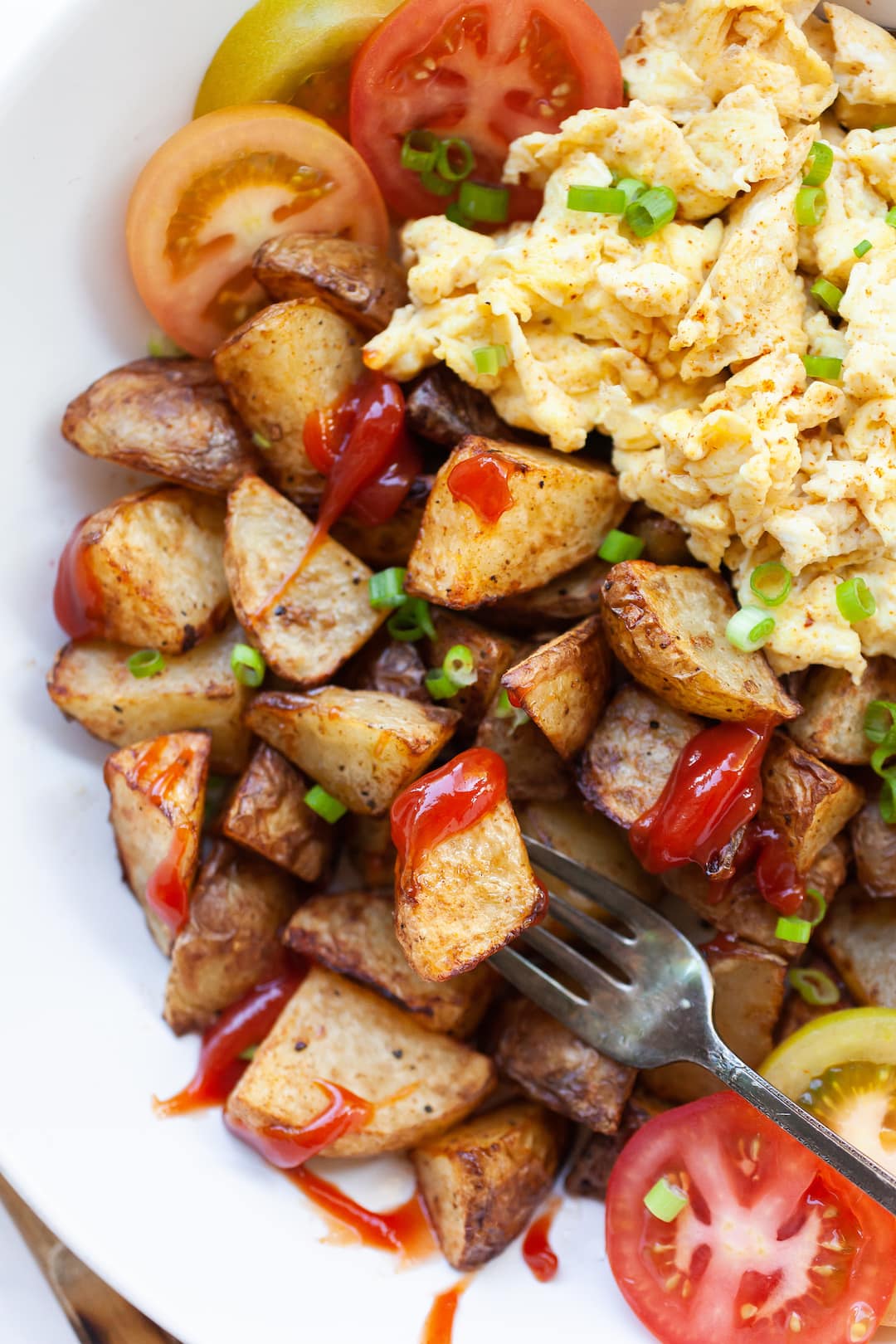 Why are my air fryer potatoes not crispy?
If you find your breakfast potatoes are not as crispy as you'd prefer it could be because of the following:
you are putting too many potatoes in your air fryer at once. If you have too many potatoes and they are overlapping, the air won't be able to circulate around each potato to create that perfect crispyness.
you did not dry your potatoes enough after washing. If your potatoes are still really wet and you then season, you might not get the same level of crispiness so be sure to pat your potatoes dry with paper towel before tossing with the olive oil and seasonings.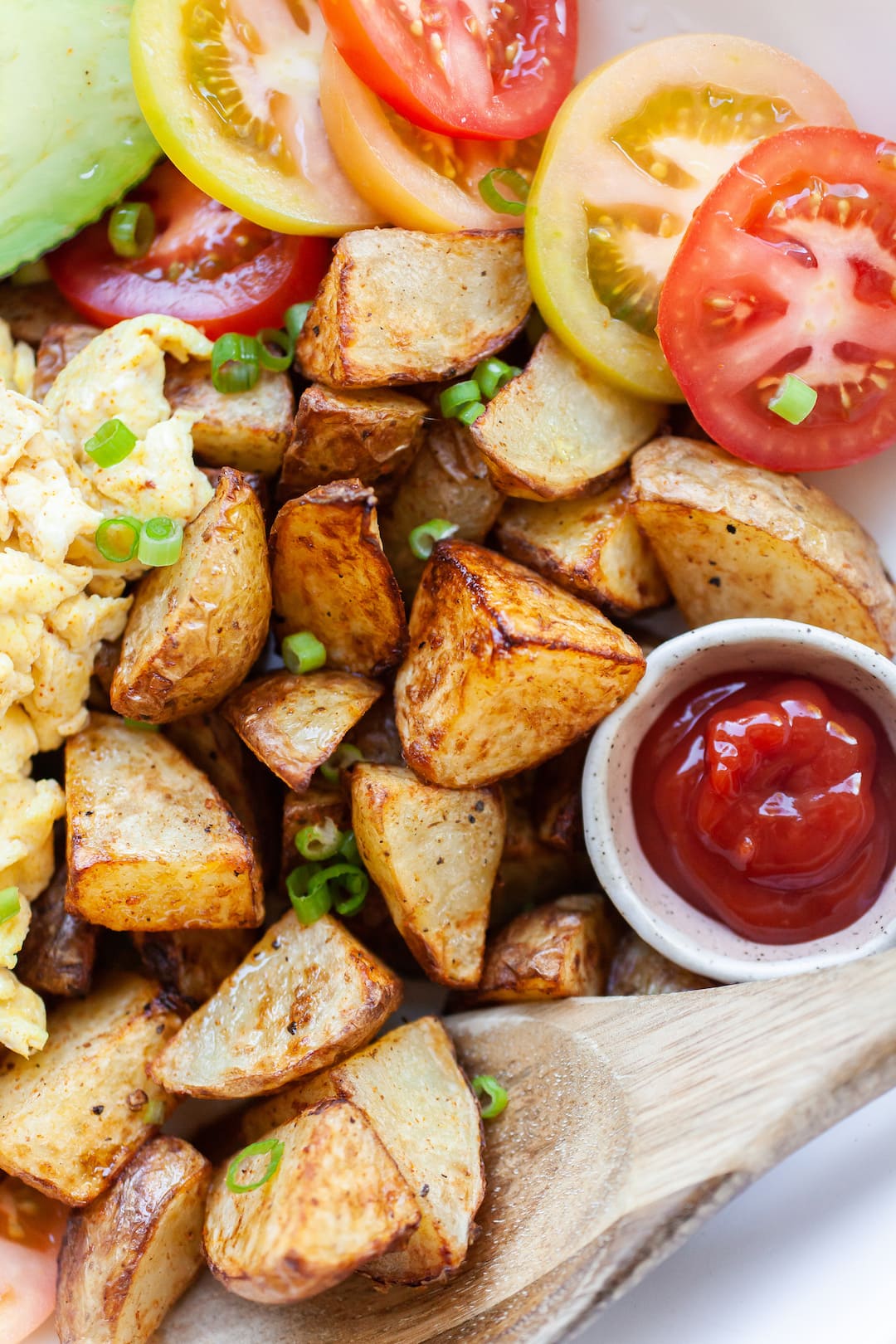 How To Make Them Step by Step:
1. Wash the potatoes then pat dry with paper towel.
2. Cut potatoes into halves, then 1/8 or 1/4 (depending on the size of your potatoes), you want to end up with 1.5" sized chunks.
3. In a bowl toss the potatoes with the oil, salt, pepper, paprika, and onion flakes.
4. Pre-heat the air fryer at 400 degrees for 2-minutes, once pre-heated, lightly brush the air fryer basket with olive oil (or cooking spray) and arrange potatoes evenly in the basket – make sure they are not overlapping.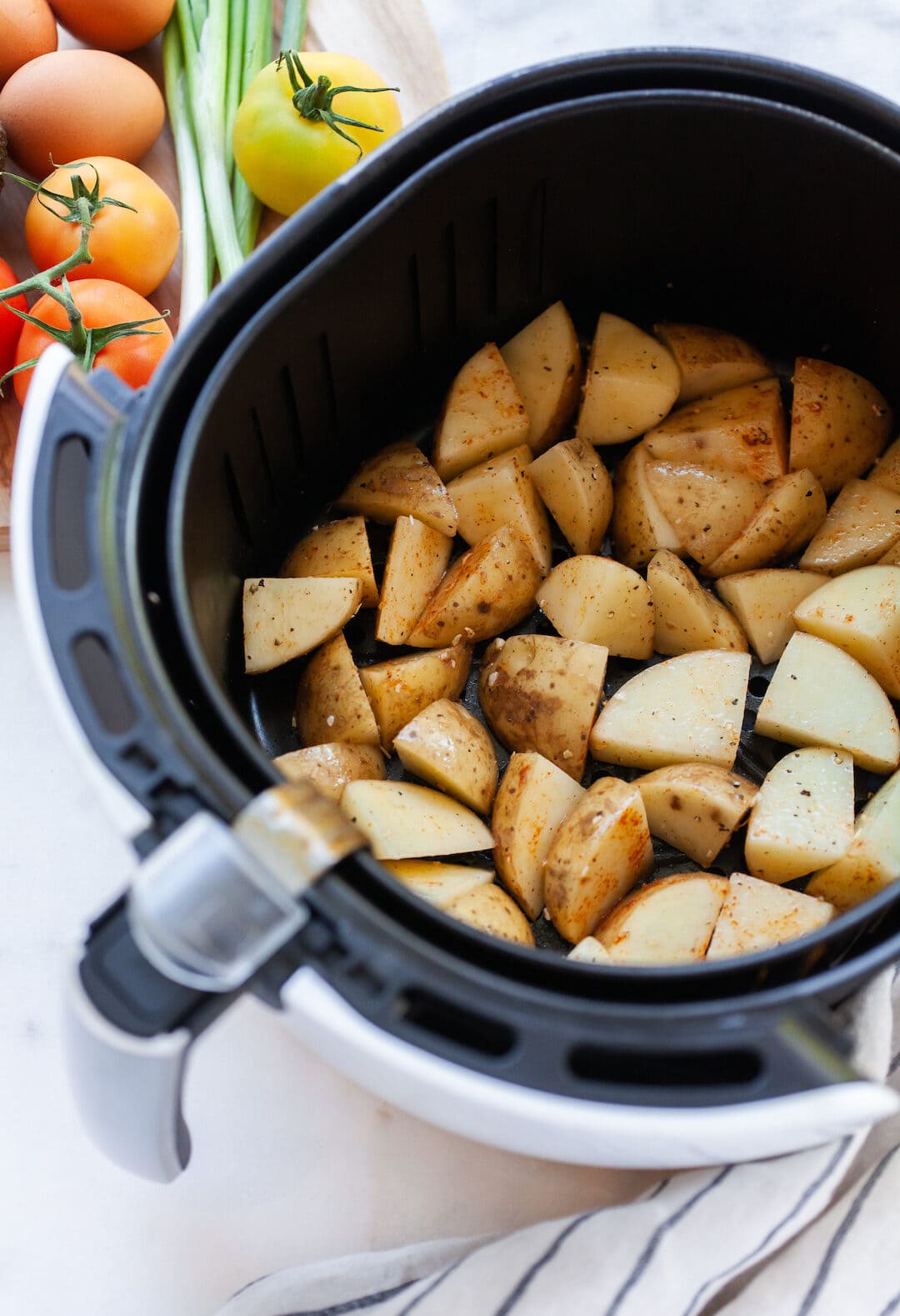 5. Cook at 400 degrees for 14 minutes, stopping at the 7 minute mark to remove the basket, shake to flip the potatoes, and arrange again so none are overlapping, then air fry for 7 more minutes.
6. Serve potatoes hot and crispy alongside your favourite breakfast fixings – eggs, bacon, sausage tomatoes, avocado, etc.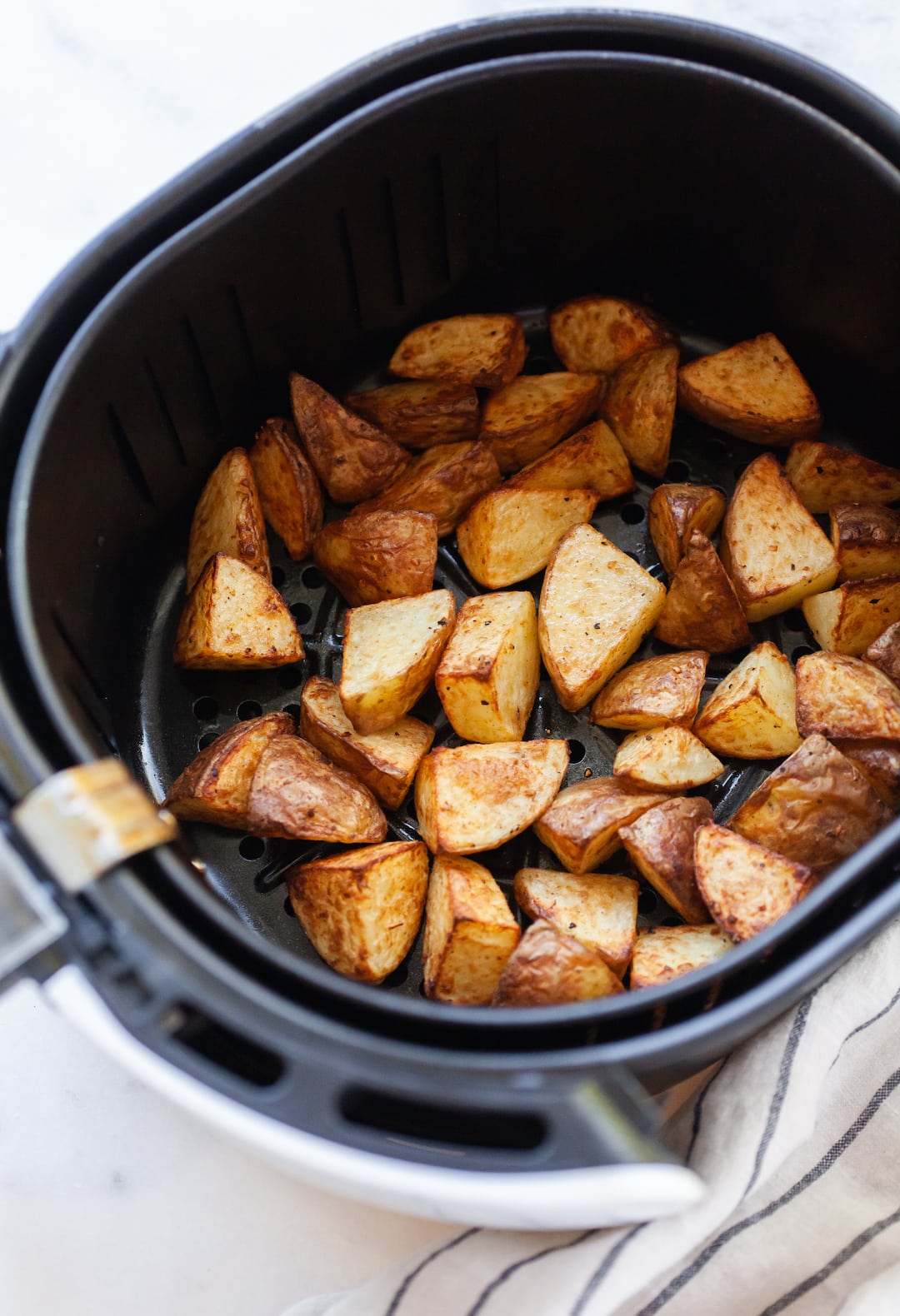 In my book, these air fryer breakfast potatoes are a win-win. They are fast, the kids love them (so do my hubby and I), and they are a healthier alternative to regular breakfast potatoes.
Have you made breakfast potatoes in an air fryer? Tell me about it in the comments below and be sure to pin the photo after the recipe to save this one for later.
If you make this recipe I'd love for you to give it a star rating in the recipe box below. Ratings are huge for a little ol' blogger like me!
Pin me!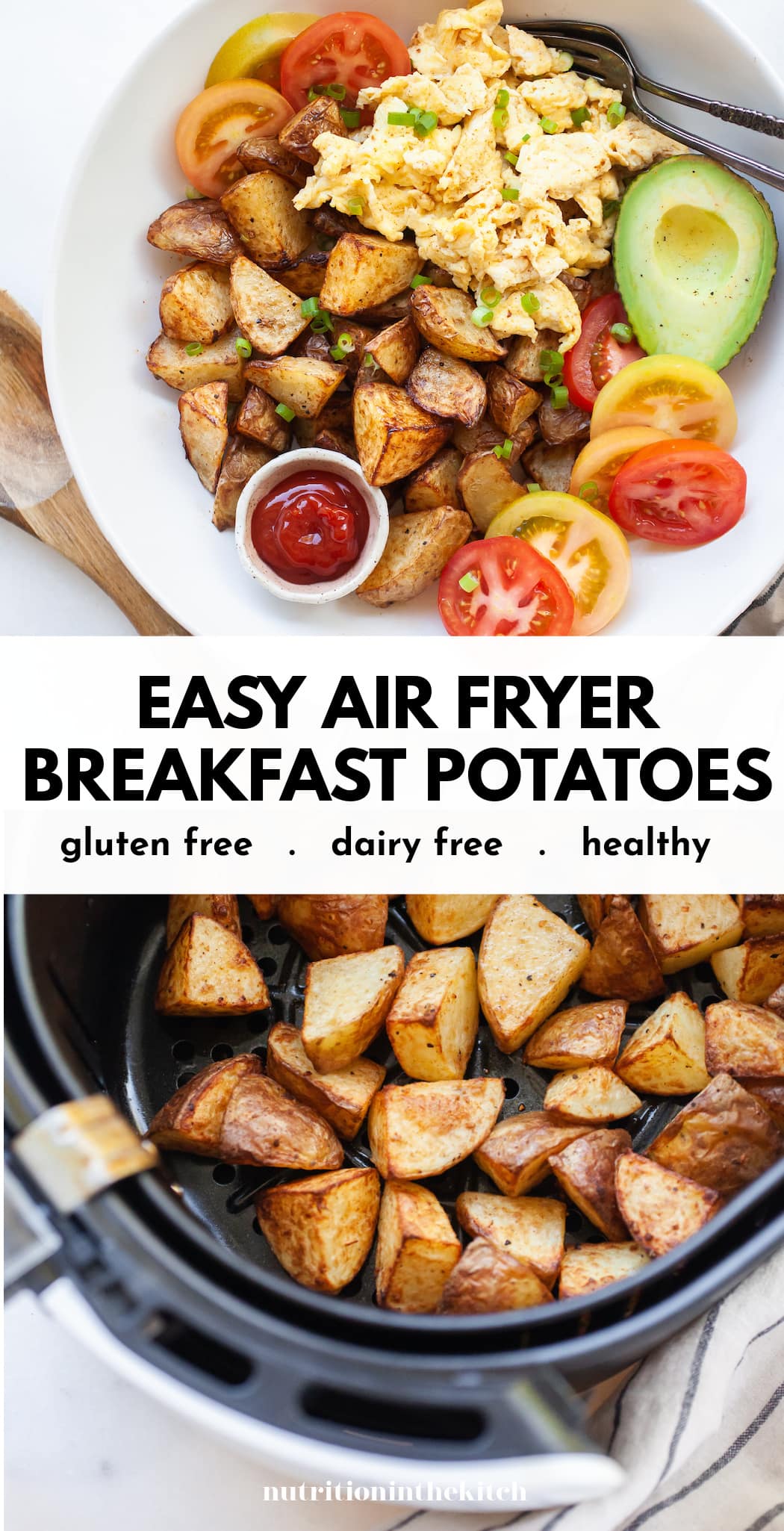 MORE OF MY FAVOURITE HEALTHY POTATO RECIPES:
Have a wonderful day!
Christal // NITK