This delicious and healthy berry smoothie bowl is so easy to make and it's dairy free, gluten free, and can easily be vegan. Made in just a few simple steps and in 5-minutes too!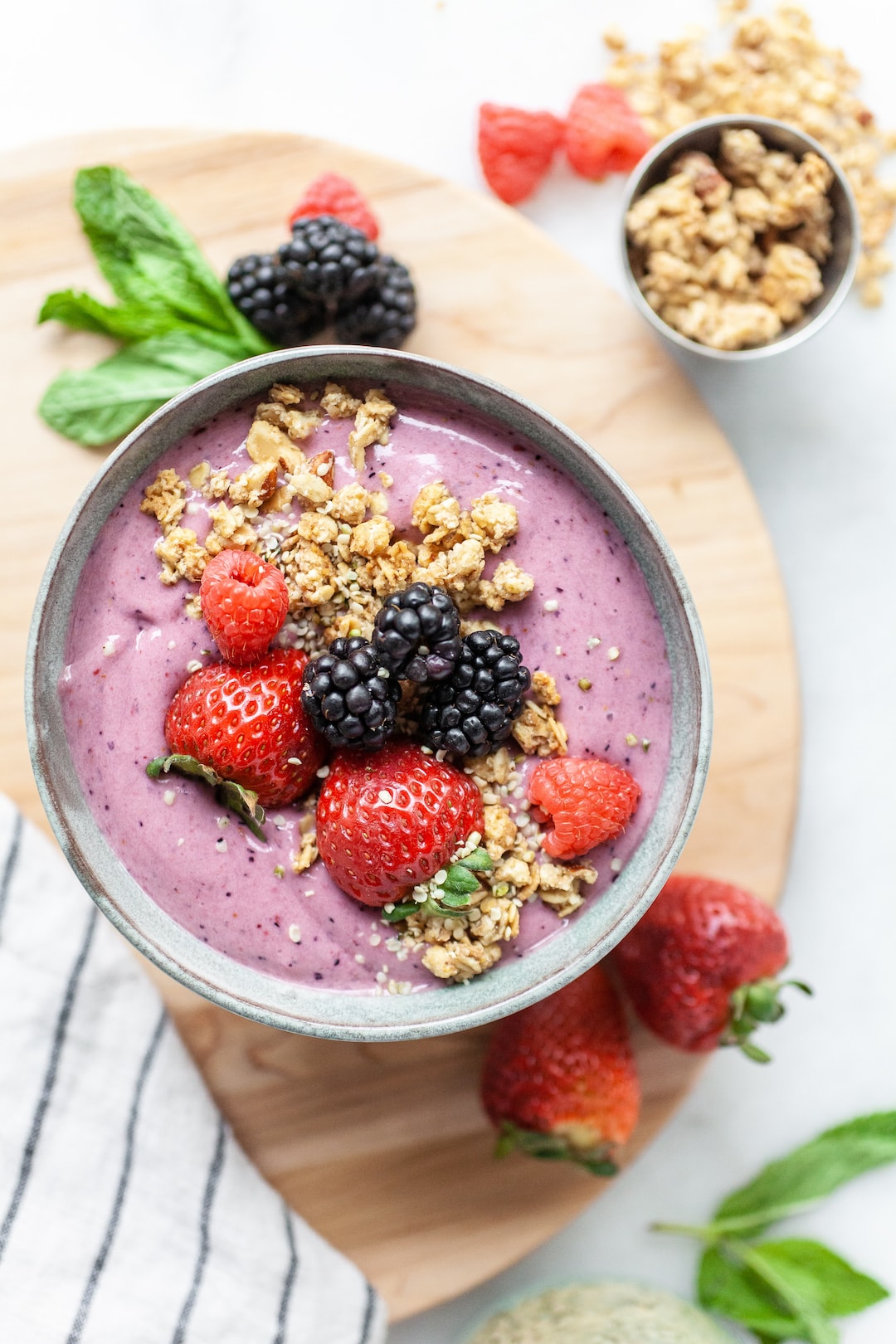 Let's Make A Berry Smoothie Bowl
When it comes to smoothie bowls the sky's the limit! There are so many varieties and options it's sometimes hard to know where to start if you are new to the smoothie bowl world. Well I'm going to simplify it for you with this perfect Berry Smoothie Bowl recipe.
This delicious recipe is packed with protein, antioxidants, vitamins, minerals, and healthy fats, making it a well rounded meal you can enjoy for breakfast, lunch, or dinner.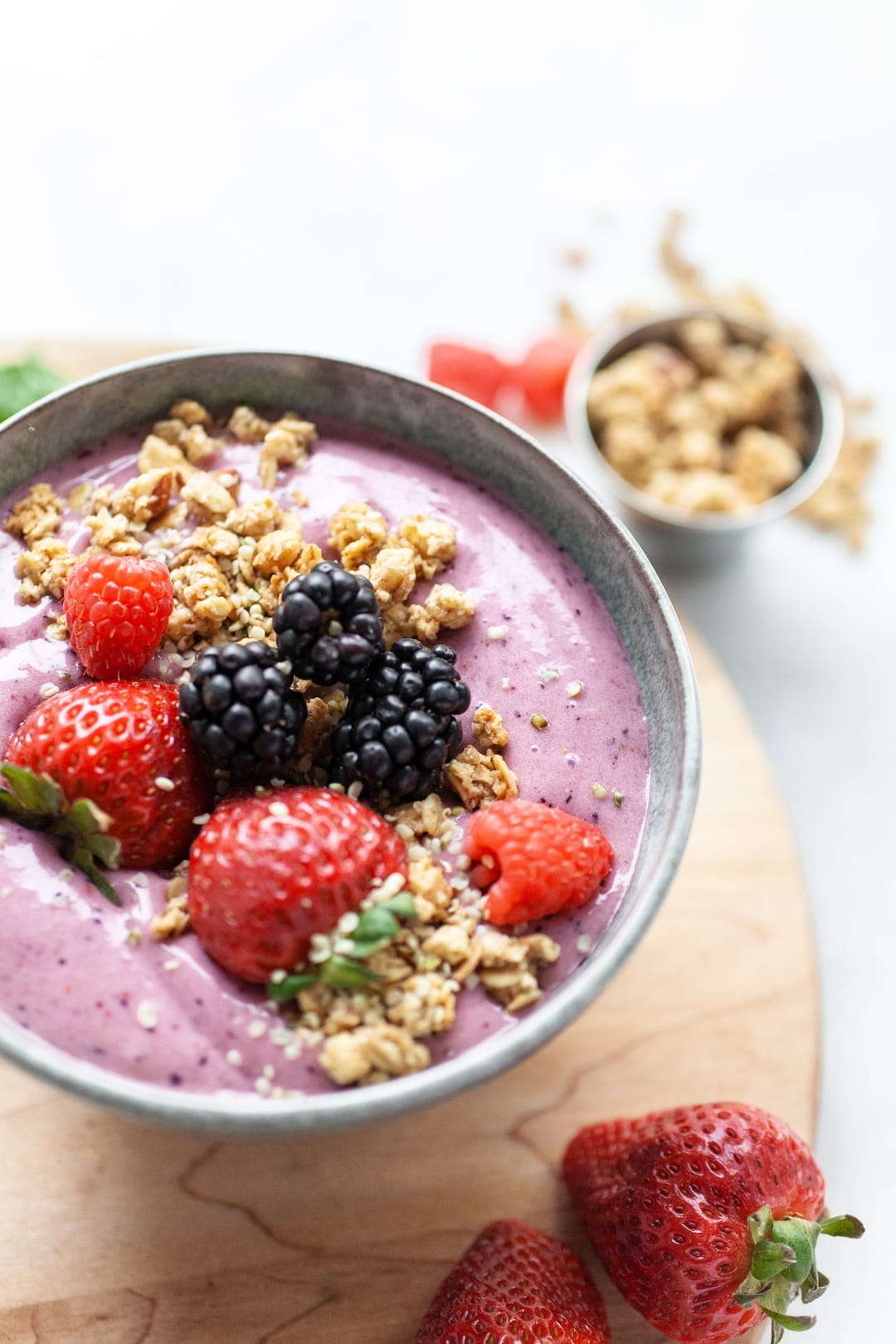 Smoothie Bowl FAQ's
If you love smoothies but haven't tried a smoothie bowl, you are in for a treat! This twist on a traditional smoothie takes things up a notch and you can get creative with toppings to add in great crunch and texture.
What is the difference between a smoothie and a smoothie bowl?
Smoothies are drinks made in a blender, poured into a glass or cup and enjoyed by sipping or drinking with a straw. While they can vary in consistency from thinner to thicker, smoothies are always drinkable from a straw. Smoothie bowls on the other hand are meant to be enjoyed out of a bowl and eaten with a spoon!
The consistency of the smoothie portion of a smoothie bowl is usually much thicker than a traditional smoothie, and can range from a thick soup-like consistency to a scoop-able sorbet consistency. Smoothie bowls are also always topped with garnishes like fresh berries, sliced banana, nuts, seeds, granola, or other superfood toppings (cocoa nibs, bee pollen, etc.).

Are smoothie bowls healthy?
I would say generally, yes! Although, it should be known that some smoothie bowls can be quite high in caloric content. While this doesn't mean they are unhealthy, as they may be loaded with nutrients, it's important to practice portion control if you are enjoying smoothie bowls often.
Smoothie bowls are usually made with frozen fruits, nut butter, superfoods, and other healthy ingredients so they can pack a nutritional punch and be very energizing and nutritious! However, some fast-food establishments sell smoothie bowls that are made with sugary syrups and not actual fruit, so be mindful of this if you are getting a smoothie bowl on-the-go.

How do you thicken a smoothie bowl?
The token characteristic of a great smoothie bowl is a thick, scoop able consistency. In order to create this thick consistency you can do the following:
Use little to no liquid. If you use mostly frozen fruit and blend it with a small amount of liquid, using a high-speed blender with a tamper tool (Vitamix, Blendtec, Ninja, etc.) you'll get a great thick consistency.
Use frozen banana. Rather than using fresh banana, frozen banana blended with other fruits helps to create a thick, creamy consistency for your smoothie bowl.
Add in avocado or chia seeds. Both of these ingredients help to create a thicker smoothie consistency when combined with frozen fruits (and not too much liquid!).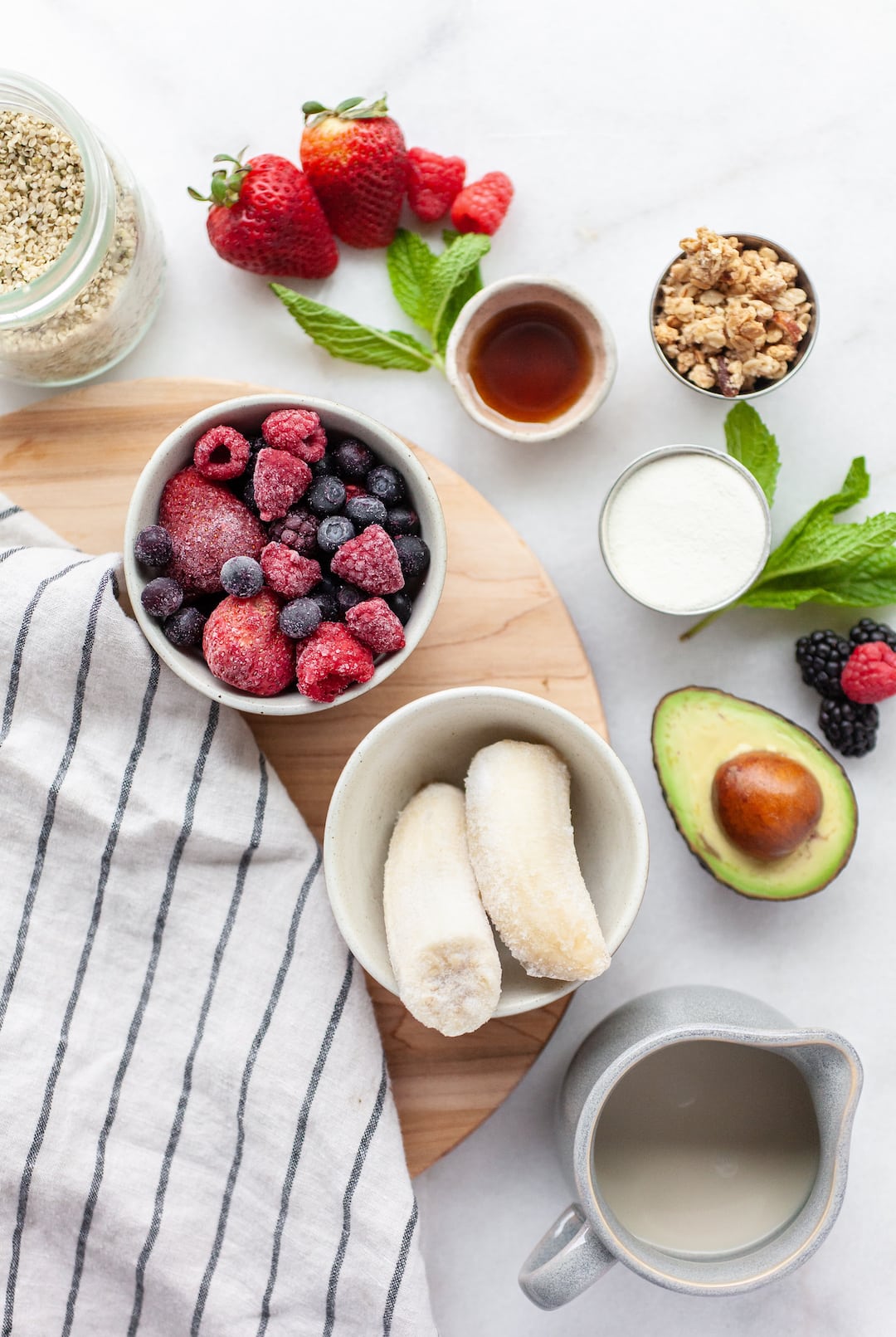 Ingredients

for this Berry Smoothie Bowl
To make this delicious and thick berry smoothie bowl you need only a handful of healthy whole-food ingredients, then you can garnish with whatever you like or use my simple garnishes below.
Here's what you'll need:
frozen banana

frozen mixed berries (I used the bagged mix of strawberries, blueberries, raspberries, etc.)

avocado

or

nut butter of your choice

pure maple syrup

protein powder (plant-based vanilla or unflavoured collagen for non-vegan)

unsweetened almond milk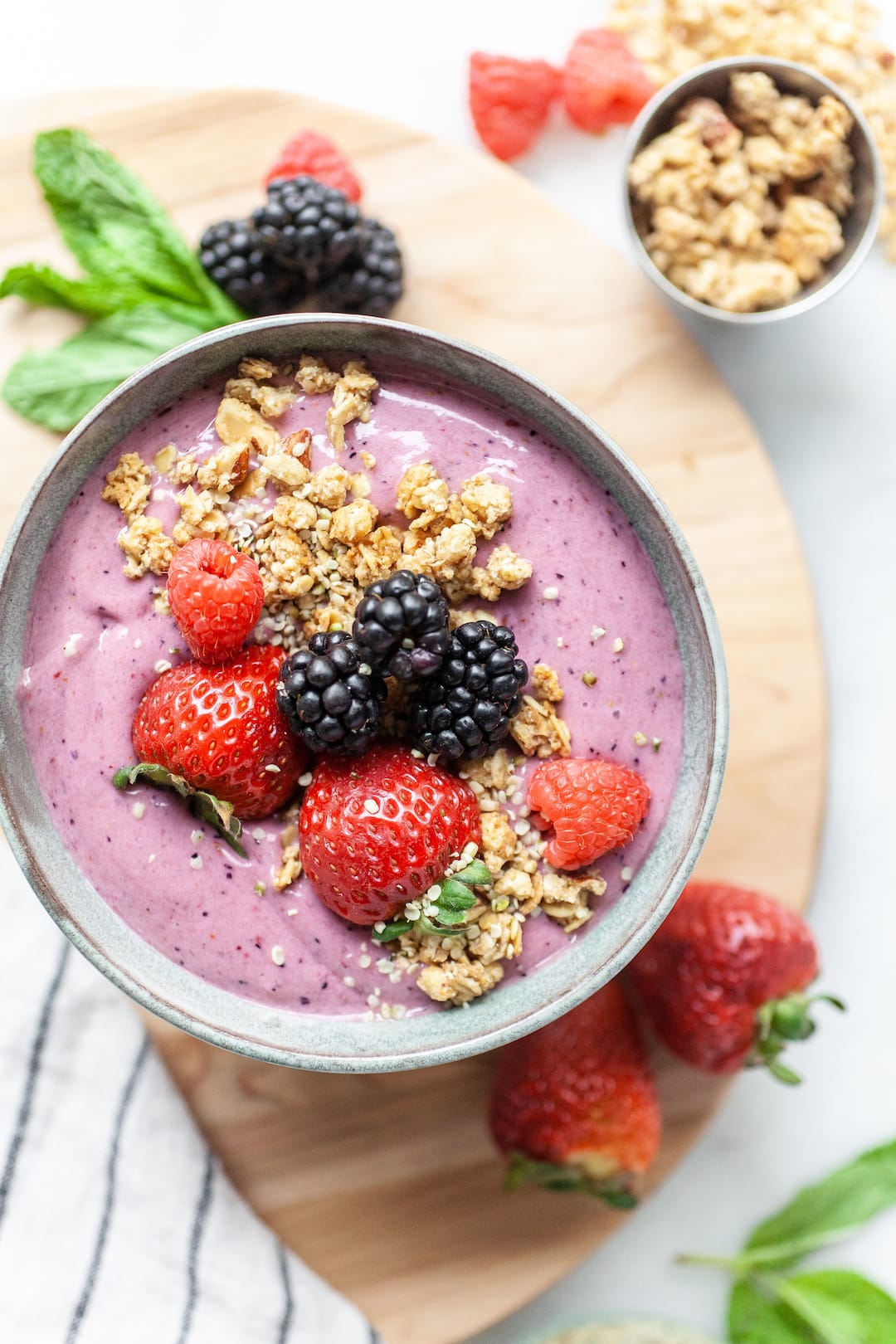 Smoothie Bowl Garnishes
Toppings are my favorite part of a smoothie bowl as they add extra crunch, texture, and flavour. While you can get super creative adding any toppings you desire, here's what I added to my berry smoothie bowl:
fresh strawberries, blackberries, and raspberries

gluten-free granola

hemp seeds
How To Make A Berry Smoothie Bowl
To make this simple and delicious smoothie bowl you only need to follow the simple steps below, or watch the recipe video!
Add banana, berries, avocado

(or nut butter), syrup, protein powder, and almond milk to a high-speed blender*.
Blend on low, slowly increasing the speed to high, using the tamper tool* to keep the smoothie ingredients moving in the blender.

Continue to blend until a thick, smooth consistency is achieved

(similar to that of a sorbet or soft serve ice-cream)

.

Transfer the berry smoothie to a bowl and smooth the top with a spoon.

Top with granola, fresh berries, and hemp seeds.

Enjoy!
Do you love smoothie bowls? What's your favorite kind? Tell me about it in the comments and be sure to pin the photo below the recipe to save this one for later!
Pin me!
More Smoothie Bowls You'll Love:
Have a wonderful day,
Christal // NITK