Learn to make a delicious and healthy berry smoothie bowl that's dairy free, gluten free, and plant-based in just five simple steps and in just 5-minutes too!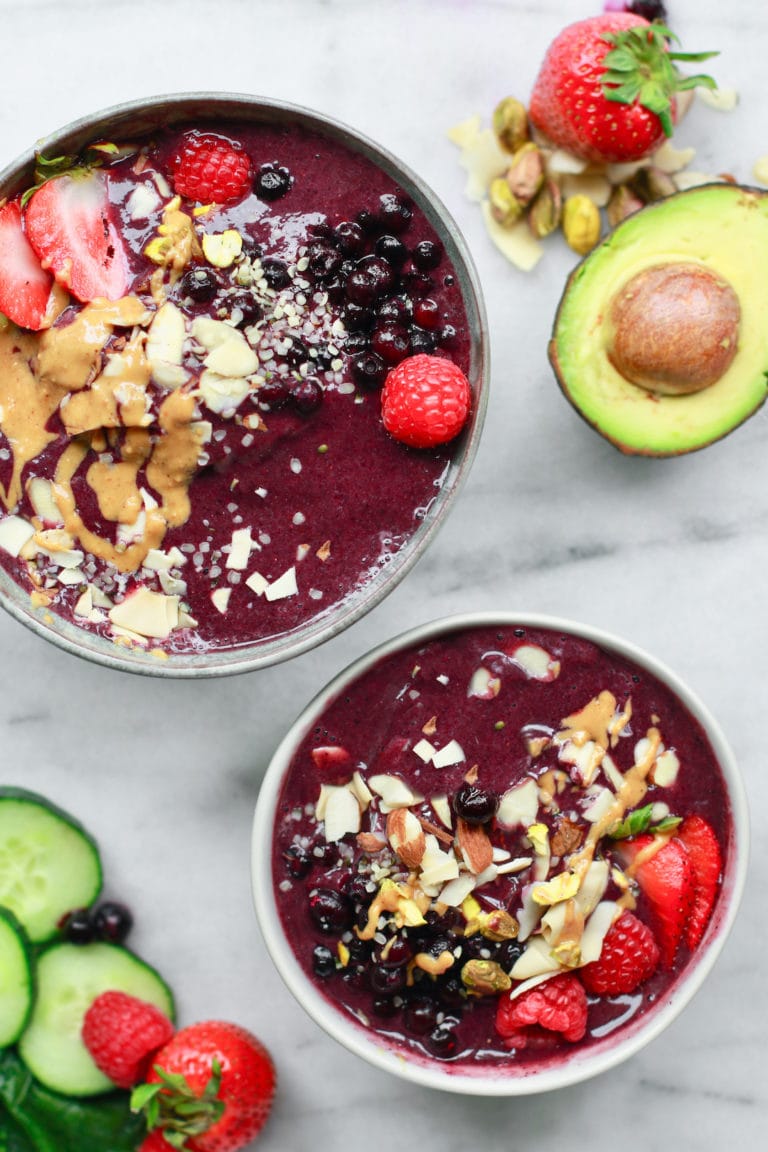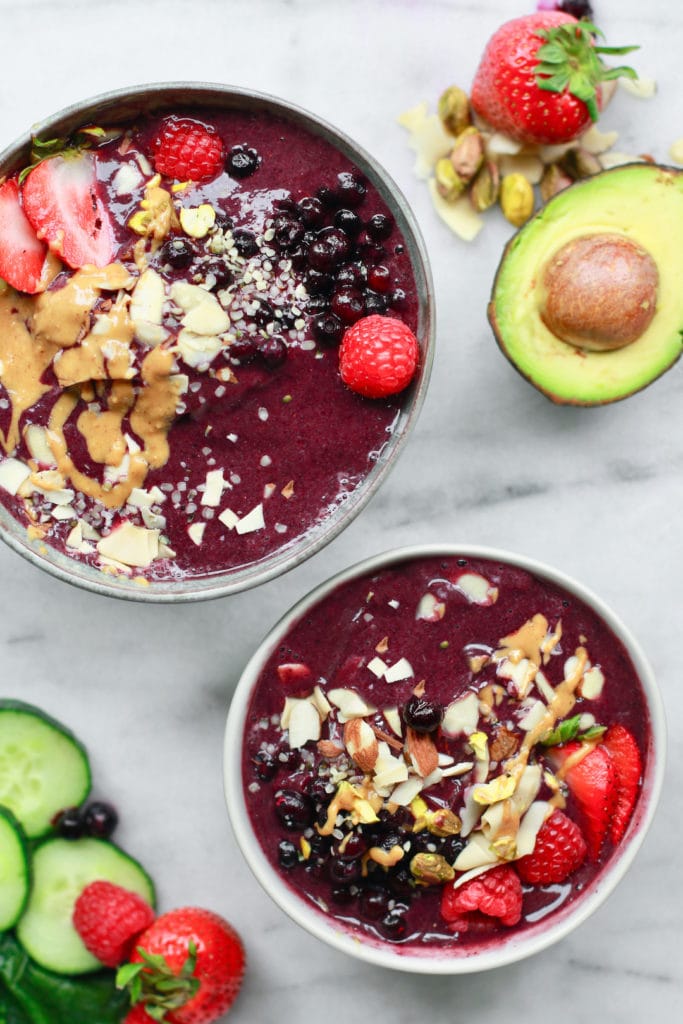 Berry Smoothie Bowl in 1-2-3-4-5!
The first time I had a berry smoothie bowl (or more specifically an acai berry smoothie bowl) was in Hawaii about six years ago. Up until then I had never really thought to put a smoothie in a bowl and eat it with a spoon. I enjoyed eating my regular smoothies out of a glass with a spoon when they ended up being a really thick consistency, but to purposely make the smoothie thicker, add a whole smorgasbord of delicious toppings and eat it all like a bowl of ice cream? Whose brilliant idea was this?!
Every since that first time I was hooked and have been making a wide variety of smoothie bowls to enjoy. Because a smoothie bowl can often look complicated with all the different toppings (just search "smoothie bowl" on pinterest and you'll see what I mean!), I wanted to show you that they really aren't complicated at all. I've teamed up with HumanN, a functional foods and supplements brand aimed to helping every human reach their ultimate potential, to share the five super simple steps to making a delicious berry smoothie bowl that's balanced and healthy.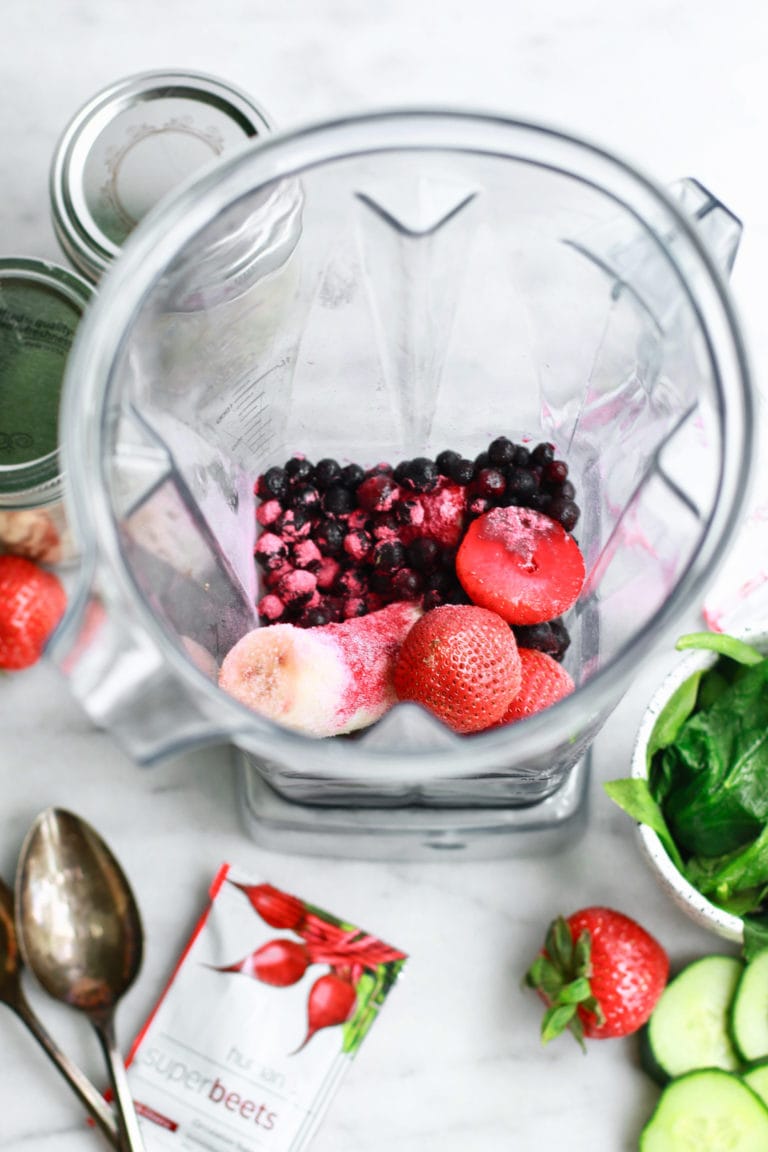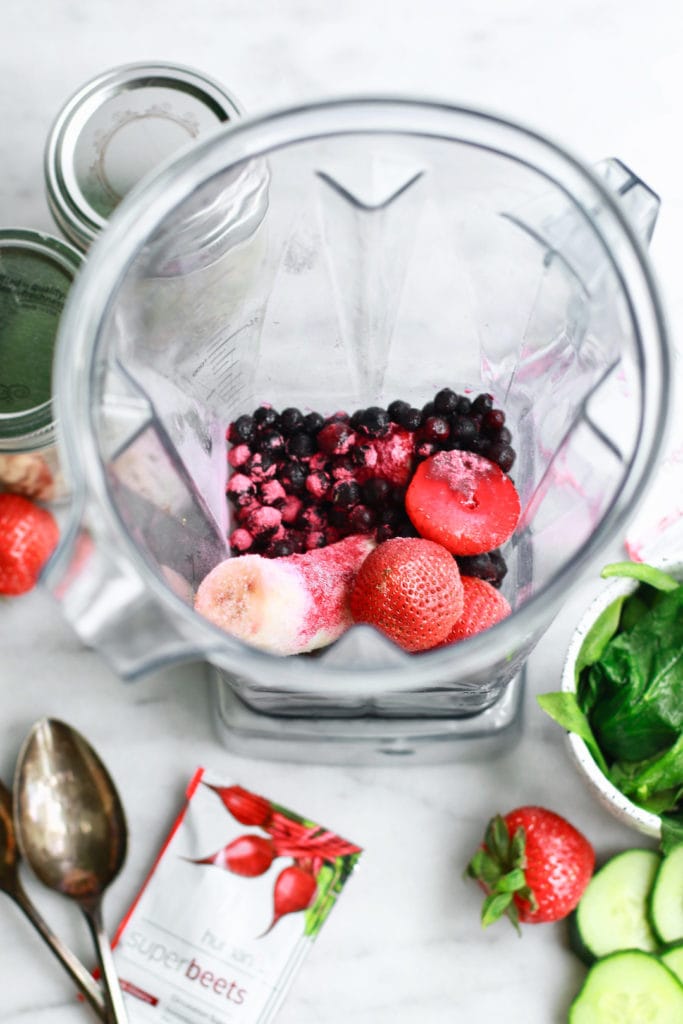 Step 1: Add 1-2 Cups of Fruit To A Blender
All traditional smoothie bowls have a base of frozen fruit that is blended together. You can change up the fruits as you prefer to change the flavour or keep the natural fruit sugar content on the lower side. Berries are naturally lower in fruit sugars so they are a great option to use. For my perfect berry smoothie bowl I combine 1 cup of fresh and frozen berries (a mixture of blueberries, raspberries, and strawberries) with 1 frozen banana as frozen bananas when blended create a wonderful thick and creamy consistency for a smoothie bowl. You can choose between all berries (although this can get a little tart) or berries and banana, or even berries and pear, peach, or mango!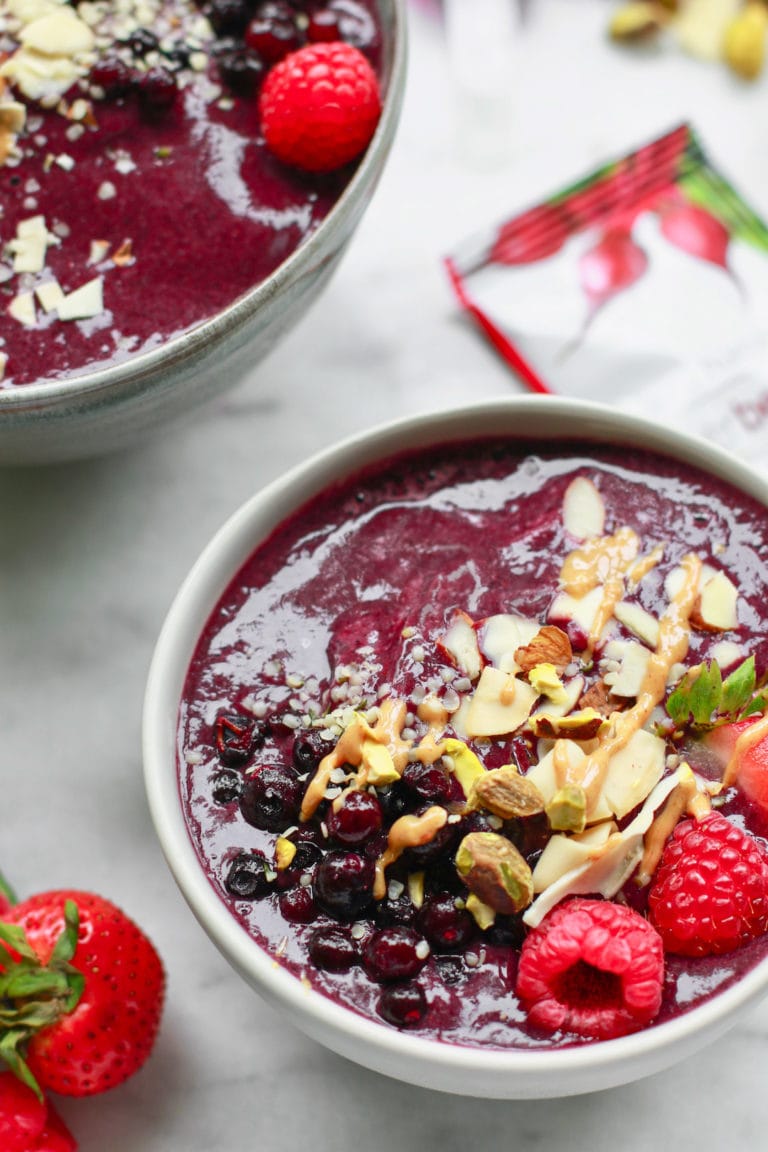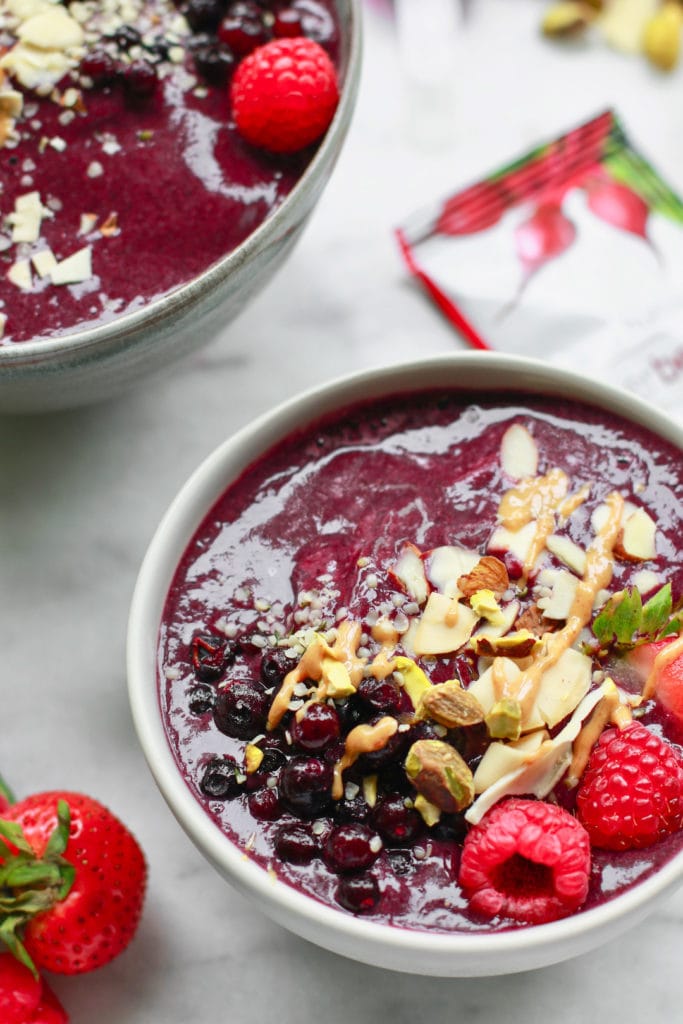 Step 2: Add 1 Serving of Greens
I always recommend sneaking in 1 serving of greens to a smoothie bowl because you won't even know it's there by the taste, color, and consistency, but you'll still enjoy the benefits of added green veggies. You can get creative here as well…greens doesn't mean just leafy greens like spinach or kale. You could use sliced cucumber, celery, parsley, sliced avocado, or even add mint to your smoothie (although you'll definitely taste the mint if you add it!). Use a single "green" or combine different greens to make up about 1 cup and add to your blender. For my perfect berry smoothie bowl I used 1 cup of fresh spinach and a few chunks of cucumber and a couple slices of avocado as that's what I had on hand.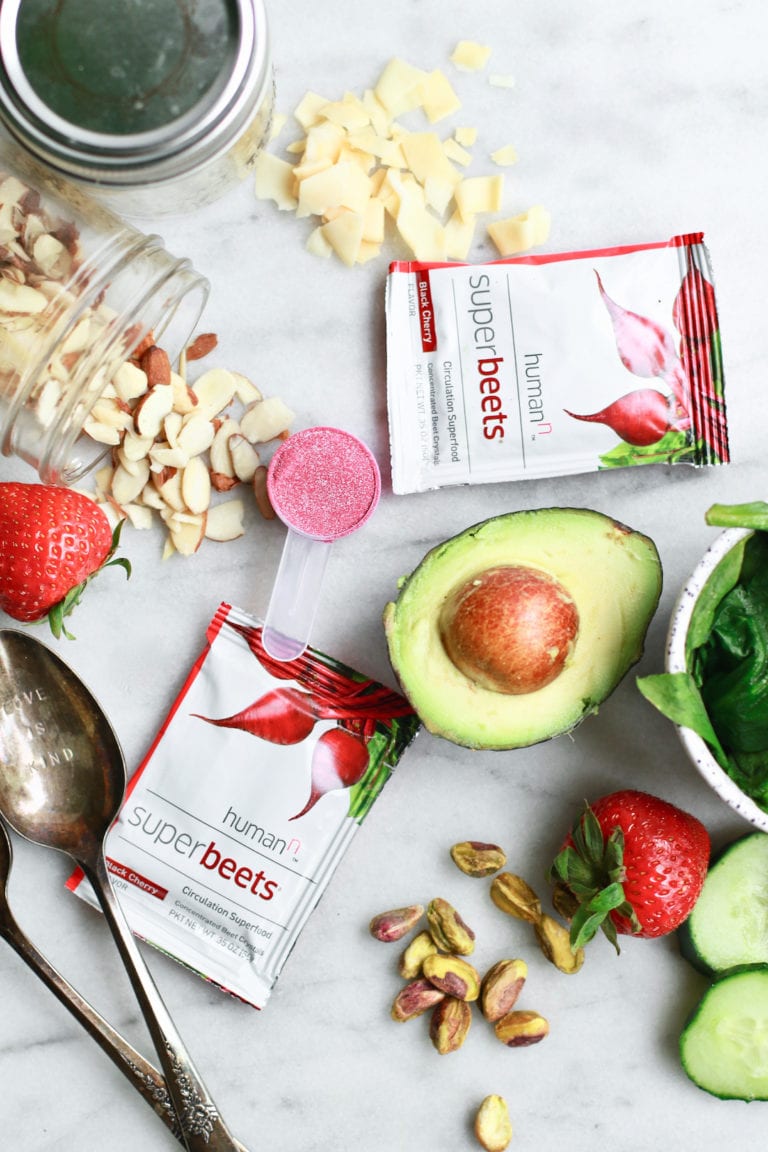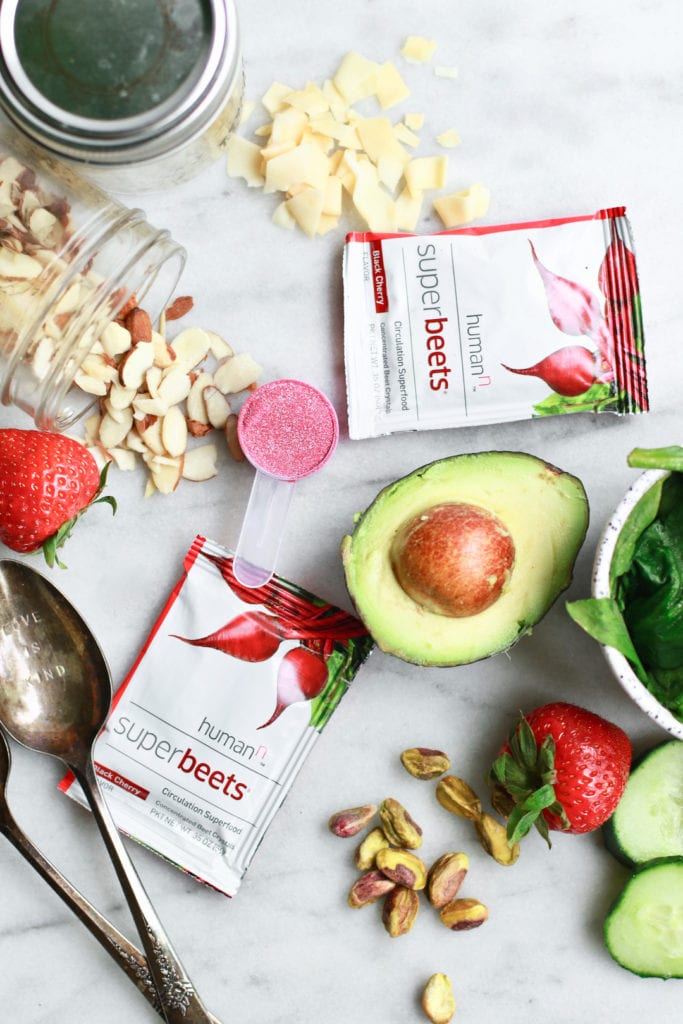 Step 3: Add 2 "Boosters"
This is my favorite step! I always recommend adding two "boosters" to your smoothie bowl to really amp up the nutrition! I definitely think the first booster that should be added to a smoothie bowl is protein powder or a source of protein such as hemp seeds or nut butter. Protein helps to balance out the fruit sugars from the fruit and slow the release of those sugars into your bloodstream preventing a blood sugar spike and keeping you full and satisfied for longer after enjoying your smoothie bowl. HumanN carries a protein powder blend that combines collagen and whey which is a great option for joint and muscle support if you can tolerate dairy products. You could also go with a plant-based protein powder and/or a scoop of collagen peptides. The second booster can be any sort of nutritional powder or superfood such as cocao powder, nut butter, chia seeds, greens powder, beet powder, turmeric, etc. I used HumanN's SuperBeets® black cherry powder that features beets grown in the U.S. to help promote nitric oxide production and support healthy blood pressure levels, natural energy and stamina.
Let's Chat Beets and Nitric Oxide
I just want to take a minute to chat about the HumanN products that focus mainly on one superfood ingredient…beets! According to HumanN, beets are emerging as one of nature's most potent and powerful superfoods, providing specific nutrients, vitamins, and minerals that are essential to the body. Beets are an unmatched source of a dietary nitrates which are amazing for overall cardiovascular health (and completely different than nitrates that turn into nitrosamines when added to certain processed foods like bacon or deli meat). Dietary nitrates are especially beneficial for any individual, in particular active individuals and athletes, as they help the body produce nitric oxide (N-O), which in turn helps support healthy blood pressure levels, circulation, natural energy and stamina.
In order to get these great nitric oxide benefits, you need to consume the right amount of dietary nitrate rich foods like beets, and HumanN has created the ultimate solution, their best-selling SuperBeets Black Cherry or Original powder that provides the nitric oxide equivalent of three whole beets in one tiny teaspoon!
I've been enjoying adding 1 teaspoon of the HumanN SuperBeets powder to my smoothies and added it as one of my "boosters" to my perfect berry smoothie bowl!
As for my other choice booster for this perfect berry smoothie bowl I added a scoop of brown rice protein powder for extra protein power!



Step 4: Add ½ – 1 Cup of Liquid & Blend
When it comes to choosing and adding a liquid, you don't need to add a lot. The less liquid you add, the thicker your smoothie bowl will be and the more it will have the consistency of a "soft-serve" ice cream versus a drinkable smoothie making it even more delicious and scoopable. My advice is to start with just ½ a cup of liquid of choice then increase as you go while blending until you get the smoothie consistency you desire. Choosing a liquid is another fun part! You can go with water and keep it super simple, or increase the creaminess by using a plant-milk such as almond, cashew, or oat milk. If you feel the need for extra electrolytes and energy you can use natural unsweetened coconut water, or you can use a natural no-sugar added juice of your choice! For my perfect berry smoothie bowl I used ¾ cup of unsweetened vanilla almond milk.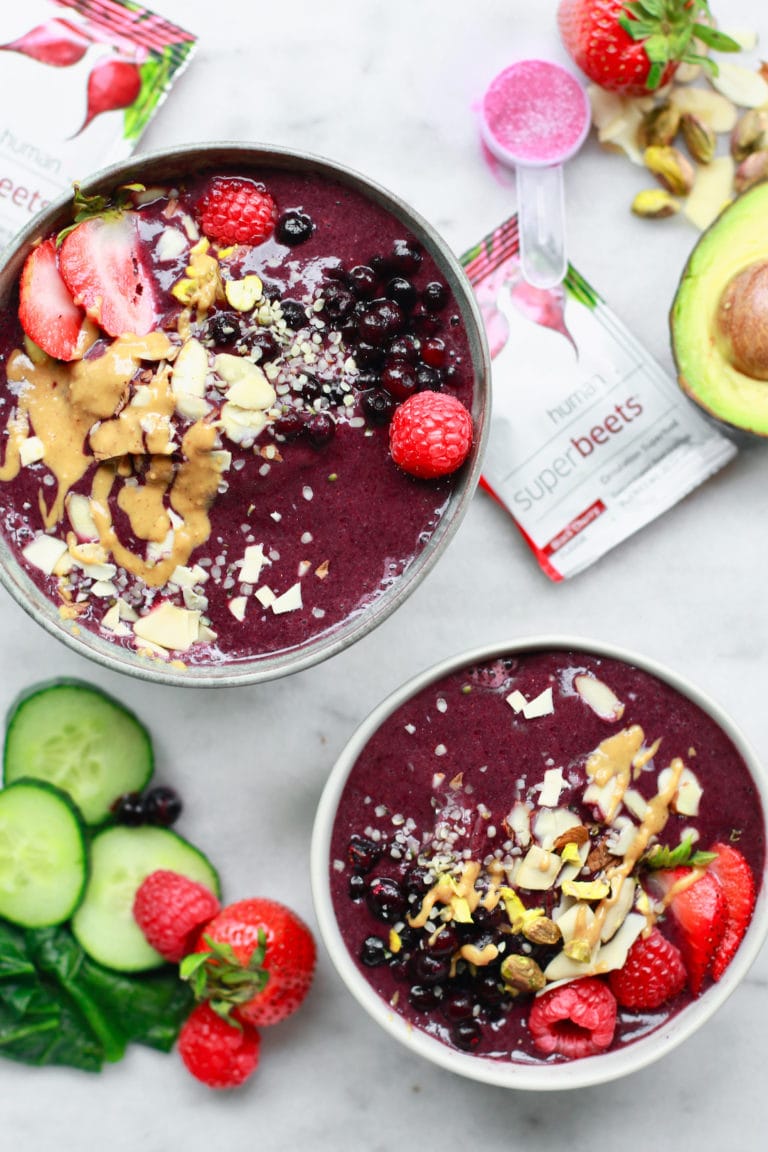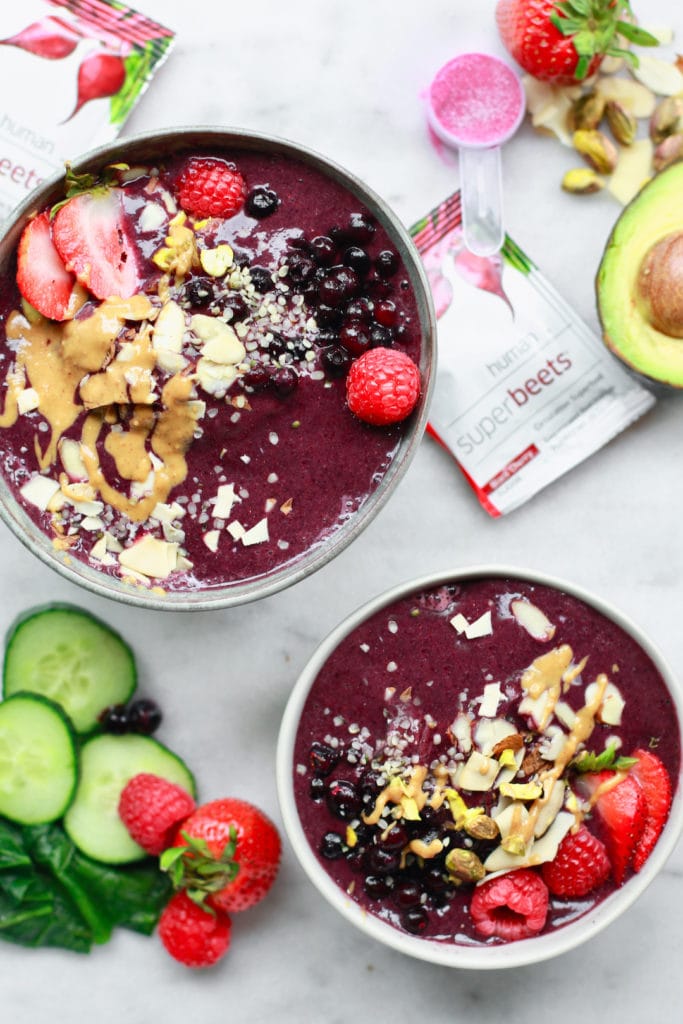 Step 5: Sprinkle On Your Toppings!
Ok, maybe this is my favorite part (actually I kind of love all the steps…what's not to love about the smoothie bowl making process?!). This is where you can really have a lot of fun and truly, the sky's the limit here! Amp up the nutritional value of your smoothie bowl and add more flavour and texture with a mixture of fun toppings including and not limited to any of the following:
-chopped nuts (almonds, pistachios, walnuts, cashews, etc.)
-seeds (chia, hemp, pumpkin, sunflower, etc.)
-cacao nibs
-buckwheat groats
-shredded or toasted coconut
-fresh berries
-sliced banana or other fruit
-dark chocolate
-granola
-oats
-nut butter
-honey
-fresh mint
…the list goes on. Keep it simple or get a little crazy, it's up to you! For my perfect berry smoothie bowl I used fresh and frozen berries, toasted coconut, hemp seeds, pistachios, almonds, and a drizzle of nut butter.
There you have it. Fruit, Greens, Booster, Liquid, and Toppings…1, 2, 3, 4, blend, pour, and top. Five simple steps to your very own perfect berry smoothie bowl.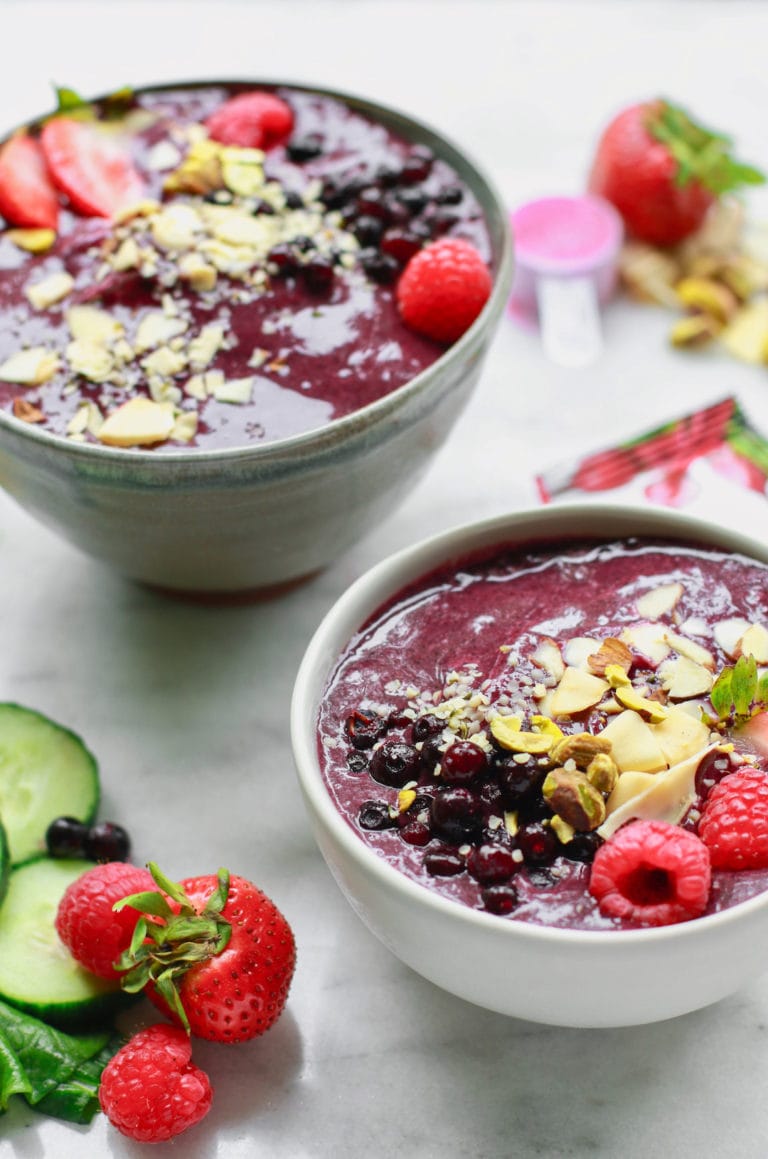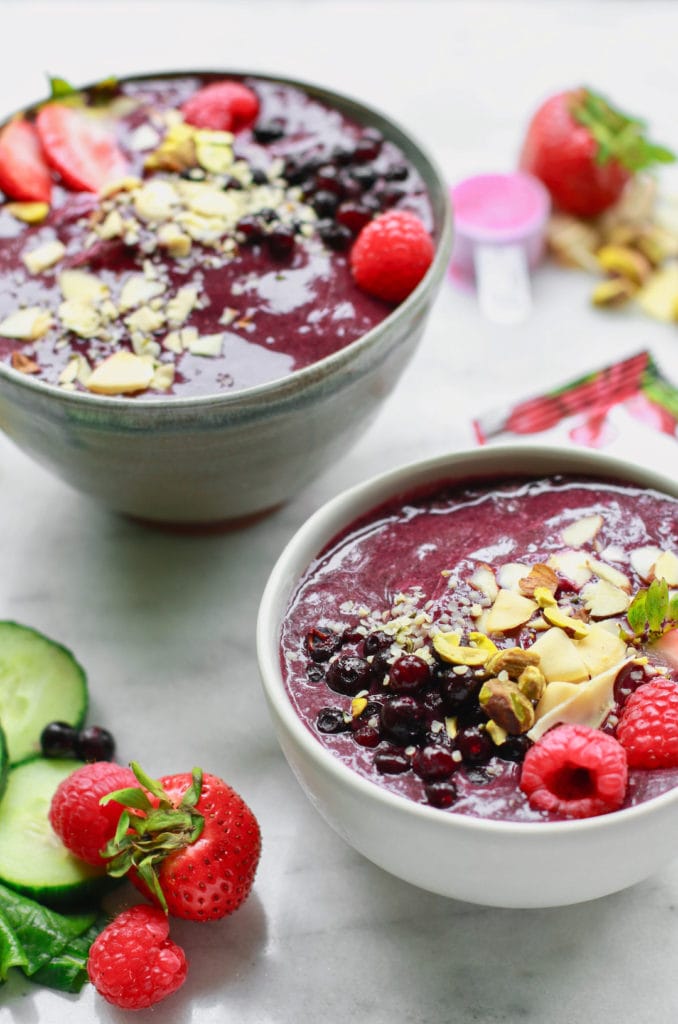 Here's my recipe below! I'd love you to share your perfect berry smoothie bowl with me using these five simple steps. Tag me on social media @nutritioninthekitch when you share it and tag @HumanN (on Facebook) or @humanpowerofn or @super_beets (on Instagram) so HumanN can see your creation as well!

Boosted Berry Smoothie Bowl
Ingredients
1 cup mixed frozen berries of choice
1 frozen banana, cut into chunks (peel and freeze ahead of time)
1 cup loosely packed fresh spinach
1" chunk cucumber
¼ of an avocado (peeled)
1 teaspoon HumanN SuperBeets Black Cherry or Original
¼ cup brown rice protein powder (or other natural or vanilla flavoured protein powder of choice)
¾ cup unsweetened vanilla almond milk
Smoothie Bowl Toppings:
1 teaspoon hemp seeds
1 teaspoon chopped pistachios
1 teaspoon chopped almonds
1 teaspoon toasted coconut
sliced strawberry, fresh raspberries, frozen blueberries
drizzle of peanut butter
Instructions
Add all ingredients to a high-speed blender (except topping ingredients) and blend until completely smooth. The consistency should be thick and scoopable with a spoon, like the consistency of soft-serve ice cream.
Transfer smoothie base to a bowl and sprinkle with the toppings then drizzle with the nut butter.
Enjoy immediately!
Be sure to pin the photo below to save this post and recipe for later and of course, share the love! Thank you to HumanN for sponsoring this post on creating the ultimate smoothie bowl. Be sure to head over to the HumanN website to check out their products and read more about the power of nitric oxide. You can even purchase nitric oxide indicator strips from their website to see if your own nitric oxide levels are optimal or not!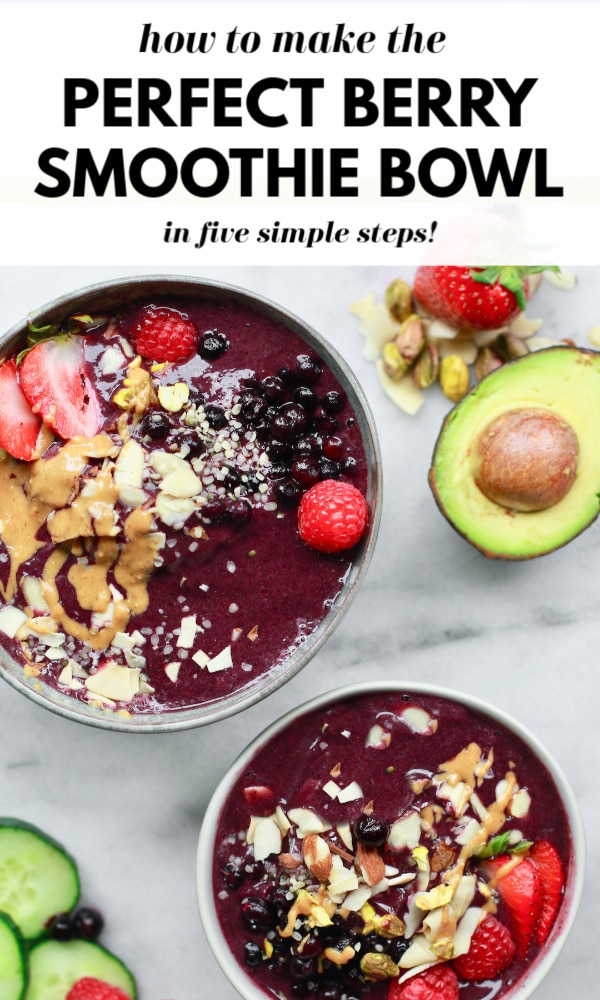 I began testing myself the other week using the nitric oxide strips and was not at an optimal level but after using the SuperBeets my levels were optimal (they also were optimal one morning after I had eaten a bowl of borscht soup the day before (ha!), which just goes to show how powerful beets really are!). I will be continuing to take regular doses of SuperBeets to continue to see that optimal level of nitric oxide!
Have a wonderful Sunday,
Christal // NITK
Disclaimer: This post has been sponsored by HumanN, all thoughts and opinions are my own.