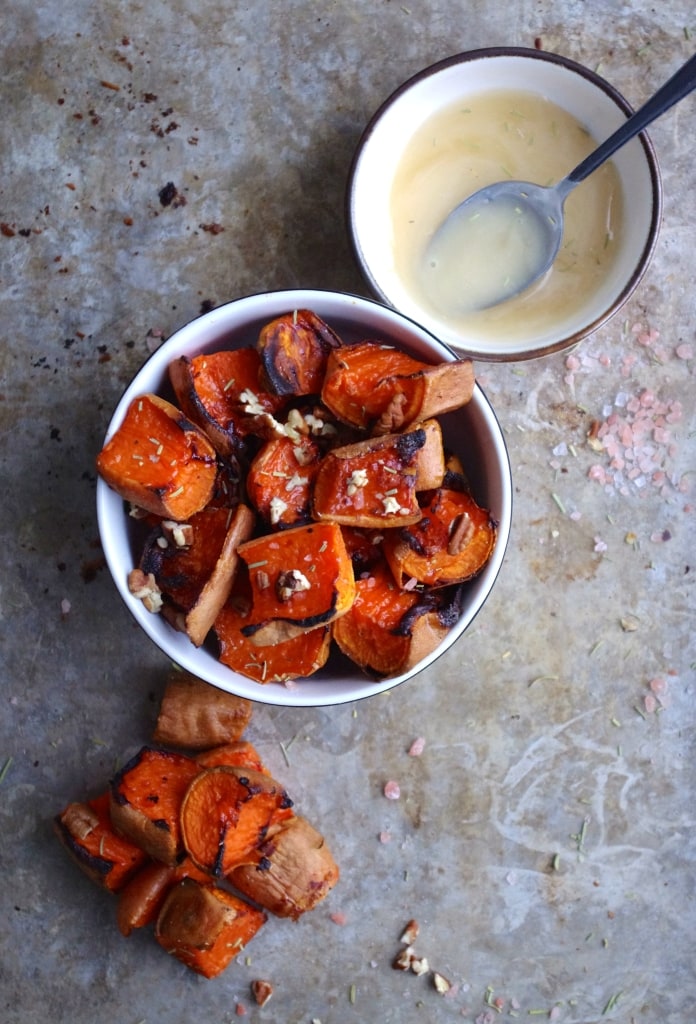 Sweet potatoes, oh my lovely sweet potatoes. What in the world would I do without these naturally sweet, satisfying spuds? I honestly don't know.
Sweet potatoes are a staple in our house. I pretty much eat them in some way, shape, or form at least 4 times a week. For breakfast with eggs, or topped with berries, for lunch, or dinner with a protein and vegetables, or in a filling chili, or for a snack dipped or drizzled in almond butter. You name it, if it's sweet potato, I'm likely eating it!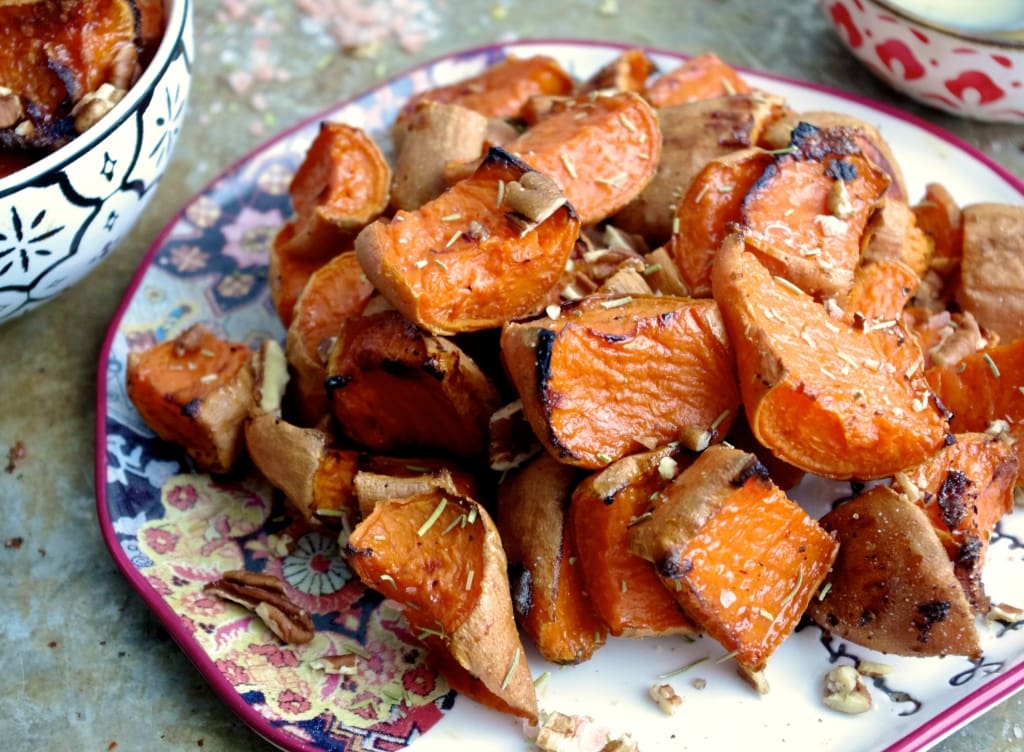 We had the last of our family Christmas dinners this past weekend, as we celebrate Ukrainian christmas, and my auntie asked me to bring along a dish of some sort to the feast! I instantly thought of sweet potatoes, and figured I could whip up something fancy with the yummy taters, that wouldn't include marshmallows… blehk!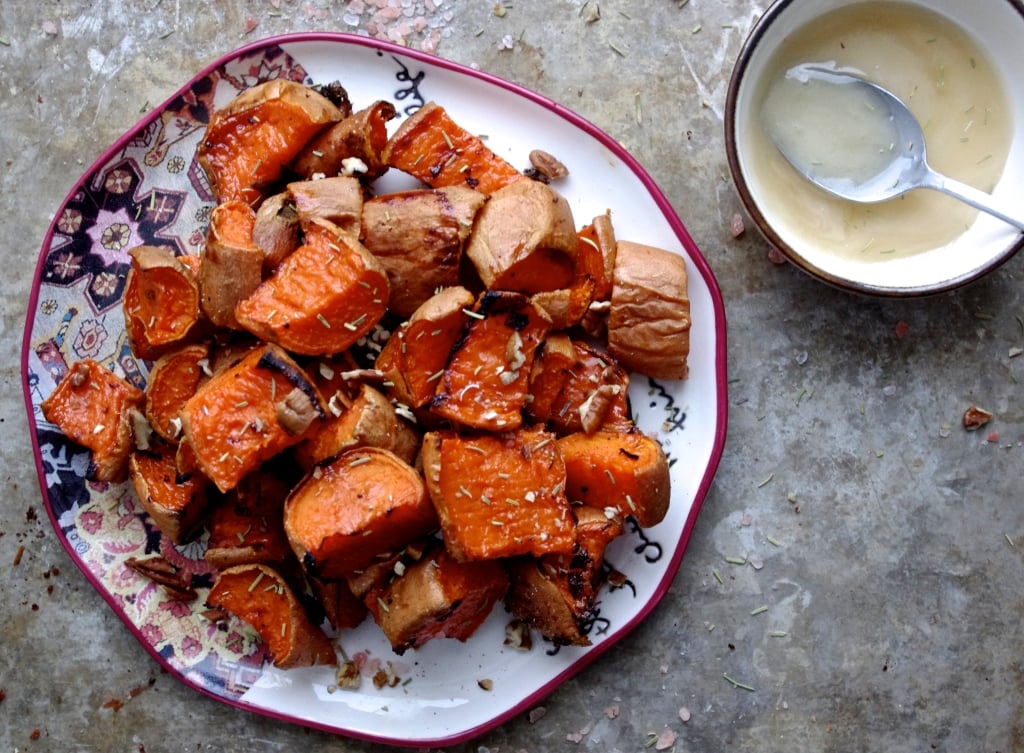 I roasted these babies on a pan after I tossed them in a light coating of extra virgin olive oil and raw honey and sprinkled them generously with pink himalayan sea salt.
As they roasted with the light honey glaze they slowly caramelized in the oven creating a crispy sweet and salty crust. Yep, take a minute to wipe the drool, I don't mind.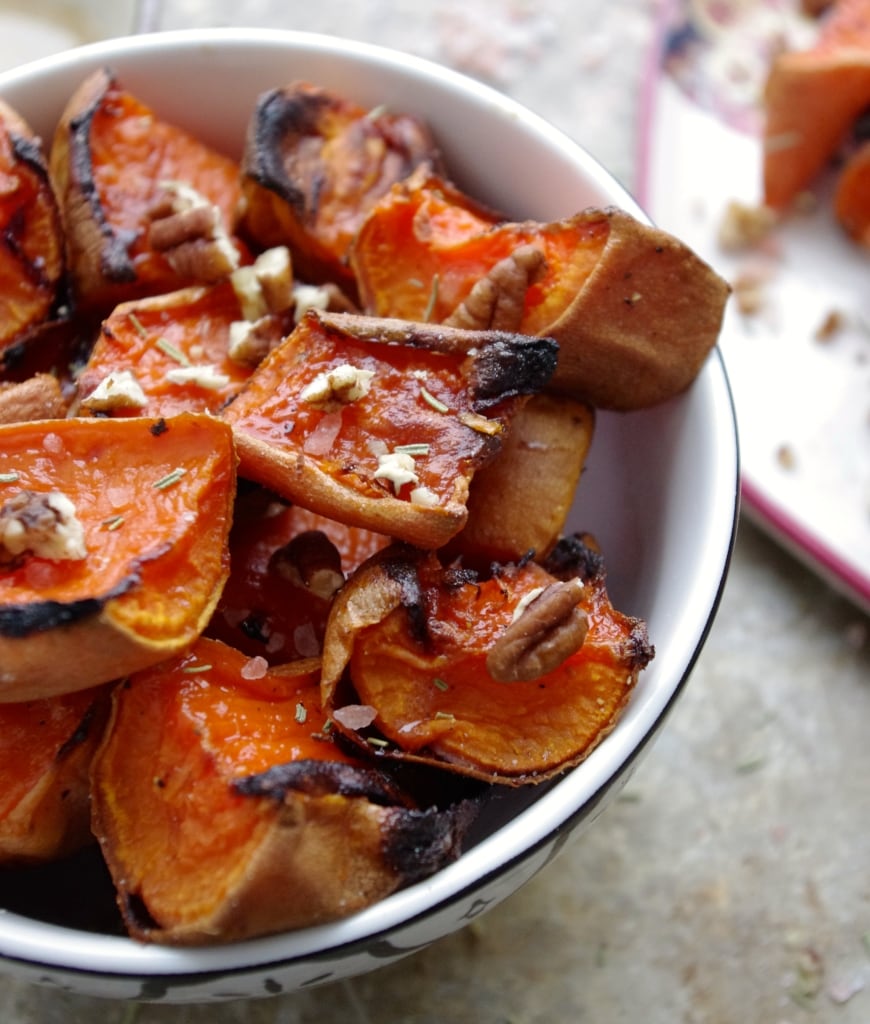 The salt complimented the sweet caramel crust, and I decided for a little extra flair to toss in some chopped pecans and a sprinkling of rosemary!
Wow – these were some mighty good potatoes if you ever asked me!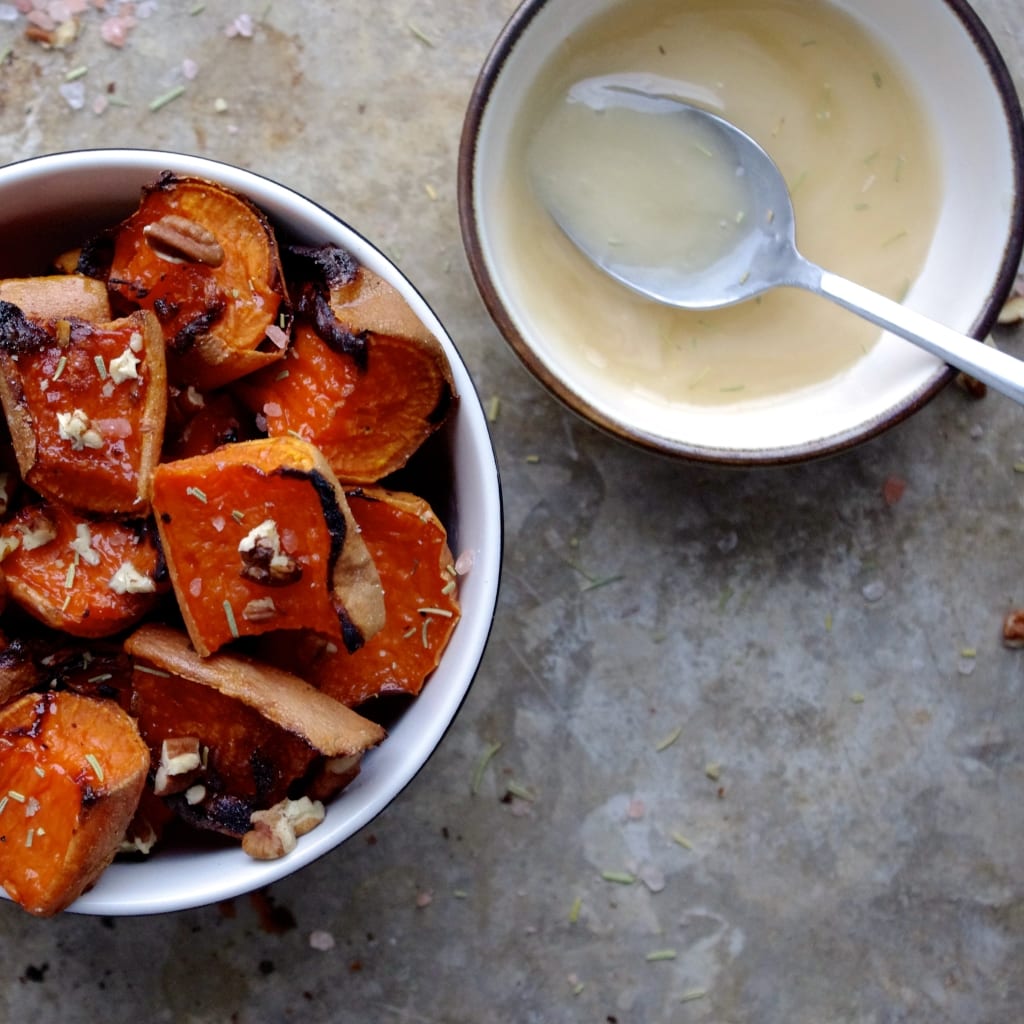 The potatoes were a hit with the family and even became a little topic of conversation at the dinner table! It was surprising how just 1/2 a tablespoon of raw honey had the overall effect it did! This was definitely a case of "a little goes a long way"!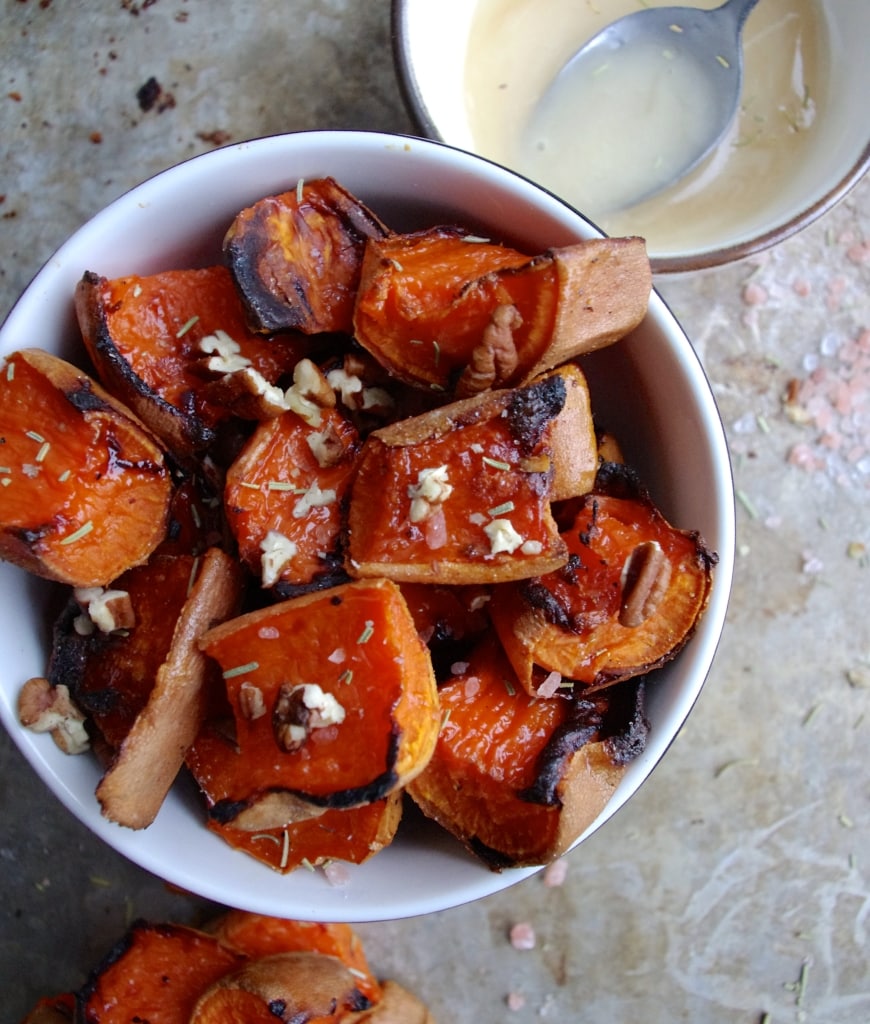 I must admit, I'm pretty happy to be done with all the Christmas dinners now, I'm still full from Saturday, but it was a delicious meal, and these sweet potatoes were the "cherry on top!".

Sea Salt + Honey Caramelized Sweet Potatoes
Ingredients
3 very large sweet potatoes (or jumbo yams, whatever you want to call them!)
½ tablespoon raw honey
1 teaspoon extra virgin olive oil
1 teaspoon sea salt
½ teaspoon dried rosemary
¼ cup chopped roasted or raw pecans
Instructions
Preheat the oven to 400 degrees. If you have "convect bake" option on your oven, use that setting.
Line a large baking pan with parchment paper.
Cut the sweet potato into 1-2" chunks.
In a small bowl whisk together the honey with the olive oil, melt the honey slightly if needed so it will whisk nicely.
Toss the cut potatoes in the olive honey mixture until lightly coated and spread evenly over the baking pan.
Sprinkle with the sea salt.
Bake for 25 minutes.
Flip the potatoes and bake an additional 10 minutes.
Move the potatoes to the top rack in the oven and Broil for 2-3 minutes, watching closely, just to create a light caramelization on all of the potatoes.
Remove from the oven and sprinkle with the rosemary and chopped pecans.
Have a wonderful Monday! Here's to another fantastic January week of eating clean, healthy, whole foods, and keeping on with those New Years Resolutions!
Also, stay tuned for a very excited announcement on Nutritionist in the Kitch coming in the next couple weeks!
Christal
Nutritionist in the Kitch