This delicious and healthy strawberry overnight oats recipe is vegan, dairy free, gluten free, and perfect for rushed mornings as you simply make-ahead the night before in just 5 minutes!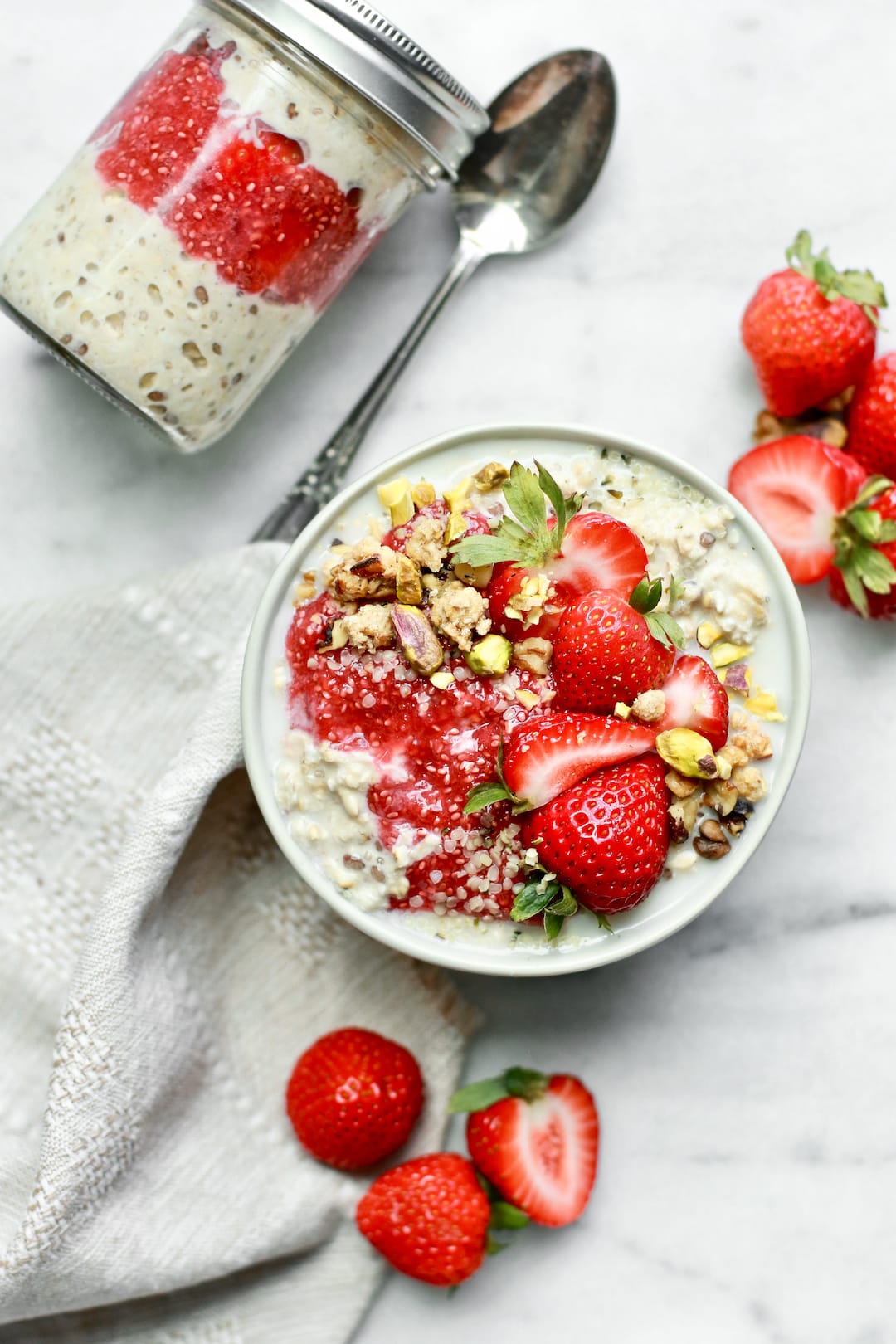 Healthy overnight oats for the win! 
If you remember, I posted a healthy overnight oats recipe last month, Cherry Chia Overnight Oats to be exact and it was a hit. I mean, who doesn't like an easy, delicious, make-ahead breakfast recipe that makes mornings a total breeze?! Overnight oats are the best for anyone who is a little rushed in the mornings, or would rather spend their time in the A.M. doing something other than preparing breakfast. Today I've whipped up another version of this beloved  recipe I had to share, Healthy Strawberry Overnight Oats. Sounds pretty simple, right? It is! I've created a fibre-packed, creamy and delicious soaked oats base, a super simple strawberry chia jam, to layer together with fresh strawberries and the perfect sprinkle of nuts and seeds!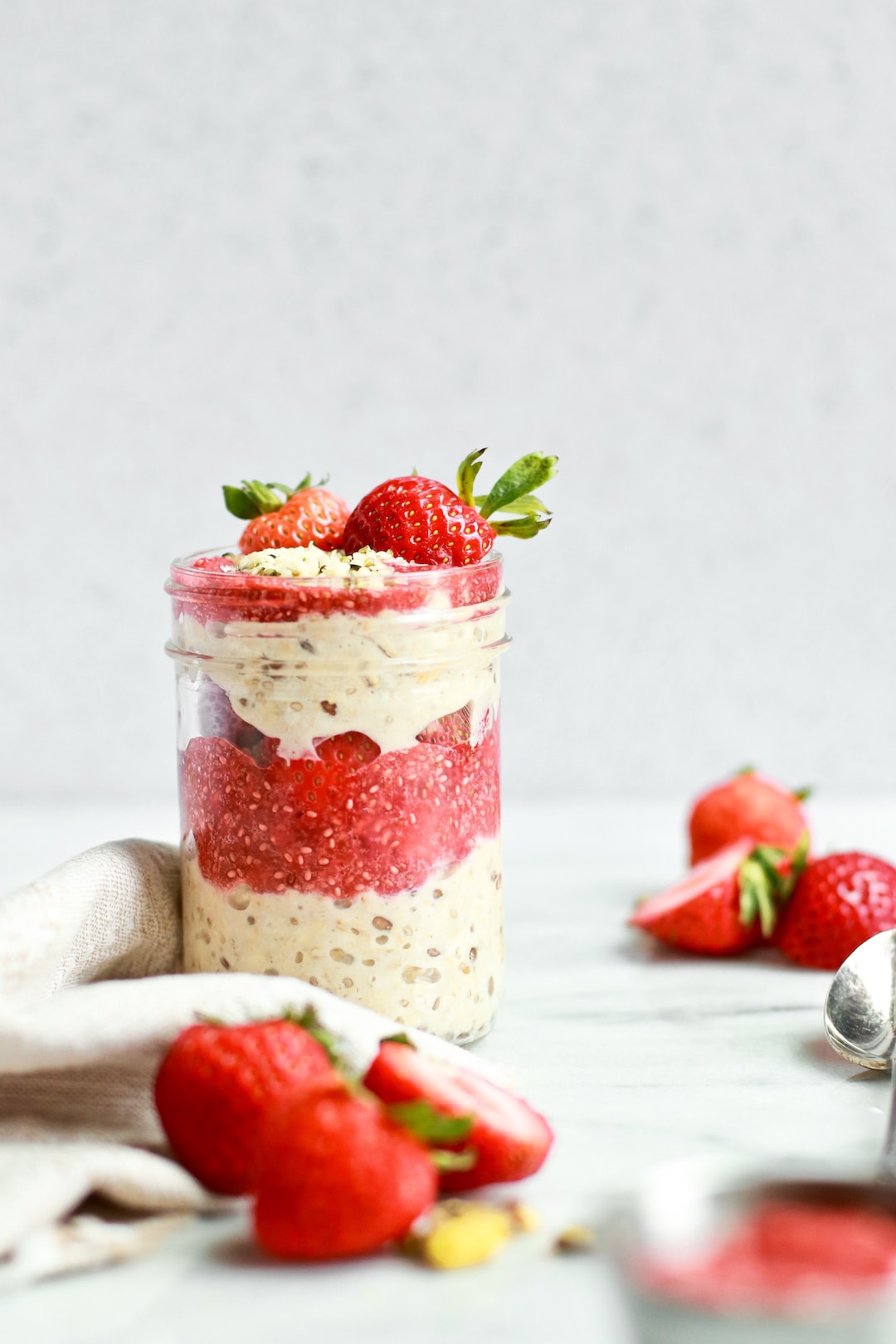 I partnered with California Strawberry Commission over on my Instagram to create this recipe and the photos turned out so beautiful I knew it had to also be shared on the blog! I've been working pretty diligently over the past several months to improve my food photography and I have to admit, it's a major learning curve that never seems to really stop curving, ha! I've always found that there's always room for improvement with my photography and every time I think I've come to a place where I've officially "mastered" it, I discover a new way to improve my food photography even more, whether it be through understanding more features on my DSLR or in Lightroom where I primarily edit my photos.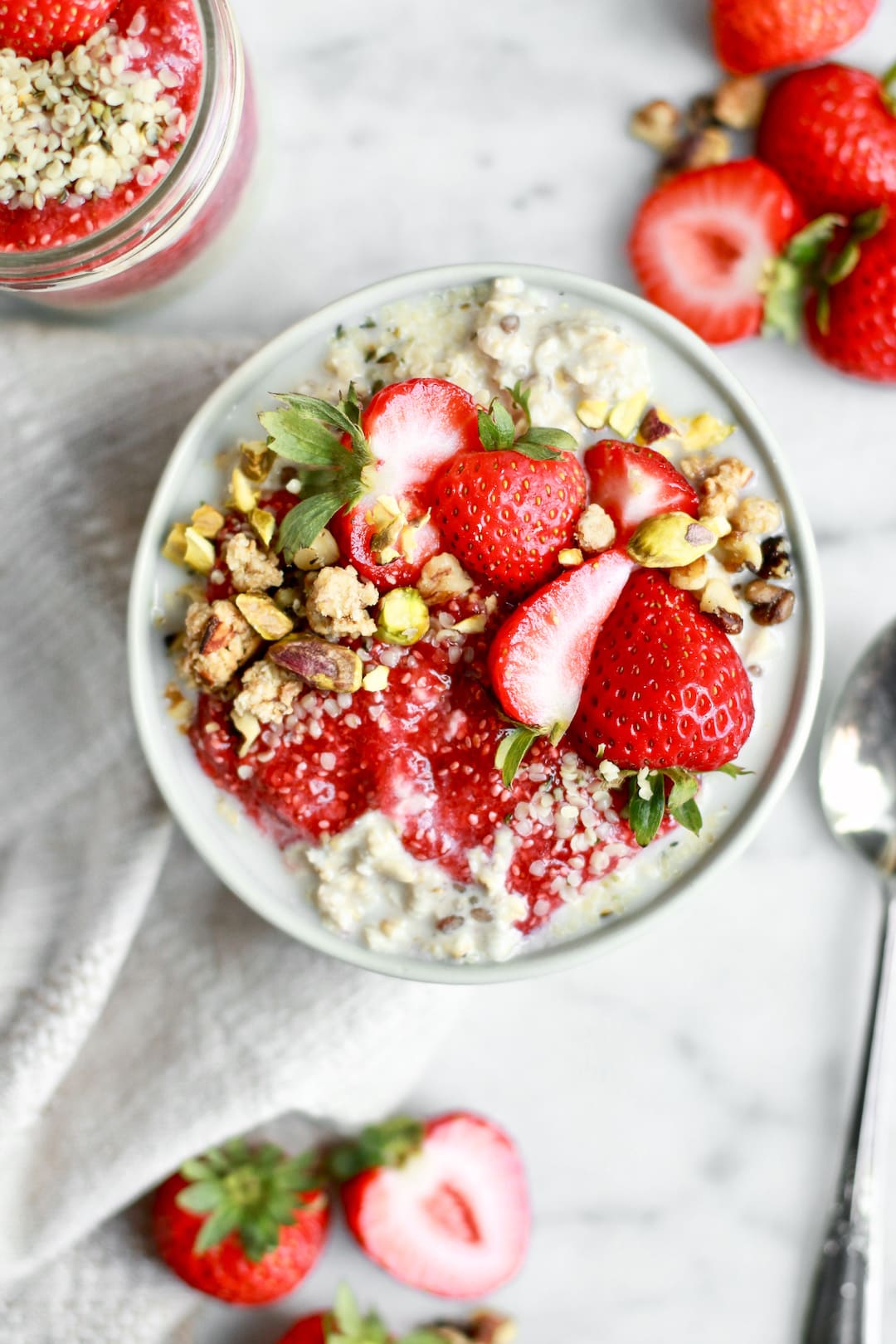 I love searching "food photography" on Pinterest and browsing the amazing, drool-worthy , spectacular photos that other bloggers and food-specific photographers share. It never ceases to amaze me the variety of styles there are for food photography and how each has it's own draw. While I like to photograph photos that feel "light and airy" with a touch of contrast and bold colour, I'm always particularly drawn to dark and moody food photos as well. 
Anywho, I hope you have been enjoying the progression of my food photography over the years if you are an avid NITK reader and I'd love to know if you photograph food as well and what your learning curve has been like! 
Ok, back to these healthy strawberry overnight oats!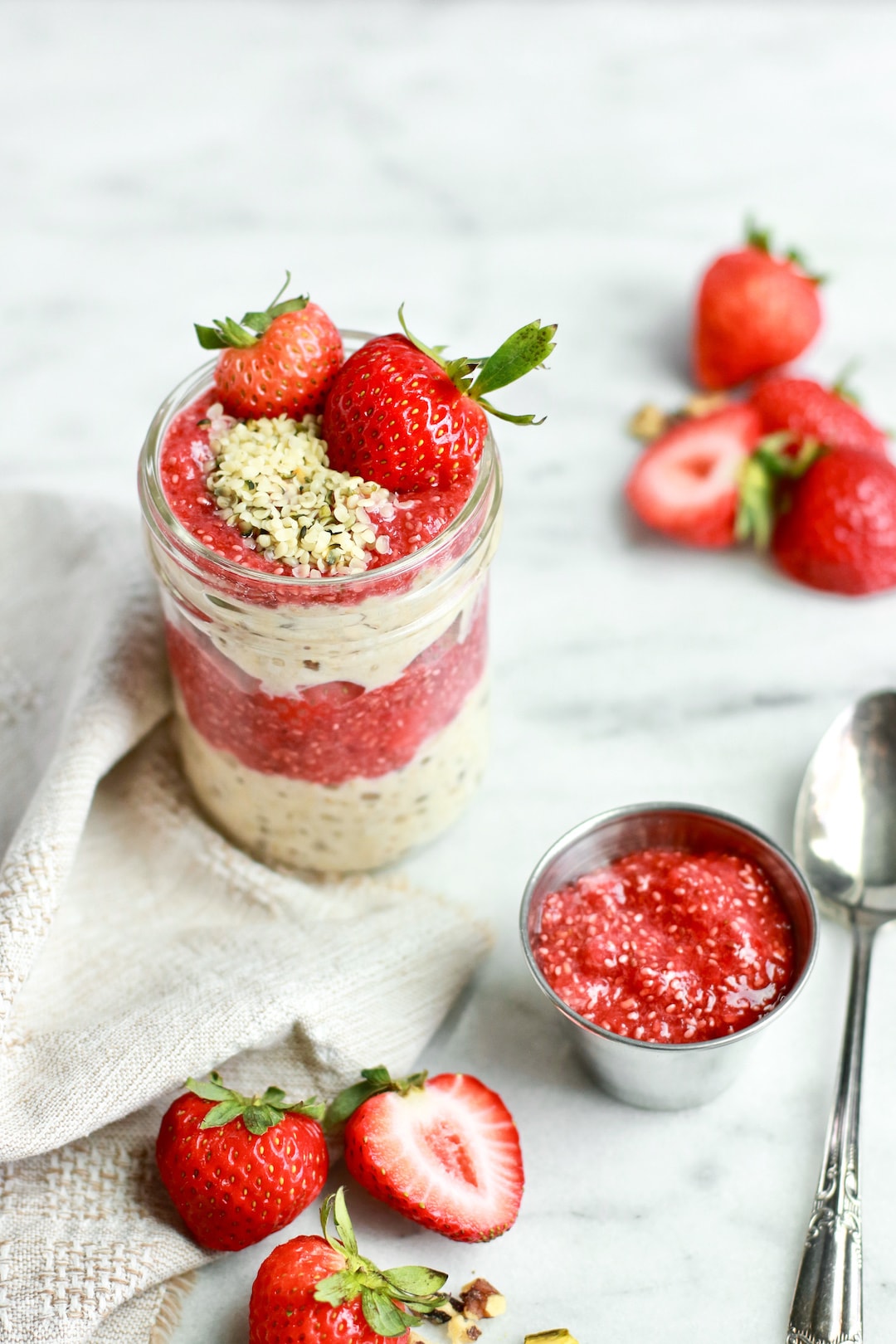 My fave (and simplest!) overnight oats recipe base:
When it comes to overnight oats there's about a million ways to make this recipe. Ok, maybe that's an exaggeration but you get the point! I've seen so many different varieties around the blogosphere and what recipe developers use to make an overnight oats base. Some make a simple overnight oats base, like I did for this recipe, and then add in toppings or layered ingredients, and others like to mix it all together in one combined mixture that goes right into a bowl or jar! 
While I don't mind the latter, I do like the distinction of flavours and textures so I often keep an overnight oats base separate from my add ins. My favourite, and simplest overnight oats recipe base -is made of just 4 (or 5) ingredients;
-Rolled oats
-Chia seeds (often with the addition of flax seeds too!)
-Pure maple syrup
-Unsweetened vanilla almond milk
So easy and perfect for layering between diced fruit, nut butter, nuts and seeds, jam, and other fun ingredients!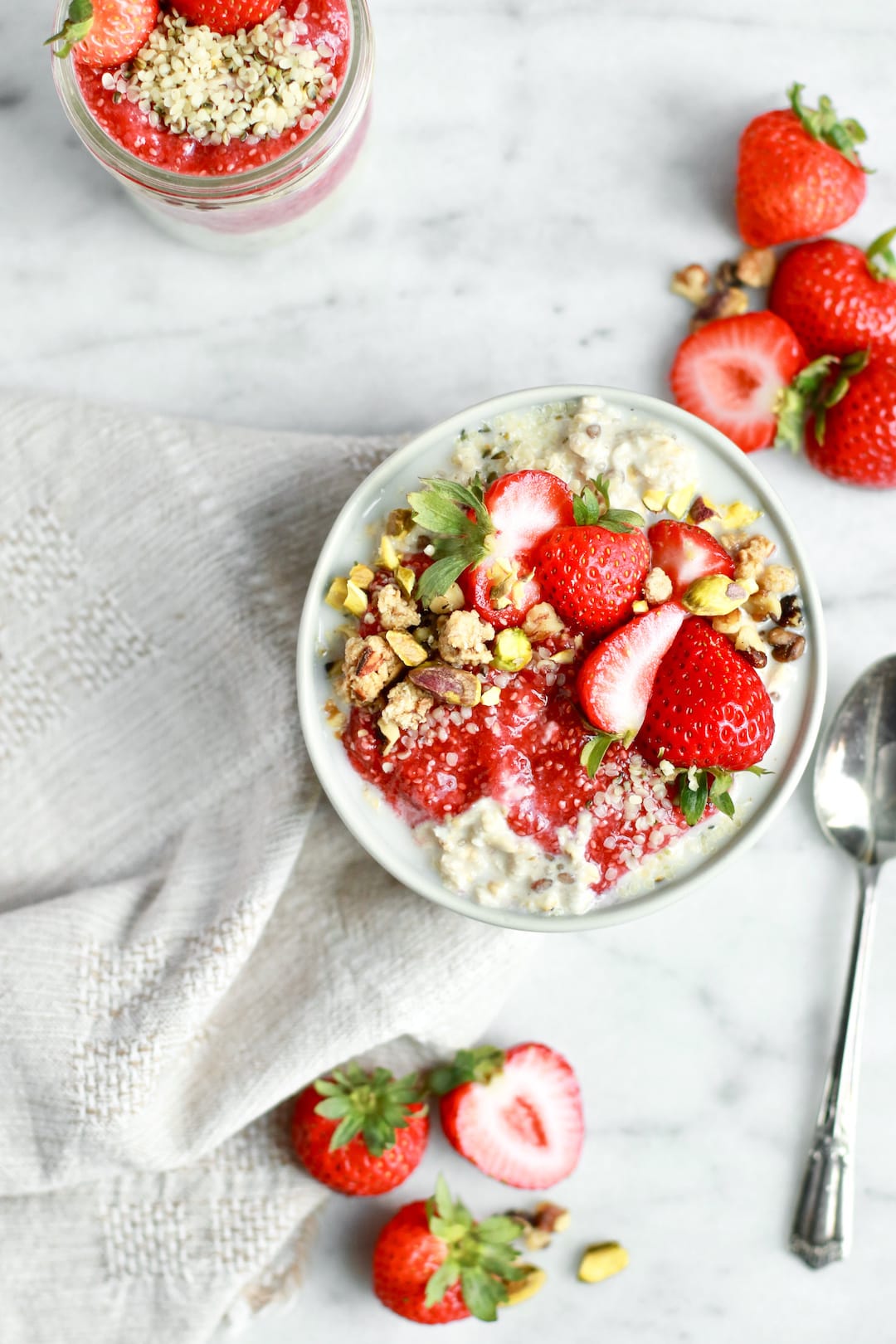 I also think I've become a bit of a pro at making homemade chia seed jam…I did dedicate a whole post to that recently. The strawberry chia jam in this recipe is even simpler than other jams I've made, with just 3 ingredients…yes, that's it! 
-Strawberries
-Chia seeds
-Pure maple syrup 
Strawberries are so naturally sweet, nature's candy really, that they already lend to a wonderfully sweet jam. Just a touch of maple syrup cuts any tartness from the strawberries without adding any refined sugars, and the chia seeds work to bind it all together and "gel" to create a thicker, jam-like consistency.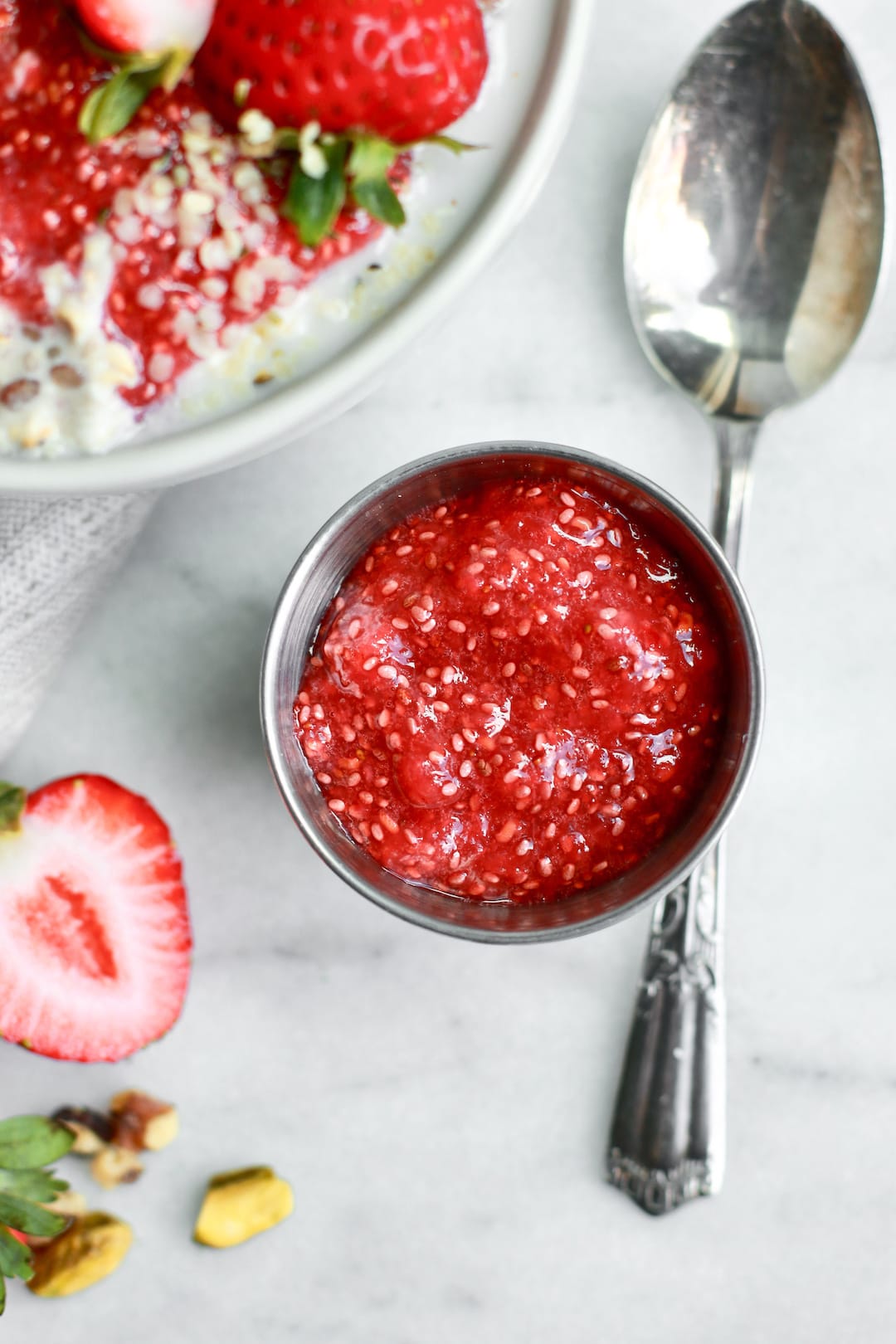 The creamy, dreamy, hearty overnight oats, layered with the Vitamin-C packed, fibre-rich strawberry chia jam and fresh strawberries, topped with pistachios, walnuts, hemp seeds, and a few hunks of gluten free granola…breakfast perfection my friends!
Breakfast perfection.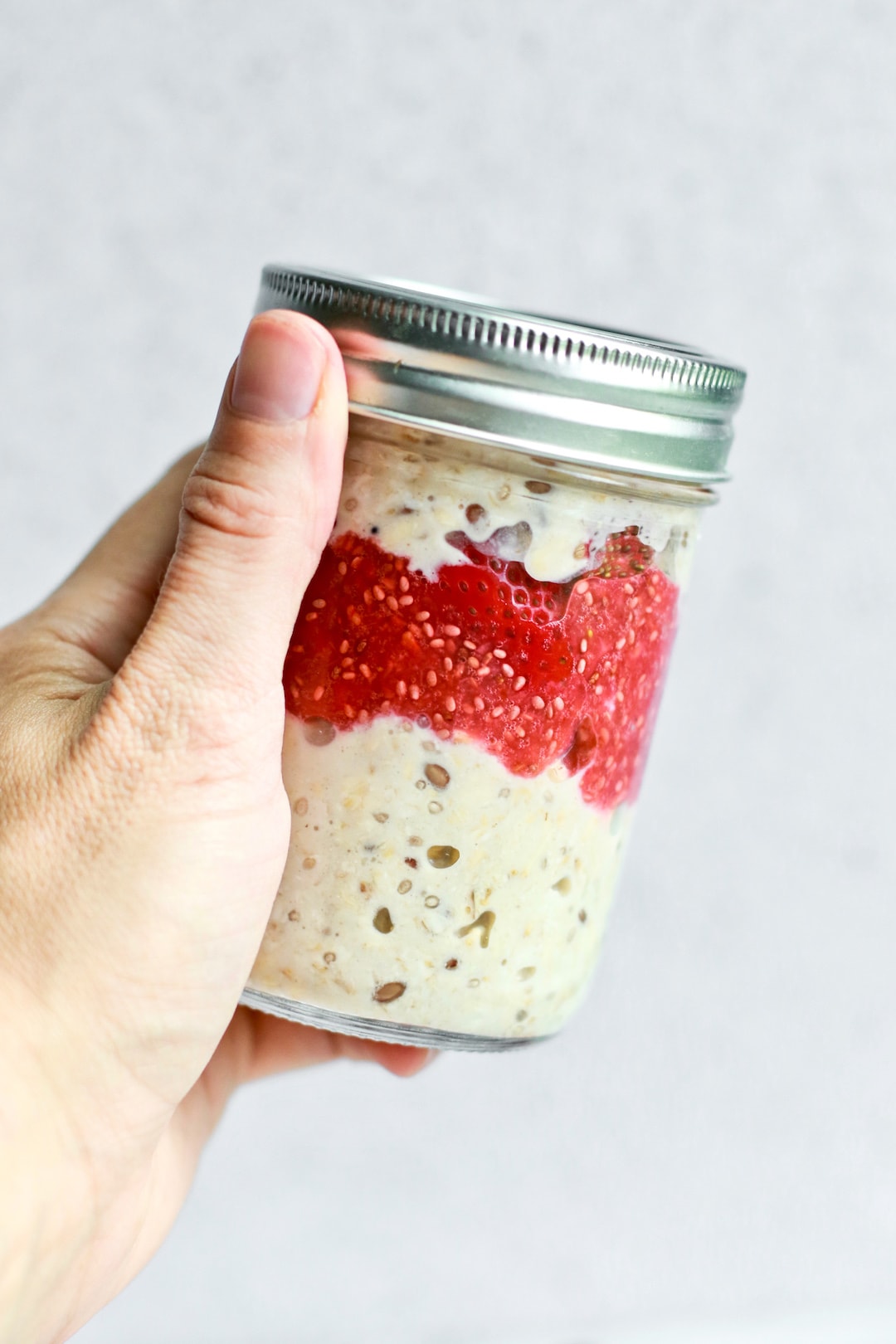 If you love healthy overnight oats as much as me, be sure to pin the photo below the recipe to save it for later and of course, share the love! Let's chat overnight oats, let me know what your favourite kind to make is in the comments section! 

Healthy Strawberry Overnight Oats
Healthy Strawberry Overnight Oats Author: Christal Sczebel Serves: 2
Ingredients
For The Soaked Oats:
1 cup regular rolled oats (gluten free if needed)
1 tablespoon chia seeds
1 tablespoon whole flax seeds
1 cup unsweetened almond milk
2 tablespoons pure maple syrup
For the Strawberry Chia Jam:
8 fresh strawberries
2 tablespoons chia seeds
1 tablespoon pure maple syrup ⠀
Extras:
Sliced strawberries
Nuts and seeds of choice
Drizzle of pure maple syrup
Instructions
In a bowl combine Soaked Oats ingredients and stir until well incorporated, cover and place in the fridge for a minimum of 5 hours or leave overnight.
In another bowl combine the Strawberry Chia Jam ingredients, cover, and leave overnight in the fridge.
In the morning, divide the oats among two bowls or jars, and layer or top with the chia jam as well as a few sliced strawberries, a sprinkle of nuts and seeds of your choice, and a drizzle of maple syrup.
Eat right away or take to enjoy on-the-go!
Pin me!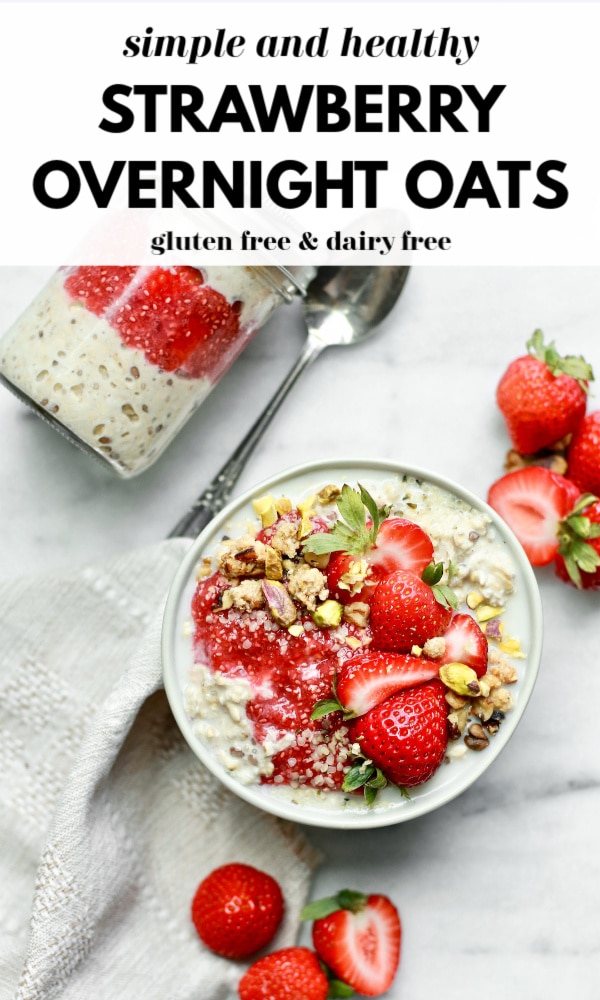 Have a lovely Sunday! 
Christal // NITK