If there ever was a breakfast that checked every nutritional box, this is it. The all-encompassing delicious, nutritious, filling, super easy Fruit-Filled Protein Packed Overnight Quinoa & Oats! This delightful breakfast bowl is a source of so many nutrients and is such a great way to start the day. Not to mention, it's a huge time-saver because you simply prepare it the night before, then in the morning, sprinkle on the garnishes and you're done!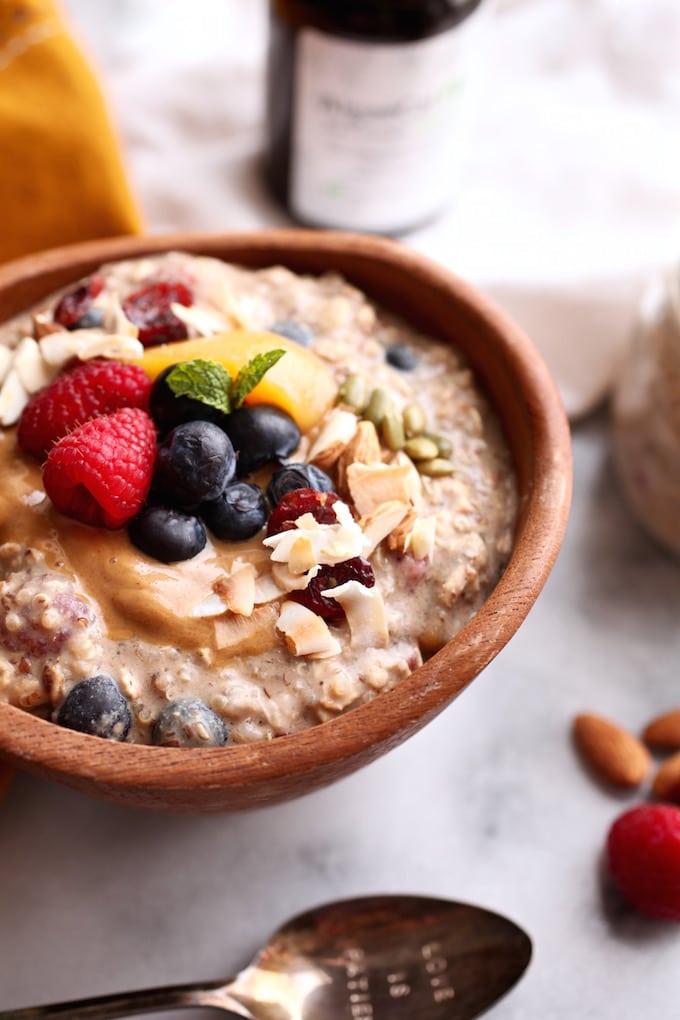 So what will you find in these overnight oats?
Protein
Fiber
Healthy Omega Rich Fats 
Vitamins A, C, and B
Minerals like Calcium, Magnesium and Manganese 
Antioxidants
Love
Oh yeah, I put love in all of my food... it's kind of mandatory in the Kitch. I love how a simple mixture of whole food ingredients can create such a delicious plethora of nutrient goodness. These overnight oats are also unique because I've added in quinoa, natural plant-based protein powder, and almonds. These foods in particular bring in extra plant proteins and awesome minerals including calcium.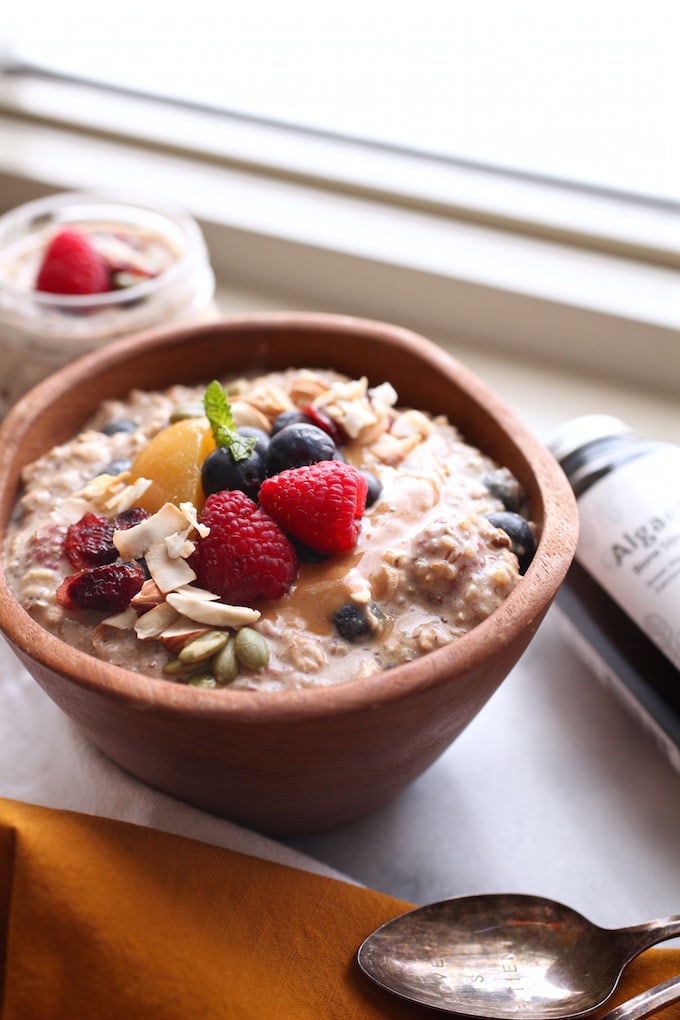 So many people are under the impression that the only real source of calcium in the diet is from dairy products and that's just not true. I'm also glad it's not true because with a dairy allergy, I'd be completely out of luck when it comes to getting an adequate intake. Calcium is also found in leafy greens, soy, almonds, rice, hempseeds, and algae. Yep, algae from the ocean. 
When AlgaeCal reached out to me about their highly absorbable completely plant-based I was intrigued. I'd looked into calcium supplements and bone-boosting compounds with other plant sources like kale, spinach, and collard greens, but algae was new to me. As it turns out, marine algae contains amazing amounts of calcium, magnesium, and 70 other trace minerals.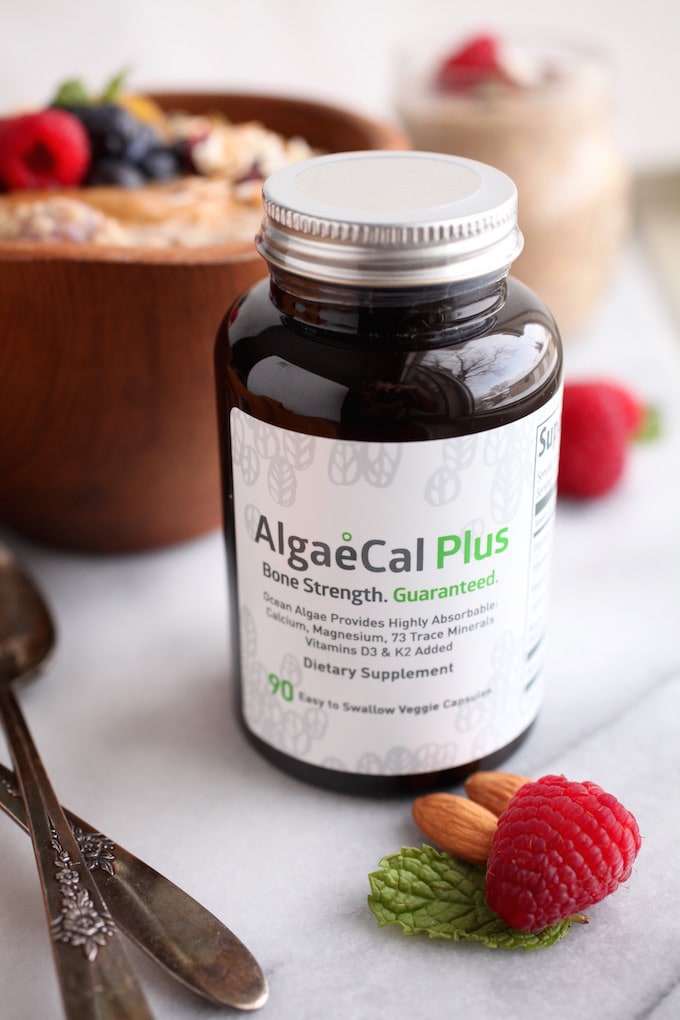 I've always been keen on getting ample calcium to strengthen my bones as I've come to realize we may have a genetic disposition to bone density issues in my family.
 My mom, several years ago, rolled her ankle walking up a hill and broke it. I was like "Mom! You are not supposed to break your ankle just by rolling it!". After that we had a nice little chat about the importance of placing focus on bone density, especially as a female. Women are more prone to osteoporosis and it's so important we keep our bones strong especially as we age, and for myself right now during pregnancy, getting that calcium for my growing babe is key.
AlgaeCal is a natural support option for osteoporosis and a great way to get a highly absorbable plant-based form of calcium, especially for those of you like me with dairy sensitivities. Oh, and you can always make this amazing bowl of overnight quinoa and oats any day of the week to amp up that calcium intake too!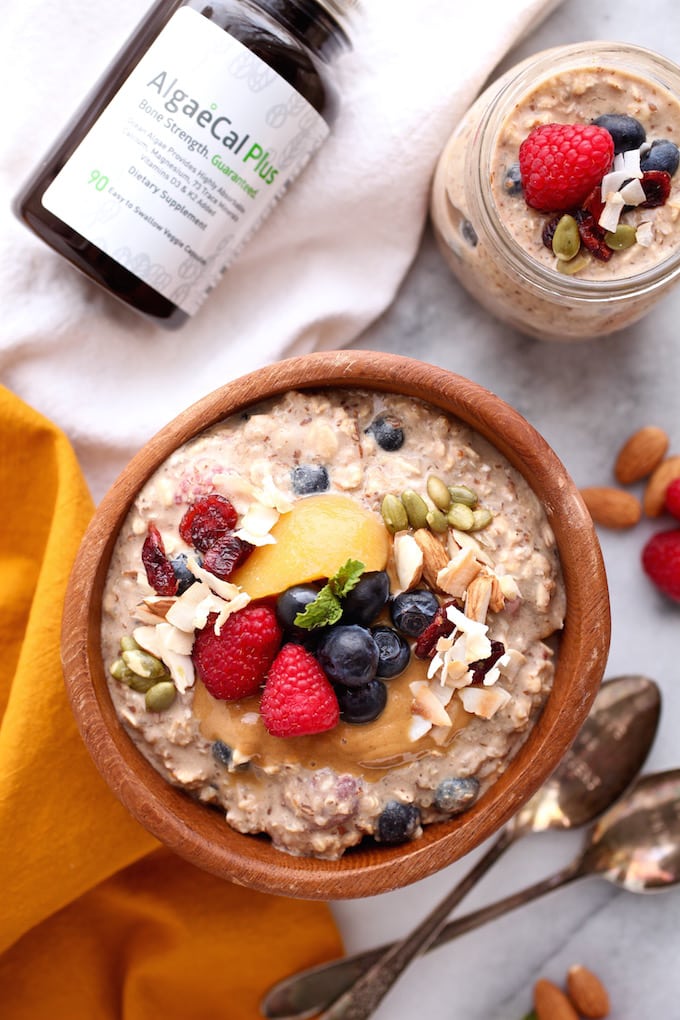 Just because I love overnight oats and think you should too, give these combinations a try by swapping out the fruit mix in this recipe for other combinations like…
Apple & Cinnamon for a little "apple pie" action. Pumpkin Puree & Pumpkin Pie Spice for a little "pumpkin pie" maybe? Cocoa Powder & Banana to make it "chunky monkey" style and top with peanut butter. Mango & Coconut for some tropical flavors..yes please! Carrot Puree, Raisins, Nutmeg, Cinnamon & Pineapple to make it just like good old carrot cake. Or, Strawberries & Rhubarb for a sweet summer combo.
Fruit-Filled Protein-Packed Overnight Quinoa & Oats
Ingredients
¼ cup large flaked gluten free rolled oats
¼ cup cooked quinoa
2 tablespoons natural vanilla vegan protein powder (or you can use grass-fed whey if you prefer, but this is not dairy-free)
¾ cup unsweetened almond milk
A few drops of liquid stevia or 1 tsp pure honey, maple syrup, or agave)
¼ banana, mashed
1 tablespoon ground flaxseed
¼ cup raspberries
¼ cup blueberries
¼ cup diced peaches
1 tsp cinnamon
Optional Toppings: toasted coconut, almond butter, almonds, seeds, dried fruits, fresh fruits, etc.
Instructions
In a medium bowl combine oats, quinoa, protein powder, ground flax, cinnamon, and stevia and stir to combine.
Add in mashed banana, berries, and peaches.
Pour in almond milk, and mix ingredients together.
Place in the fridge and leave overnight.
In the morning, remove from the fridge, heat on the stove top or in the microwave, or enjoy cold!
If you find the mixture is too thick in the morning just add in some extra almond milk!
Get creative with toppings... add nut butter, nuts, seeds, more fruit, coconut, etc!
Nutritional Information
Calories:
290 kcal
Fat:
6g
Carbohydrates:
41g
Sugar:
11g
Fiber:
11g
Protein:
19g
Christal
Nutritionist in the Kitch
Disclaimer: This post was sponsored by AlgaeCal but as always the thoughts and opinions are completely my own!