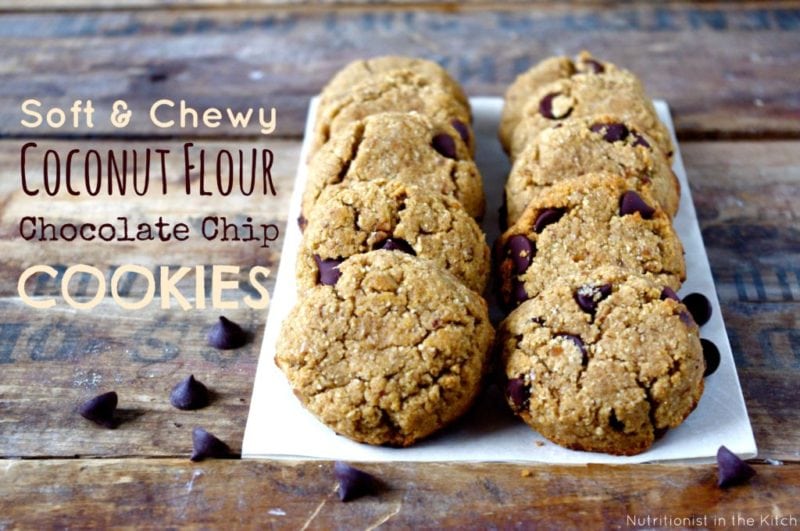 This is the first chocolate chip cookie I've done on the blog?! Can you believe it??
If there is one staple it-could-never-be-healthy kind of treat, it's the good old chocolate chip cookie.
A chocolate chip cookie. Butter, white sugar, white flour, milk chocolate, all baked up into a soft, chewy, delicious little saucer that unfortunately does nothing good for your body!
Well friends, let me tell you, the rules have been bent, the laws of nutrition have been defied, and a clean, actually-somewhat-good-for-you, chocolate chip cookie has been made!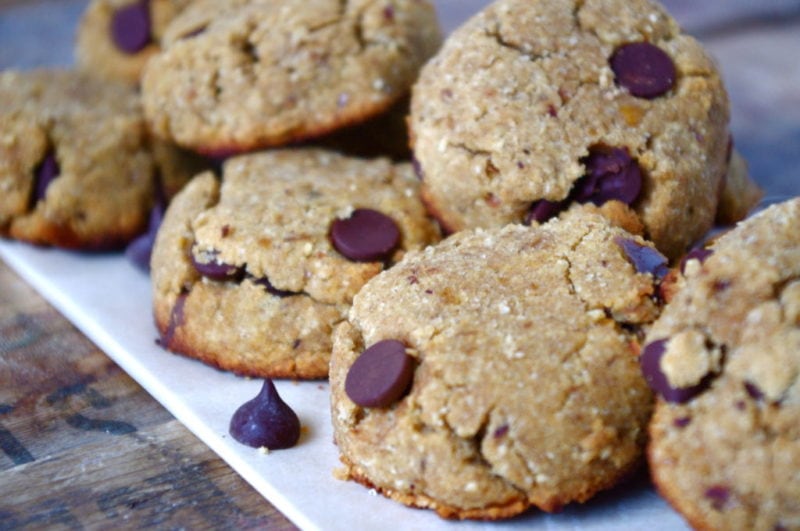 …and really, look at them. Look at the little masterpieces above and tell me you don't want to eat one of those chewy, soft, dense, sweet little cookies from Heaven!
The whole reason I made these cookies is because I volunteered to bake for the Mother's Day event this Sunday at our church! The Mom's all get honored by being pampered in between services with baked goods, manicures, retail therapy, and mini massages. Just a nice way to give back to Mom's and say thanks for all the hard work they do day in and day out!
I had a little dilemma though. The church was requesting sugar cookies or shortbread cookies, and that just wasn't in my plans. I don't own white sugar or white flour, and frankly it's just not allowed in the house. So I had to come up with a healthier option that would measure up in taste to those evil-but-delicious other baked goods that will be there.
When I suggested I do a healthier version, I was told a gluten-free option would be great because there are some Mom's at the church who have gluten intolerance/Celiacs.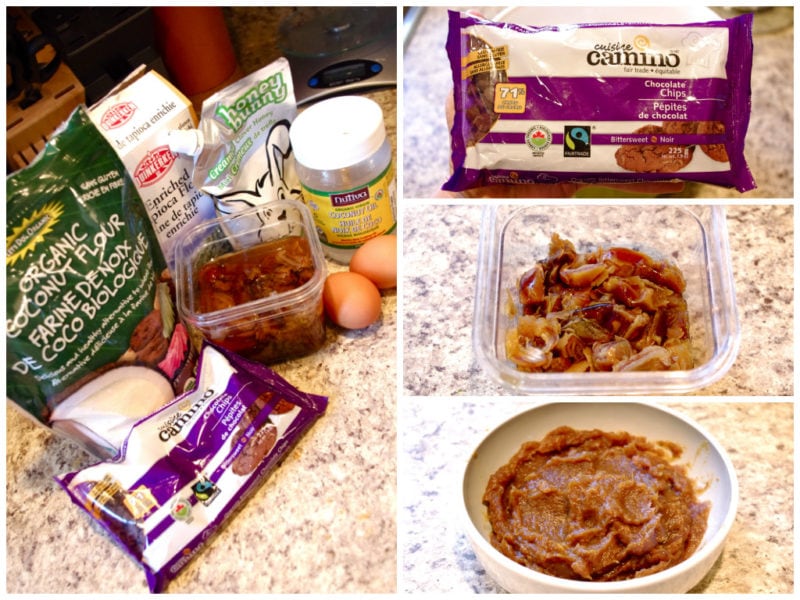 This kind of threw me for a loop but I knew I could make it happen. I searched the blogosphere for some inspiration and found some at one of my fave blogs, Purely Twins!
So, let me tell you how these delights with whole, unrefined, gluten free ingredients, taste just as good as a regular chocolate chip cookie!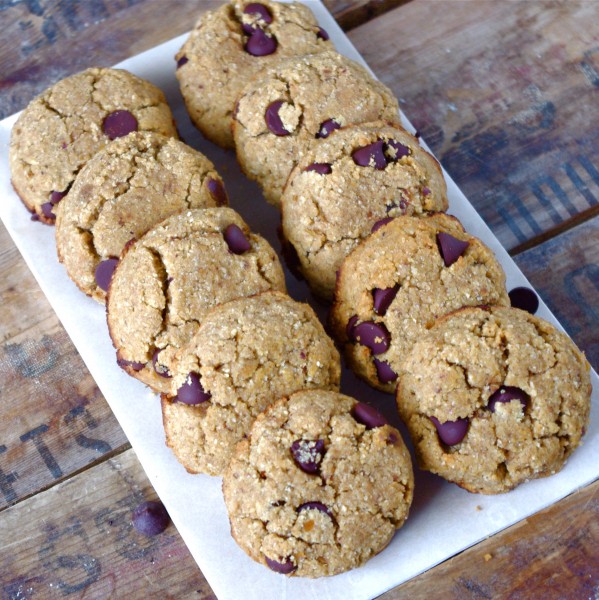 First of all, I used coconut flour as the base. Coconut flour is a great gluten free flour that can be wonderful in recipes (I've had some big flops with coconut flour, and big successes, so it's definitely a learning process).
I decided to go with homemade date paste and a tiny bit of honey as the sweetener. Date paste is wonderful, and adds in extra fiber, vitamins, and minerals let alone enough natural sweetness to make these cookies stack up in flavor to the refined sugar-laden ones!
For chewey, dense, moist cookies, the extra-virgin coconut oil, moisture from the dates, and organic free range eggs do the job. Then the crucial ingredient…the chocolate chips, Camino 71% dark cocoa bittersweet (refined sugar free) chocolate chips (gluten free too of course!).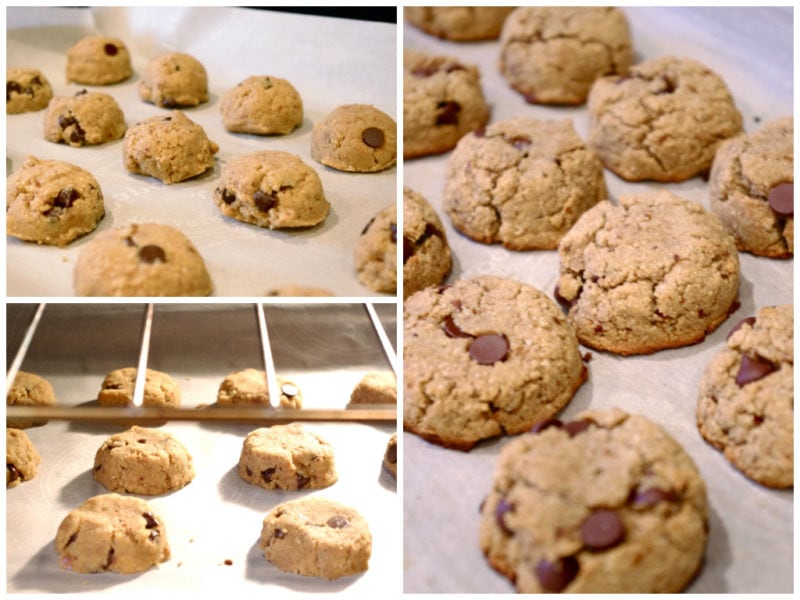 The recipe is really simple actually and the cookies are not labour intensive. I love easy baking! An easy recipe was also pretty necessary seeing as I volunteered to make 3 dozen and am also bringing an extra batch to my sisters place for our family Mother's Day!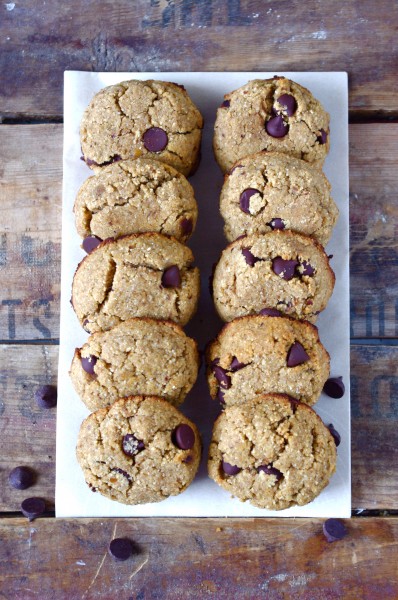 It still kind of boggles my mind why so many food companies out there still haven't caught on to the fact that sweet treats can still taste delicious when made with natural, whole, unrefined ingredients.
Maybe it's a cost factor, but really, it's the ill-health of consumers from crappy-refined-processed-chemical-wanna-be-food-products that are the REAL cost in my mind.
Ahem…sorry.
I can go off on tangents sometimes.
ANYWAYS, back to the cookies!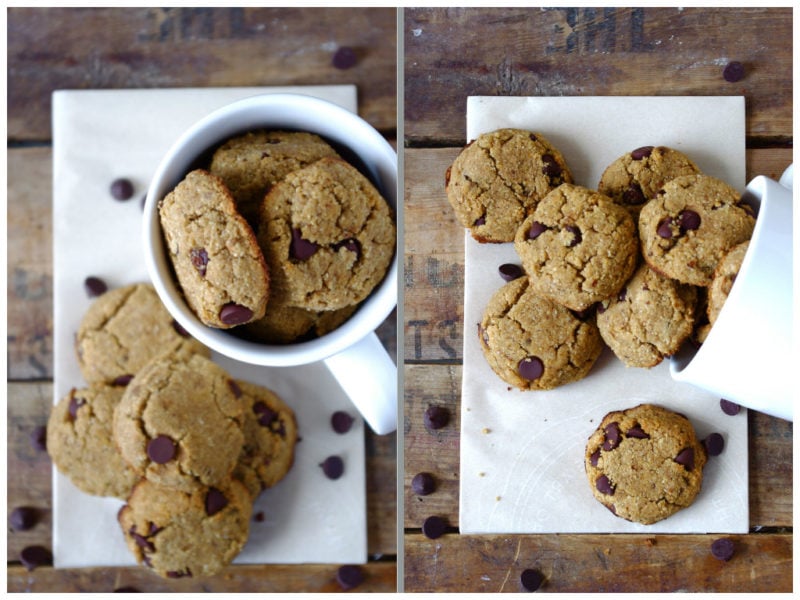 YUM!
Taking pictures of these little chocolate chip wonders was a bit of a test of willpower, I must say, as I really didn't want to have to bake ANOTHER batch of cookies!
So, aside from a couple that I swiped for myself, the rest are in the freezer. I'll get to enjoy a couple more on Mother's Day!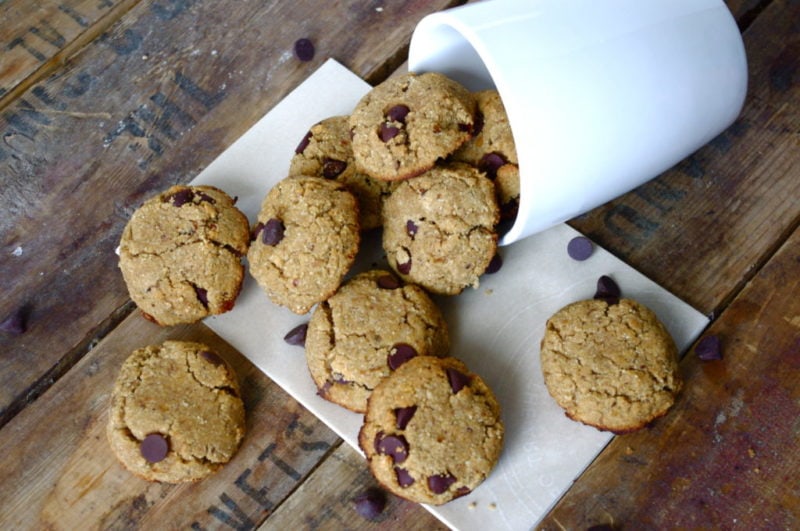 Soft & Chewy Coconut Flour Chocolate Chip Cookies (gluten free!)
Ingredients
⅔ cup coconut flour
⅓ cup tapioca flour
½ tsp baking powder
¼ tsp baking soda
⅓ cup date paste (make by soaking dates in hot water then blend into paste)
1 tsp vanilla extract
⅓ cup melted coconut oil
2 eggs at room temperature (vegan option, 2 flax eggs)
Instructions
Preheat oven to 350 degrees.
Prepare the date paste ahead of time (For the date paste, place dates in a bowl with boiling water, allow to sit for 2-24 hours, drain, and reserve 1 tablespoon of the water, place in a blender or food processor and blend until a paste is achieved)
In a large bowl combine the coconut flour, tapioca, baking powder, and baking soda.
Mix in the chocolate chips.
In another bowl combine wet ingredients, and stir until well incorporated.
Pour the wet mixture into the dry mixture and stir until all ingredients are combined.
Using a small scoop (I used a tablespoon) scoop the batter and place on a cookie sheet lined with parchment.
Press each cookie batter mound firmly, and press together any large cracks.
Bake for 12-14 minutes.
Cool completely before removing from pan.
Enjoy!
Notes
Makes 14 cookies.
Recipe adapted from Purely Twins (http://purelytwins.com/2012/10/22/perfect-soft-thick-coconut-flour-chocolate-chip-cookies/)
Nutritional Information
Serving size:
1 cookie
Calories:
149 kcal
Fat:
8g
Carbohydrates:
10g
Sugar:
3g
Fiber:
3g
Protein:
2g
Have a wonderful weekend, and a Happy Mother's Day on Sunday to all the wonderful Mom's out there!
Christal
Nutritionist in the Kitch