Someone come to my house and take these bliss balls away from me! Seriously, they are SO yummy!!!
What's better than dark, delicious, antioxidant rich chocolate, coating a delicious ball of coconut, cashews, fresh strawberries, and sweet vanilla agave?!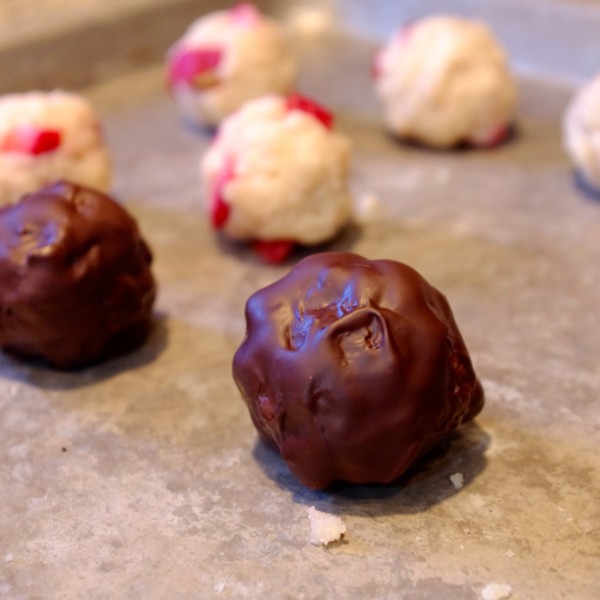 Nothing. That's what. ….nuuuuthin'!
New World Foods makes these magical little delights called "Bliss Balls" which I have been devouring since 2012. They recently started carrying this "coconut cream" variety at my local Planet Organic and with one bite, I was smitten.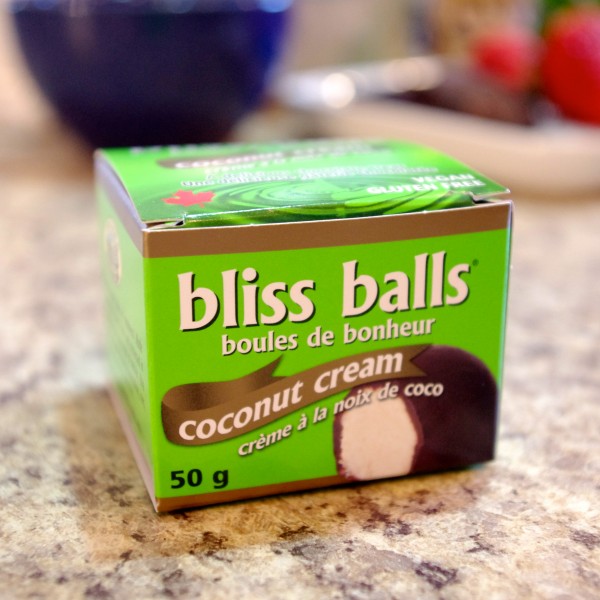 While munching away on my bliss ball I thought to myself… "these can't be that hard to recreate in the Kitch…" and the wheels started turning!
I gathered up the necessary ingredients, and spotted the fresh strawberries in my fridge… the perfect addition! I got to work!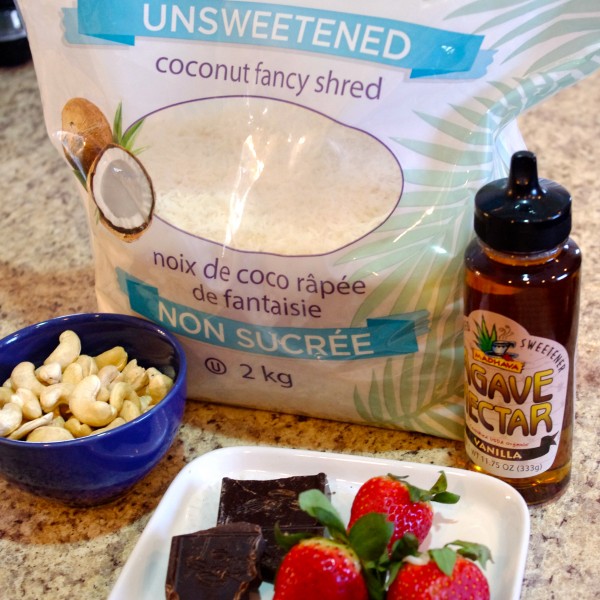 I wasn't exactly sure how the "coconut cream" would come to be, so I tossed 2 parts unsweetened shredded coconut to 1 part raw cashews in the Vitamix and started blending away. To bring in the sweetness I used vanilla Agave Nectar, and added a little bit of water to get a nice smooth consistency!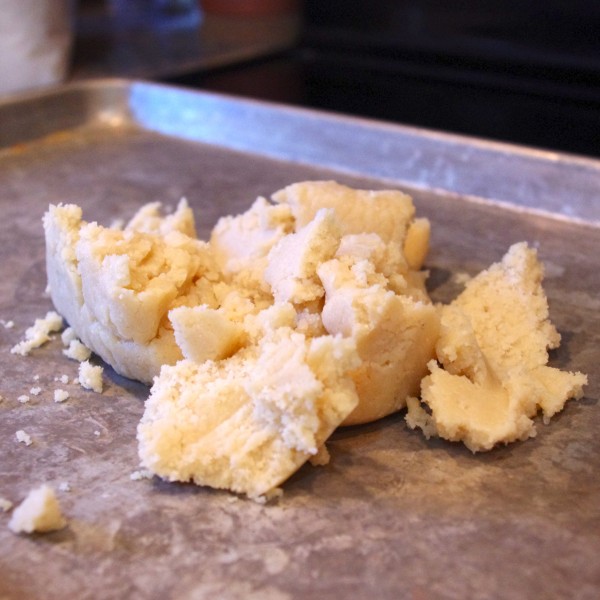 The "coconut cream" came to life in no time! I can't believe how easy it was!
Next, I diced up the fresh strawberries into little pieces and combined it with the coconut filling. A perfect combo of healthy fruit, healthy fats, fiber, and love!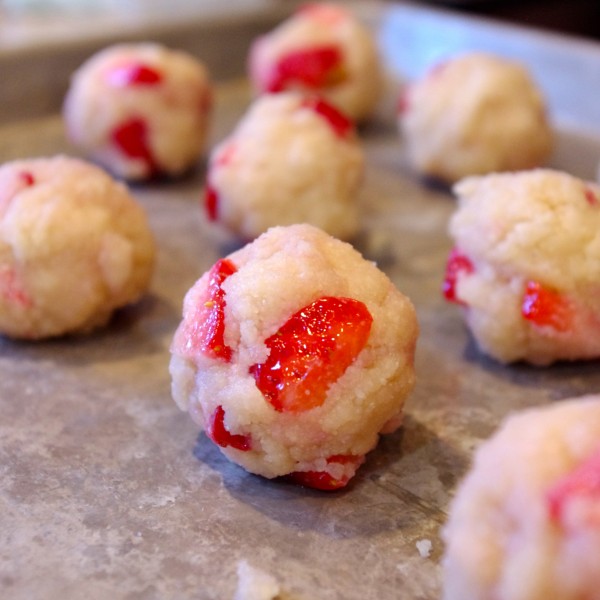 I had some locally made dark chocolate in the fridge (as I love to sneak a little nibble here and there), and I tossed it in a pan to melt. After the bliss balls had chilled for a bit, I rolled them in the melted chocolate… and voila! A recreation of the Coconut Cream Bliss Balls…. with strawberries!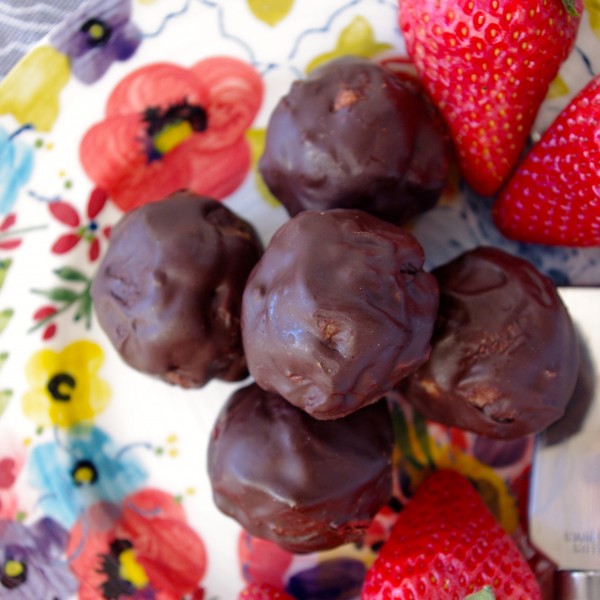 Although I love New World Foods and their amazing Bliss Balls… I love the fact that it was incredibly easy to make my own version at home, which turned out to be a cheaper and (a teeny bit) healthier alternative!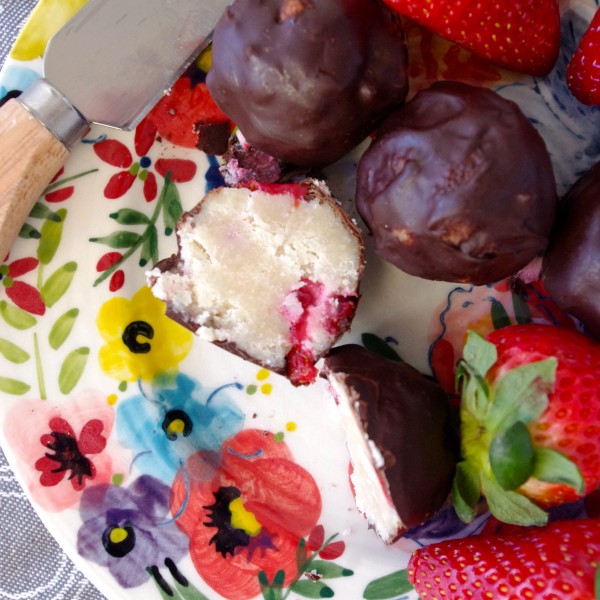 Rich, creamy, chocolatey goodness with little bursts of juicy strawberries!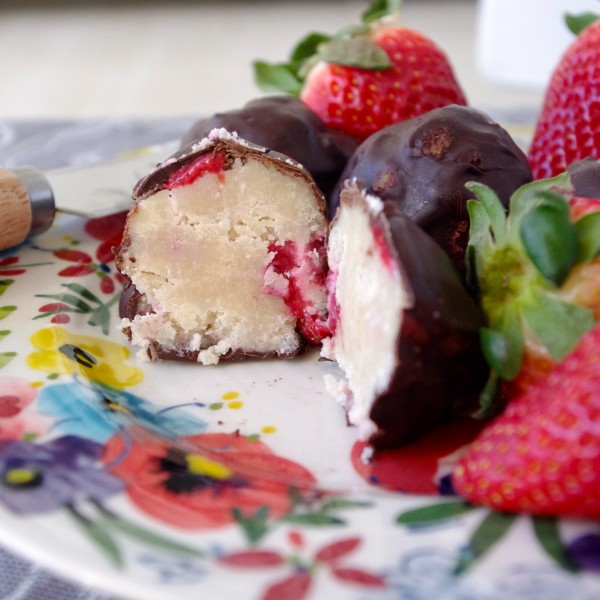 Yes please!
Thank you for the inspiration New World Foods!

Vegan Coconut Cream & Strawberry Bliss Balls
Instructions
In a food processor or high speed blender (like a Vitamix) process cashews, coconut, and agave, you may need to add 1 tablespoon of water to get a moist "batter".
You may also want to do this in a couple batches if using a narrow blender.
Once processed, in a bowl, fold the fresh strawberries into the coconut cashew batter.
Roll the batter into balls (10), and place on a cookie sheet.
Place the cookie sheet in the freezer so the balls can set for 30 minutes.
After 30 minutes, heat a small pan over low heat and slowly melt the dark chocolate.
Remove the balls from the freezer and roll them in the chocolate to coat, then set back on the pan.
Do this until all the balls are coated with chocolate (the chocolate will harden very quickly once it comes in contact with the chilled balls.)
Place the balls in the fridge or freezer for another 10 minutes to set.
Enjoy!
Store what's leftover...if any ;)... in the fridge or freezer!
Have a wonderful weekend! It's bliss ball makin' time! 
Christal
Nutritionist in the Kitch