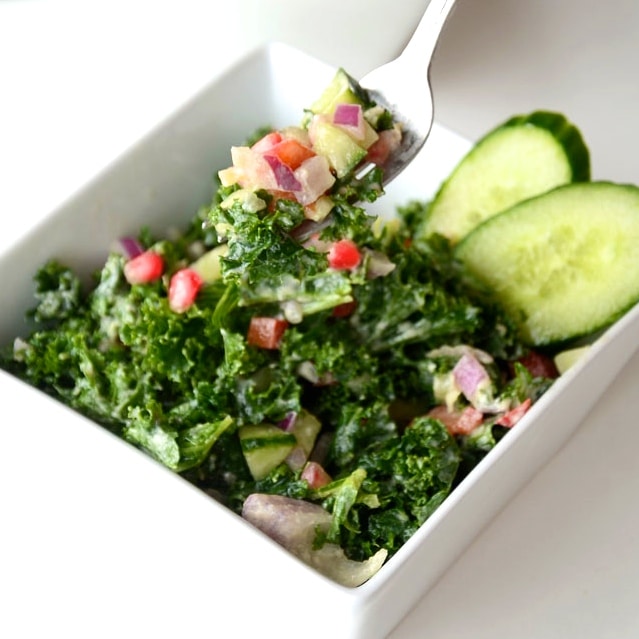 Today we have one of my fave bloggers Deryn, from Running on Real Food here to share a delicious, vegan recipe! Tahini, Kale, Pomegranate… ummm… yes, yes, yes please!
Take it away Deryn!
"I'm so happy to be here today on one of my favourite blogs, Nutritionist in the Kitch! Christal is such an inspiration to me for healthy eating. It's always so motivating to check in here and see what delicious new recipes and tips she's shared with us.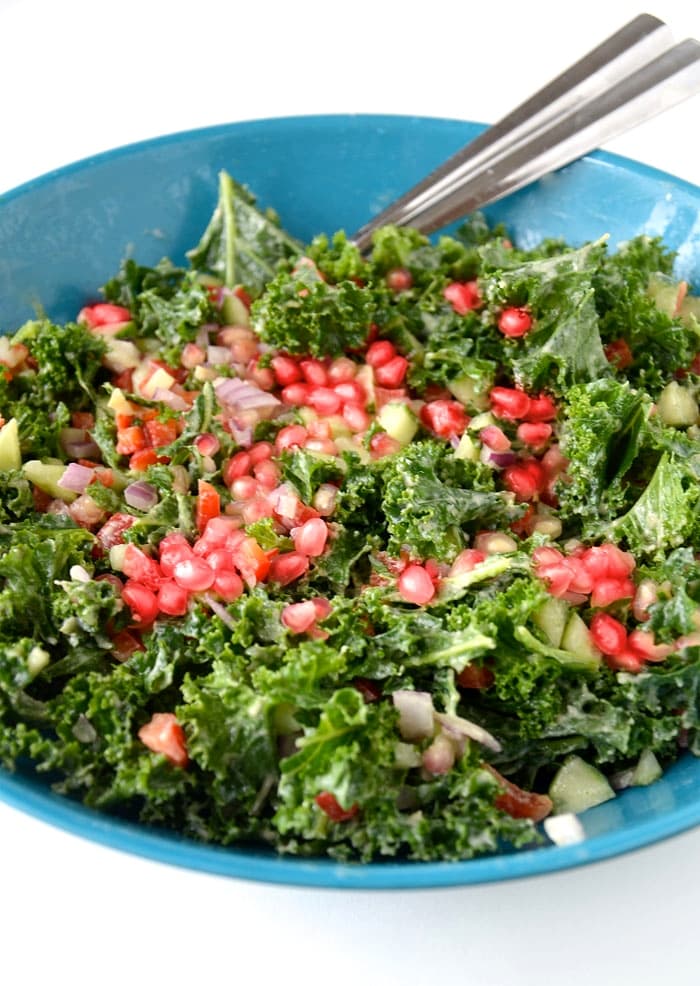 Now that fall has arrived and winter is on the way, I usually need some extra motivation for sneaking fresh greens into my diet. With the colder weather, I tend to rely on warm, hearty dishes like pasta, chili, soup and curries and sometimes forget to eat salads!
However, now that the beautiful, amazing, nutrient-rich pomegranate is finally in season, this creamy kale salad is the perfect way to enjoy some raw veggies through the winter months.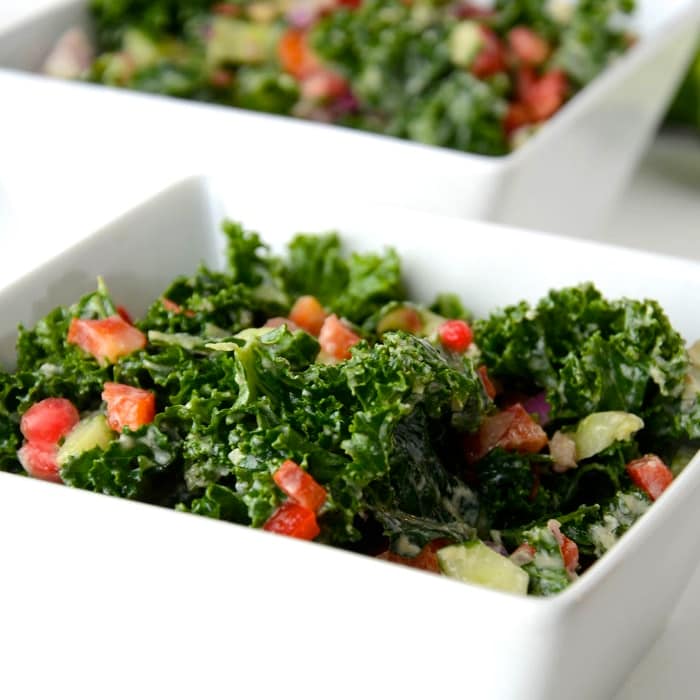 Thank you to Christal for having me here on Nutritionist in the Kitch today! I hope you all enjoy this healthful and delicious winter salad! "
-Deryn
Creamy Tahini Kale Salad with Pomegranate
Ingredients
2 bunches of kale, de-stemmed and torn into bite-sized pieces (approximately 8-10 cups)
¼ tsp sea salt
1 tsp olive oil
1 tsp fresh lemon juice
½ a small red onion, diced
½ a cucumber, diced
1 red bell pepper, diced
seeds from 1 pomegranate
**Tahini Dressing**
½ cup tahini
2 cloves garlic
4 tbsp fresh lemon juice
1 tbsp nutritional yeast
¼ cup olive oil
½ tsp sea salt
½ tsp black pepper
¼ cup water
Instructions
Place the kale, sea salt, olive oil and fresh lemon juice in a large bowl.
Massage the kale for a few minutes until it's well coated. Set aside.
Blend all the ingredients for the dressing until smooth and creamy.
Add the onion, cucumber, pomegranate red pepper to the kale.
Add the tahini dressing and mix well.
Store any leftovers in the fridge.
Deryn Macey is a Vancouver-based blogger who shares vegan recipes, healthy living tips, workouts and more on her blog, Running on Real Food. Connect with her on Facebook, Twitter or Instagram or visit her blog to find out more.