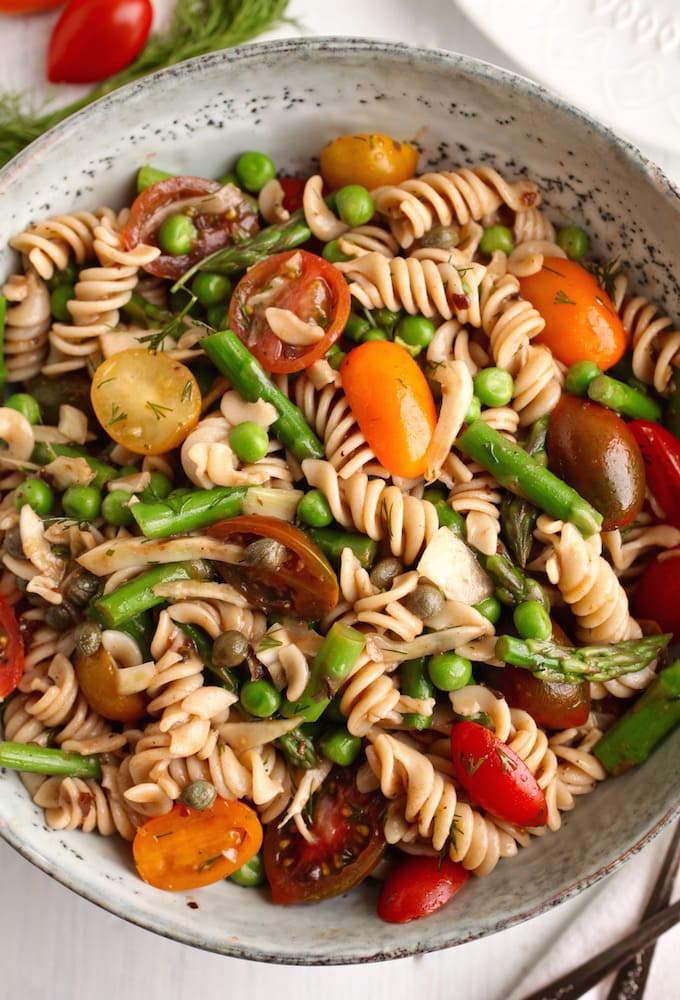 Spring has been splendid, hasn't it? It's not technically over just yet, but this pasta salad is definitely my ode to Spring! As soon as June rolls around I'm ready to change gears into full on Summer mode (I know, I know, the official first day of Summer isn't until June 20th, but I like to celebrate early), so I'm quite ready to bid farewell to Spring inspired recipes and bring on that summer goodness.
This pasta salad is light, fresh, and loaded with bright, crunchy, vegetables, tangy capers, and wonderful fresh herbs. I cheated a little bit on the dressing and used a store-bought dressing but hey, I'm kind of in the "whatever's-easiest-and-still-mostly-healthy mode" right now. A new baby does that to a person!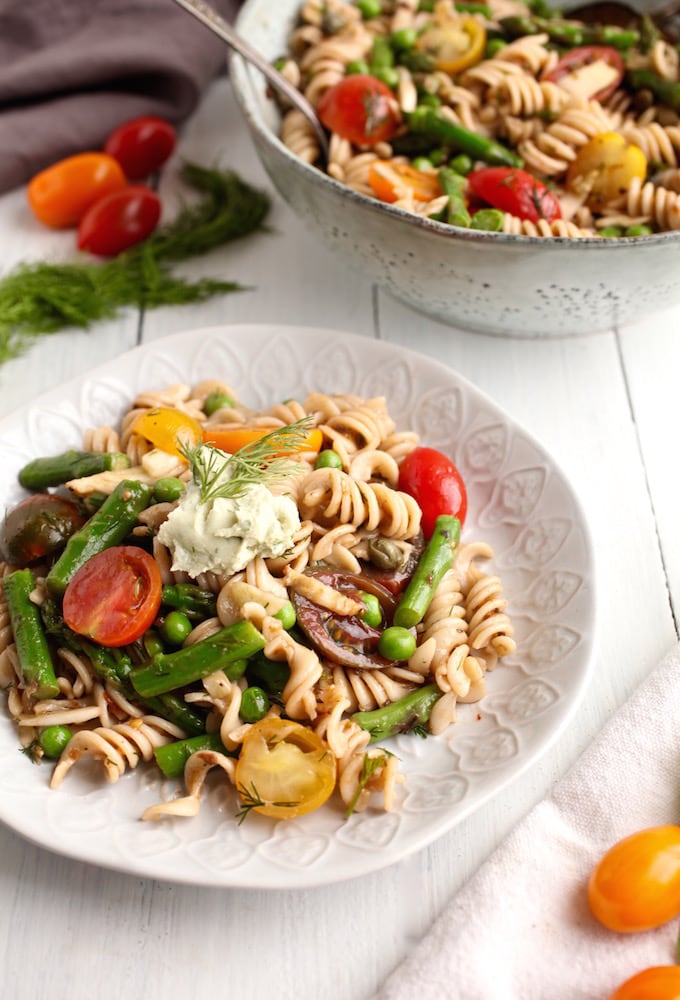 Throughout my pregnancy I was on quite the carbohydrate kick and pasta made it's way into our kitchen rather often compared to my pre-pregnancy time. While white wheat-based pasta has never sat well with me, I've found that gluten-free alternatives like rice, quinoa, or gluten-free blends digest just fine so I am pleased that these days there are an abundance of whole grain, non-wheat/gluten pastas on the market.
The ratio of pasta to vegetables in this pasta salad is pretty even making it a wonderfully healthy salad with a blend of fibre, vitamins, minerals, enzymes, and all-around-goodness.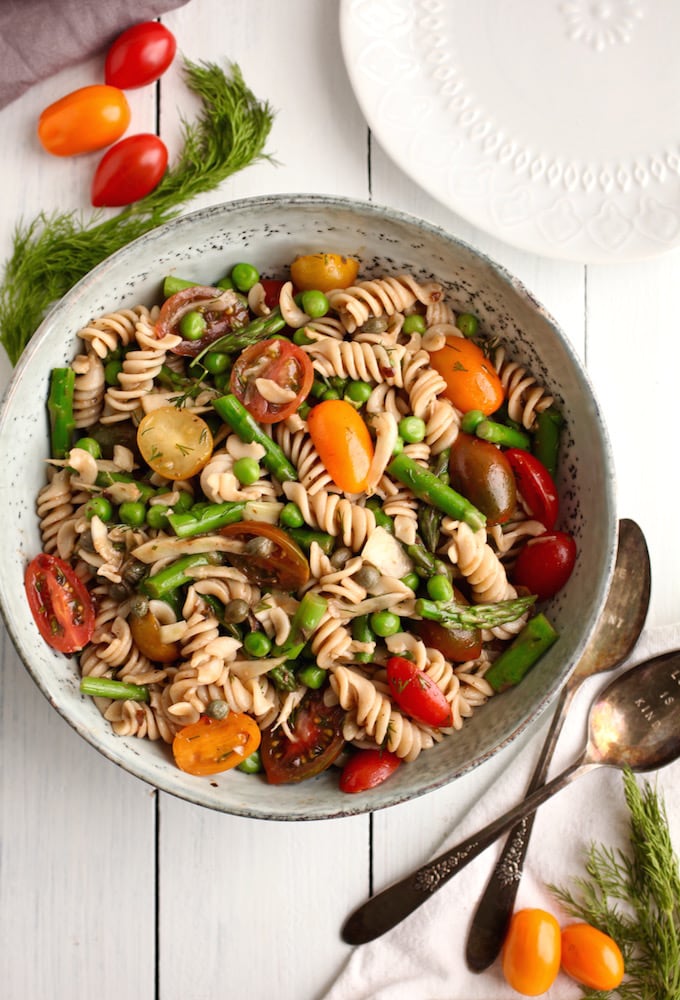 When it comes to preparation time, this pasta salad is quick, quick, quick. Simply cook the pasta, toss in the veggies (which you can chop/dice/slice while the pasta is cooking), and pour in the dressing. I actually enjoyed this salad slightly warm when I first prepared it (because I was too impatient to wait for it to chill), and then I ate it again after it had chilled in the fridge and was happy with both versions.
Pasta salads have seem to long received a bad reputation, but my friends, this ain't no sloppy macaroni salad (I have vivid childhood memories of that stuff). This Simple Vegetable Pasta Salad is sophisticated, delicious, and nourishing.
With Summer barbecues on their way in, this makes the perfect dish to bring along or serve with your favourite grilled protein. I also love that it's versatile. You can switch and swap out vegetables as they come in season, try different combinations of herbs, and even switch up the dressing if you so please.
The pasta salad world is your oyster.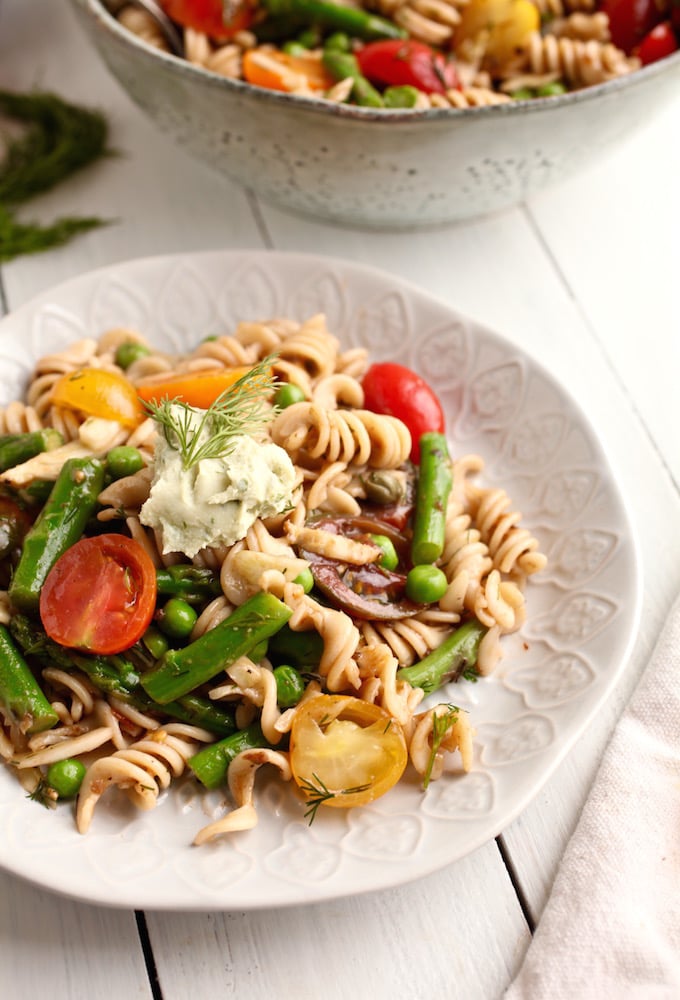 Do you have a token go-to Spring or Summer inspired pasta salad? Is it healthy, not so much, or maybe right in between? I'd love to read about it in the comments below! 

Simple Spring Pasta Salad
Ingredients
3 cups cooked gluten-free pasta of choice (I love rice/quinoa blends)
2 cups sliced heirloom cherry tomatoes
½ cup thinly sliced fennel
½ cup green peas
12 cooked asparagus spears, chopped (add the spears to boiling water for 2-3 minutes, then blanch by rinsing under very cold water, then chop)
2 tablespoons chopped fresh dill
1 tablespoon capers
⅓ cup of your favourite organic French or Italian dressing
¼ tsp pepper
¼ tsp garlic salt
1 tablespoon of fresh lemon juice
Optional Garnish: I topped my pasta salad with a dollop of dairy free cashew-based chive cream cheese to add a little richness, it was wonderful! This is totally optional but definitely like the cherry on top!
Instructions
Cook pasta according to instructions.
While the pasta is cooking, chop the vegetables, herbs, and blanch and chop the asparagus.
Once the pasta is cooked to your preferred liking, rinse it under cold water to cool it, then drain and pour into a large bowl.
Add in the vegetables, capers, dill, salt, pepper, and lemon juice and give everything a good toss.
Pour in the dressing and toss again to coat.
Enjoy right away or chill in the fridge for 1 hour if you prefer.
Before serving, garnish with a dollop of dairy free cream cheese, or crumbled goat or feta cheese if you prefer.
Have a great rest of your weekend!
Christal // NITK