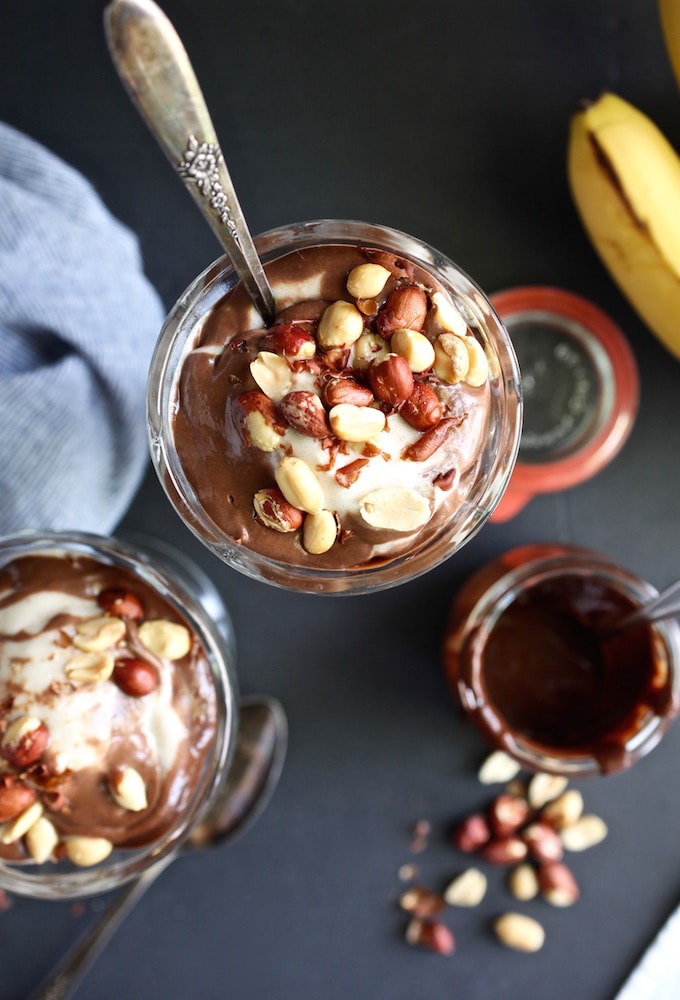 We've had some amazing weather over these past couple of weeks here in YEG and I'm diggin' it big time. On the hot days I'm getting out and about with Hemsley so we can enjoy the sunshine together and luckily she's a really great traveller (so far!), so heading to the pool, park, or going for stroller walks is really enjoyable.
I've also been whipping up some tasty Summer inspired desserts including banana ice-cream, fresh cut berries, bowls of cherries, and tasty treats like these Banana Buster Bar Parfaits! A simple blend of frozen bananas layered with a homemade blender fudge sauce and crunchy salted peanuts makes a delicious parfait dessert that's made with only whole food ingredients.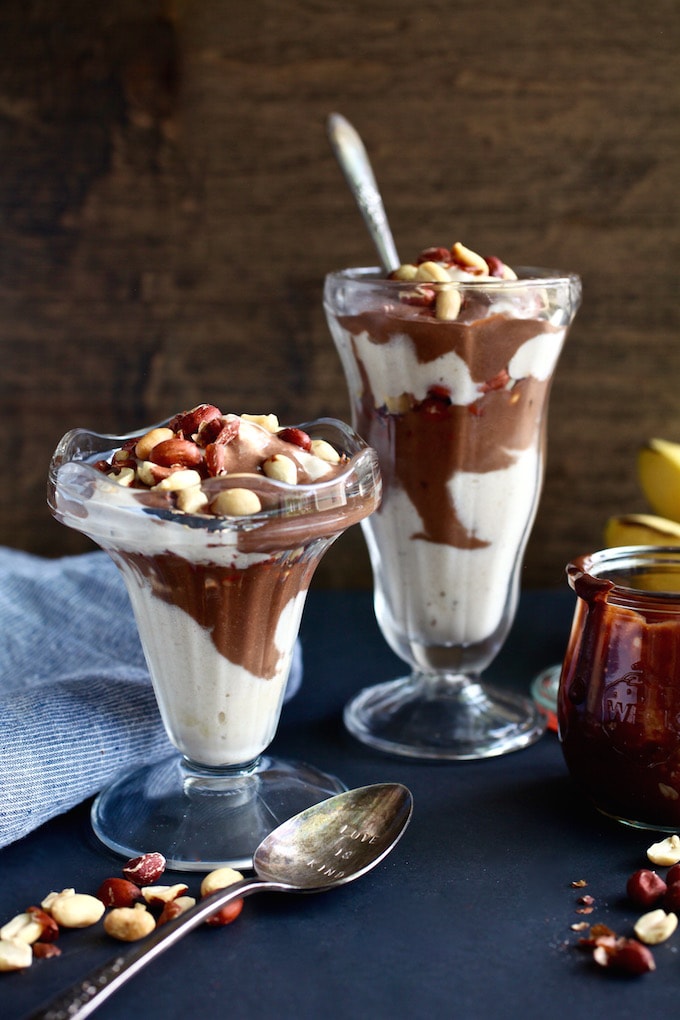 For this post I teamed up with Sears Canada as they have recently rolled out a shiny new high speed blender… the Kenmore Pro Heavy Duty Professional Blender. As many of you know, I've been using my Vitamix for several years now so when I heard that the Kenmore Pro shared all the same features but came at a much lower price point, I knew I had to give it a try myself.
Instead of creating a smoothie which I thought would be a little too cliche, I wanted to put the Kenmore Pro to the test with a tougher blended recipe. Frozen bananas are hearty and take power to transform into a creamy, smooth ice cream consistency (definitely not a match for wimpy blenders) so I knew they were the perfect ingredient.
The thick and drizzly fudge sauce which I made with soaked dates, cocoa powder, pure maple syrup, and coconut cream also needed good blending power so it was another great test for the Kenmore Pro.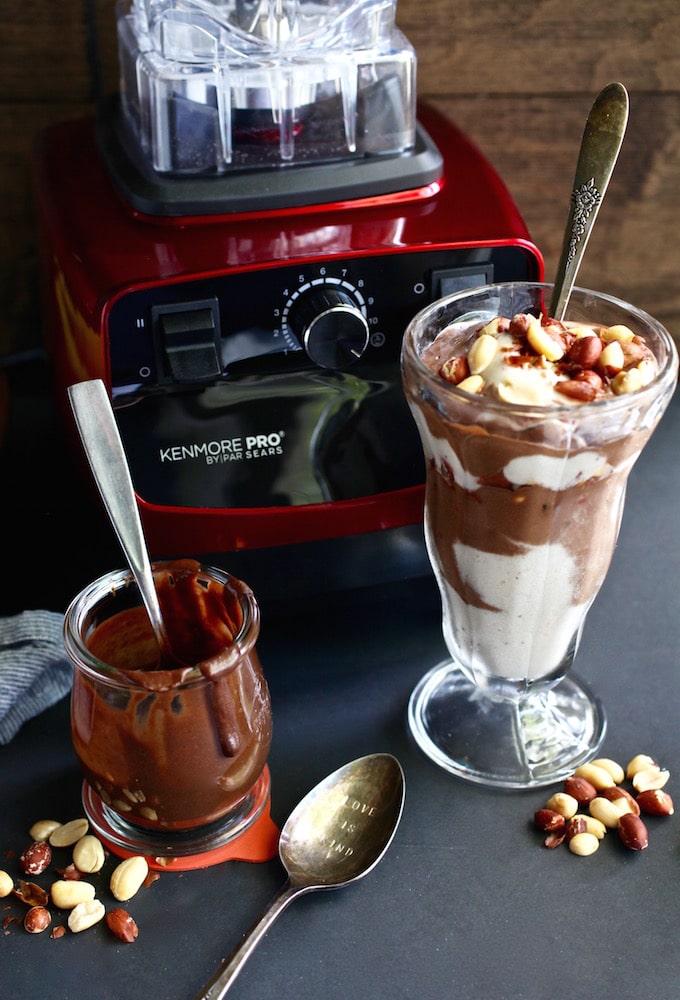 When it comes to nutrition, this dessert has a nice combination of fats from the coconut cream and peanuts, natural sweetness from the bananas, dates, and pure maple syrup, and there's even a good amount of fibre. As you may have guessed by the title, my recipe was inspired by Dairy Queen Buster Bars, a childhood dessert favourite of mine.
While my parfaits may not be loaded with vanilla ice cream, the banana ice cream makes a perfect allergy-friendly naturally sweet alternative and the homemade fudge sauce is just as delicious as what you'd find in any Dairy Queen delight! Oh and these delicious and healthier parfaits will save you the gut rot too…I'll take that any day.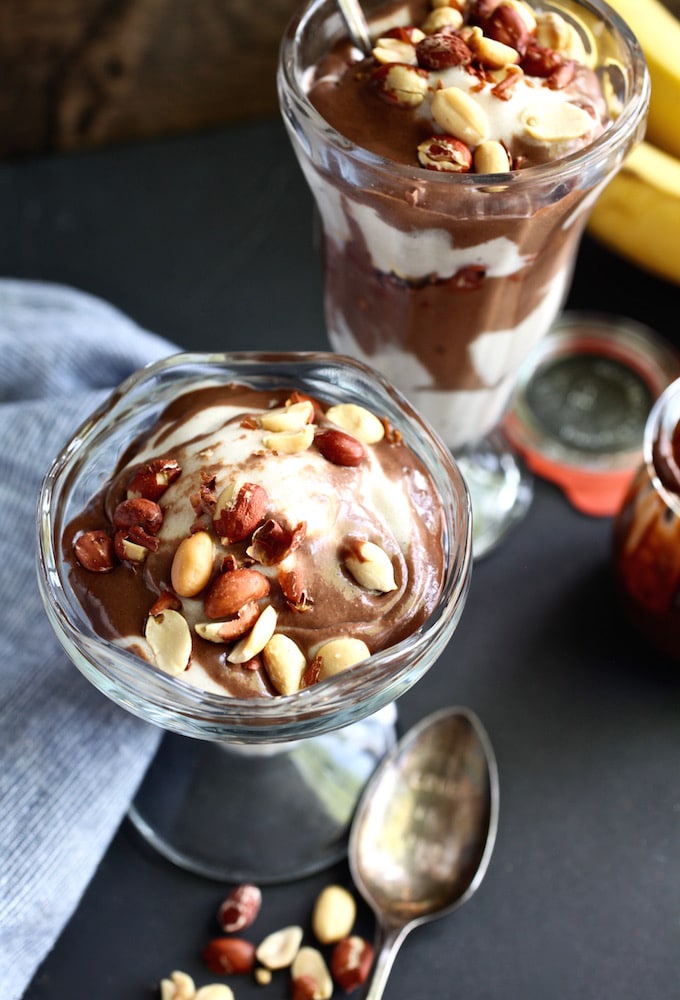 So how did the Kenmore Pro perform?
It blended up the bananas beautifully, created a thick and smooth fudge sauce, and cleaned up nicely too. While I can't say its a perfect match to the Vitamix, it does have a lot of power, blends with force, has the same functionalities, and it is super easy to clean. Not to mention it makes a great countertop appliance to add a pop of colour to any kitchen!
I did find that the Kenmore Pro felt less "sturdy" than the Vitamix as each piece, the canister, lid, tamper, and base are made with different materials that are lighter. While the Kenmore Pro blender is coined "heavy duty" I wouldn't say it's "luxury" which is what I assume makes it so affordable in comparison to the Vitamix. The speed function was also somewhat touchy and I needed to make sure that I very slowly increased the speed dial while also using the tamper to make sure that the bananas didn't get jammed up at the bottom.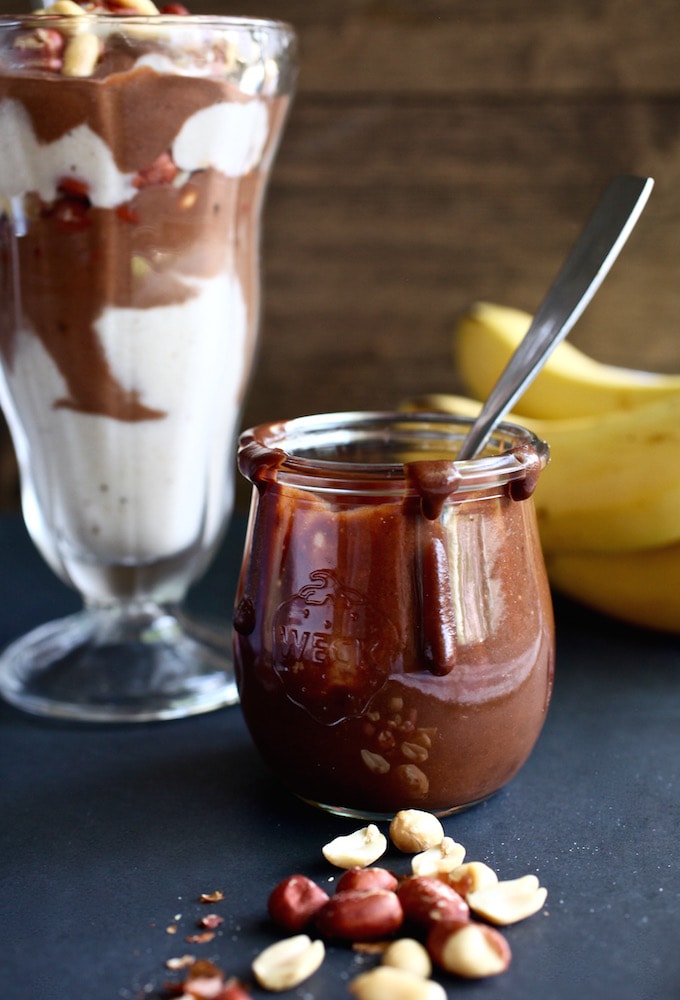 I'm not sure if that "touchy" speed dial only felt that way because the blender was brand new and my Vitamix is not, but my recommendation with the Kenmore Pro would be to go slow when increasing the speed at first.
Overall however, I was pretty impressed. I often get asked about the kitchen appliances I use and I've had many people tell me that while they'd love the "luxury" Vitamix, it's just not in the budget. I really think the Kenmore Pro is the best alternative in this case. It's an awesome heavy-duty blender that does the job, looks great, and won't break the bank!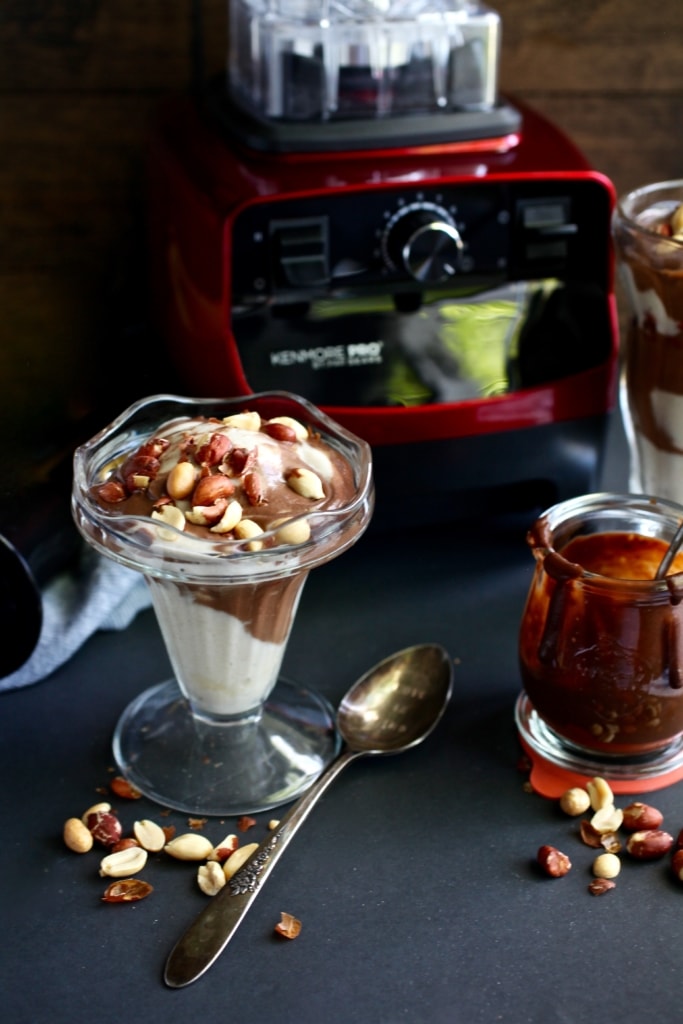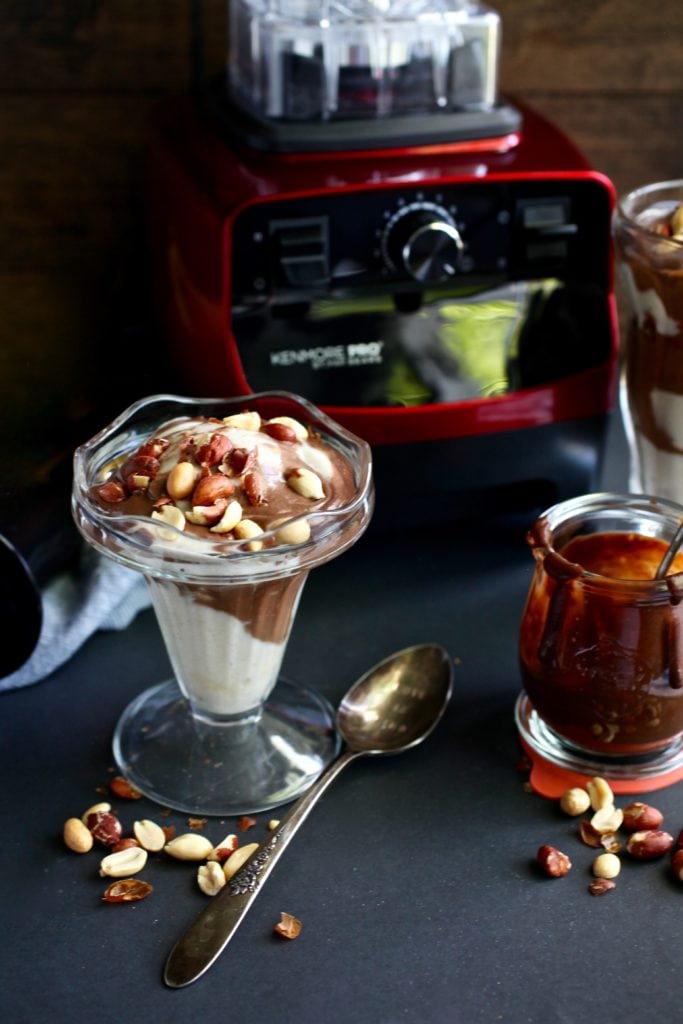 If you'd like to try the Kenmore Pro out yourself and make some Banana Buster Bar Parfaits then I've got some great news for you…Sears Canada is giving one of my lucky readers a Kenmore Pro of their own! All you have to do is enter the giveaway below or enter on Instagram.
Here are the two ways to enter:
Complete the steps in the Rafflecopter Box below  and/or…
Head over to the Nutrition in the Kitch Instagram and enter directly on the post for this recipe (the Instagram photo will be live at 11:00am)!
I'll be tallying up ALL the entries and picking a winner on Wednesday, June 14th, so be sure to get in as many entries as you can before then.
Congratulations Katelyn Wood, selected as winner of the Kenmore Pro Blender!! 
*Giveaway Has Ended*
Banana Buster Bar Parfaits
Ingredients
Banana "Ice Cream":
2 large or 3 medium frozen bananas, cut into chunks
4 tablespoons unsweetened vanilla almond milk
Chocolate Fudge:
½ cup pitted dates, soaked in HOT water for 15 minutes
2 tablespoons date water*
½ cup coconut cream*
3 tablespoons cocoa powder
2 tablespoons pure maple syrup
Peanuts:
⅓ cup salted red skin peanuts
Instructions
Soak the dates in hot water for 15 minutes then drain, reserving 2 tablespoons of the date water.
Add the soaked dates and the date water to a high-speed blender.
Add in the cocoa powder, coconut cream, and pure maple syrup.
Blend on the lowest speed using a tamper to help the dates blend and then slowly increase the speed on your blender as the chocolate fudge sauce begins to turn smooth (you may need to use a spatula to scrape the sides of the blender intermittently during blending).
Once the chocolate fudge sauce is completely smooth, transfer to a bowl or jar and set aside.
Rinse your blender to clean it, then prepare the ice cream.
Add the frozen banana chunks and almond milk to the blender and start on low, then increase to a higher speed, using the tamper to help the bananas blend into a smooth soft serve consistency.
Assemble the desserts using 2 or 3 parfait glasses (depending on size).
Divide the banana "ice cream" between the glasses, and layer with the chocolate sauce, then the peanuts (banana ice cream, fudge sauce, peanuts, banana ice cream, fudge sauce, peanuts).
Enjoy immediately or if you are enjoying later, place the banana ice cream in the freezer and the fudge sauce in the fridge, and then assemble right before serving (you will need to allow a few minutes for the banana ice cream to thaw until it is scoopable, and warm the fudge sauce slightly to soften).
Have a beautiful Sunday and Happy Blending!
Christal // NITK
*DISCLAIMER: THIS POST WAS SPONSORED BY SEARS CANADA, BUT AS ALWAYS THE THOUGHTS AND OPINIONS ARE MY OWN AND I ONLY RECOMMEND BRANDS I TRULY ENJOY AND STAND BEHIND. THANK YOU FOR SUPPORTING THE LIFE AND GROWTH OF NUTRITION IN THE KITCH!