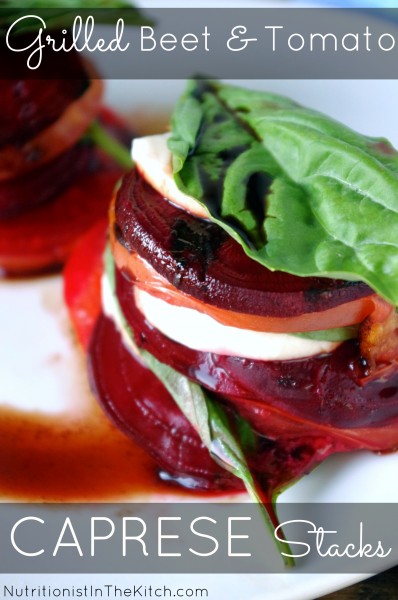 I'm going to (try my best to) keep this post simple and to the point, just like this recipe… simple and to the point!
As you may already know, I like simple recipes…not too intricate, minimal ingredients, and limited effort required.
Sometimes I wish I had a little more ambition to make all those complicated and extravagant masterpieces I've come across, but quite honestly, I don't want to be cleaning food out of every nook and cranny in my kitchen for the following week (it's happened… I've can admit I've had to clean food off the ceiling in the past) so I tend to stick with what I know. Simple!
This recipe is exactly one of those – not too intricate, minimal ingredients, and limited effort required…but the result?
A beautiful, colorful, wow-factor, delicious and healthy creation!
I've been on a beet kick lately – and I've been seeing tons of fresh basil hit the grocery store shelves in the past couple weeks, so I figured there has to be a way to combine the two!
Caprese salads are probably one of my all time favorites – when I go to a restaurant, if it's on the salad section of the menu, you better bet I'm probably going to be ordering it!
There's just something so perfect about the combination of juicy ripe tomatoes, fresh aromatic basil, soft unripened mozzarella, and the tang of balsamic vinegar! When the hubby and I were in Italy last year we ordered this salad on a daily basis! So fresh, light, and healthy!
I thought about just stacking steamed beets with tomatoes, the mozza, and basil, but I felt like I needed to take it to the next level.. in still a very simple way… and what better a way then to throw it all on the grill!!
It is summer after all! No better time than now to use the grill!
It took me less than 15 minutes to make these wonderful caprese stacks, and yet they look as if they took much more effort and skill than they did! (sneaky, sneaky! ;))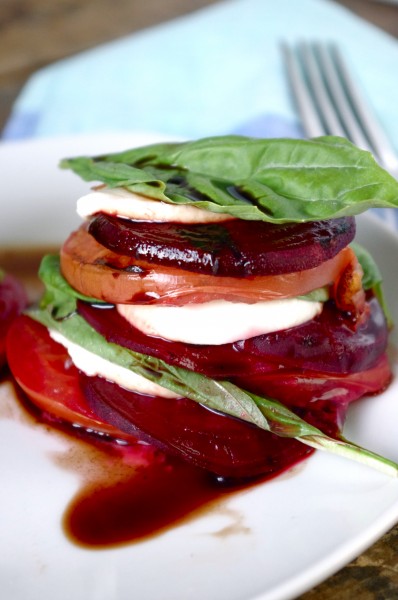 Beets and tomatoes are both fantastic sources of anti-oxidants!
Tomatoes are rich in lycopene which helps prevent degenerative diseases, reduces the risk of certain cancers, and helps to fight inflammation. Beets on the other hand contain betaine which has anti-aging properties, protects the liver from chemical damage, and also reduces inflammation in the body.
Combine the two and WOWIE, we've got an anti-aging powerhouse recipe!! I'm only 27 but hey, I'll take those anti-aging benefits any day of the week! 🙂
We enjoyed these yummy caprese stacks with a grilled chicken breast and some green beans last night, and let me tell you, it hit the spot!
The hubby loved the beet and tomato combo too!
I'm already starting to brainstorm what other caprese combinations I could make – I saw one the other day on Pinterest using nectarines, tomatoes, mozza, and basil!!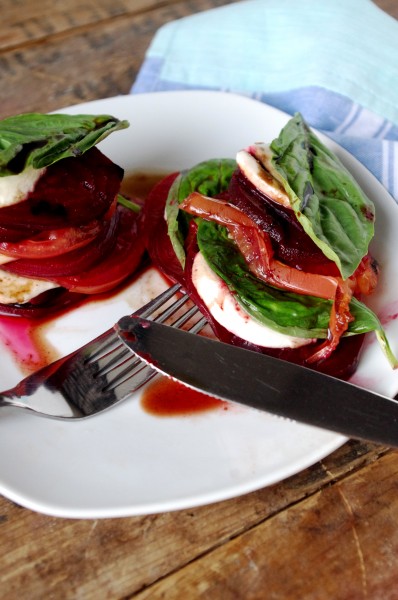 What other variations of caprese salads/stacks have you tried?? I'd love to hear about them!
Grilled Beet & Tomato Caprese Stacks
Ingredients
2 small beets, sliced
2 medium on-the-vine tomatoes, sliced
½ cup fresh basil leaves
2 medium bocconcini balls, sliced (or another mozzarella variety of your choice)
2 tablespoons balsamic vinegar
salt and pepper
Instructions
Wash and slice the beets into thin rounds.
Steam the beets in a pan until just softened, about 10 minutes.
Heat the grill to low heat and place the steamed beet slices and tomato slices on the grill.
Grill for 3 minutes on both sides.
Remove from grill.
Assemble the stacks starting with a slice of grilled tomato, a slice (or two) of grilled beet, a slice of bocconcini, and a basil leaf. Repeat the sequence to make a "stack". Then repeat the process to make a second stack.
Drizzle each stack with balsamic vinegar and season with a dash of salt and pepper.
Enjoy!
Nutritional Information
Serving size:
per stack
Calories:
131 kcal
Fat:
7g
Carbohydrates:
13g
Sugar:
6g
Fiber:
2g
Protein:
7g
Don't forget the iHerb $50 Shopping Spree Giveaway is still on until this coming Friday!!
Get your entries in by following this link –
—————->>>  ENTER HERE <<<—————-
Have a great Monday!
Christal
Nutritionist in the Kitch