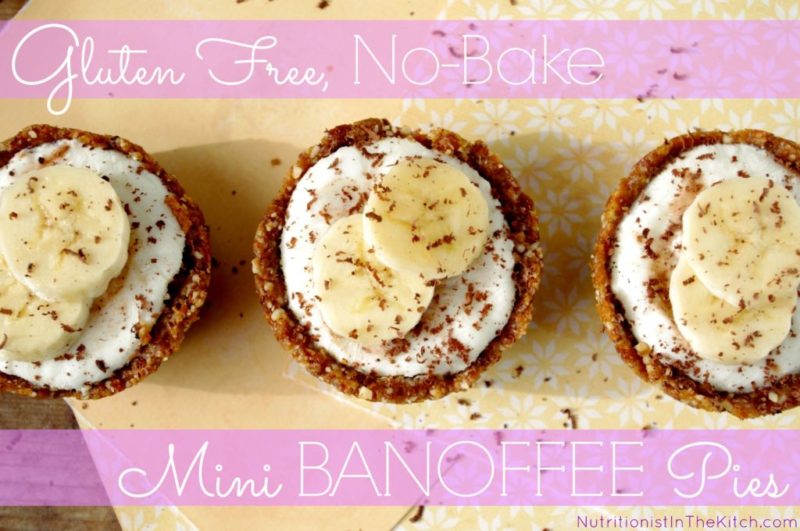 I have this fond memory of when I was little and I would get a cold, my mom would give me that banana flavored medicine (remember that stuff?!?) I LOVED IT… I'm pretty sure I would just try to will on a cold for myself to get some! Thinking of it now, it was probably packed with a bunch of nasty ingredients, but it sure did begin my love for bananas and anything banana flavored.
I mean, come on, who else has a banana hammock in their house right now?! I know you are out there! If you do, you officially love bananas, enough that they get their own little decorative hanging rack! Mine sits right on the window ledge over the kitchen sink!
So anyways, when it comes to desserts, if there's bananas in there, I'm officially loving it.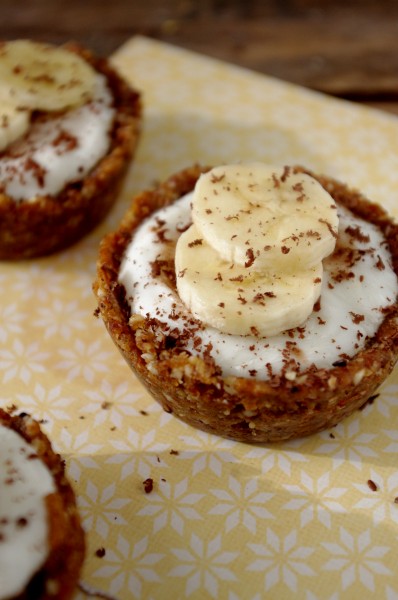 About a month ago I got another wonderful (free!) shipment from iherb.com (thank you again iherb.com for being so generous + awesome!).
I had ordered more products that I'd been wanting to try like Quest Bars, PB & Co chocolate dreams peanut butter (you can see what I did with that in this post!), more Bob's Red Mill ground flaxseed… I have this every morning, and Raw Revolution all natural energy bars to name a few!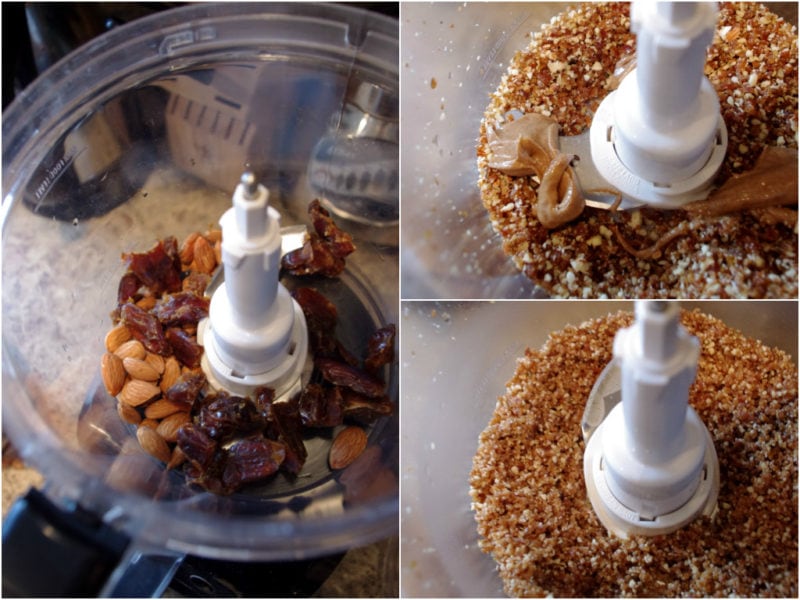 Along with my smorgasbord of wonderful goodness I got a little bottle of liquid stevia…. English Toffee liquid stevia, from Sweet Leaf!
If you are a regular Nutritionist in the Kitch follower you will already know that stevia is one of my choice sweeteners. It's a natural sweetener made from the stevia leaf (meaning it is not artificial or 'lab made' like sucralose, aspartame, or saccharin, to name a few) that is chemical free, zero on the glycemic index, and the Sweet Leaf brand in particular, contains no additives.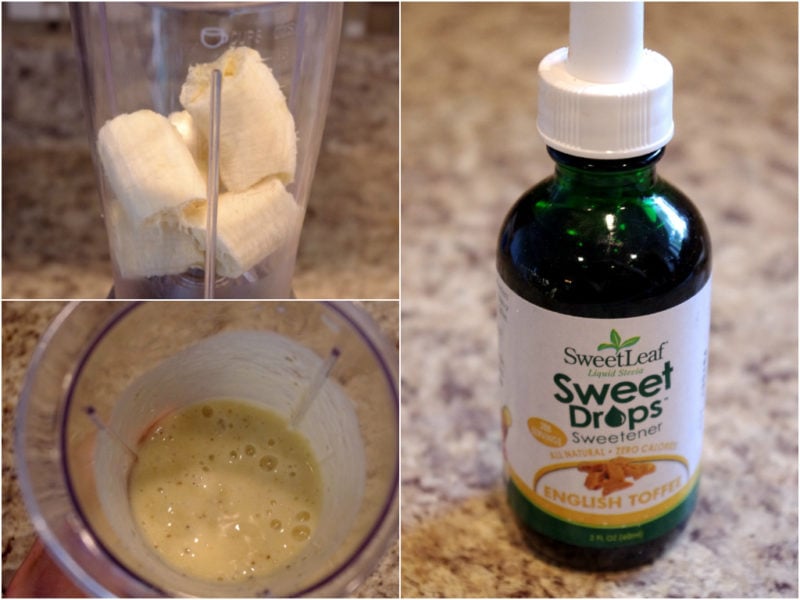 I tried the drops (you only need a few!) in my smoothies, oatmeal, and tea and immediately fell in love! I knew I had to come up with a delicious dessert that would highlight this awesome stevia product!
Scanning my kitchen I saw my little banana hammock holding some perfectly ripe bananas and…..aHa! Banoffeeeeeee!
Banoffee pies! Mini Banoffee pies! (because everything tastes better bite-sized right?!)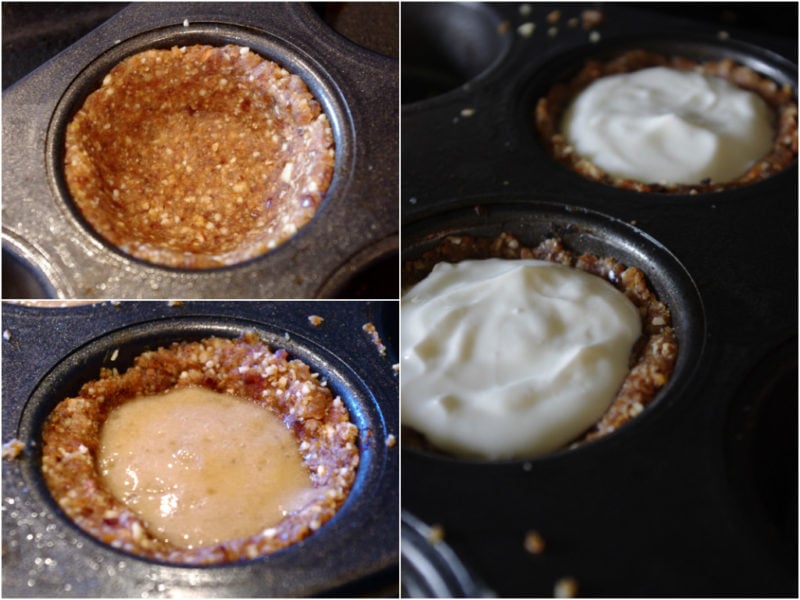 I went to work right then and there!
I wanted to leave the oven out of it, because again, baking in summer isn't really my idea of fun.. so I decided on a simple raw pie crust – almonds, almond butter, and dates. Then whipped up the banoffee filling using ripe bananas, some almond milk, and a few drops of the English Toffee stevia.
Then as my "cream" topping, I stirred up some plain 0% fat Greek yogurt with some more of the English toffee stevia, poured it all in the crusts, and a couple hours later after setting in the freezer, I had these!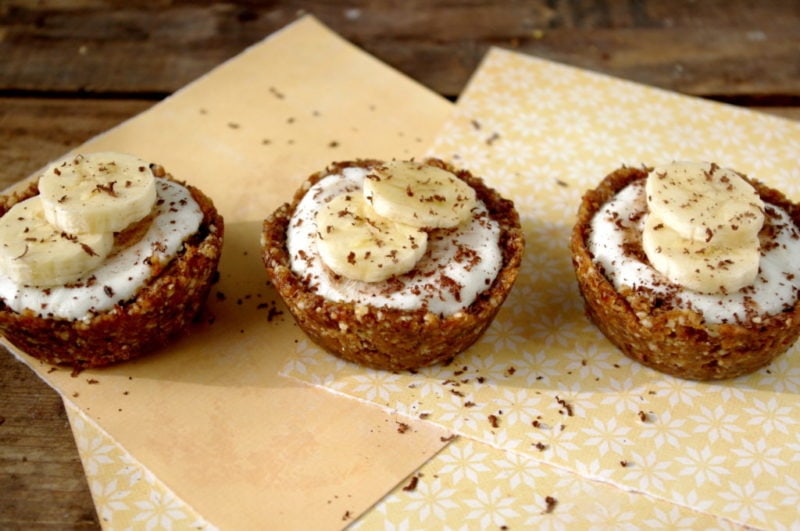 Pretty little Mini Banoffee Pies!
I shaved some dark chocolate on top and added a couple slices of banana to each one for that cute factor, and marveled at the delicious little pies I had made with only 8 ingredients!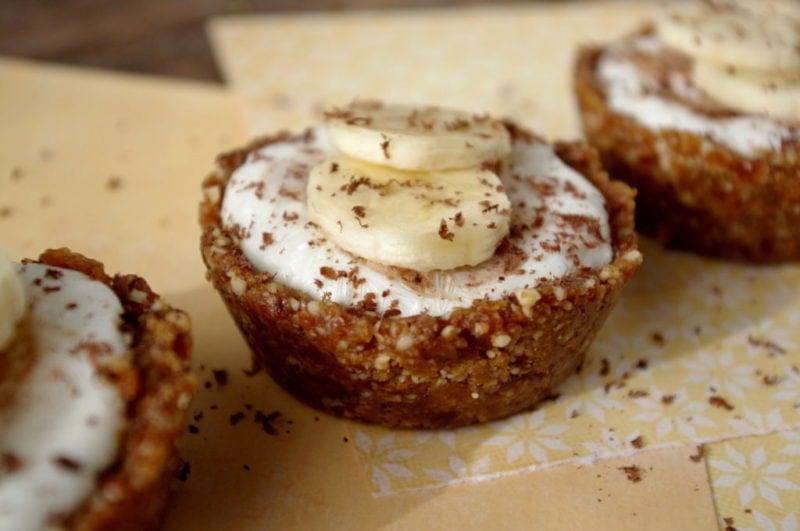 Healthy, wholesome, unrefined ingredients at that!
Looking at the traditional banoffee pie which consists of butter, white sugar, biscuits, whipping cream, sweetened condensed milk, and milk chocolate, and a little real banana.. mine definitely 'take the cake' when it comes to a healthier choice!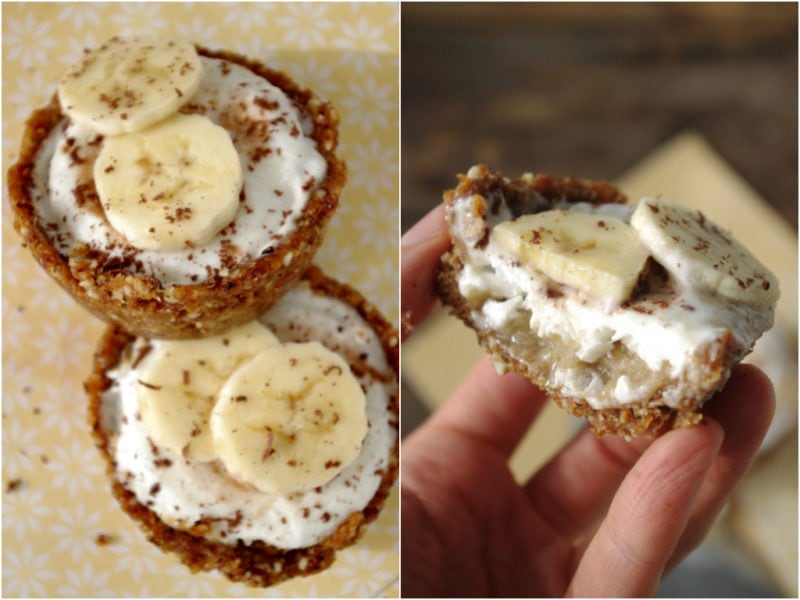 The filling is creamy, and the banana and toffee flavors are unmistakable!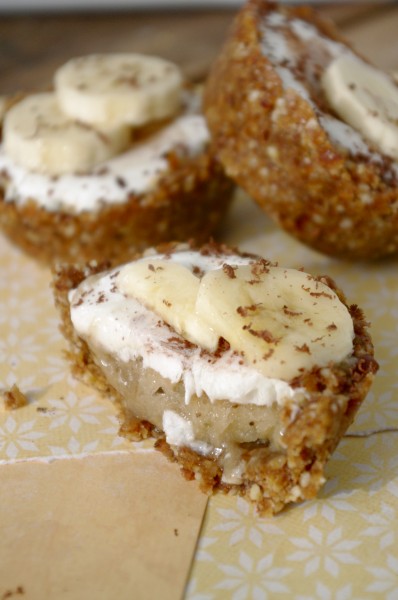 Mmmm! I love healthy desserts that taste indulgent but really aren't! The best of both worlds!
Gluten Free No-Bake Mini Banoffee Pies
Instructions
In a food processor combine almonds, chopped dates, and almond butter. Process until crumbly and sticky.
With wet hands divide the mixture 4 ways and form each portion into a ball.
Press into a muffin tin cup to make a crust. Do this with each portion to make 4 crusts total. (I put some parchment paper on the bottom of each muffin cup to prevent sticking!)
In a blender, magic bullet, or food processor blend together banana, 4 drops of the liquid stevia, and 2 tablespoons of almond milk.
Divide the banana mixture equally into the 4 crusts.
Place the crusts with banana mixture in the freezer for 20 minutes to set.
Meanwhile, mix 4 drops of the liquid stevia into ½ cup of yogurt.
Once the crusts/banana filling has set, fill each cup with 2 tablespoons of the toffee yogurt mixture, and return to freezer for 30 min - 1 hour.
Remove cups from freezer and carefully remove from the muffin tin.
Serve immediately!
Enjoy!
Notes
If left in the freezer the cups will freeze completely. In that case, just thaw for 10-20 minutes before serving.
Nutritional Information
Serving size:
1 pie
Calories:
183 kcal
Fat:
6g
Carbohydrates:
28g
Sugar:
20g
Fiber:
6g
Protein:
6g
Now for the GIVEAWAY!
iHerb.com has been generous enough to allow me to give a $50 iHerb.com Shopping Spree to one lucky winner!!
But that's not all, there is also a special $10 discount (when you spend $40 or more) for first time iHerb customers who just wants to go order from the site! Just enter in coupon code WOW123 when checking out!
To enter the giveaway follow the link below! Good luck to you all! 🙂
—————->>>  ENTER HERE <<<—————-
Christal
Nutritionist in the Kitch