Hello Gluten Free Blueberry Muffins!
Last month I created this recipe and then teased many of you with it on Instagram (sorry!). You see, I shared the photos and showed the perfect texture and "squish" of these unreal muffins, but then I said you all had to wait a month to get the recipe… how mean! I know, I know, but it's finally here, yay!! These seriously are the best ever gluten free blueberry muffins I've ever made and maybe even ever eaten…not to toot my own horn. I wanted to create a healthy muffin recipe that had the perfect dome top, an airy texture with some squish to it, and a subtle sweetness.
This recipe checks all the boxes. 

These muffins are loaded with fresh, juicy blueberries, the perfect amount of banana to give them a touch of banana bread flavour, a gluten free flour blend, honey to sweeten, avocado oil, and Genuine Health's clean collagen powder which adds a nice dose of amino acids and protein to these muffins. Without being overly sweet the muffins are well balanced with healthy fats, carbohydrates, and protein…can't say that often  about your regular run-of-the-mill blueberry muffin!

To get the top of the muffins to rise I did some research online and found a technique that worked really well. Often in the past my healthier muffins would tend to fall flat during baking and I thought this was because of the dense ingredients like whole grain flours or liquid sweeteners I was using. However, in my experimenting I found out that the perfect muffin dome actually comes from a specific baking technique! 
The temperature of the oven needs to be at least 400 degrees (hot hot tamale!) and the muffin batter should be made quickly and put into the muffin tin as soon as possible so that the batter expands in the oven rather than in the bowl. How often do you leave a bowl of mixed muffin batter sitting on the counter before actually putting it in the oven?? I used to do that all the time but I found out that doing just that is one factor that prevents the muffins from getting a nice risen dome-like top! 
One last trick is to fill the muffin tins to the TOP with batter, not 1/2 or 3/4 full, right to the top. That way you'll also get a nice rise and big, delicious, and filling muffins! 

I know there are many people who are thinking a lot about eating healthier as part of New Years resolutions or as a goal in general, so these gluten free blueberry muffins are the perfect swap for coffee shop or store-bought muffins that are likely to be filled with refined flours and sugars. While my goals for the New Year have to do with mostly business and sleep (I need to go to bed earlier!), I do want to stay consistent with eating healthier more often than not as that's when I know I thrive. These muffins are definitely making their way into my weekly recipe repertoire as they are seriously so easy to bake and are such a great pick-me-up snack any time of day.

Do you have a favourite healthier muffin recipe you make often? I'd love to read about it in the comments below! Don't forget to pin the photo below the recipe to save this one for later and of course, share the love!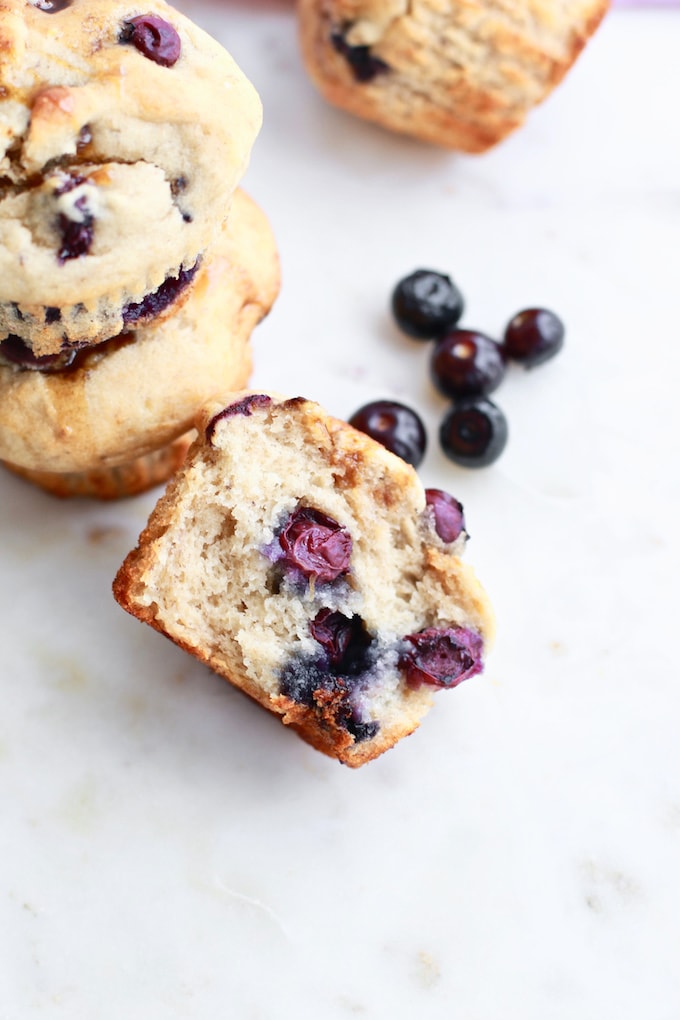 The Best Ever Gluten Free Blueberry Muffins
Ingredients
1¼ cup gluten free baking flour blend (I use Bob's Red Mill 1 to 1 Baking Flour)
½ tsp xanthan gum(omit if the flour blend already includes it)
1 teaspoon baking powder
½ teaspoon baking soda
¼ cup + 2 tablespoons collagen protein powder (optional, if not using collagen use additional 2 tablespoons gluten free flour)
⅛ tsp salt
¼ cup pure honey (it should be somewhat runny/pourable in consistency, not completely solid)
2 tablespoons avocado oil (or olive oil)
1 teaspoon pure vanilla extract
3 medium very ripe bananas (spotty)
¾ cup fresh blueberries
Instructions
Spray the top of a muffin tin with olive oil spray (or grease with coconut oil) and place 9 muffin liners in the tin.
Place the oven rack in the top ⅓ of the oven and preheat the oven to 400 degrees.
In a large bowl add the flour, xanthan gum (if needed), baking powder, baking soda, collagen (if using), and salt and using a whisk, stir to combine until everything is completely incorporated.
In a blender add in the honey, avocado oil, vanilla, and banana and blend on low until the mixture is just smooth with few clumps (about 10 seconds), be sure not to over-mix.
Pour the wet banana mixture into the bowl with the dry mixture and stir until you have a smooth batter.
Fold in the blueberries.
Fill each muffin liner with batter to the very top (this will help get the domed muffin top) and place the muffins in the preheated oven and bake for just 13-15 minutes, or until a toothpick pulls clean.
Let the muffins cool completely before removing the muffin lining.
Garnish with a sprinkle of powdered sweetener or a drizzle of honey (optional)
Enjoy!
Notes
*You do not need to use collagen powder in the recipe, this is optional to make the muffins have a higher protein content. If you do not use collagen, use 1¼ cups + 2 tablespoons total gluten free flour blend.
*The key to getting the dome-like top of the muffins is to avoid letting the mixed batter sit for too long once the batter is mixed. Be sure to fill the muffin pan quickly then place the pan right into a hot oven at 400 degrees.
More of my Fave Gluten Free Muffin Recipes:
Protein-Packed Gluten Free Banana Muffins
Healthy Gluten Free Cinnamon Churro Muffins
4-Ingredient Gluten Free Apple & Sunbutter Muffins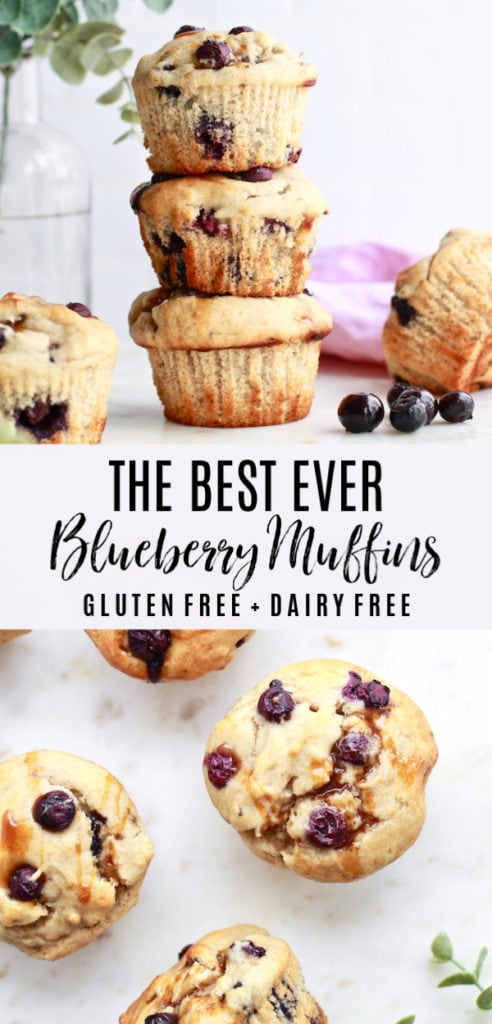 Have a wonderful Sunday! 
Christal // NITK 
Disclaimer: This post was made in partnership with one of my favourite brands, Genuine Health. As always the thoughts and opinions are my own.