Hello… yummy Protein-Packed Gluten Free Banana Muffins!
Generally speaking, most muffins you'll find at the grocery store, at any fast-food establishment, or even a local bakery (with some exceptions) are just as nutritionally beneficial  as a donut. They are full of saturated fats (not the good kinds of saturated fat either), or even trans fats, they are loaded with sugar, and often contain enough calories to feed a small army.
Luckily, in our own kitch's we are able to transform the often deceitful muffin into a truly healthy delight and a perfect pop-in-your lunch snack.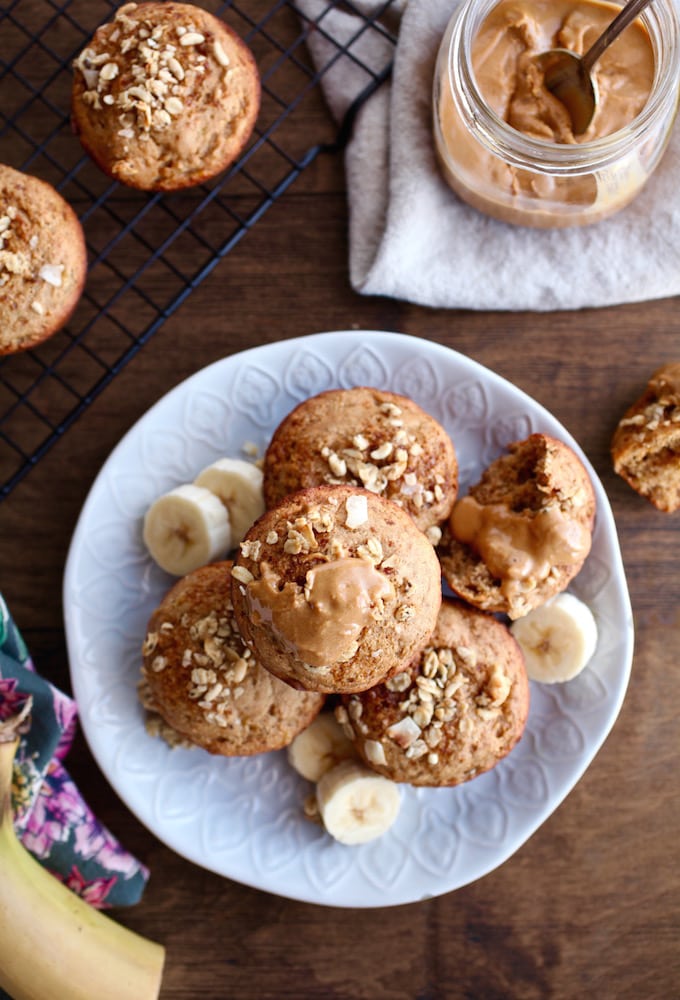 When it comes to creating healthy muffins at home, I like to consider several aspects. The flour, the allergen-friendly aspect, the sweetener, and adding a little protein love. Discovering I had developed a dairy allergy years ago led me to take a different approach to my recipe creation process and I had to look into the best substitutions and options.
I love experimenting with gluten free flours wether it be a nut-based flour, coconut flour, all-purpose blends like I used in this recipe, or even flour-free! As for the sweetener, I always go with unrefined natural sweetening options in baking. That means I'll choose from raw honey (one of my favourites), coconut nectar, pure maple syrup, coconut palm sugar, agave nectar, dates, stevia, or brown rice syrup. There's abundant research and information that show how refined sugars negatively affect health in so many ways so I limit it to once in a while when I'm indulging in a treat of some sort.
Keeping my baking dairy-free is easy peasy. There are so many fantastic dairy alternatives available now that have become my go to's such as almond milk, cashews to make a creamy puree, coconut milk, coconut yogurt, coconut oil… the list goes on.
Because muffins often contain mostly carbohydrate and fat I love to add in a little more macronutrient balance by amping up the protein. Typically I do this by using a protein power, which I did in this recipe.
Now, before you narrow your brow let me talk a little more about protein power. In my nutrition practice I have had clients react somewhat skeptical when I recommended they try adding some protein powder to their week to get in a little more protein in a convenient way. Protein powder had received a bad rep for so many years and it wasn't unwarranted. For a long time most protein powders you would find in stores contained artificial sweeteners like aspartame, artificial flavours, additives, and were not the greatest in quality. Luckily things have changed.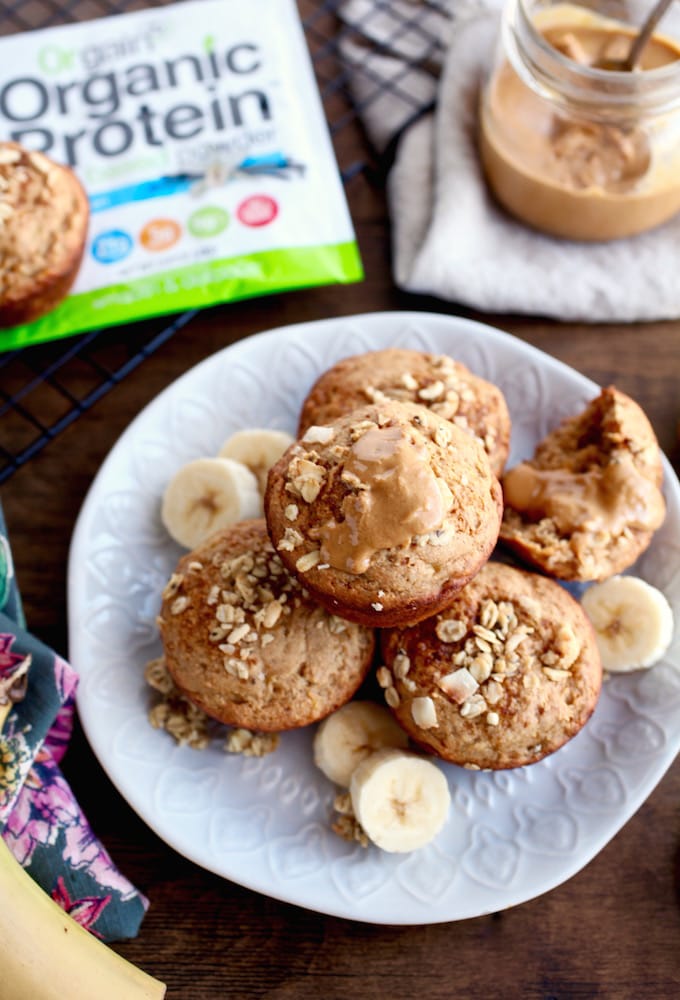 Nowadays there are many companies creating protein powders that are clean as a whistle and thoughtfully crafted with our health in mind. Certain whey protein brands are now sourcing whey from organic grass-fed cattle and are using only natural sweeteners. When it comes to plant-protein, the options are plenty and companies like Orgain, are going all organic, and completely free of artificial ingredients. They are encouraging consumers to get picky with their protein.
When I gave Orgain's Organic Protein plant based vanilla powder a whirl I knew I had another favourite to add to my clean, mean, healthy protein powders list. For a plant-based protein I was also pleasantly surprised at the texture; it was smooth, not gritty! If you're like me and have tried every plant-based powder on the shelf looking for one to mimic the taste and texture of whey without any luck, I can tell you, you'll be pleased with Orgain's. Aside from the natural ingredients list I also liked that the vanilla flavour is subtle, not overpowering. In these gluten free banana muffins, the banana flavour shines through just as it should.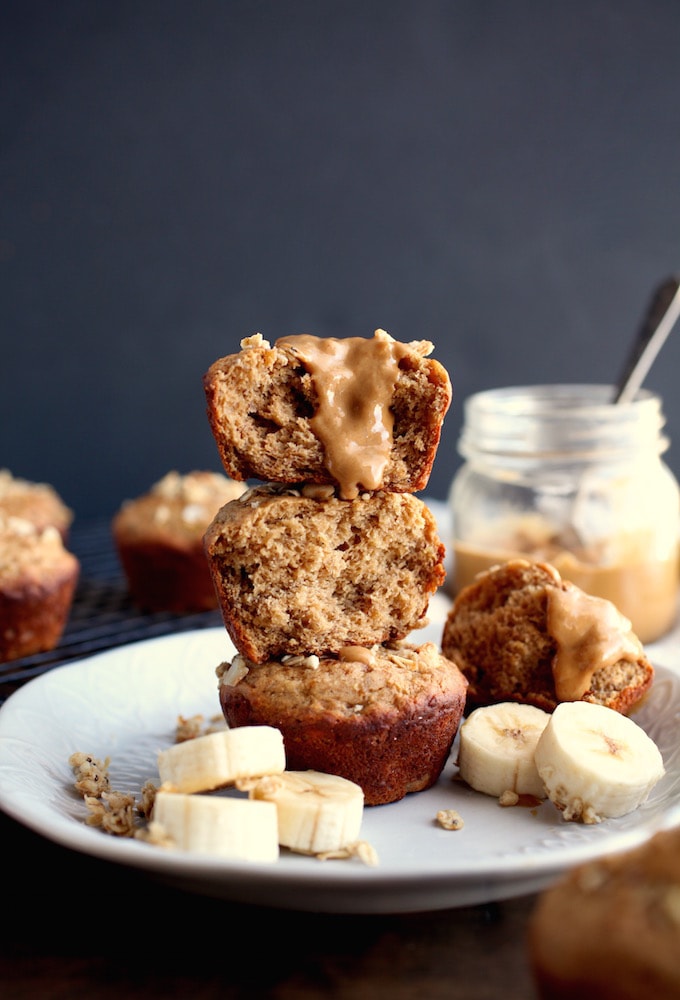 January is a great time to put a little more focus on developing healthier eating habits and giving yourself a new start to the year, I've been doing that with my hubby as we continue to prepare ourselves for the coming babe (I can't believe I'm 6-months along already!! Pregnancy update coming very soon!) so these gluten free banana muffins have been perfect for mindful snacking throughout the week!
Give them a whirl and let me know what you think!

Vegan Protein Banana Muffins with Granola & Nut Butter
Ingredients
1 cup gluten-free all purpose flour
¼ teaspoon xanthan gum (omit if already in your flour blend)
1 teaspoon baking powder
½ teaspoon baking soda
¼ cup Orgain Organic Protein plant-based vanilla powder or other plant-based vanilla protein powder of choice (Note: I cannot vouch for the texture of using other brands in this recipe!)
1 teaspoon ground cinnamon
⅛ teaspoon salt
2 tablespoons coconut palm sugar
2 tablespoons coconut nectar (or raw honey if you do not need vegan)
3 medium very ripe bananas
¼ cup naturally sweetened gluten-free granola of choice
Optional: Nut butter for slathering 🙂
Instructions
Preheat oven to 350 degrees.
Mash bananas in a bowl and add in the coconut palm sugar and coconut nectar (or honey). I do not like chunks of banana in my muffins so I gave this a quick whirl in my food processor until it was a smooth consistency, about 10 seconds.
In another bowl, add the flour, xanthan gum, baking powder, baking soda, protein powder, cinnamon, and salt and mix well to combine.
Add the wet banana mixture to the flour mixture and fold in until all is well combined. Do not overmix. Set the batter aside for 2-3 minutes to "fluff up".
Grease a muffin tray using coconut oil.
Fill 8 of the muffin cups in the greased muffin tray ¾ full of the muffin batter.
Top the batter evenly with the granola, about ½ tablespoon over each.
Bake the muffins in oven for 12-15 minutes or until a toothpick pulls clean.
Set aside to cool.
Once cooled, slather with nut butter and enjoy!
Slather with almond butter before eating, enjoy!
Nutritional Information
Serving size:
1 muffin
Calories:
163 kcal
Fat:
2g
Carbohydrates:
33g
Sugar:
9g
Fiber:
5g
Protein:
7g
More of my Favourite Gluten Free Muffin Recipes
Healthy Gluten Free Cinnamon Churro Muffins
The Best Ever Gluten Free Blueberry Muffins
*Disclaimer: This post has been sponsored by Orgain, but as always the thoughts and opinions are my own. I would never recommend a brand I do not stand behind and only share those I hope you too will enjoy. Thank you for continuing to support the life and growth of Nutritionist in the Kitch!
This post was originally published in January 2013 and has been rephotographed and updated for quality and relevancy!